Recap of a Great Boxing weekend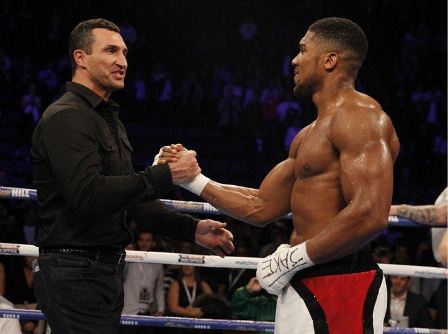 As all boxing fans/geeks/nerds know this past Saturday was bigger boxing Saturday than normal. With significant bouts spanning from New Zealand, to England to the U.S. covering multiple weight classes, if you're a true fan you had your eyes glued on either your television or computer (hey, streaming is sometimes a necessity for fans of the Sweet Science) trying every fight that one could. Here's what was learned:
1. While #JoshuaMolina was a dud, what was announced afterwards has many pumped up! – Look, while it was disappointing that Eric Molina chose to put up little resistance against IBF Heavyweight champion Anthony Joshua (and for that, Joshua took him out in the 3rd round), it was the announcement that Joshua will next face former undisputed Heavyweight champion Wladimir Klitschko on April 29, 2017 at Wembley Stadium in London, in what could be on of the biggest bouts in UK history.
Is Joshua ready for such a challenge? Given how Wlad looked his last time out against Tyson Fury plus it will be Klitschko's first bout in 17 months (and Klitschko will be 41 years old when this bout take place), what form will "Dr. Steelhammer" be in? Many questions, what intrigue, can't wait!
2. Is Joseph Parker ready for the big dawgs at Heavyweight? – Parker fought Andy Ruiz for the vacant WBO Heavyweight title in his home country of New Zealand. And while he won, was he really that impressive? While, Ruiz can fight for sure, many thought this would be a coming out party for the highly regarded Parker and it simply was not as he struggled through most of the fight before squeaking out a decision win. Joseph Parker is a talented, no doubt about it. However, this fight showed that Parker has some improvement to do before he's considered the future of the Heavyweight division.
3. Post-fight actions aside, Jermall Charlo looks like an emerging force! – Arguably the most anticipated bout over the weekend was Charlo's defense of the IBF Jr. Middleweight title against mandatory challenger Julian "J-Rock" Williams. Williams has been calling out Charlo, for over a year, and that seemed to not only anger Charlo (his actions after the fight showed it got to him), but raised his game to a new level as he stopped William and looked awesome in doing so, putting on one of the more impressive performances of 2016.
Charlo dropped Williams three times in route to a 5th round stoppage letting the boxing community he's making his mark on the sport. Now afterwards, Charlo refused to shake Williams hand (he apologized during the post-fight interview in the ring after the fight) and was loudly booed for his actions. Regardless of that moment of bad sportsmanship; Charlo is ready for the big time and would love a fight with "Canelo" Alvarez.
5. "Bud" Showing once again he's elite – If you can't acknowledge that Terence "Bud" Crawford is an elite boxer, something is just wrong with you. It just can't be denied anymore. Bottom line, this man is THE TRUTH.
Fighting in his hometown of Omaha, Nebraska, Crawford beautifully out-boxed Molina before brutally finishing him off in the eighth round. The question now is, will Crawford secure the bout he craves, a showdown against Manny Pacquiao in 2017?
I could go on and talk about how Abner resurrected his career and how Ray Beltran showed he still has something left in the tank. Shoot, I could go into detail about how Dillian Whyte and Dereck Chisora didn't just talk the talk (and literally flip a table, LOL) in the build-up to their grudge match, but fought what turned out to be a darn good scrap. I'll save all that for the next episode of the Pound 4 Pound Boxing Report podcast. In all, this was a fun and terrific weekend of boxing that was enjoyed by all boxing heads and let's hope that what went down on Saturday night will be a prelude to a great year in boxing for 2017.