A Look Back At Some Of The Most Dramatic Moments Of Miguel Cotto's Career
Puerto Rican modern boxing legend Miguel Cotto has stated that 2017 will be his last spent in the ring.
2017 is going to be my last year in boxing," Cotto said. "We'll see what happens next. I've been in boxing since I was 11. I have four kids. I have been away from them a lot of their lives and I want to be a 100% father."
Cotto has had an illustrious professional boxing career that has seen him fight amongst the very best including the likes of Floyd Mayweather and Shane Mosley. His last bout is claimed to be against James Kirkland, scheduled to take place on February 25th.
This featured editorial is going to look back at some of the highs and lows of Miguel Cotto's colourful career that has spanned 16 years thus far, with an existing record to date of 40-5-0 and 33 KO's.
vs Floyd Mayweather Jr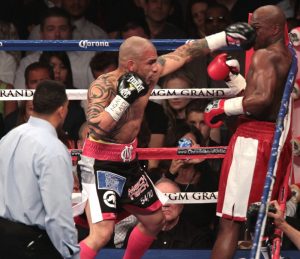 Only two fighters have managed to make Floyd Mayweather Jr visually bleed, one of them being Cotto when he managed to land some good jabs midway through their taxing encounter. Mayweather claimed that he wanted to go to war for the fans but there is little doubt that Cotto's skills and experience gave him all he could handle for 12 rounds before losing a decision in a fight that fans had pined for, for many years.
Antonio Margarito I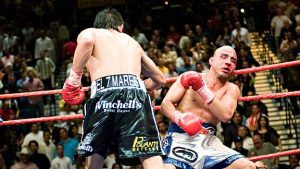 Antonio Margarito was one of Cotto's most fearsome opponents to date back in 2008 and most predicted that it would be a brutal affair. Cotto was the holder of the WBA welterweight belt back then which was at stake. The come forward but defensively lazy Margarito was being outboxed in the first half of the bout but the Mexican's heavy punches began to take the verge out of the champion, who crumbled under pressure in the 11th round with a bloody and swollen face.
vs Antonio Margarito II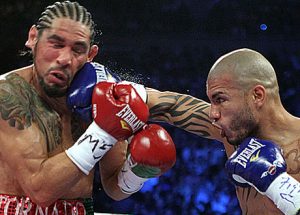 There was controversy during the build up to their return when promoter Bob Arum had to work over time to get Margarito certified medically fit after the thrashing he took from Manny Pacquiao in his previous fight. After some more thorough examinations, Margarito was given the go ahead. But Cotto would get his revenge this time when he managed to stop his rival in the 9th round after suffering a bad swelling over his right eye, the eye that was of prime concern since Pacquiao smashed his orbital bone.
vs Manny Pacquiao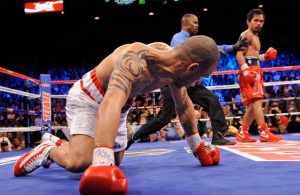 Manny Pacquiao was at the top of his game after crushing Oscar De La Hoya and Ricky Hatton to devastating stoppage defeats. It was predicted that Pacquiao would win due to the catchweight that was set, however, it was only a pound difference to what Cotto had weighed in previously against Joshua Clottey.
Pacquiao started fast, landing punches from all angles and managed to floor Cotto in the 3rd and 4th rounds. But the Filipino fighter was made to work hard, and the contest lasted until the final round when the referee stepped in to save Cotto from further punishment.
vs Zab Judah
Zab Judah probably did not deserve a shot at the WBA crown due to losing two of his last three contests at that time. Nevertheless, he redeemed himself with a good performance that saw Cotto rocked in the early rounds with counter left hooks to the head, but the physical strength and body work of the title holder began to tell the real story and Judah was halted in the 11th.
vs Ricardo Torres
Miguel Cotto was the holder of the WBO light-welterweight title and was making the 4th defence against the unbeaten and heavy punching Ricardo Torres. There was speculation that Cotto was struggling to make the 140lb limit and had a habit of coming in dry during the course of his campaign at that weight.
Torres was the first to see the canvas in the first round but scored a knockdown himself in the next, despite it looking as if he pushed Cotto down. The champion was made to look disorganised in the 5th but came back to put Torres down again in the 6th before finally ending the up and downer for good in the 7th round. Miguel Cotto would go on to have only two more fights at the light-welterweight limit before moving up.
Miguel Cotto and the WBC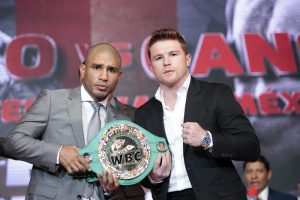 In the build up to Cotto's fight with Saul Alvarez, the WBC title was originally put on the line for both boxers. However, the organisation saw fit to charge an extortionate 1.1 million dollars in sanctioning fees! Cotto disagreed with this and refused to pay, and the vacant crown was only winnable by Alvarez. The Mexican went on to outpoint Cotto over 12 rounds in what many saw as a relatively close fight.