The Greatness of Jimmy McLarnin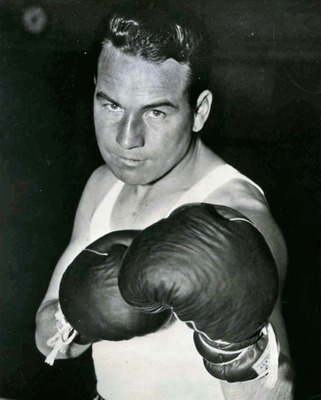 Twinkling eyes and a pink-cheeked baby face buckshot with freckles, Irish-Canadian Jimmy McLarnin looked little like the hard-nosed boxer-puncher he was. It feels only natural to repeat the time-honored adage about looks here, but "The Belfast Spider" couldn't be confined to a mention of deception from a mere physical look-over. His game was predicated on it. This isn't to say Jimmy was some fleet-footed fancy-dan in the vein of Willie Pep, but anyone who understands pugilism and its scientific underpinnings knows that trickery is oftentimes an essential ingredient in obtaining victory, regardless of fight style.
McLarnin, as any tactician worth his salt, had to master the art of bluffing to succeed in his day. Too many great prizefighters lingered for him to get by with his punch, which was formidable by itself. History, of course, tells us that wasn't the case. So does the video footage that has been preserved. Jimmy, "The Beltin' Celt", became an all-time great and kept men's guns in their holsters through not only the scare of his stiff wallop, but also through a dizzying array of feints. One can see how McLarnin opened men up (The Singer and Leonard fights are great examples) for damage with low hands and a protruded left that twitched regularly in manners suggesting that a jab or hook was soon popping out. What followed was an educated guess on his opponent's part. There was no uniformity in it, but a faulty guess may have meant the end of the contest.
The comebacking lightweight great, Benny Leonard, found out the hard errors of guessing wrong against a multi-weight monster like Jimmy McLarnin. Late in the 6th round of their welterweight contest, "The Hebrew Scourge" landed a pinpoint straight to Leonard's midsection. McLarnin immediately scooted forward while ducking low, as if he was preparing for a follow-up shot in the same area. Leonard miscalculated defensively and McLarnin went high with an overhand right, wobbling the former lightweight king, and then he finished Benny off with a volley of blows.
It was tactics like these, combined with his middleweight-esque power, lightweight speed, strong prey drive, sound defense, and willingness to fight whomever that earned him his keep as a champion and a seat in "The Hall".
But it wasn't only "The Murderous Mick's" deceit-laden style that surprised people, it was his record—the encompassment of his ring achievements. Sure, he was gifted in various facets of the fistic art, and it is well-known that he competed against two outstanding fighters in Tony Canzoneri and Barney Ross—two men often highly rated by historians—but less talked about is the overall strength of his schedule.
People often forget that Jimmy started his career as a flyweight, spending most of his first 21 bouts down there. He also had a brief stint at bantamweight. During that time, he secured a 2-1 record in a series of bouts with the green, but future legend, Fidel LaBarba. "The Dublin Destroyer" managed a draw with another future Hall of Fame inductee, Memphis Pal Moore, as well. It should be noted that while LaBarba was short on professional bouts when Jimmy beat him, he came into the paid ranks much better prepared than most, holding a lengthy amateur career and a gold medal from the 1924 Summer Games in France. It showed because in a mere 11 fights he managed to beat the much more experienced Frankie Genaro clearly and stake a claim as the best flyweight in the world.
When the freckle-faced terror moved on to featherweight, he stamped his place in the #3 spot in one year's time. He defeated the physically ailing flyweight champion, Pancho Villa, convincingly in an over-the-weight contest in 1925, jarring the betting favorite a few times along the way to the decision. McLarnin then beat another former gold medalist and future Hall-of-Famer in Jackie Fields, knocking him down multiple times and icing him cold in the second round. He split with Bud Taylor in two contests to top it off.
Taylor, yet another outstanding fighter of his day and one who would also get into Canastota, decisioned McLarnin at the start of 1926, ending the rubber match as a 2-1 winner. From there McLarnin struggled a bit, losing Johnny Farr and Doc Snell, though he did sprinkle in victories over the highly-rated Joey Sangor and Joe Glick.
Without a title shot, Jimmy again moved up in weight, beating multiple ranked foes in Lope Tenorio, Louis "Kid" Kaplan, Billy Wallace, and Sid Terris, before succumbing to the oil slick skills of lightweight champion, Sammy Mandell. He continued to beat top lightweights for years afterwards. Some of these included: Stanislaus Loayza, Joe Glick (twice more), Ray Miller (though it must be said that the #2 rated Miller gave McLarnin a hiding in their first bout), Al Singer, and even Mandell twice.
His move to welterweight was ushered in with a one-round blitzing of #9 rated, Sergeant Sammy Baker. McLarnin proceeded to destroy Ruby Goldstein (#2 at 140) in two and then overcame Young Jack Thompson (#6 at 147) after a first round broken right hand in ten segments, before losing to Billy Petrolle in a sizable upset. It is said McLarnin broke his hand once more in this fight, putting him out of commission for over six months.
When McLarnin returned, he set his sights solely on rematching Billy Petrolle and clearing up the record. In consecutive bouts he beat "The Fargo Express" by boxing cleverly, largely avoiding the back-and-forth slugging that got him into trouble in the initial go-round. "The Baby Faced Assassin" next dropped a split decision to another enshrinee, Lou Brouillard, but dusted off an old Benny Leonard in six and synthetic junior-welterweight champion, Sammy Fuller, in eight. McLarnin followed this with a sensational stoppage over Young Corbett III (Yes, another Hall-of-Famer) to become welterweight champion, a three-fight series with the previously mentioned Barney Ross, a loss and win over Tony Canzoneri, and finally, a 10-round points verdict over an excellent Lou Ambers before calling it quits and living well for the rest of his days.
On the surface this quick summation may come as an eye-opener. Many of these men were tremendous fighters; many were ranked, many were champions, and many transcended belts and saw their spirits lifted into perpetual glory in upstate New York. But the data needs further summarized since few will takes tallies.
James Archibald McLarnin fought a whopping 14 Hall-of-Famers: Fidel LaBarba, Memphis Pal Moore, Bud Taylor, Pancho Villa, Jackie Fields, Louis "Kid" Kaplan, Sammy Mandell, Billy Petrolle, Lou Brouillard, Benny Leonard, Young Corbett III, Barney Ross, Tony Canzoneri, and Lou Ambers. This is three more than Canzoneri saw, nine more than Ross, and amazingly, one shy of Harry Greb's all-time mark.
McLarnin fought these men a total of 25 times, going 15-8-2 (4 KO's) against them. Though his record isn't as quite shiny as Henry Armstrong's in this category, McLarnin still fought more times against inductees and at a far greater percentage than did "Hammerin' Hank", despite having over 100 fights less. And once more it should be pressed to the reader that this tally represents a mark better than his contemporaries, Canzoneri (12-9-1(2 KO's)) and Ross (7-2 (0 KO's)).
Furthermore, the ethnic Irishman fought a fistic giant in every division he traversed: LaBarba at flyweight, Moore and Taylor at bantamweight, Fields and Taylor at featherweight, Kaplan and Mandell at lightweight, and Ross, Canzoneri, Petrolle and others at welterweight. Fidel LaBarba is rated the 4th best flyweight ever; Bud Taylor is rated 14th at bantamweight; Memphis Pal Moore is rated 18th in the same division; Louis Kid Kaplan is ranked 24th at featherweight; Tony Canzoneri is 5th at lightweight (14th at featherweight); Lou Ambers is rated 10th at lightweight; Sammy Mandell is 29th at lightweight; Barney Ross is 5th at welterweight (8th at lightweight); Young Corbett III is 24th at welterweight; Young Jack Thompson is 25th at welterweight; and Jackie Fields is rated 29th at 147*.
Barney Ross and Tony Canzoneri both crack the top-25 all-time, pound-for-pound*. McLarnin, again, holds wins over both.
Jimmy also faced 12 former champions—Villa, LaBarba, Fields, Mandell, Thompson, Singer, Brouillard, Leonard, Corbett III, Ross, Canzoneri, and Ambers—securing a 13-6-1 (4 KO's) mark against them. It should be added that he earned wins over at least three active champions in Villa, Fuller (I don't want to stress this too much, but it's noteworthy that Ross and Canzoneri obtained this belt) and Mandell.
Moreover, he faced 23 top-10 guys 34 times, again coming out in a favorable position at 25-9 (11 KO's).
Broken down further, "The Irish Lullaby" spent 36% of his career facing Hall-of-Fame caliber men, 30% squaring off with champions, and 49% in with the highly rated.
It all begs the question as to why McLarnin's name is not often repeated. How does one clinch wins against 12 men who have an alternative address at 1 Hall of Fame Drive, spend his last 12 of 13 fights against men of this level, and still get so little adoration?
Part of it is his lack of title wins and defenses; part of it is the foggy determination of who was superior between him and his contemporaries. Over the years, the former has started to mean less to many because they have come to realize that in a sport like boxing, no matter what inborne attributes you may have and how well they have been developed, nothing is guaranteed. Therefore, who a boxer faced and how he fought them has taken precedence. Men like Harry Greb and Sam Langford have slowly crept up the all-time ladder in recent years, sometimes supplanting Ray Robinson himself (see Matt McGrain's top-100, for instance).
Jimmy McLarnin's ascent may be imminent.
*Per the International Boxing Research Organization