How Anthony Joshua beats Wladimir Klitschko with Spencer Fearon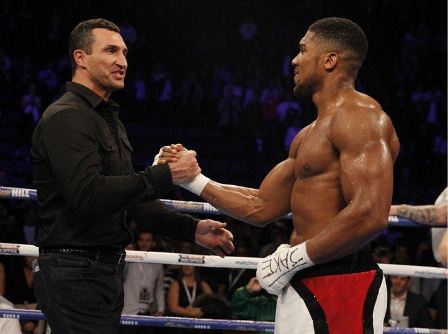 Anthony Joshua and Wladimir Klitschko will fight in a Heavyweight showdown at Wembley Stadium in London on 29th April 2017, live on Sky Sports Box Office.
Joshua's IBF world title, the vacant IBO world title and the vacant WBA super world title will be on the line when these two heavyweights go toe-to-toe at the home of football.
Joshua's record currently stands at 18-0 with 18 KO's; Klitschko's record stands at 64-4 with 53 KO's.
Neither men are shy when it comes to stopping their opponents,  but who will win? Will youth take over or will father time turn back the clock? Speaking to Ringnews24.com, Spencer Fearon explains:
"Not an easy fight for either fighter.  This fight has got more to do with what Anthony Joshua does to what he doesn't do and it's got more to do with what Klitschko doesn't do to what he does do – to whom is going to win this fight.
"Anthony Joshua  if we look at all of Klitschko's defeats to Corrie Sanders and Lamon Brewster – even the fights where he has been knocked down.  If we look at those fights and say to ourselves well it's always been these athletic punchers who can punch with speed who usually have him off, who usually knock him over or have him badly hurt.
"Anthony Joshua has got speed and he's got power – he's just got to administer that. If Anthony Joshua wants to try and get into a boxing match with Klitschko he's going to lose this fight.
"Klitschko will be able to throw that long left jab, pull his head back so he's out of range for a left hook counter and keep on jabbing.
"Here is a man who in Germany is a super star, he can win ugly in Germany and nobody cares they still love him. He's going to come to England and he doesn't give a dam about England. There could be 80,000 people – he doesn't give a dam about winning ugly over here. That's what he does all the time – that's been his blueprint all the time.
"If Manuel Steward was in his corner then I would be worried for Anthony Joshua. But Manuel Steward is not, God rest his soul in paradise. So therefore, I think Anthony Joshua has to get rid of the niceties and jump on him. If Anthony Joshua jumps on him, I got Anthony Joshua winning the fight and I got Anthony Joshua stopping Klitschko in about 8 rounds.
"But if it turns into a boxing match he will get outpointed. Joshua has to jump on him and let him know what time of day it is. This is my territory and I'm looking to smash you. If it goes to a boxing match or try's to out think a guy who's a professor of thinking he's going to come up short. He's got to use his attributes, he's young, he's fast, he's fresh and he can hit. He's got to move his head; he's got to give side to side movement.
"DaVarryl Williamson, I remember that fight Klitschko had in 2004,  he was on his comeback trail and this guy lost to Klitschko.  But he had him down quite a few times and all he kept doing was throwing fast jabs and coming over the top with that right hand and that's what Anthony Joshua has to do.
"If Anthony Joshua doubles up his jab to push Klitschko back, and then throws the left hook, jump in with that left hook, he'll knock him out."
There is no doubt Klitschko has vast experience compared to Joshua who has only been boxing as a professional for three and a half years. In comparison Klitschko has been boxing professionally for over 21 years.
Do you think Joshua's fights so far have taught him enough to be able to deal with a fighter with Klitschko's experience?
"No, they are not enough to tell you the honest truth. But all you can do is beat what's in front of you. Les Brown said "all you can do is all you can do, if all you can do is all you can do, then it's enough".
"He's beaten what's been put in front of him and that's not Anthony Joshua's fault, he's beaten these guys.
"But people seem to forget when he was facing Charles Martin people thought Martin could have beaten Joshua. Anthony Joshua annihilated him, so when we think about it we got to think all you can do is all you can do. He's beaten Eric Molina, Anthony Joshua beat him up real bad.
"We got to give Joshua his dues and the credit that he goes out and does the job. Everything that's been expected and asked of him he's done it."