Big Card Preview: Frampton vs Santa Cruz 2, Selby vs Barros, Garcia vs Zlaticanin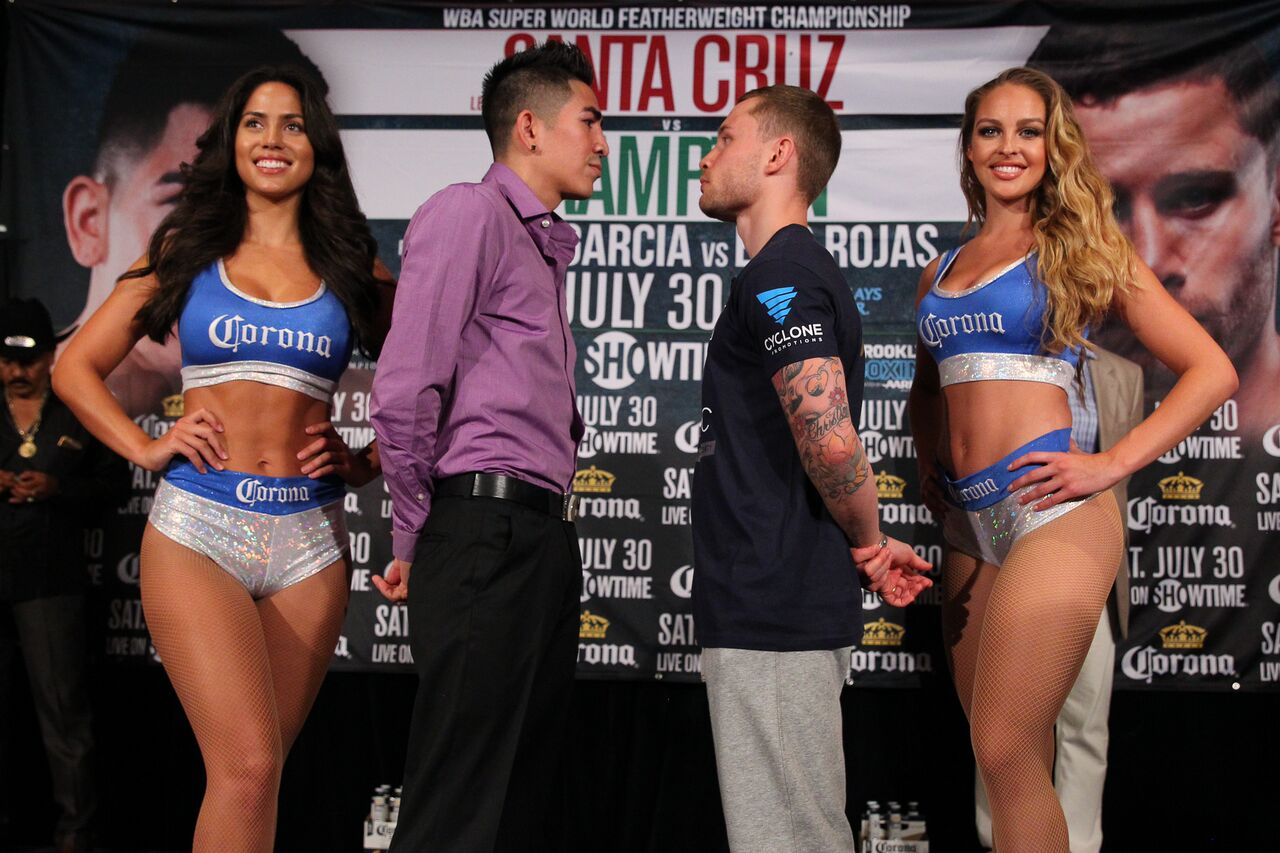 This Saturday night, January 28th, boxing fans will have the chance to enjoy a high profile boxing card out of Las Vegas, Nevada. The main event will feature the rematch between Carl Frampton, 23-0, 14 KOs and Leo Santa Cruz, 32-1-1, 18 KOs, which was won by Frampton when he prevailed on the score cards in a majority decision in July of last year. They will be fighting for Frampton's WBA alphabet super world title. The card will also feature in the co-main event Mikey Garcia, 35-0, 29 KOs against Dejan Zlaticanin, 22-0, 15 KOs, for Zlaticanin's WBC alphabet world title. Before we breakdown the co-main and main event fights further we will first take a look at some of the more intriguing fights on the undercard.
David Benavidez, 16-0, 15 KOs vs. Sherali Mamajonov, 14-1, 7 KOs, 8 rounds Super Middleweights. David Benavidez, a 20 year old American blue chip prospect and brother of former alphabet world titlist Jose Benavides, will look to shine against Mamajonov on such a high profile card. Mamajonov, a 29 year old out of Uzbekistan, is a relative unknown to the major boxing community. Against Benavidez he will have his chance to show his merit. Will he be able to test Benavidez or not remains the question due to his unknown quantity. Benavidez has proven to be powerful and exciting as proven in his recent showing against Denis Douglin. Will Benavidez continue to roll, or struggle versus the unknown is the question for him.
Josh Taylor, 7-0, 7 KOs vs. Alfonso Olvera, 8-2-1, 3 KOs, 10 rounds Junior Welterweights. UK's super prospect Josh Taylor returns to the US, fresh off of winning the Commonwealth (British Empire) in just his 7th fight in October of last year. He will take on the durable Alfonso Olvera, who has not yet been stopped in his professional career. Olvera seems to have some solid skills and fighting spirit by looking at some of his fights on film, but he is not close to Taylor's level of craft. The fight is a showcase for the extremely talented Taylor, with the main question being can Olvera stop Taylor's knockout streak by surviving the distance.
Lee Selby, 23-1, 8 KOs vs. Jonathan Victor Barros, 41-4-1, 22 KO's, 12 rounds Featherweights, for Selby's IBF alphabet world title. Selby, out of the UK, has been one of the most dominant featherweights in the world for the last half decade facing nothing but top opposition. He is in need of a career defining, big name fight however, to take him to the next level. Barros may not have the name to take Selby to the next level, but he does have a style that may let Selby shine in front of an American audience and further his profile. He would certainly love to face the winner of Frampton and Santa Cruz. For the former alphabet world titlist Argentine Barros, at the age of 32, this fight could represent his last opportunity to fight at the top levels of the sport. This could be his last world title chance, so he will have to make the most of it. In his last loss in 2012, he was stopped in 8 rounds by Mikey Garcia. The question here, in what is likely a showcase bout for Selby, can Barros make it a competitive fight, much less win it. Selby would definitely like to impress and land a much larger fight in the future.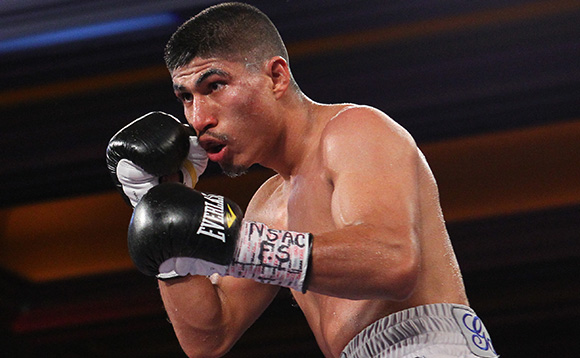 Mikey Garcia, 35-0, 29 KOs vs. Dejan Zlaticanin, 22-0, 15 KOs, 12 rounds Lightweights, for Zlaticanin's WBC alphabet world title. Before Mikey Garcia took approximately a two and a half year layoff from boxing he was nearly a consensus top 5 pound for pound fighter. He was viewed as an exceptional talent with high ring IQ and power in both hands. Losing about 30 months of your prime though is usually not a good thing. If he had been in a bunch of wars sometimes a prolonged rest for your body can be a good thing. Garcia was the type of fighter that didn't take a whole lot of damage in the ring, except for a broken nose from a head butt, occurring in the Salido bout, and a few occasional flash knockdowns. He may finally be getting ready to enter a fight where major damage will occur on both sides. Was one fight since his return enough to get him ready for what he will have to go through on Saturday night? We are certainly going to see, because despite being virtually unknown in casual boxing media, the hardcore boxing pundits know the Dejan Zlaticanin is for real. He has been the man no one seemed to want to face in the 135 pound division. Garcia went straight for the highest perceived threat in his new division, but will he regret it, will 135 be too much against the elite fighters. Flash knockdowns on him were occurring at 130 pounds, so it stands to reason that knockdowns may be more sever if suffered at 135.
Garcia despite having a 3 inch height and reach advantage will likely be the smaller man in the ring. Zlaticanin is short but stocky tank of a man who comes forward and brings heavy pressure with good power. Garcia's game plan will be very important in this fight. He may need to box more than fight, especially if Zlaticanin can take his power. While the main event is a very intriguing fight in its own right, I won't be surprised it Garcia vs. Zlaticanin steals the show. It will likely either be a fire fight, Hagler-Hearns style, or Ali-Frazier style, with Garcia trying to box at the right time and fight at the right time as he looks to box and frustrate Zlaticanin. Either way, I see heavy and brutal drama ensuing in this one. A win for Zlaticanin would end him being unknown, and would reinforce his "boogeyman" of 135 image. A win for Garcia would bring him back full circle and back to the P4P rankings. A win would make him a 3 division world champion, poised to fight other top 135 fighters, with a keen eye on the Linares vs. Crolla rematch winner, as they would have the lineal world championship.
Carl Frampton, 23-0, 14 KOs vs. Leo Santa Cruz, 32-1-1, 18 KOs, 12 rounds featherweights, for Frampton's WBA alphabet super world title. Carl Frampton who won the fighter of the year award from the majority of boxing media outlets, is poised for another great year should he get past Leo Santa Cruz yet again. In 2016 Frampton took the "0" from two top class fighters, first in a title unification matchup vs. Scott Quigg and then moving up in weight to win another world title vs. Leo Santa Cruz. The first fight between Frampton and Santa Cruz was a highly entertaining fight in which both men had their moments and gave their all. In the end the judges gave to Frampton by majority decision, with one judge seeing it as a draw, and the other two favoring Frampton. The closeness and entertainment of the fight warranted an immediate rematch and that is what we will get in this weekend's main event out of Las Vegas. For Leo Santa Cruz this fight represents the most important of his career. Can he gain revenge and bring it even vs Frampton? Can he make the needed adjustments? These questions will be key in determining the outcome of the fight. Frampton is the odds on favorite, even if slightly, being that many experts see him as the more versatile fighter, the fighter who can implement more types of game plans. Leo Santa Cruz if he can stay disciplined, and use his substantial reach advantage from the outside, he can trouble Frampton. Santa Cruz' problem seems to be he likes to get inside and fight a little too much, even if the outside may serve him better. He is a high stamina guy who likes to throw punches in bunches. Will he come with a new game plan, or will it be similar to their first fight? We shall see, either way it will be an interesting and high stakes fight.
Thanks for reading. Check me out on the RN24 KO Boxing Forum as "TheCommissioner." Also, readers are welcome to join my Facebook group, "The Commissioner's Corner: A Face Book Boxing Group," where I feature my own top-20 rankings in all 17 divisions.