Part 3 | Anthony Joshua resembles Cassius Clay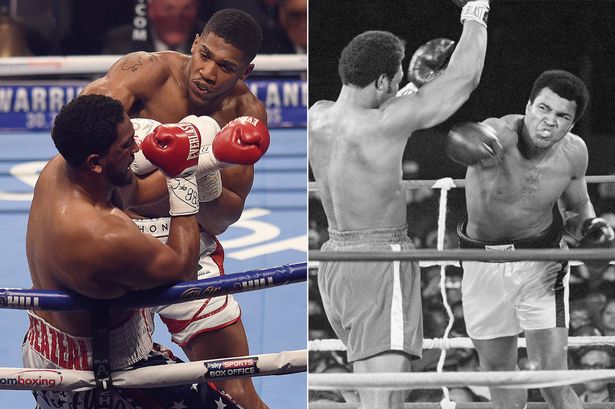 Cassius Clay, otherwise known as Muhammad Ali and 'The Greatest' is widely known to be one of the most significant and celebrated sports figures in the world.
Former trainer, John Oliver, sees similarities of Ali in Anthony Joshua. Speaking to Ringnews24.com, he added:
"His desire, his desire for success. I'm old enough to know. I go right all the way back to Cassius Clay when Cassius Clay came in the gym down in Hamstead.
"When I saw Ali, I thought "what a Physique" and I've not seen anyone like that until Joshua walked in the gym. The only person that came anywhere near that is Anthony Joshua and that's what makes me believe that.
After Olympic fights Joshua would pick up the phone to get advice from his mentor:
"When Joshua sits down it's the same sort of thing when he was back in the Olympics. I knew for a fact he would phone me after each contest. I didn't ask for it, he didn't ask for it and I sat up for him.  By the time he got back into his training camp or whatever it was after each contest he would ring me up half past 12 or one o'clock in the morning. But I always knew he would ring.
"When he boxed the Cuban he said "what did you think?" I'm really down. I said you got the win. At the end of the day you had a bad day in the office but you go the decision so that's all you got to do that's all you got to worry about. Put it in the bank and move onto the next job and that's we done, that's what he done anyway.
"He just sucks it up, the knowledge; he's just like a sponge. Anybody, any novice or anything can talk anything to him and he'll suck it in. There are no heirs and graces about him if you've got something to say, he'll take criticism as long as its constructive criticism off of anybody because he'll use it.
"At some stage in his life or with his boxing career he will use that constructive criticism. If  people have got a constructive criticism, he's right, everyone's got a point of view.
"It will definetely come if you look at Wladimir Klitschko's record. He won his European title in about his 33rd fight, that was Klitschko – he's had 68 fights all in. Everything is timing – it's timing.
Part 4 Coming Soon!
Links:
Part 1 | Part 1 | The beginning of Anthony Joshua
Part 2 | The determination of Anthony Joshua and how he smashed his trainers hand into 100 pieces
Part 3 | Anthony Joshua resembles Cassius Clay
Part 4 | Unavailable
Part 5 | Joshua has yet to be tested; Joshua puts Fury in his place
Part 6 | Is Anthony Joshua ready for Klitschko?
Part 7 | COMING SOON