Joe Smith, Jr. Ring 8's February Guest Speaker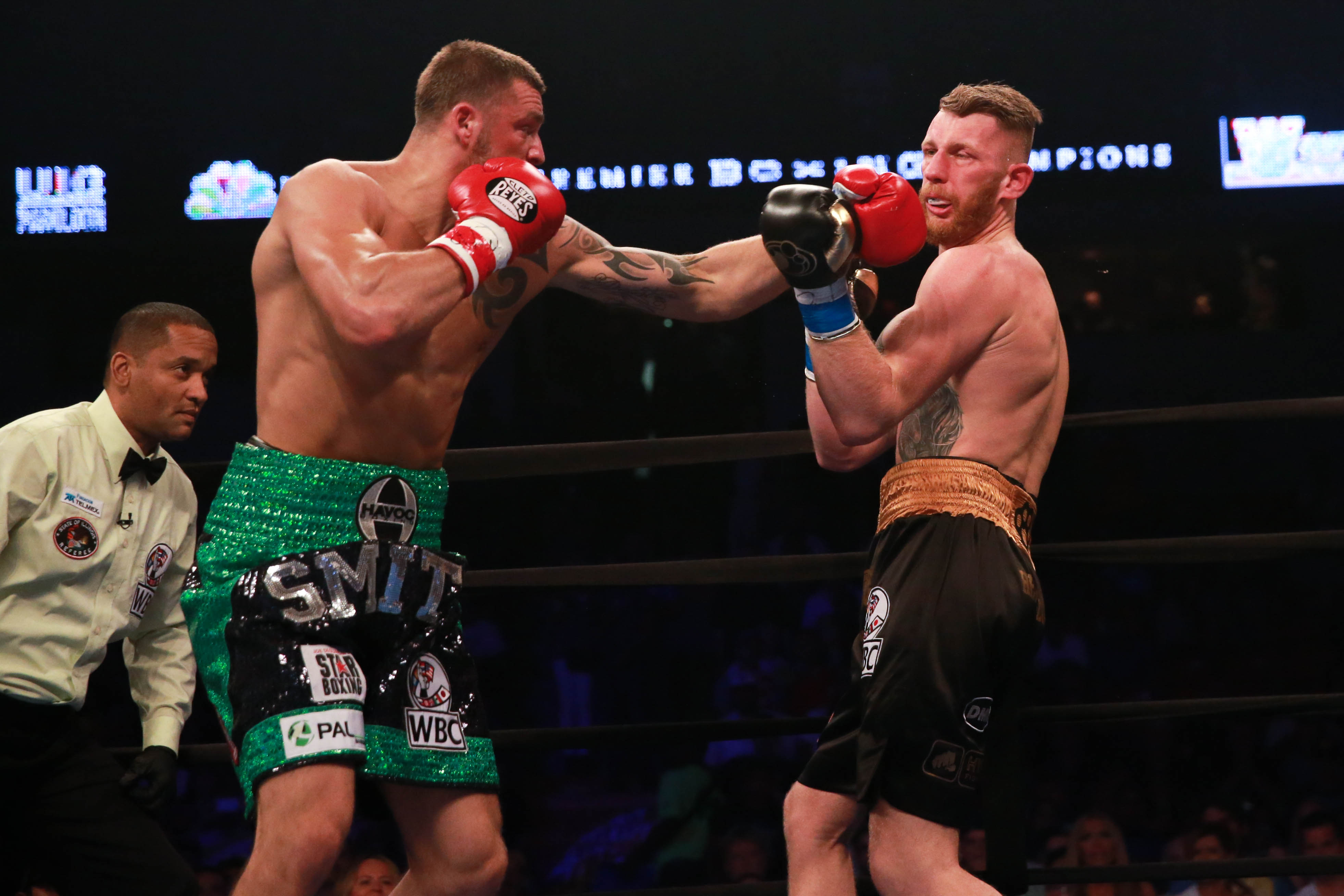 World-class light heavyweight boxer Joe "The Irish Bomber" Smith, Jr. will be Ring 8's guest speaker Thursday night, February 23, at its monthly meeting, starting at 7 p.m. ET, at Plattduetsche Park Restaurant, located at 1132 Hempstead Turnpike in Franklin Square, New York.
The 27-year-old Smith (23-1, 19 KOs) is a Union 66 laborer between fights.  The Long Island power-puncher from Mastic burst upon the International boxing scene last June, stopping former world title challenger Andrzej Fonfara (28-4) in the opening round for the World Boxing Council (WBC) International light heavyweight title.
Last December, Smith followed up with a sensational eighth-round knockout of living legend Bernard Hopkins (55-8-2), the seven-time, two-division world champion whose retirement fight was ruined by Smith.
"With knockout victories over Fonfara and Hopkins in his last two fights, Joe Smith might be the most exciting fighter since Arturo Gatti," Ring 8 president Jack Hirsch said.
"We look forward to him being a featured speaker at our monthly meeting and letting us know what he has planned next in his career."
Smith was the recipient of Ring 8's "Knockout of the Year Award" last December at the organization's 30th annual Ring 8 Holiday Event and Awards Ceremony. Phil and Jerry Capobianco, respectively, Smith's manager and trainer, were also honored as Ring 8's Manager and Trainer of the Year.
Smith is a light heavyweight contender on the verge of a major fight this year, possibly a world title shot.  He is promoted by New York State Boxing Hall of Fame (NYSBHOF) inductee Joe DeGuardia (Star Boxing).
ABOUT RING 8:  Ring 8 became the eighth subsidiary of what was then known as the National Veteran Boxers Association – hence, RING 8 – and today the organization's motto remains: Boxers Helping Boxers.
RING 8 is fully committed to supporting less fortunate people in the boxing community who may require assistance in terms of paying rent, medical expenses, or whatever justifiable need.
Go on line to www.Ring8ny.com for more information about RING 8, the largest group of its kind in the United States with more than 350 members. Annual membership dues is only $30.00 and each member is entitled to a buffet dinner at RING 8 monthly meetings, excluding July and August.  All active boxers, amateur and professional, with a current boxing license or book are entitled to a complimentary RING 8 yearly membership.  Guests of Ring 8 members are welcome at a cost of only $7.00 per person..