Ringside Report: Broner vs Granados Fight card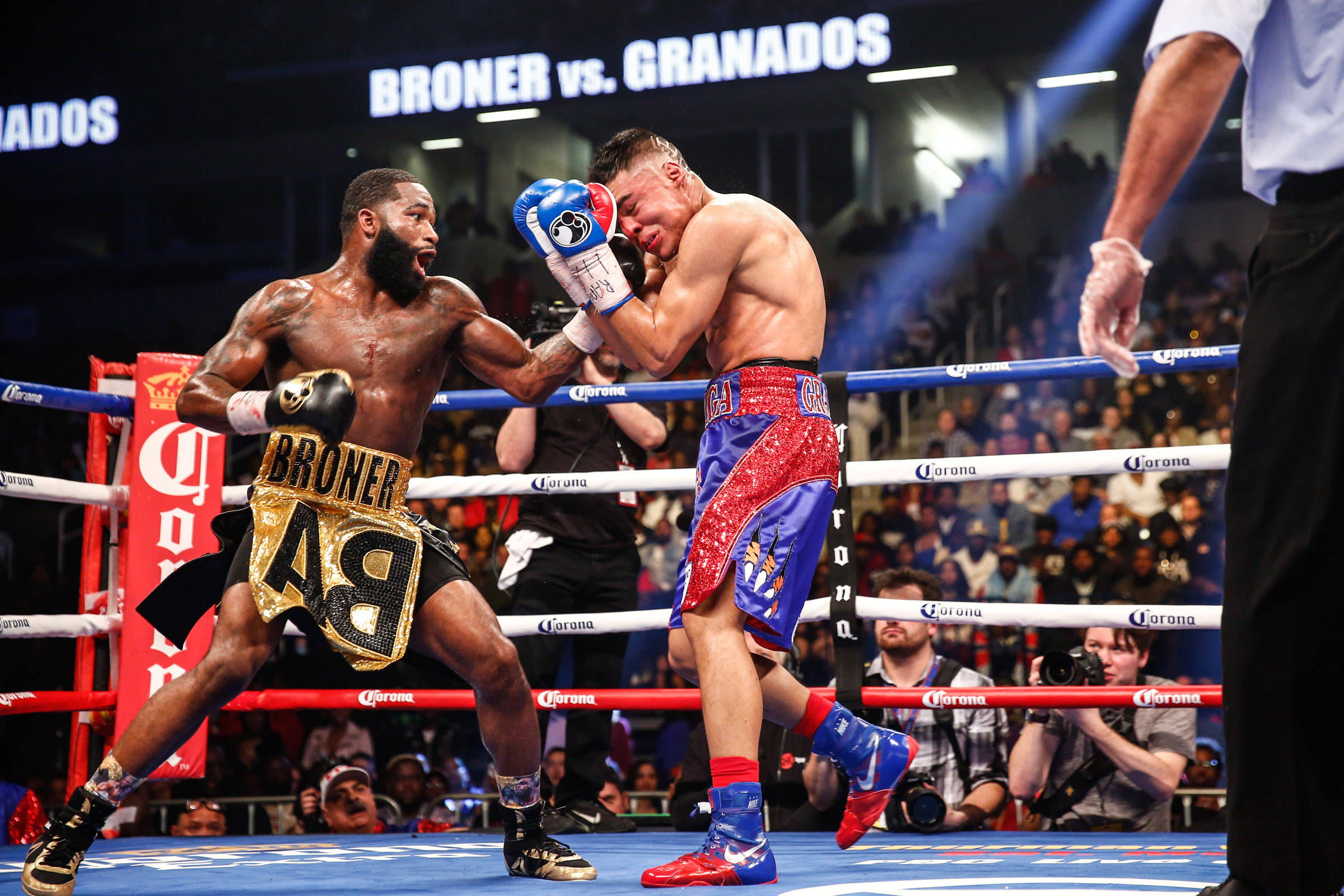 This last Saturday night from ringside, an excited and loud crowd witnessed some world class boxing action at the Cintas Center in Cincinnati Ohio. The three main card fights, shown live on Showtime, did not disappoint. They all three delivered some good action with a lot on the line.
In a Light Heavyweight bout, the first of the three main card fights, and probably the most exciting fight on the night, blue chip prospect and Olympian Marcus Browne, who was 18-0, 13 KOs coming in, took on veteran contender Thomas Williams Jr., who was 20-2, 14 KOs coming in. This would be Browne's biggest test on paper to date, in taking on the former world title challenger, and contender Williams. Williams was looking to rebound from a loss to lineal champion Adonis Stevenson by trying to defeat the Olympian Browne. The action started fast and furious as both men were throwing hurt punches from the beginning. In round one Browne stayed very poised in keeping his distance and landing straight and crisp counter punches while Williams looked to land some real bombs often just out of range. In round two Browne dropped Williams with a powerful and beautifully timed jab, but then followed up to hit Williams while he was down. This caused a bit of a stir, as the crowd erupted with the controversy. The referee Ken Milner then proceeded to deduct one point from Brown for the infraction. Williams took several minutes to recover from the foul. Brown played to the crowd, as if to insinuate Williams was taking too long to recover from the foul, while Williams recovered. The action finally resumed and they began looking for big shots again, with Browne's sharper technique being the difference, landing more often and harder. Round three was one of the closest in the fight as both men had their moments taking it to each other in a good action round. Round four featured another knockdown of Williams by a Browne right hook which had Williams in trouble again. He arose at the count of nine, but Browne just kept dishing out the punishment. You could feel Browne really start to take control even more in this round, even despite the impeccable effort and heart of Williams. In round five Browne continued to batter Williams. Williams again showed heart looking to land a bomb, but the better technical skill of Browne made the difference. In round six Browne scored the third and final knockdown from a right hook which kept Williams down ending the fight at: 42 of the sixth round. He was pointing at his jaw, and it seemed to corner was telling him to remain down. He had taken a lot of punches. The corner later indicated there might be a possible broken jaw. It was a very impressive display of skill and a great performance by Marcus Browne, now 19-0, 14 KOs, who now moves up a level from blue-chip prospect to full fledge contender, as he called out Lineal world champion Adonis Stevenson. For Thomas Williams Jr., now 20-3, 14 KOs, who has been in a lot of brutal and hard fights recently, he will have a lot to think about as he rests. He never is in a dull fight though, that is for sure.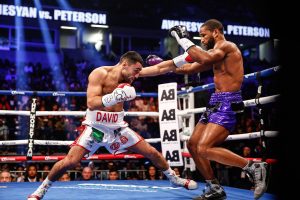 The second main card fight, at Welterweight, and co-main event, featured the return of Lamont Peterson, who was 34-3-1, 17 KOs coming in, taking on the WBA world titlist David Avanesyan, who was 22-1-1, 11 KOs coming in. Peterson was coming off of a long sixteen month layoff and would be shooting for his second weight class world title, having already won a world title at 140 pounds. Avanesyan who has a world title, was seeking more exposure and legitimacy going for a win against Peterson. His claim to fame is beating Shane Mosley, but it was an older Mosley, so there is a bit of an asterisk. A win over a much closer to his prime Peterson represented a chance to get into to the limelight. After a slow first round, Avanesyan was able to win some early rounds due to activity and out working Peterson at times. By round five Peterson had picked up steam and began to impose his strength and pressure often efficiently mauling Avanesyan pressing him to the ropes and working the body. By round six and seven, Peterson had regained the ground Avanesyan had taken in the early rounds. Both men would have their moments in round eight, but Peterson's experience, strength, and tactics began to show its quality. Round nine was a good round for both men with more give and take, as Avanesyan was trying his best to slow the momentum Peterson had built up over the last few rounds. In the championship rounds Peterson removed all doubt as he pressed, mauled, and roughed up Avanesyan. Peterson, being from the DC area, often reminds me of a Philadelphia styled fighter. By round eleven and twelve some were wondering if the game Avanesyan would survive to the distance. He didn't seem directly hurt, but you could feel he was starting to slow just a tad, and not throwing back as much. In the end the score cards read 115-113, and 116-112 twice in favor of Lamont Peterson, now 35-3-1, 17 KOs. Peterson can also now say he is a two division world titlist. Peterson is in line for some big fights in a hot division with fighters like Errol Spence, Kell Brook, Danny Garcia, Keith Thurman, and Manny Pacquaio. The game David Avanesyan, now 22-2-1, 11 KOs, had a good showing despite losing his world title. He proved he can compete with the "names" of the division, and will likely get more big fights and a chance to redeem himself. He likely will gain a bunch of valuable experience in this fight, despite losing.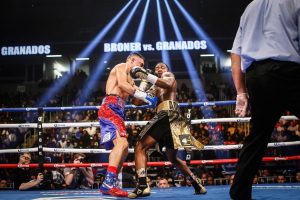 In the Welterweight main event, Adrien Broner, who was 32-2, 24 KOs coming in, took on the tough Adrian Granados, who was 18-4-2, 12 KOs coming in. Broner who is looking to reset his image to one of a fighter who is more serious about his boxing craft and life in general, was looking for a tough opponent to showcase his skills and he found it in former boxing camp spar mate Granados. Granados while unknown to casual fans, was well known by the hardcores for upsetting the blue-chip prospect Amir Imam. Against Broner he had the chance to take it to another level. Granado as tough as they come, felt he is actually still an undefeated fighter, with his losses being super close split and majority type losses. The fight itself was a good one with a lot of action. It was also not the easiest to score because of the styles employed by the fighters. Often Broner would play the matador to Granados' bull, by countering and landing the cleaner shots. Granados would often come forward and look to outwork Broner. Broner would slip many of the Granados punches when he got close, but occasionally Granados would land a very good right hand like he did in round two. After four rounds the fight was very close and competitive, with it hard to tell who was ahead. Personally I felt the cleaner punches of Broner had him slightly ahead, but I can easily see why people could think Granados activity, pressure, and aggressiveness could carry the day. I just felt his aggression wasn't as effective as Broner's cleaner shots for the most part. The mid rounds featured Broner moving a little more with Granados chasing, with Broner landing flashy shots and Granados trying to cut the ring off and land inside when he can. Nearly every round was close, with very few definitive ones. It was a fun one to watch, and as the later rounds approached many in the press row felt it was close. The final round closed with a bang as Granados came out blazing, but Broner met him head on as they would fight toe to toe. Granados urgency may have won him the round. On my card I had Broner winning by three points, but not a landslide. Official scorecards read 97-93 Broner, 97-93 Granados, and 96-94 for Broner, with Adrien Broner, now 33-2, 24 KOs, winner by split decision. The main questions for Broner, who remains one of the biggest names in boxing, are what weight he will campaign at, with most feeling 140 pounds is the much better fit. The rumor as to why Broner had the weight limit moved up was that he became ill during camp and it slowed him down. So we will see if he can make 140 next time, with a full and smooth camp. Many feel if he stays at 147 he might be up against it versus the division's elite. As for Granados, now 18-5-2, 12 KOs, due to the nature of the close fight, probably still considers himself unbeaten. He may have one of the more deceiving records in the sport. He proved he is world class, and he is likely to return to 140 pounds and look for big fights there.
Thanks for reading. Check me out on the RN24 KO Boxing Forum as "TheCommissioner." Also, readers are welcome to join my Facebook group, "The Commissioner's Corner: A Face Book Boxing Group," where I feature my own top-20 rankings in all 17 divisions.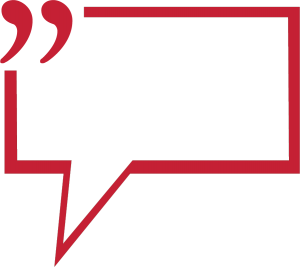 Click Here, If you wish to add a COMMENT to the above article or any of the Ringnews24 boxing articles.