Deontay Wilder Back On Track: Haters Rejoice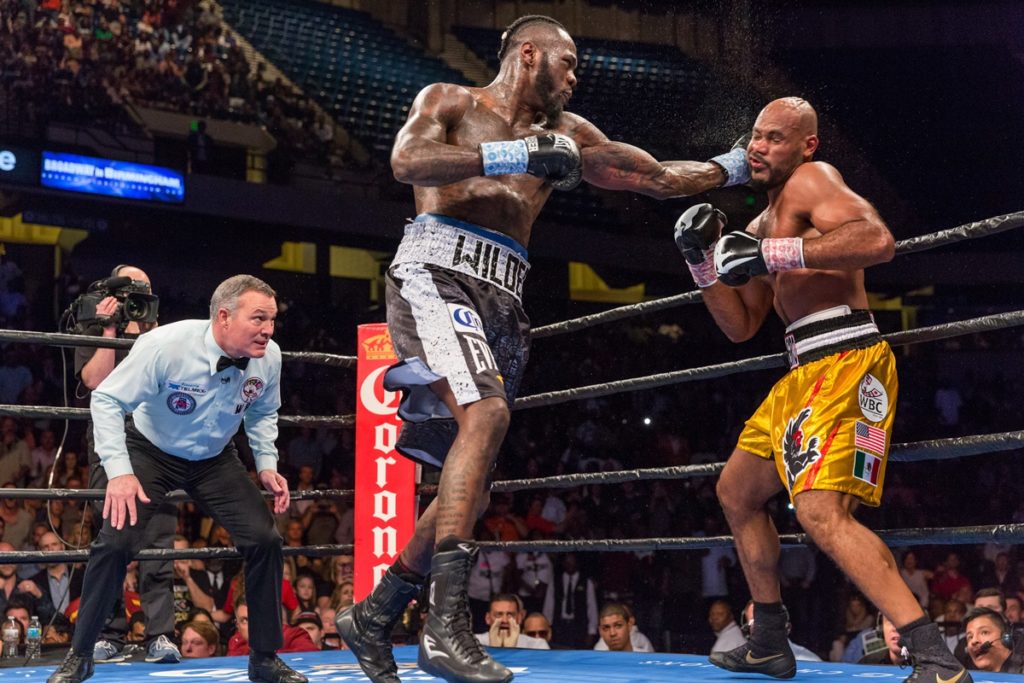 Deontay Wilder returned to the ring for the first time since July of 2016, with a 5th round stoppage over Gerald Washington. It was Wilder's 5th successful title defense of his WBC Heavyweight Title. Washington got off to a good start by establishing a stiff left jab; a punch that landed frequently on Wilder's face early in the fight.
Like when Wilder faced Artur Szpilka, the fight turned on a dime when Wilder found an opening and capitalized on it. Ending Washington's bid for a huge upset; Wilder was a 22-1 favorite in Las Vegas.
Wilder improved to 38-0, 37 KO's, while Washington fell to 18-01, 12 KO's.
The first was important for Wilder's future, as well as the future of the heavyweight division. Team Wilder and the rest of the boxing world were eager to test out the right hand and bicep of The Bronze Bomber, which required multiple surgeries due to injuries suffered in the Chris Arreola fight.
There seemed to be no ill effects from the surgeries, and it is evident Wilder's power is still intact.
There was another aspect of Wilder's game that resumed without a hitch, the negative comments on social media. Boxing fans were chomping at the bit for Wilder to return to the ring, so they can resume their hateful rhetoric on the Facebook's and Twitters of the world.
The second Washington landing with the initial jab on Wilder's face, the hater practically broke their arms scurrying to their keyboards to trash Wilder… he has no defense, he isn't active enough, worst champion ever…were among some of the comments you will see; I left out the colorful language that accompanied the comments.
Now everyone is entitled to their opinion, and criticisms are part of every athlete's life. With that said, a lot of the opinions thrown Wilder's way are based on skewed thinking.
What I saw last night, was a patient fighter who was willing to take his time. If you look at it objectively- coming off a long layoff and returning from a brutal injury- against a big, strong man; clearly physically stronger than Wilder, fighting cautiously was his only play.
At around the middle of round three it was clear Wilder was warming up, establishing range, and setting traps for his opponent. When Wilder found his opening, lighting crashed down upon the durable Washington; a man who was never dropped, let alone stopped, in 19 professional fights. Will Wilder get credit for that?
If you look at it objectively, Wilder's win was truly a thing of beauty. Okay, maybe you might say I am taking it too far. But if all you can say is 'Wilder sucks' after that fight, I would much rather drink my version of the kool aid.
Did Wilder get hit? Yeah. But not with anything that put him in dire straits, and it was primarily a left jab that was getting through. I would go as so far as stay part of Wilder's game plan was to see what offense his opponent had.
Guys like Arturo Gatti and Joe Frazier got hit plenty and are beloved. You are going to have to provide more evidence than that to convince me I am wrong about Wilder and you are right.
By now the Wilder haters probably stopped ready, so I will switch gears by saying that the future once again looks bright for the heavyweights. Deontay can look to face the Joshua v. Klitschko winner. Wilder has expressed desires to unify the heavyweight title. This means not only a fight against the Joshua v. Klitschko showdown, but a potential fight with Joseph Parker, the WBO heavyweight champion. How is any of this not great for boxing fans?
If you cannot acknowledge the heavyweight division is much better with an active Deontay Wilder roaming in it, and his willingness unify the titles speaks to the kind of competitor he is, then perhaps you should not be entitled to your own opinion because it does not have merit, and is saturated in hate.