David Haye vs Tony Bellew – Only in boxing!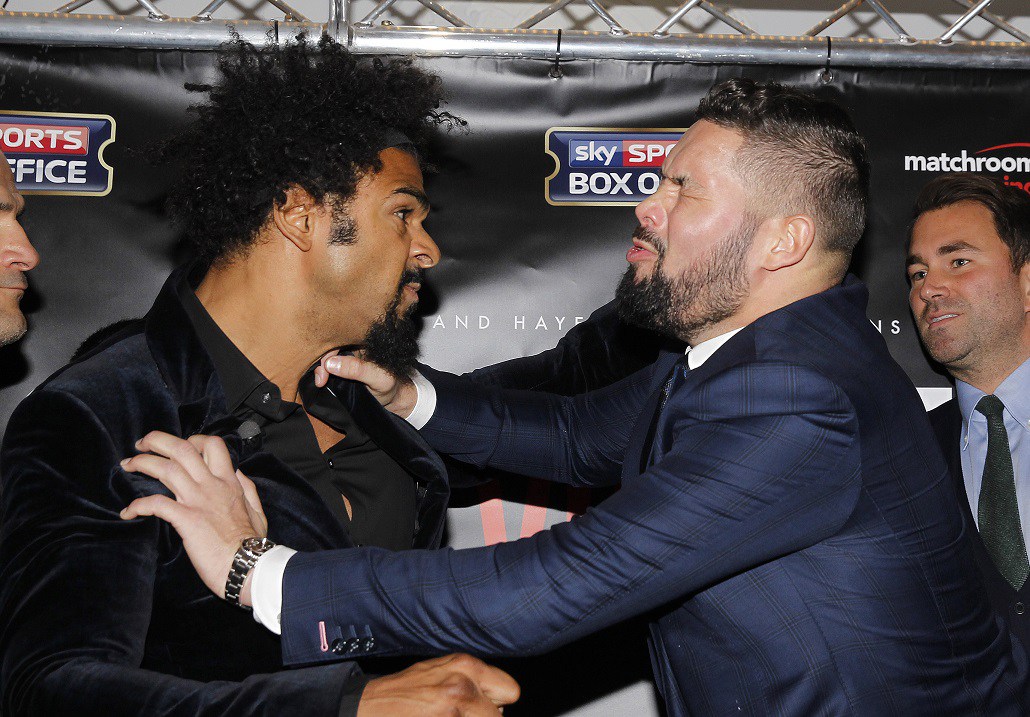 Skouser Tony Bellew vs Skynt David Haye~Bell & End Coming Together Again
The first little snit fit, ostensibly scheduled for Saturday, March 4, at The O2 in London, was prematurely kicked off two months early when the skynt Haye became overwhelmed by the immensity of their 1st prefight pressor and let fly ye olde sucker punch. Skouser Bellew giggled, shook it off, and lectured the skynt Haye for his lack of professionalism, so call it a No Decision, an ND in the unofficial books that won't count on their records.
Another British bad boy lacking any breeding or manners, Dereck Chisora, recently tossed a table that sparked another little snit fit, but he was slapped with a 2 year suspension and 25,000 fine. Maybe the much belaboured BBB of C feels sorry for the skynt Haye and figures he doesn't have the funds to pay such a fine, so they are letting him go. But later on skynt Haye called scrub of skousers at a press conference retards, so now it looks like the BBB of C will fine him for a word used in common jargon everyday around the world as opposed to assault and battery that he committed on the unsuspecting skouser Bellew.
Only in boxing!
This is the 3rd installment of the skynt Haye's celebrity boxing reality show after coming back from the ignominy of a long retirement looking to make some easy money, so here we go again, this time sucking in skouser Bellew. Skynt Haye is ranked #7 heavyweight by Ring and Bellew #3 cruiserweight, so right off the bat we see Bellew more highly regarded in the profession. Boxrec ranks them #10 and #2 for another perspective, so clearly boxing values skouser Bellew over skynt Haye who Bellew calls a "broken man."
Now skouser Bellew had a solid career in boxing going before this, finally winning a cruiserweight title in the kind of epic battle that provides the meat of substance fueling the legends of boxing, but has he thrown it all away for a much larger purse and fighter in the heavyweight division? I saw no mention of any contract weight or ring particulars, so here we go again blindly into the dark as befits the shady nature of the fight.
I am reminded of the richness of my favorite skynt Haye farce here that made him ooodles of money along with howls of derision. He seems to be one of those types who are utterly shameless about begging for more easy money.
Hush-Hush-It's Haye vs Harrison@Handbags-Shhhhhhhh…
Not many give Bellew a chance, yet the bottom line is he is the true fighter here in the fashion that the skynt Haye used to be. Skynt Hay in his celebrity comeback has yet to face a Ring ranked heavyweight, a streak going back to before his comeback several years in the making. In fact, he and his celebrity buddy millionaire Joe Fournier jetted off in his private jet for a cruise on his yacht. Joe is like skynt Haye in that he only boxes for the celebrity factor and is the undefeated 276th ranked Light heavy on boxrec. Not only, but he now fight in the Dominican Republic after testing positive for Performance Enhancing Drugs in a Belgium fight and put on a 5 year suspension by boxing commissions. He also owns a string of International Celebrity type Night Clubs, so he's got his little pinky well turned into the sordid side of life.
In fact, he offered to buy top ranked English fighter Callum Smith a private jet or a house if he will fight Joe, in the Dominican Republic I suppose…snicker…
Millionaire turned boxer Joe Fournier offers to buy Callum Smith a jet if he fights him
We have yet to know if skynt Hayes' little pinky toe is up for this fight as happened to him in the Wlad fight, and sho'nuff, just like clockwork days before the fight, skynt Haye threatened to pull out because of injury. He had a little twitter fun by flying over to Germany to see his Doctor to mess with promoter Eddie Hearns and skouser Bellew's plans, or was it to get injections for his pinkie toe and his fortitude? We shall soon see what we shall soon see.
Check-out Bobby's website: Bobby Mac's Straight Shooter