Power Punching the Order of the Day – Lemieux, Golovkin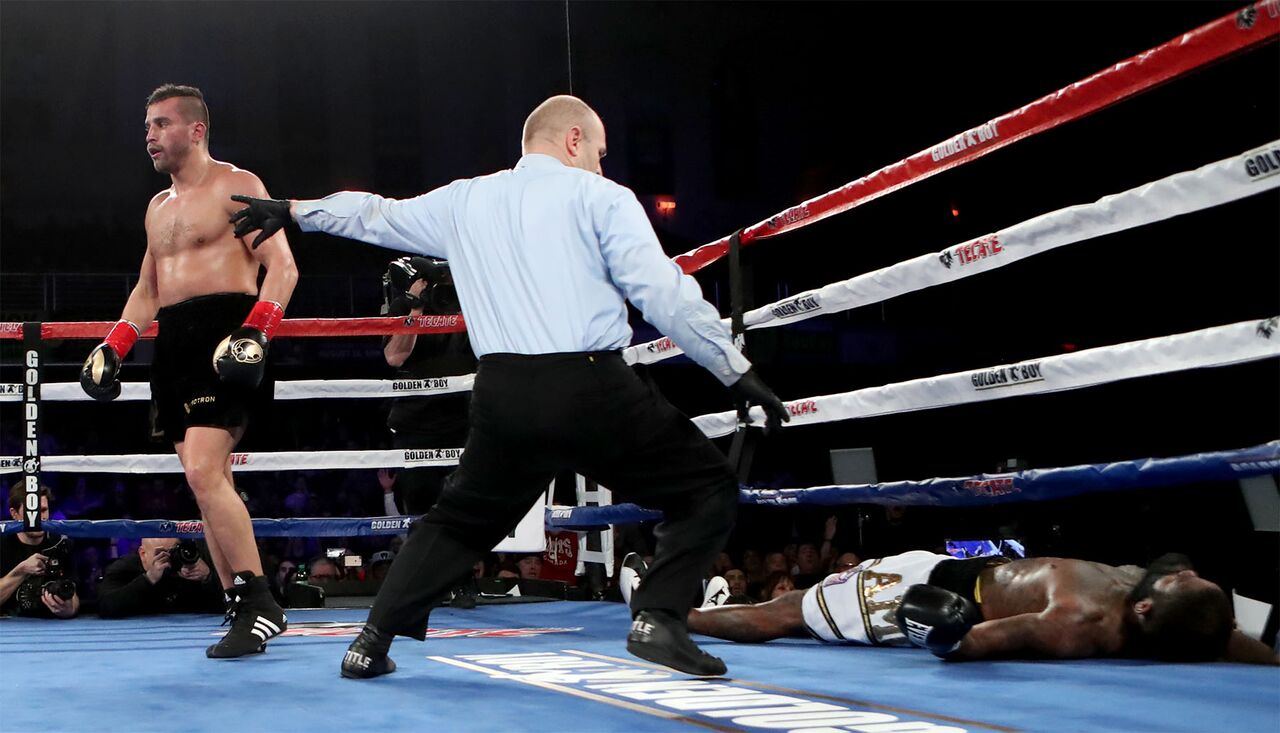 I hope most of you got to see the fight, for as long as it lasted, between David Lemieux and Curtis Stevens last week. If you missed it you probably saw replays of the huge knockout that Lemieux delivered with great precision to Stevens. Thankfully, Curtis was checked out at the hospital and deemed to be alright.
It was funny to hear most of the ringside announcers declaring that David did not look to be in good shape. Roy Jones kept disagreeing with those comments, citing that trainer Marc Ramsey would not let him come into a fight without being in shape. It took just under eight minutes for Lemieux to render Stevens unconscious before he ever hit the canvass. If this was done by an out of shape fighter I would hate to see what happens when he was any better prepared.
With the performance he gave this past weekend, the stock should have gone up for David. He is a fun fighter to watch and you never know when he will strike with his big power shot. He has lost just one fight since 2011, and that was to Gennady Golovkin in 2015 – no shame there.
And speaking of GGG, we are on the eve of getting to watch him fight again, and while he is favored in his fight against Danny Jacobs, it will probably be a tougher test than some of his other opponents proved to be; perhaps his biggest test to date, in fact. Danny is very focused, and a quality fighter who has no fear. He has absolutely nothing to lose and everything to gain, so expect him to lay it all on the line.
But what can you say about the man standing across the ring from him? Gennady continues to keep his string going – 33 wins, no losses, and 23 knockouts in a row to date – and there is no reason to really bet against him. Golovkin can do whatever he has to do to get the job done; box, brawl, use his jab, throw combinations, and land that big shot. Yes, many other fighters are capable of that as well, but very few can deliver the devastation like GGG.
Both Jacobs and Golovkin are confident, yet humble and respectful outside of the ring. Once inside, they both have one-punch power and the ability to finish their night early. Whoever wins this one takes home all the gold, and I wouldn't get up to grab a beer in the middle of the round. You might find yourself watching the replay.
I would have to lean towards Gennady, but quite frankly would not be surprised if Jacobs would steal the show, and the belts. One thing is for sure, we are in for a very thrilling and entertaining fight this Saturday.