No Robberies in New York! Golovkin & Sor Rungvisai take razor close victories
The famous Madison Square Garden, New York, USA, was the venue for fights involving two of the best P4P in boxing – Gennady 'GGG' Golovkin and Roman 'Chocolatito' Gonzalez. Both had tough fights and differing outcomes.
Undefeated Kazakhstan boxer Gennady Golovkin, 34, was facing New Yorker Daniel Jacobs, 30, in a unification contest for the WBC, IBF, IBO & WBA 'Super' World middleweight titles. 'Triple G' went into the contest as a clear favourite but found himself pushed all the way, due to the sound technical boxing of Jacobs.
Some rounds lacked action and were hard to score, Golovkin spent most of the fight pursuing the American, who at times boxed well with flashy combinations. It wasn't a high volume punching contest but an intriguing tactical battle. Gennady was guilty of, at times, looking for the perfect shot and could've used his excellent jab more. The power was with the Kazak boxer and, at times, Jacobs gave away the fact he was hurt by his facial expression.
Two right hands, against the ropes, had Jacobs down in the fourth and while he recovered and went onto box well – it is probably the moment that helped Golovkin win on the scorecards.
Credit to Jacobs for sticking to a game plan, that almost got him the victory. Golovkin pushed hard in the final two rounds to make sure of victory.
The three judges scored it: Max DeLuca 114-113, Don Trella 115-112, Steve Weisfeld 115-112, all in favour of Gennady Golovkin, who remains unbeaten with a 37-0, 33 KOs record. Daniel Jacobs (32-2, 29 KOs), thought he won the fight and there were many that agreed. It was razor close but I scored it 116-114 for 'Triple G'.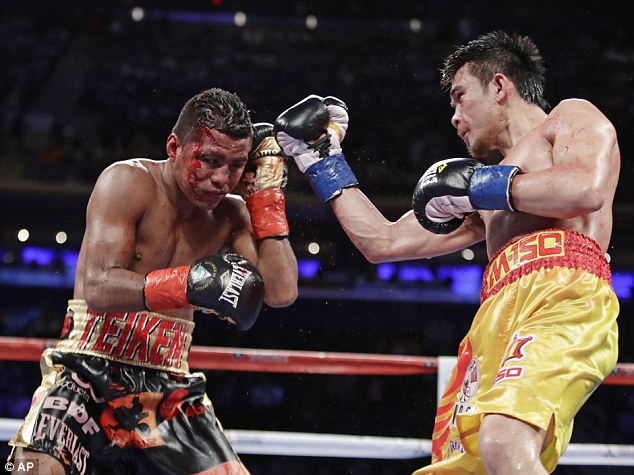 Thailand's Srisaket Sor Rungvisai (Wisaksil Wangek), pulled off a big upset over Nicaraguan Roman Gonzalez, 29, for the WBC World super flyweight title. Our friends over at Asianboxing.info, were predicting an upset and when Gonzalez went down in round one, it looked like we could have a sensational result on our hands. Gonzalez is a hugely talented boxer, his superb variety and movement keeping him in this fight during the early rounds. Sor Rungvisai, 30, was like a machine, marching forward throwing hard shots, while, seemingly, unaffected by what was coming back.
It was evident early on, that Gonzalez was going to have to use every ounce of skill to beat this challenger.
In the third round, an accidental head clash caused a nasty cut over the champion's right eye – the cut flowed blood for most of the fight. There was plenty of head clashes throughout the contest. Referee Steve Willis deducted a point from the challenger in the sixth.
Sor Rungvisai seemed to be fading approaching the middle rounds but then had a great seventh. The action was non-stop and control switched back and forth. Gonzalez landed many solid shots but Sor Rungvisai kept coming. It was such a close fight, that it was a mystery why the Thai boxer decided to move and not engage in the final round and handing the twelfth to Roman.
At times, Gonzalez (46-1, 38 KOs), was pushing himself to win the rounds against a fighter that just would not crack. The cleaner shots often from the champion but the volume and drive from the challenger. Another tough fight to score and the three judges had it: Glenn Feldman 114-112 & Julie Lederman 114-112 for Srisaket Sor Rungvisai, while Waleska Roldan had it even at 113-113. I scored it 114-113 to Roman Gonzalez, but have no complaints with Srisaket Sor Rungvisai (42-4-1, 38 KOs) being crowned the new champion.
Boxing forums, Social media and the boxing world are buzzing with debate over who actually won these two fights. They were very close but no robberies, as some claim. Would be Great to see rematches.