Lewis v Tyson: 15 Years On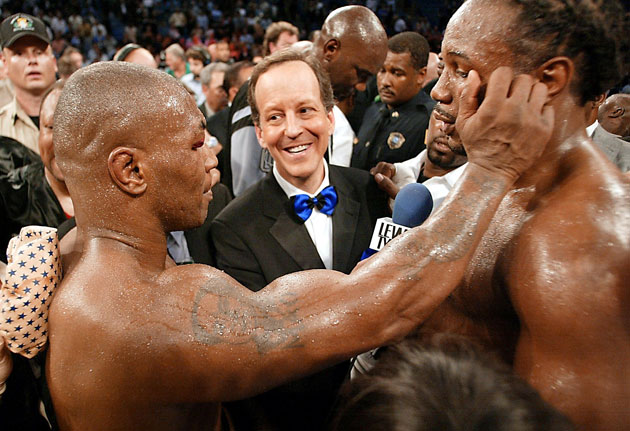 A Lennox Lewis v Mike Tyson bout had been debated many years before the two former champions finally squared off against one another on June 8th, 2002 at the Pyramid Arena in Memphis, Tennessee in what was then the richest fight in boxing history.
When Mike was released from prison back in 1995, West Ham born Lennox Lewis had already become, and had been the WBC champion of the world. Riddick Bowe, who would be a future belt holder, tasted the power of Lewis in their amateur match for the Olympic gold medal in 1988 when he was knocked out. His stoppage defeat was enough of a turn off to face him in the professional ranks, even vacating the WBC crown to avoid exchanging leather.
Lennox went on to crush former Tyson victim Razor Ruddock in two rounds to win the vacant title and made three defences, one of which was a high profile British fortification against Frank Bruno. A shocking defeat to Oliver McCall at Wembley in 1994 saw Lewis go back to the drawing board, exchanging Pepe Correa for legendary Kronk gym mentor Emanuel Steward. After working his way back up the rankings, a rematch with McCall finally arrived for him in 1997 and Lewis regained the WBC title in bizarre circumstances when McCall famously broke down inside the ring which prompted referee, Mills Lane to wave off the bout in five rounds.
More defenses lead to a unification bout with Evander Holyfield in 1999 which was decided as a draw by the majority of the judges, leading to an anticipated rematch later that year. Lewis finally set things right although he won by a much closer decision. The Englishman was finally on top of the world, and although he kept winning, a clash with the formidable Mike Tyson was inevitable at some point!
Most people know the Mike Tyson story, at least the details surrounding the majority of his reign during the 1980's. Things came crashing down for him post prison when Evander Holyfield shockingly stopped him in 11 rounds after many thought that he was back to his devastating best. His then latest title reign lasted less than a year. Promoter Don King set up a rematch for June, 1997 and the world watched in horror, and most likely in macabre fascination, as Tyson deliberately chewed off a piece of Holyfield's right ear when held in a clinch. He was soon disqualified after a repeated attempt and delivered an apology devoid of remorse to the devoted Christian days later.
A road rage incident forced Tyson to see from behind steel bars in a cell once more before being released to face Francois Botha. Mike came from behind to stop the South African former IBF title holder in five rounds. A controversial knockout victory over Orlin Norris left Tyson as a kind of a hated figure within the US, and he soon packed his suitcase to fight on a successful UK tour. Former British heavyweight champion Julius Francis was stopped bravely inside two rounds, but it was the horrifying speech after Tyson's win over Lou Savarese in Scotland that got fans thinking that a Lewis v Tyson fight was perhaps nearer than it has ever been in years!
After stating that he wanted to eat Lennox Lewis' children and his heart, a retort was fired back at him by the reigning champion, stating: "Tell Mike Tyson to put up or shut up!" Of course, the classy Brit would never have stooped so low as to come back with anything equally as vicious. Mike racked up two more wins over Andrew Golota and former IBO title holder Brian Nielsen which finally proved that there was nobody else for either boxer to face but each other!
An original date of April 6th, 2002 was set but a spanner was thrown in the works when Tyson lost his cool and caused a mini riot when he stormed over to his 6'5 nemesis and threw a hook that missed him by mere inches! Both camps immediately jumped in to restore some order but with little effect as Tyson immediately went on a verbal rampage against one particular reporter working off stage, hurling repulsive insults at him. The fight was called off after the Nevada commission refused to give the title contender a boxing license, but a new date was set of June 8th in Memphis.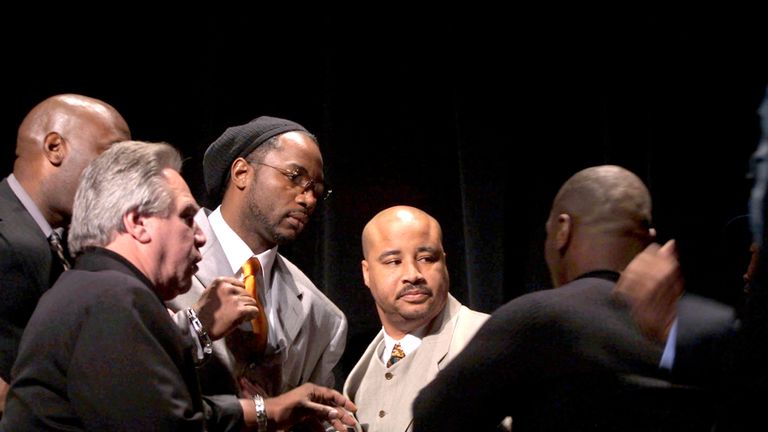 At the weigh-in, Tyson came in at a hefty 234lb while Lewis weighed 249lb. Nevertheless, Mike looked in great muscular condition. The weight gain was most likely an attempt to combat the natural physical advantage that Lewis would have over him. Looking menacing, Mike Tyson looked seemingly ready to cause chaos to Lennox Lewis' undisputed title reign!
Both boxers entered the ring, with security heavily separating the two by forming a diagonal line from post to post consisting of twelve guards. Both Michael Buffer and Jimmy Lennon Jr introduced their contracted fighters, since Mike legally belonged to HBO while Lewis fought for Showtime. A historic move, and one that has never been repeated since.
Lewis looked pensive in the first round as he continuously clinched Mike, who fought with boundless intensity for three minutes. But as the fight wore on, any enthusiasm for winning seeped more and more out of him as Lennox controlled Tyson with his jab and hit him with right hands upstairs. Referee Eddie Cotton deducted a point from Lewis in the fourth round for pushing Tyson to the ground, despite the evidence clearly showing itself that Lewis landed a number of shots.
Mike's energy reserves were exhausting as each round passed and he looked the shell of the man that once instilled fear into many opponents of the 1980's and the few he won over in the mid 1990's. In the sixth round, Tyson developed cuts over both of his eyes. His corner desperately tried to motivate him but Mike simply fired back with a defeatist attitude, telling them "I can't."
The end finally came in the eighth when Tyson was knocked twice to the canvas, the final knockdown ending with a crushing right cross that knocked any remaining traces of belief right out of him after he hit the canvas flat on his back! With his right eye swollen and also bleeding from the nose, Cotton reached the count of ten and any hopes of more championship glory came to an abrupt conclusion. And career high pay days!
The two fighters bestowed each other a wealth of generous respect during the post fight interview with Larry Merchant. Tyson labelled Lennox a "prolific fighter" while asking for a rematch. Of course, everybody but himself knew that a rematch would be a pointless exercise and thankfully it never came to fruition.
Lennox Lewis would go on to have one more fight against Ukrainian Vitali Klitschko in what would turn out to be an authentic career struggle, finally forcing Klitschko to retire at the end of the sixth round after suffering two horrific looking gashes above and below his left eye.
Mike Tyson would fight three more times, at first looking good when knocking out Clifford Etienne in the first round but losing to Danny Williams in four rounds in a shocking defeat that saw the former British and Commonwealth champion get a title shot against Vitali Klitschko after capturing the WBC crown that was left by Lewis after he announced his retirement.
One more loss against Irishman Kevin McBride convinced Mike to finally call it a day, leaving boxing with a record of 50-6 with 44 KO's.
Lewis v Tyson proved that, despite what the financial figures say, value for entertainment can never be guaranteed in return. It also proved that boxing will often deliver it's most anticipated bout. At least eventually. Unfortunately, once too often a contest comes along at a time when both combatants are past their physical peak which could potentially alter an outcome that could occur if both participants fought at their best.
Lennox Lewis and Mike Tyson settled an ongoing dispute, not only by them but between legions of fans all over the world, but the bout panned out in such a way that it turned out to be something reminiscent of when Muhammad Ali was butchered by Larry Holmes back in 1980, only 'The Greatest' was received much more with affection. Lewis v Tyson did not exactly leave much of a lasting impression.
And that is something that boxing should learn something from.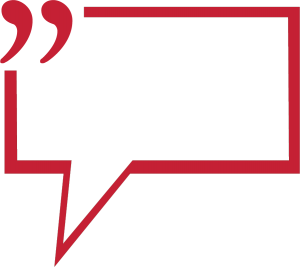 Click Here, If you wish to add a COMMENT to the above article or any of the Ringnews24 boxing articles.