Welsh Boxing: Wales vs The World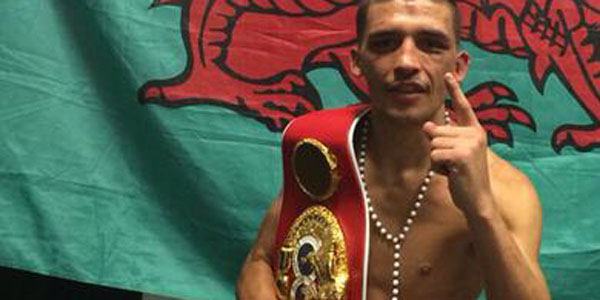 Ringnews24 has, once again, teamed up with Dragons Boxing and TopClassBoxing to bring you an article on Welsh Boxing. In this edition, we are looking at some of the exploits of Welsh boxers against International competition.
Wales has produced twelve men that have captured the World title (or a version of it). Percy Jones of Porth, was the first. In 1914, he was crowned the Flyweight World Champion. Currently, Wales has two – featherweight Lee Selby (IBF) and light heavyweight Nathan Cleverly (WBA).
Here we look at some of the memorable moments of Welsh Boxing history.
Rob Day of Ringnews24
Jim Driscoll vs Abe Attell (19/02/1909)
National Athletic Club, New York, USA
Known as 'The Little Hebrew' Abe Attell had first been recognised as the World Featherweight champion in 1903. He lost the belt in 1904, after a few defences. He regained the belt, in 1906, and defended it fifteen times before the bout with Cardiffian Driscoll.
Jim Driscoll had long established himself as the best in Britain and held the British & Empire (Commonwealth) titles, he even had a claim to a version of the World title. In 1908, Jim went to America to fight the best and to challenge Abe Attell. The Welshman, of Irish descent, fought nine times and is recognised as having won all those bouts (at that time in US boxing – if neither man was stopped it would be classed as no decision. But, often the decision by the newspaper journalists, at ringside, would be recognised). Driscoll won over the American fans in Boston, Philadelphia and New York, with his technique of hit and not get hit combined with a solid left jab.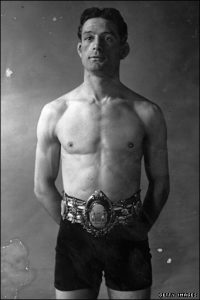 Both men fought and won earlier in the month and when they met, it was a hugely anticipated contest on both sides of the Atlantic.
The bout was over ten rounds and needed one man to be stopped to crown a winner. The wizardry of Driscoll had caused his opponent to miss and get countered. When Attell had success in the later rounds, he was never able to follow it up due to the exceptional defensive skills of Driscoll. The well matched, and superbly skilled, pair went the distance. Abe left the ring with damage to his eye and nose but still had the belt, while Jim left with the majority of newspapers declaring him the winner. Such was the impression left with US journalists and fans that the nickname "Peerless" was given to the Welshman.
There was the chance of a rematch but Driscoll declined as he had made a commitment to attend an exhibition match in aid of the orphans of St. Nazareth House, Cardiff. Instead of money and glory, he put those less fortunate first. Driscoll returned to Wales and was recognised as the World champion but it wasn't universal. In these days of multiple titles and sanctioning bodies, I'm sure that Driscoll with his technical style would have been a World champion. Wales has officially twelve boxers recognised as World champions, I believe the time has come that we all recognise Driscoll as the thirteenth.
Howard Winstone vs Mitsunori Seki (23/01/1968)
Royal Albert Hall, Kensington, London, United Kingdom
Merthyr Tydfil has produced quality boxers throughout the history of the sport. At the top of that history, in the featherweight division, is Howard Winstone. Winstone ruled the British and European scene in the 1960's. He made multiple defences of both belts. The World champion (WBA & WBC) was a Mexican named Vicente Saldivar. Saldivar has left a lasting legacy on boxing and he was a man that Winstone couldn't dethrone. The Mexican always finished their fights strongly though many claimed that Winstone should've received the decision in the second fight (in Cardiff). The third fight was at the Estadio Azteca, Mexico City, and the Welshman was stopped in the twelfth round. There was some silver lining as the Great champion announced his retirement.
Three months later, Howard would contest the vacant title against Japan's Mitsunori Seki. Seki had also suffered defeat at the hands of Saldivar (twice). The two men, finally, had the chance to become the champion of the World.
The vacant WBC title was on the line. With a jab, a slip and the quickness to the punch, it was the highly skilled Winstone that would create history. The contest was enthralling and competitive, both looking to hold the upper hand. With Howard on top, it was a bad cut that caused the referee to wave it off in the ninth.
Howard Winstone had, at last, realised the dream that his skills deserved. Cuban Jose Legra, a man Winstone had already beaten, took the title a year later – more down to the gruelling contests Winstone had, in a long career that was now at the end.
Joe Calzaghe vs Jeff Lacy (04/03/2006)
M.E.N. Arena, Manchester, Lancashire, United Kingdom
Undefeated Jeff "Left Hook" Lacy had built up a powerful reputation. He won the IBF super middleweight title in 2004 and made four defences. The US media and fans were proclaiming him as the best in the division. On the other side of the pond, Joe Calzaghe had been the WBO title holder for nine years. Injuries had sometimes stalled his career and Joe couldn't secure the biggest fights but then along came the American.
In the build-up to the fight called "Judgement Day" it seemed that Lacy was here, in the UK, to do a number on the "Italian Dragon" but as the contest turned out – it was Calzaghe that was hitting the numbers – punch after dazzling punch, he couldn't miss and he didn't let up. The man from Florida was floored in the twelfth and somehow went the distance. He left the ring a beaten man, reputation battered but no one could question the heart he displayed. Calzaghe had showcased his skills, speed and volume punching to the World and emerged from the shadows to being heralded by fans in the US and UK.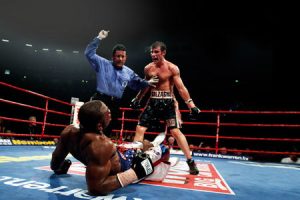 It was a stunningly brilliant one-sided display, that no one had truly expected. The three scoring judges had it wide: 119-105 & 119-107 x 2. The man from the small town of Newbridge had unified two of the belts. He would later defeat Mikkel Kessler for the remaining titles to prove, once and for all, that he was the best in the division.
David Owen of DragonsBoxing
Gypsy Daniels vs Max Schmeling (25/02/1928)
Festhalle, Frankfurt, Hessen, Germany
Gypsy Daniels – real name Billy Daniels maybe less well known than the legendary Joe Louis but he accomplished the same feat as the bomber by knocking out world-renowned Max Schmeling in 1 round during their rematch years before the famous Louis victory.
Years before this famous victory Daniels travelled to the United States in the hope of making a name for himself and that he did. As the story goes the young Welshman walked into legendary boxing promoter Jimmy Johnsons New York office and Johnson said
"Son, are you a gypsy?" – Due to Daniels' dark complexion and dark eyes. Daniels, of course, was not a gypsy he originated from Llanelli in west Wales but Johnson seen the marketing opportunities and whisked Daniels across the road and bought him a red bandana and huge earring (which were actually curtain hoops) and gypsy Daniels was born. Billy Daniels was no more, he was now the famous Gypsy Daniels, oldest of 19 sons and next in line to be the king of the Welsh gypsies! The Welsh import lived up to the hype on the other side of the pond impressing in several bouts including boxing twice at Madison square garden.
After a successful spell in the U.S Daniels travelled back home in 1923 where he would box at middleweight, light heavyweight and heavyweight but it was in 1928 that he picked up arguably his greatest win when he travelled to Frankfurt to once again take on the pride of Germany Max Schmeling, two months after losing their first encounter.
Reports from the time claim that Schmeling might have taken Daniels lightly in the rematch believing he once again would pick the win up but the Welshman pulled off the unthinkable in the Germans backyard. A confident Schmeling came out and walked straight on to a thunderous right from Daniels that knocked out the German at 2:47 of the very first round sending shockwaves around the boxing world.
Daniels was, unfortunately, unable to really capitalise on the giant win and his career somewhat tailed off and he never reached those heights again although he did have three epic domestic dust-ups with old rival Frank Moody – the last of them coming after the Schmeling bout resulting in a loss for Daniels.
Like many back in the day, Daniels continued to box on but could never recreate the magic of that night in Frankfurt.
Colin Jones v Milton McCory 2 (13/8/1983)
Dunes Hotel, Las Vegas, Nevada, USA
After a closely contested first bout between the two for the vacant WBC Welterweight crown ended in a somewhat controversial draw, many thinking the Welshman had done enough to take the title, the rematch was scheduled for the 13th of august 1983 with the man from Gorseinon, Swansea looking to pencil his name in the history books and capture the famous green belt the second time of asking but McCory was no pushover as he proved in their first meeting.
The rematch turned out to be the more exciting bout of the two bouts and started off in a difficult manner for Jones as he was dropped in the opener by a McCory left uppercut. The Swansea native was made of tough stuff and was able to gather his senses, enough so to be able to not only survive the tough opener but get stronger, as the fight progressed. Jones was able to stagger and hurt McCory, several times, but without being able to find the finish and put the American away. True grit and heart shown by both men and Jones managed the blistering heat of the Nevada desert surprisingly well. The bout, once again, went the distance with many in the crowd believing that Jones had done enough to become champion as it went to the scorecards.
One judge had it for Jones 114-113
The other two however scored it 115-111, 115-114 and McCory walked away victorious having been pushed all the way by the battling Welshman. Calls for a trilogy were made but McCory couldn't be lured into another bout and you can't blame him, Jones had shown his metal and twice controversially come away with nothing.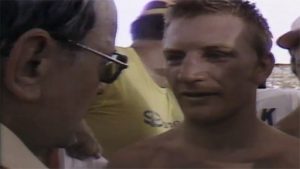 Jones, however, would get his third opportunity at a world title when he faced future pound-4-pound great WBA & IBF champion Donald Curry who stopped the Swansea boxer in 4, a fight that would ultimately lead to Jones' retirement at the tender age of only 25. Would Jones have won a world title had he not retired? I'd say yes. Should he have won the WBC title? Once again I would say yes. Is he one of the greatest boxers, not only from Wales, to have never won a world title but one of the greatest the British Isles to have never tasted world glory? 100% YES! I will go out on a limb and say that Colin Jones is one of the most gifted fighters never to lift a world title but is, without a doubt, one of the very best Welshmen to ever lace up a pair of gloves.
Enzo Maccarinelli v Roy Jones Jr (12/12/2015)
VTB Arena, Moscow, Russia
As I sat in a small leisure centre in Swansea watching the welsh amateur novice championships the seat next to me was taken up by Enzo Mac who was as enthusiastic about these raw amateurs boxing as he is about seasoned pros. As we got talking Enzo whispered, "Have a look at these but don't tell anyone as nothing's been announced yet".
Now I had heard a whisper weeks before that Enzo was lined up to face the living legend Roy Jones Jr, but myself as did many others couldn't see that happening but Enzo then took his phone out and proceeded to show me the face off shots of him and Jones Jr from the previous week, it was true and it was happening! The fight of a lifetime for Swansea's greatest ever boxer.
Granted this was not the RJJ of the 90's, the pound-4-pound king and one of the most iconic boxers in history but it was still Roy Jones Jr., and his name still to this day carries weight and puts bums on seats. It was set and strangely took place in Jones' newly adopted country of Russia. In Moscow, to be exact, on a cold December evening.
Maccarinelli went in as slight favourite but still had a job to do over the legend and it was clear from the first bell that RJJ was going to be in for a long hard night as Maccarinelli threw out a piston-like jab that carried some serious power and caused Jones to sit on the ropes for the majority of the opening rounds and although Jr still does possess a small amount of his legendary hand speed his feet unfortunately are no longer what they used to be and he was unable to get himself out of trouble, ultimately leading to Maccarinelli landing heavy shots especially to the body. As both fighters returned to their corners it was the Welshman's trainer Gary Lockett with the words, "He is going to slow down as the rounds go on" and how true this was.
The 2nd and 3rd rounds came and for most watching there was only going to be one outcome, as Enzo continued pressing and often rocking Jones' head back with his jab then taking it downstairs and apart from the odd flurry from Jones, Maccarinelli looked in total control. It couldn't have been easy viewing for fans of Jones Jr and it was about to get a whole lot worse as they started the fourth.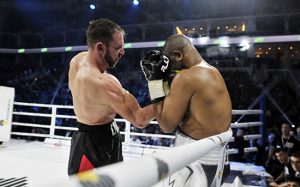 Enzo again managed to back Jones against the ropes and hit him with a quite beautiful uppercut that sent Junior down to the canvas. Jones made it back to his feet and gestured that he was okay as the referee counted to eight but Maccarinelli sensed the end was near and as the official stepped aside and said 'box', Enzo marched across the ring looking for the finish – and what a finish!
In a scene, no true boxing fan wanted to see Jones Jr was cut down like an old oak tree in the forest by the chainsaw that was Maccarinelli's right hand. The Welshman delivered a brutal right hook that sent the once great Jones Jr crashing face first to the floor, sleeping before he had hit the canvas with the referee not even bothering with the ten count and waving the contest off immediately. A sad sight and one that seemed not even Maccarinelli really wanted to see. In a show of pure class from the former Cruiserweight king – rather than celebrate knocking out the biggest name he has ever faced in his own (newly appointed) back yard the Swansea-born boxer walked calmly to his corner, took a knee – said a prayer and looked on with concern as the medical team attended to his downed opponent.
Although none of the famous belts Maccarinelli or Jones once owned were on the line this still ranks right up there for Swansea's favourite son as when he looks back over his hugely successful career the name Roy Jones Jr will stand out possibly above all others.

Paul Daley of TopClassBoxing
Upon being asked for three of my most memorable fights involving a Welsh fighter, it was probably not surprising to some to see a tip of the hat in direction to an all-time great who just happens to share the same town as myself of Merthyr Tydfil.
To get a better understanding of the magnitude of the event chosen being that I wasn't around at the time my reliance on fight tape and press clippings came to my aid when making an educated opinion, so without further ado:
Jimmy Wilde vs Pete Herman (13/01/1921)
Royal Albert Hall, Kensington, London, United Kingdom
In possession of the longest recorded winning streak in the history of the sport, "The Mighty Atom" Jimmy Wilde went an unprecedented 103 bouts before a mixture of the flu and a very good fighter in Tancy Lee put an abrupt end to this incredible feat, a fighter that a fully fit Wilde would go on to knockout just a year later.
It is throughout his 136 fight professional career which is recorded without including a few hundred fairground encounters, that gives me easy pickings for this category, wins over the likes of Joe Conn, Joe Symonds, the aforementioned Tancy Lee and Memphis Pal Moore would be more than adequate to mention, but I've gone in a different direction, instead recounting his loss to Pete Herman in 1921.
Herman, one of the greatest Bantamweights of all time came into this particular bout overweight with suggestions that he may have even been of the featherweight limit, whilst Wilde weighing just 6 stone 10 Oz was no stranger to fighting bigger men, having had to do so right throughout his career, it was no surprise to see him battling men that weighed upward of two stone heavier.
Wilde knowing the divide in weight between the two men, asked that Herman steps on the scales to get a true reflection of the task at hand, Herman refusing to do so in the knowledge that he was well over even that of his natural division.
Wilde in the shack of the head told Herman's team that unless he abided by the rules that the fight be cancelled, by which time the Albert Hall had filled steadily to full capacity in eagerness of seeing two of boxing's best go at it, never in the knowledge that the fight was so close to being scrapped.
In fact, it took the Prince of Wales to appeal to Wilde's patriotic side to get the fight underway, almost begging him to do so. Jimmy reluctantly agreed to a contest which in today's society would have never been sanctioned.
Jimmy that night went an incredible 17 rounds with a man that outweighed him severely, who all the time lent on the thin legs of the Merthyr fighter until the referee Jack Smith eventually called a halt with the famous words ringing true: "I'm sorry, Jimmy; I have to pick you up because you don't know how to lie down."
I picked this particular fight because it was against all odds that Wilde showed his grit and determination in not just making it through seventeen rounds but in so doing he gave one of the history's best Bantamweights a great fight, Often we got accounts of Wilde facing much bigger men but Herman was an entirely different prospect, he was the largest man Wilde had faced PLUS he was a great fighter, this fight was just another indication that proved himself to be one of the sports greatest ever flyweights.
Today he is probably best remembered by the words of former heavyweight champion Gene Tunney who said simply, "Jimmy was the greatest fighter I ever saw."
Tommy Farr vs Joe Louis (30/08/1937)
Yankee Stadium, Bronx, New York, USA
Clydach Vale's Tommy Farr didn't lace up the gloves because he loved to fight, in his own words it was the lesser of two evils, faced with a lifetime of mining it drove Tommy to the squared circle which took him to the Yankee Stadium and a meeting with one of boxing's greatest in Joe Louis.
Losing his mother to bronchitis from an early age, his father a well renowned Irish bare knuckle fighter was injured some years later whilst down a coal mine, which meant it was left to Tommy to pick up the slack.
Aged 12, Tommy wanted to be a chef but already a big lad he started to make some money fighting grown men in boxing booths at fairgrounds which was common in Wales at the time.
Money changed hands as Farr knew that he could make a good living in this trade, now 18 years old Farr moved to London to open his possibilities, making a name for himself amongst fight fans because of his brave nature.
Tommy albeit a decent professional wanted more from his topsy-turvy career up until 1935, thereafter he went on a winning streak winning the Welsh Light Heavyweight title before taking the British/ Commonwealth crowns against Ben Foord before beating former world champion Max Bear on points which led to his date with destiny that took the form of the legendary Joe Louis.
Money can't buy the love of a nation which is what Tommy received on the night of the 30th August 1937.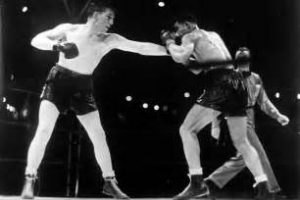 Prof Peter Stead, co-author of Wales and Its Boxers stated "You could argue that Tommy's fight against Louis was the first sporting media event on a Wales-wide basis.
"Tonypandy town hall was opened in the middle of the night so the community could listen to it together, but so many turned up that they had to rig extra speakers outside.
"At Tommy's old colliery they tried to rearrange the shifts so as many of the miners as possible could listen, and for those unfortunate enough to have to work underground while it was on, updates on the progress were chalked on the sides of the coal drams sent down in the cages.
"The power of radio brought Wales together behind Tommy that night, and his courageous performance kept us there. I think that love meant more to Tommy than all the belts he won."
In a courageous effort, Farr became just the second man to take Joe Louis to a points decision, losing out narrowly, some suggesting that it was a hometown decision, Farr later admitted that the right man won on the night
"My face looked like a dug-up road after he'd finished with it. I've only got to think about Joe Louis and my nose starts bleeding,"
That night Tommy Farr rose to prominence, his face noticeably taking the effects of an engaging encounter, Tommy was pushed on by the love of a nation which is carried still through the archives and relived over and over.
Lee Selby vs Evgeny Gradovich (30/05/2015)
O2 Arena, Greenwich, London, United Kingdom
In more modern times there are some great fights to choose from, Joe Calzaghe's trips across the pond to defeat Bernard Hopkins and Roy Jones Jnr are highlights to many a Welshman and quite possibly could end up on one of the others writers shortlist, but being this is my most memorable, the Hopkins fight aside I couldn't quite bring myself to write about a hero of mine (Jones Jnr) being beat the way in which he was so one sided by Calzaghe.
So that being said my last pick would have to be Lee Selby's dissection of Evgeny Gradovich for the IBF Featherweight title at the O2 Arena.
A young fighter from Barry who I had watched from ringside in his professional debut at the Newport Sports Centre had got to the pinnacle of his chosen profession, not just accomplishing the feat of becoming world champion but doing so in such brilliant fashion that it left the Robert Garcia trained Gradovich to succumb to the brilliance he had in front of him.
An often-coined tongue in cheek nickname of "The Welsh Mayweather" was fitting that night in particular as Selby always looked a move, or three, ahead of the pressure tactics that Gradovich employed. It was a coming of age type of moment which gave naysayers closure in their opinion of him on the world stage.
Those of us in the Welsh valley's already knew the talent that he possessed, showing fight fans glimpses of such in his wins over Stephen Smith, Martin Lindsay and Joel Brunker.
In fact, it was the win over Australia's Brunker that convinced me that the fight would play out the way it did, Brunker and Gradovich employ very similar styles.
The win meant that he earned his spot amongst 11 other Welsh World champions, following in the footsteps of the likes of Jimmy Wilde, Howard Winstone and Freddy Welsh among others.
This rounds off the three most memorable to me. I would like to take this opportunity to Thank Rob Day for including me in this debate and hope there are many more collaborations between ourselves at TopClassBoxing, RingNews24 and David Owen of Dragons Boxing.
Check-out the previous collaborations:
Welsh Boxing Prospects: https://topclassboxing.wordpress.com/2016/10/07/welsh-boxing-prospects/

All Welsh Match-Ups – The Classics: http://www.dragonsboxing.co.uk/single-post/2016/10/17/All-Welsh-Match-Ups—The-Classics
vbconnectorcommentcountobj:

a:2:{s:12:"commentCount";b:0;s:19:"commentCountCreated";i:1599352682;}