Ringnews24 Interview: Manuel Avila Ready to Take on Joseph Diaz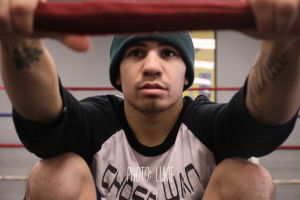 In less than two weeks Manuel "Tino" Avila will have his toughest fight to date, as he faces off with Joseph "JoJo" Diaz. Avila will not only meet his strongest opponent in Diaz, but he will fight under the glitz, lights and television cameras on the undercard of the Canelo Alvarez / Julio Cesar Chavez, Jr. Pay-Per-View card in Las Vegas.
Both Tino and JoJo are undefeated, with Avila's record standing at 22-0 with 8 KOs, while Diaz is 23-0 with 13 KOs. Even though these records are very close on paper, it is Diaz who is thought to have the best boxing resume. Tino turned professional at age 18, and had very little amateur experience, with only 54 fights.
In contrast, JoJo had a stellar amateur career. He was a quarter-finalist in the 2011 World Amateur Boxing Championships. Because of that finish, he became the first American boxer to qualify for the 2012 Olympics. But none of that intimidates Tino.
Avila's last fight was back in November, an ugly, hard-fought war with Jose Ramirez that saw Manuel get the win in a questionable split decision. He proved he could take whatever was thrown at him, be it punches, elbows, and all other 'techniques'.
Before a recent training session, Avila took the time to speak with Ringnews24 about his background, and his big upcoming fight. And make no mistake, he plans to show Diaz and everyone else just what he has to offer the featherweight division.
"I have been with Golden Boy since I turned pro," Tino told us. "It is unusual, being from Northern California without a big amateur background and no Olympic experience. I think I am the first to sign with a big promoter without any of that experience, and not being from L.A."
What is also unusual is that Manuel has been with the same trainer since he started – Al Lagardo. But other things have changed in training for this fight. First, he has added strength and conditioning coaches to his training.
"Now I have Karl Sharrock and Sean Sharkey working with me as well. This is a big fight for me, so we are working on a lot of different things and my body is changing. I am getting a lot stronger and faster and have more mobility in my body."
And a final change; up until this fight, Tino has never been a full-time boxer. Even though he signed with Golden Boy Promotions, he held a job as a steel worker. For this fight however, Avila has put that job on hold and is training constantly.
"For two years and my last three fights I was working full-time construction and still trained full-time. But now, for this fight, I am training full-time and not working. I took a leave so if I wanted to go back there I could, but I think I am going to look for an easier job than construction, maybe even part-time.
"But I will go back to work," Manuel said. "I have a daughter named Angelica Rose who just turned three months old, and a wife, Cynthia. I want to keep working until I am sure that the fights are coming and the money is coming in. I am a family man first and a boxer second."
Tino really enjoys spending time with his family and going to the occasional movie with them. He has stayed very grounded throughout the boxing process. He has made the right choices in both his professional and personal life. We look for Avila to have a long and successful career in boxing, and wish him good luck in his battle against Diaz.
I must thank Anthony Saldana, "Lukie" Lucas Ketelle, who is helping Manuel with public relations and set up this interview for me, and of course Tino himself, for taking the time to talk with Ringnews24.
All Photos courtesy of "Lukie" Lucas Ketelle