Eric Armit's Weekly Boxing Report: Oscar Valdez, Shawn Porter, Zolani Tete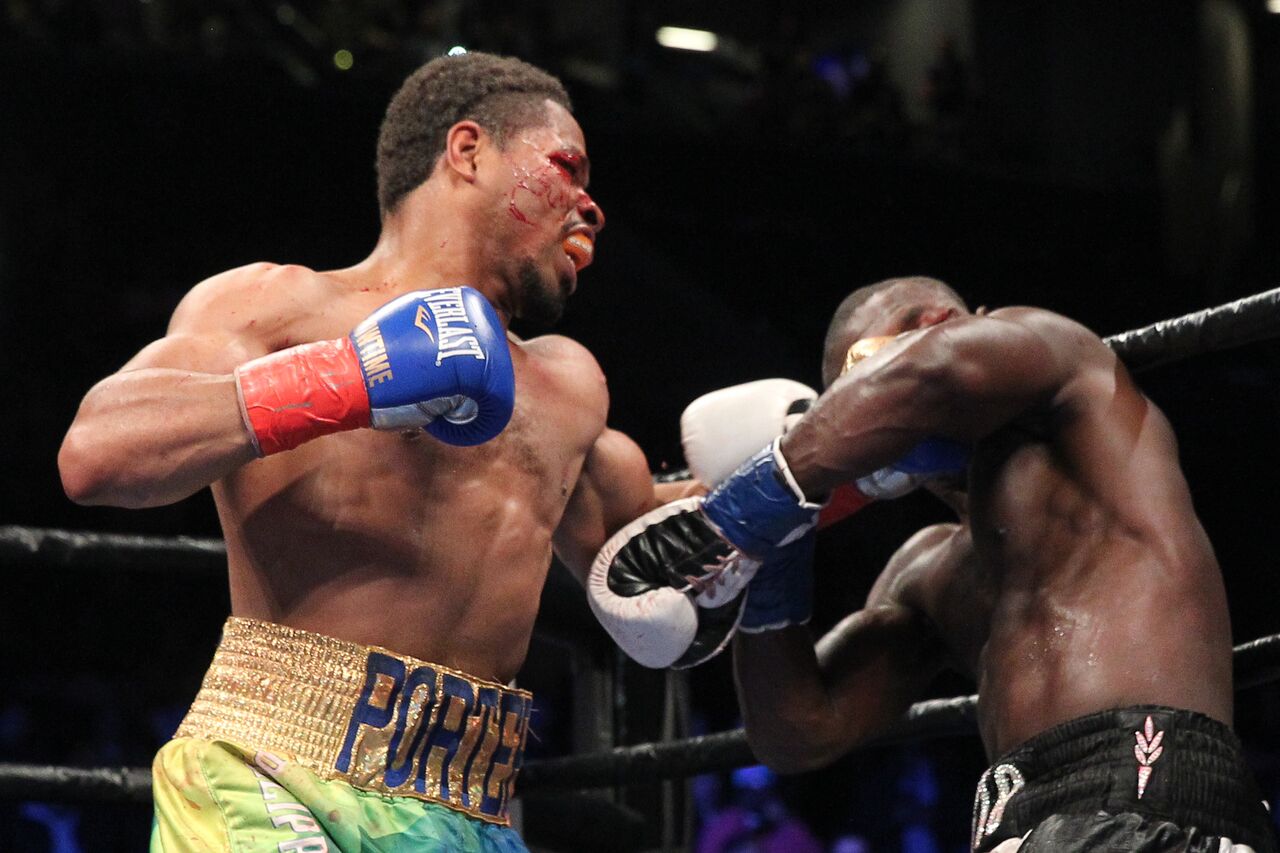 The Past Week in Action 26 April 2017 – Weekly Boxing Report

Highlights:
-Successful world title defences for Oscar Valdez, Jesse Magdaleno, Gilberto Ramirez, Jermell Charlo and Kazuto Ioka
-Marlon Tapales fails to make for WBO title defence in Japan
-Zolani Tete wins vacant WBO title
-Avtandil Khurtsidze wins vacant interim WBO title
– Shawn Porter stops Andre Berto in clash of former champions and former champions Arthur Abraham, Sam Soliman, Juan Carlos Reveco all score wins
April 20
Verona, NY, USA: Super Light: Michael Perez (25-2-2) W PTS 10 Marcelino Lopez (32-2-1). Welter:  Rashidi Ellis (18-0) W PTS 10 John Carl Sosa (13-3). Welter: Eddie Gomez (20-2) W PTS 8 Dennis Dauti (14-2). Cruiser: Vyacheslav Shabranskyy (18-1) W KO 2 Larry Pryor (10-16).
Perez vs. Lopez
Perez gets split verdict over Lopez. From the start Argentinian Lopez was coming forward looking to take Perez to the ropes and work inside. Perez was boxing well on the back foot scoring on the advancing Lopez with jabs and body punches. When he got close Lopez was using left hooks to the body and rights to the head. Lopez was relentless but Perez was constantly working the jab scoring as Lopez came forward. Perez was throwing and landing more but Lopez was the harder puncher. In the eighth a long left hook from Lopez put Perez down. He was up quickly but had to survive some fierce attacks from Lopez in the remainder of the round. Perez moved and boxed well over the last two rounds but was rocked by a left hook in the ninth as Lopez continued to pressure to the bell. Scores 97-92 and 96-93 for Perez and 96-93 for Lopez. To some extent the score reflected whether Perez's lighter but more frequent punches impressed you or the constant pressure and harder punches from Lopez. Newark's "The Artist" Perez, 27, was having his first fight since losing on a sixth round retirement against Petr Petrov in September. Former Argentinian and South American champion "Nino" Lopez looked worth at least a draw here. He was having his first fight since October 2015.
Ellis vs. Sosa
Ellis wins majority decision over Sosa. This was a fast-paced bout mixing good skills, speedy movement and burst of ferocious activity. Both fighters were quick with Sosa having a slight edge in reach and Ellis just a bit quicker on hand speed. When they stood and traded they were both going for quantity rather than quality with fists flying wildly on a hit and miss basis. The pace never slackened with Ellis just having the edge and staging the stronger finish. Scores 97-93 twice for Ellis and 95-95. Ellis, 23, lived up to his "Speedy" nickname and retains his IBF North American title. Puerto Rican Sosa was challenging for the title for the second time. He has lost three in a row but all to very good quality fighters.
Gomez vs. Dauti
In yet another close fight Gomez gets decision over Dauti in his first fight since 79 seconds stoppage loss against Ellis in December.  Scores 77-75 twice and 79-73 all for Gomez. The 24-year-old E-boy Gomez from the Bronx had lost against Francisco Santana and beaten Sosa before the kayo loss to Ellis. Grecian-born Switzerland-based Dauti, 23, a former GBU world champion, climbed off the floor on his way to a close decision loss against unbeaten Spaniard Nicolas Gonzalez in 2015 and then scored a low level win in his last fight in February 2016.
Shabranskyy vs. Pryor
As with Gomez Shabranskyy returns from a kayo loss. The tall Ukrainian "Lion Heart" made it 15 wins by KO/KO with second round kayo of Pryor, First fight for 29-year-old Shabranskyy since seventh round kayo loss to Sullivan Barrera in December. Pryor is now 1-7 in his last 8 fights.
Nonthaburi, Thailand: Light Fly: Fahlan Sakkreerin (32-5-1) W TKO 7 Oscar Raknafa (13-14). Fahlan picks up the vacant IBF Pan Pacific title. The Thai took a few rounds to breakdown the Indonesian. He eventually put Raknafa down in the fifth and again in the sixth. On the third knockdown in the seventh Raknafa indicated he was through and the referee stopped the fight. First outing for Fahlan since losing on points to Milan Melindo for the IBF title in November. Raknafa is now 1-11 in his last 12 fights.
April 21
Buenos Aires, Argentina: Jorge Heiland (29-4-2) W KO 8 Mateo Veron (26-19-3,2ND). These two know each other well and produced a savage war. Southpaw Heiland was marching forward forcing the taller Veron to stand and fight as they loaded up on every punch they exchanged . Veron outslugged Heiland in the first but Heiland worked inside to take the second and third. Veron had a strong fourth scoring with counters as Heiland advanced. Heiland was given a tongue lashing from his trainer before the start of the fifth. Veron was in control for most of the fifth round landing flush with a powerful right and snapping Heiland's head back with an uppercut. Despite this he was tiring and a series of punches from Heiland ending with two clubbing rights to the head saw Veron slump down against the ropes. The bell went just as the eight count was completed. A tiring Veron was floored again at the end of the sixth again just before the bell so survived the round. A gutsy Veron scored the best punches of the seventh but Heiland just walked through them and battered away at Veron's body. They traded wild swings in the eighth until a left hook sent Veron stumbling into the ropes. Heiland landed some big head shots and then ended the fight with thunderous straight right  that put Veron down on his knees. He beat the count but was stumbling badly and blood was running down his face from a cut over his right eye and the referee stopped the fight. It had been a brutal fight as the 30-year-old "El Gaucho de Pigue" went to 3-1-1 in 5 fights with Veron. He also made it 16 wins by KO/TKO and eight wins in a row. He is No 1 with the WBC-but not the mandatory challenger. There is nothing scientific about Heiland's style it is built on sheer aggression and pressure. However his defence is poor and against punchers such as or Gennady Golovkin, Daniel Jacobs or David Lemieux  he would be in deep trouble. Veron drops to 7 losses by KO/TKO. He was 5-1-1 in his last 7 fights and contributed a pile of guts to this superbly entertaining fight.
Buenos Aires, Argentina: Super Fly: Juan Reveco (38-3) W PTS 12 Jesus Vargas (15-9-1). Just an easy pay day for Reveco as he outclasses Venezuelan Vargas. A natural minimumweight fighter Reveco was giving away lots of height and reach but was too quick and clever for the modest Vargas.  Reveco forced the fight all the way scoring with left hooks to the body and straight rights. Vargas tried to stay competitive but he lacked the power or the speed. He tried to get on the front foot but when he did he was walking onto counters and never looked like winning a round. Reveco peppered him with punches and quick but light combinations on his way to victory. Scores 120-108 twice and 120-110. The 33-year-old former holder of the secondary WBA light fly and flyweight titles Reveco wins the vacant South American title. He was out for a year after losing to Kazuto Ioka for the secondary WBA fly title in December 2015. He is rated No 5 by the IBF but with positions 1 and 2 vacant and Donnie Nietes fighting Thai Komgrich for the vacant title he is in line for a shot at the new champion. Vargas is now 1-6 in his last 7 fights.
Melbourne, Australia: Super Light: Tim Hunt (21-4-1) W TKO 1 Patomsith (16-9). Super Light: Terry Tzouramanis (16-3-3) W PTS 10 Brent Dames (5-2).
Hunt vs. Patomsith
Hunt gets second first round win in a row as he halts Thai Patomsith inside a round with the referee stopping the fight just after the two minute mark. The former Australian champion is 5-0-1 since losing on a fifth round stoppage against Japanese battler Yoshihiro Kamegai in 2013. The 35-year-old Patomsith has lost 5 of his last 6.
Tzouramanis vs. Dames
Tzouramanis goes over some old ground as he takes unanimous verdict over Dames. These two had fought in June last year when Tzouramanis climbed off the floor to win the decision. The 31-year-old State champion has now won 5 of his last 6 fights. Dames, the Australian No 10 had won his last three fights.
Barranquilla, Colombia: Super Light: Israel Luna (19-0-1) W KO 4 Miguel Pacheco (7-12-1). Luna makes it nine wins in a row with fourth round knockout of Pacheco. The 22-year-ol Luna, a former Colombian champion, is based in Tuscaloosa, Alabama and 16 wins by KO/TKO mostly against poor level opposition in Colombia. Ninth loss by KO/TKO for Pacheco.
Piove di Sacco, Italy: Light: Davide Festosi (10-0) W TKO 5 Marco Sicilliano (13-4). Festosi wins the vacant Italian title with stoppage of Sicilliano. After a couple of slow  rounds of cautious sparring Festosi got on top in the third and opened a cut with a punch. Sicilliano started the fourth strongly but by the end of the round Festosi was back in charge. He rocked Sicilliano in the fifth and with the cut worsening the referee stopped the fight. The 25-year-old local fighter has now won his last 4 fights by KO/TKO. Sicilliano, 36, had won his last 4 fights but this is his second failure in a shot at the national title.
Osaka, Japan: Light Fly: Tetsuya Hisada (28-9-2) W PTS 10 Kenichi Horikawa (32-15-1).  Hisada wins the vacant Japanese title and gets revenge for two previous losses to Horikawa. Hisada forced the fight from the start and after three good rounds was boosted in the fourth when Horikawa was deducted a point for a butt. Horikawa fought back hard over the fifth and sixth but lost another point for a butt in the sixth and ran out of steam. Hisaka virtually tied the fight up as he floored Horikawa in the seventh. Despite a bad vertical gash over his right eye and a big bruise under his left eye he fought hard over the closing rounds to hold on to his lead and took the unanimous decision. Scores 97-91, 96-91 and 95-92 all for Hisada. The 32-year-old from Osaka makes it seven wins in a row. Former national champion Horikawa, 37, was 7-1 in his previous 8 fights and may now retire.
Santa Rosa City, Philippines: Super Bantam: Ernesto Saulong (20-2-1) W PTS 10 Jestoni Autida (9-7). Super Fly: Renz Rosia (13-5) W TKO 7 Benezer Alolod (17-9-5).
Saulong vs. Autida
Fighting in front of his home fans Saulong climbs off the floor to outpoint less experienced Autida. Saulong nearly threw this one away. Autida has a reputation as a hard left hooker and Saulong made the mistake of deciding to trade left hooks and found himself on the floor. He only just survived that shock and had the additional problems of a cut over a rapidly closing left eye. Over the second half of the fight he used a ferocious body attack to take over and earn a close unanimous decision. Scores 95-94 twice and 96-93 all for Saulong. The 28-year-old "Chocolate" Saulong, a former undefeated WBC International champion is now 6-1 in his last 7 fights. Autida has lost four on the bounce all against higher rated opposition.
Rosia vs. Alolod
Rosia wins this all-southpaw battle with stoppage of Alolod. The power of Rosia was the deciding factor in this one. He put Alolod down in the sixth with a right but failed to end it then. In the eighth Rosia battered Alolod on the ropes and was teeing off with head punches. Again he could not find the punch to end it but the referee stopped the fight. Rosia, a former undefeated WBC International champion now has 7 wins by KO/TKO. He lost to Moruti Mthalane in South Africa for the IBO title in 2015. Former national champion Alolod has now lost 4 of his last 5 fights.
Bilbao, Spain: Super Feather: Jon Fernandez (12-0) W RTD 2 Ismael Garcia (7-1). Super Light: Ignacio Mendoza (42-12-3) W RTD 8 Ruben Rodriguez (5-2-1).
Fernandez vs. Garcia
Fernandez collects the vacant Spanish title as his whirlwind attacks overwhelm Garcia. In the first round Garcia tried to walk forward but was met with a storm of hooks, uppercuts and right crosses to the head. It was more of the same in the second and at the end of the round he had suffered enough and refused to continue. The tall local fighter Fernandez, 21, the WBC Youth champion, now has 10 wins by KO/TKO including nine fast finishes in a row. It will be interesting to see how he goes against tougher opposition. Garcia's 7 wins had come against opposition with just 6 wins between them and Fernandez was just too good for him.
Mendoza vs. Rodriguez
Mendoza regains the Spanish title as Rodriguez retires at the end of the eighth round in their fight for the vacant title. It looked as though Rodriguez might end it early when he battered the veteran to the canvas in the second round. Mendoza got up and fought back hard and they traded shots to the bell in a great round of fighting. In the third Mendoza put Rodriguez down with a left hook and this time Rodriguez was the one surviving. Fierce exchanges in the sixth saw Rodriguez trapping Mendoza on the ropes and unloading to head and body. He was leaving himself open in these attacks and in the seventh Mendoza took Rodriguez to the ropes and landed a series of left hooks that saw Rodriguez go down on one knee. He was badly hurt and only just made it to the bell. Late in the eighth a right to the head floored Rodriguez again. He was pawing at the ropes as he tried to rise and although he made it and Mendoza had no chance to land anything else Rodriguez was sensibly pulled out at the end of the round. The 35-year-old Colombian-born Mendoza now has 26 wins by KO/TKO. He has lost quite a few fights on the road against top rated fighters so it was nice to see him get the win here. Rodriguez, 24, who actually is a man from La Mancha, played his part in an exciting scrap as he was moving up a long way in level of opposition and distance so a game performance.
Manchester: England: Light: Joe Murray (20-2) W KO 1 Rey Cajina (14-41-5).
Murray was hoping for a few rounds of work here to keep him sharp for coming fights but no chance. The Manchester " Genius" put poor Cajina down twice and it was over in 100 seconds. After two losses to Liam Walsh in Commonwealth title fights Murray was out of the ring for 14 months. After four low keys wins on his return he announced himself in some style with a dramatic kayo of unbeaten Dane Rashid Kassem and is ready to get back to the top. Nicaraguan travelling loser Cajina usually goes the distance but not this time.
Kissimmee, FL, USA: Feather: Chris Diaz (21-0) W KO 3 Jose Estrella (18-12-1). Feather: Juan Carlos Rivera (11-0) W PTS 8 Jesus Pacheco (7-6). Welter: Sammy Valentin (12-0) W TKO 1 Luis Florez (22-7). Bantam: Jeyvier Cintron (1-0) W PTS 4 Leonardo Reyes (6-13). Light: Teofimo Lopez (4-0) W TKO 2 Jorge Munguia (12-9). Bantam: Antonio Vargas (2-0) W KO 1 Emilio Rivera (0-2).
Diaz vs. Estrella
Diaz continues his winning ways with kayo of late substitute Estrella. Easy outing for Diaz, he put Estrella down in the first and then nearly cut him in half with a body punch in the third. Estrella sat out the full ten seconds in agony. The 22-year-old Puerto Rican, the WBO No 4 feather, makes it 13 wins by KO/TKO. Poor Mexican Estrella, who literally was a last minute stand in, drops to five losses by KO/TKO.
Rivera vs. Pacheco
Rivera adds to the list of promising young Puerto Rican fighters as he outpoints useful Pacheco. The 21-year-old Rivera was moving up to eight rounds for the first time and won the unanimous verdict on scores of 79-73 from all three judges. Pacheco had won 6 of his last 7 fights.
Valentin vs. Florez
If you blinked you might have missed this one as Valentin registered his second one round win in a row. The 22-year-old "Hurricane" has nine wins by KO/TKO. He had kayoed 15-1 Javier Rodriguez in 70 seconds five weeks ago. Colombian Florez has one outstanding result and that was a 99 second stoppage of current WBC super feather champion Miguel Berchelt in 2014. Berchelt was 21-0 at the time and it is still his only loss. Florez has fallen away badly and is 3-6 in his last 9 fights
Cintron vs. Reyes
Another of the recent Top Rank signings from the 2016 Olympics had his first pro fight as Cintron won every round against Reyes. The tall fair-haired 22-year-old Puerto Rican is certainly one to follow. He is the only Puerto Rican fighter to have participated at two Olympic Games-the 2012 and 2016 Olympics. He was a silver medallist at the World Youth Championships and took the gold at the Pan American Youth Championships. Only the AIBA rules on age prevented him winning more senior titles. Reyes took a lot of punishment but stood up to it well.
Lopez vs. Munguia
Yet another former Olympian on the Top Rank books gets a win here. Lopez kept his 100% record of inside the distance wins with second round stoppage of Munguia. Lopez won the 2015 National Golden Gloves title and also the US Olympic Trials. However since Cuban Carlos Banteur had already qualified there was no spot open at the Olympics for Lopez. He then entered the Americas qualifiers representing Honduras as both of his parents were born there and qualified by winning that tournament but failed to medal in Rio. Promising fighter. Reyes-well he just happens to come from-Honduras but has lost his last 6 fights.
Vargas vs. Rivera
Vargas makes it a trio of victories for former Olympians as he knocks out Rivera in the first round. Both of his wins have come inside the first round. The 20-year-old deeply religious Texas-born son of Puerto Rican/Mexican parentage Vargas was US and Pan American champion in 2015 and despite losses in both the US Olympic Trials and the International Qualifier he fought back to get to Rio but did not medal. So put his name in the book for the future.
Miami, OK, USA: Super Feather: Yaundale Evans (19-1) W PTS 10 Billel Dib (21-1). Evans returns to action with unanimous decision over Australian Dib. Evans was a clear winner in a fast-paced competitive scrap with Dib not able to present the former top amateur with too many problems. Scores 97-93 from all three judges. Long periods of inactivity have seen the 28-year-old from Cleveland having only his third fight since a disastrous first round loss to Javier Fortuna in April 2012. He wins the vacant WBA-NABA title. Dib, the WBA No 13, had won his last 12 fights.
April 22
 Carson, CA, USA: Feather: Oscar Valdez (22-0) W PTS 12 Miguel Marriaga (25-2). Super Bantam: Jessie Magdaleno (25-0) W TKO 2 Adeilson Dos Santos (18-3). Super Middle: Gilberto Ramirez (35-0) W PTS 12 Max Bursak (33-5-1). Welter: Mahonry Montes (33-6-1) W PTS 10 Francisco Santana (24-6-1. Welter: Alex Besputin (7-0) W PTS 8 Breidis Prescott (30-10). Feather: Shakur Stevenson (1-0) W TEC DEC 6 Edgar Brito (3-3-1). Welter: Maxim Dadashev (7-0) W KO 3 Bilal Mahasin (9-4-1). Super Light: Fazliddin Gaibnazarov (1-0) W TKO 2 Victor Vazquez (7-3).
Valdez vs. Marriaga
Valdez retains his WBO title but is given a very hard evening by the ever aggressive Marriaga
Round 1
Valdez used a quick accurate jab to counter Marriaga who was forcing the fight but was frustrated by good defensive work from Valdez.
Score 10-9
Round 2
Marriaga continued to march forward in the second and made this a closer round but again Valdez although on the back foot was more accurate.
Score 10-9 Valdez                                                                                                   20-18
Round 3
This time the pressure from Marriaga saw him getting though with hooks and uppercuts and Valdez was showing the marks of battle and Marriaga was working the body well.
Score 10-9 Marriaga                                                                                                29-28
Round 4
Valdez got back on top in this round. Again he was getting his punches off quickly throwing less than Marriaga but was more accurate and was finding plenty of gaps in Marriaga's defence.
Score 10-9 Valdez                                                                                                   39-37
Round 5
Marriaga took this one. He kept on top of Valdez giving Valdez very little room and very little rest. Both scored with some choice body punches but Marriaga had the better of the exchanges.
Score 10-9 Marriaga                                                                                                48-47
Round 6
Marriaga started the round well scoring with hooks to the body from both hands and straight rights. Valdez used his speed and accuracy to have a good spell but Marriaga finished the round the stronger.
Score 10-9 Marriaga                                                                                                57-57
Round 7                                                                                                                   
Valdez pulled out a round when he needed it. He was getting his punches off first with Marriaga struggling to connect as Valdez ducked, weaved and frustrated Marriaga's attempts to score with anything substantial.
Score 10-90 Valdez                                                                                                 67-66
Round 8
Marriaga evened the scores again, this time he stayed on top of Valdez. The sheer volume of punches from Marriaga prevented Valdez from countering effectively and he had to use all of his skill to stay out of trouble.
Scores 10-9 Marriaga                                                                                              76-76
Round 9
Again Marriaga was pressing hard and Valdez was moving less but countering more as they often stood toe-to-toe and both were rocked. I could not separate them as they both had good spells.
Score 10-10 Even                                                                                                    86-86
Round 10
This was the crucial round. As Marriaga continued to come forward a left hook to the chin from Valdez sent him staggering back on rubber legs and dumped him on his rump. It was a heavy knockdown and Marriaga only just got up as the count reached eight. Valdez stormed after Marriaga. Although landing some heavy punches too much of what he was throwing was wild and inaccurate. He steadied himself but by then Marriaga had recovered and was fighting back at the bell.
Score 10-8 Valdez                                                                                                   96-94
Round 11
There was no finesse on show in this round as they just stood in front of each other and punched constantly. Both landed and both absorbed plenty of punches ignoring how tired they must have felt and the accuracy of Valdez just gave him the edge.
Score 10-9 Valdez                                                                                                   106-103
Round 12
Valdez went for broke early in the round landing the bigger and more frequent punches and he needed that start as he punched himself but had done enough to hold off a strong finish by Marriaga over the last minute of the round.
Score 10-9 Valdez                                                                                                   116-112
Official scores: 119-108, 118-109 and 116-112 all for Valdez.
Make no mistake this was a very tough test for Valdez. As I saw it the fight could have gone either way until the knockdown in the tenth. After that Valdez had the confidence to take the last two rounds and Marriaga was over committing himself to try to drag back those two points for the knockdown. Second title defence for the 26-year-old Valdez and on this showing he might struggle against the other three champions. Colombian Marriaga, 30, was a very live challenger and was No 1 with the WBO. He lost a wide unanimous decision to Nicholas Walters for the WBA title in a fight in which Walters lost the title on the scales. He had scored five wins since then and he will feel he deserves a return but Valdez is entitled to some voluntary defences so Marriaga may have to look elsewhere for a title shot.
Magdaleno vs. Dos Santos
Magdaleno blows away Brazilian challenger in impressive style.
Round 1
Magdaleno made a fast start. Dos Santos had height and reach over the champion but Magdaleno went straight to work. He was getting past the Brazilian's reach and scoring inside and also drawing the lead and stepping in with fast counters.
Score 10-9 Magdaleno
Round 2
In the second Magdaleno let Dos Santos come to him and then fired a series of quick shots to the head. Magdaleno then plunged inside and landed two southpaw lefts to the head that put Dos Santos down. The Brazilian beat the count but a tigerish Magdaleno chased him throwing hooks and finally put Dos Santos down again with two clubbing rights to the temple. Dos Santos tried to grab Magdaleno's legs on the way down and the fight was immediately waived off without a count. Successful first defence of his WBO title for Magdaleno and win No 17 by KO/TKO. Cesar Juarez is the No 1 in the WBO ratings based on an upset win over Albert Pagara but Nonito Donaire is No 2. Donaire easily beat Juarez for the vacant WBO title in December 2015 and he wants a chance to revenge the loss to Magdaleno in November which cost the Filipino his WBO title. Dos Santos, 25, was No 12 with the WBO after passable wins over Walberto Ramos and Devis Perez.
Ramirez vs. Bursak
Easy defence of his WBO title for Ramirez as Bursak has nothing really to offer against the reach, hand speed and clever boxing of the champion and loses every round.
Round 1
Ramirez made good use of his physical advantages. He was spearing Bursak with jabs and catching the challenger with hooks when he tried to get inside
Score 10-9 Ramirez
Round 2
Bursak scored with a good left hook early in the round but Ramirez repaid him with a much better left hook and also banged home body punches. Bursak was warned twice for holding as he tried to stay inside.
Score 10-9 Ramirez                                                                                                 20-18
Round 3
Bursak kept trying to plough his way inside but was paying a price in the shape of uppercuts and hooks as he moved forwards. At distance both the reach and the hand speed of Ramirez were dominant.
Score 10-9 Ramirez                                                                                                 30-27
Round 4
Once again Ramirez bosses the action. He had Bursak under fire with a stream of right hooks and uppercuts. Bursak managed to get through with a couple of punches late in the round but was also warned again for holding.
Score 10-9 Ramirez                                                                                                 40-36
Round 5
Ramirez made good use of his reach advantage in this one spearing Bursak with right jabs and then firing fast combinations as Bursak struggled to stay competitive. They clashed head twice but luckily neither was cut. Bursak was deducted a point for holding.
Score 10-8 Ramirez                                                                                                 50-44
Round 6
Ramirez worked the body hard in this one with hooks from both hands. Bursak kept trying to march forward but Ramirez was able to score at a distance and finished the round with a strong attack.
Score 10-9 Ramirez                                                                                                 60-53
Round 7
Ramirez applied more pressure in this round firing quick combinations with Bursak just unable to block or duck most of what was coming his way. Once again they clashed heads and the referee warned them both to be more careful
Score 10-9 Ramirez                                                                                                 70-62
Round 8
Already it was not a case of who would win but whether Ramirez could halt Bursak. He was taking pot shots at distance and firing hooks with less and less coming back from Bursak.
Score 10-9 Ramirez                                                                                                 80-71
Round 9
The fight was too one-sided to be entertaining and as Ramirez dominated more and more Bursak was launching less attacks and going into survival mode
Scores 10-9 Ramirez                                                                                               90-80
Round 10
A rapidly tiring Bursak was warned for holding again. He tried to come forward but Ramirez stepped up the pace and punished the challenger to the body
Score 10-9                                                                                                                 100-89
Round 11
It was all Ramirez again in this one. He was slotting home right jabs and banging combinations to the body. Bursak finally clinched once too often and the referee deducted Bursak a point for the offence.
Score 10-8 Ramirez                                                                                                 110-97
Round 12
Bursak was too tired to try to stage a big finish and Ramirez was able to drive him back around the ring landing hooks from both hands inside with Bursak just covering up or holding to make it to the final bell.
Score 10-9 Ramirez                                                                                                 120-106
Official scores 120-106 for Ramirez from all three judges
Successful if simple first defence for the 24-year-old Mexican southpaw. He had also taken every round when beating Arthur Abraham for the title in April last year. Jesse Hart is his No 1 rated challenger but with Abraham, No 2, outpointing No 3 Robin Krasniqi tonight in Germany as unlikely as it may seem Abraham will be hoping for a return with Ramirez. I can't see that ending differently than the first fight. Bursak was a manipulated challenger. His only win last year was in April against a guy with a 12-4 record and yet seven months later he suddenly appeared at No 10 in the WBO ratings for November so it is no wonder it was an easy night for Ramirez.
Montes vs. Santana
Montes scores a minor upset as he takes split verdict over Santana. The fight fell into three sections. Over the early rounds the action was close. Although Santana had an edge in reach it was Montes boxing from distance and Santana doing god work in close. Montes asserted himself over the middle rounds and floored Santana in the fifth and built a substantial lead. It needed to be as Santana came on strong over the closing rounds. Scores 96-93 and 95-94 for Montes and 97-92 for Santana. After going 25-0-1 over his first 26 fights Montes had moved up in quality of the opposition he faced and was 7-6 in his last 13 fights. Santana, 30, had also faced top opposition recently with losses to Sadam Ali and Jose Benavides and a win over Ed Paredes.
Besputin vs. Prescott
Besputin too young, strong and aggressive for Prescott. The Russian southpaw was pressurised the Colombian from the first bell walking forward throwing fast combinations of hooks and uppercuts from both hands. Prescott was forced to stand and trade and absorbed a chunk of punishment. Besputin suffered a cut far back on his head from a Prescott elbow in the sixth but took his revenge in the seventh putting Prescott down. He also had the Colombian hurt in the last. Scores 80-71 for Besputin from all three judges as the 25-year-old prospect continues his climb. Besputin won gold medals at both Youth and Senior level at the European championships. Prescott, 33, has moved onto the down slope and is 6-7 in his last 13 fights.
Stevenson vs. Brito
Stevenson gets win in his first pro fight but Brito proves a tougher and more reliant opponent than expected. A bloody battle saw Brito cut over his left eye in the second from a clash of heads and deducted a point in the third for a butt. Stevenson showcased his supreme skills and won every round but just could not get the gutsy Brito out of there. The doctor finally ruled that Brito's cut was too bad for the fight to continue and the judges all had Stevenson un front 60-54 giving him the technical decision. Not quite the sensational start predicted but make no mistake the 19-year-old Stevenson is a huge talent. He won gold medals at the Youth Olympic, World Junior and World Youth Championships and won his way through the US Trials and Americas Trials before being unlucky to have to settle for a silver medal in Rio. Brito did more than expected here.
Dadashev vs. Mahasin
Dadashev gets another inside the distance win. The Russian had Mahasin in trouble a couple of times before landing a beautiful left hook to the chin in the third that put Mahasin down and out cold. Now 6 wins by KO/TKO for the 26-year-old former high ranking amateur. Mahasin had won his last two fights and was a reasonable level of opponent for this stage of Dadashev's career.
Gaibnazarov vs. Vazquez
Yet another outstanding amateur turns pro as 2016 Olympic gold medal winner Gaibnazarov overcomes a rude shock to get his victory. You expect all kind of starts for these top guys but not one where they find themselves on the floor in the first round of their first pro fight. That's what happened to Gaibnazarov. He shook off that bad start to floor and then stop Vazquez in the second round. Apart from his Olympic gold the 25-year-old southpaw from Uzbekistan is a former Uzbek champion and won a silver medal at the World Championships and scored wins over Jose Ramirez, Kenneth Sims and Gary Antuanne Russell. The 21-year-old Vazquez had won his last three fights.
New York, NF, USA: Welter: Shawn Porter (27-2-1) W TKO 9 Andre Berto (31-5). Super Welter: Jermell Charlo (29-0) W TKO 6 Charles Hatley (26-2-1).
Porter vs. Berto
This was a fight neither man could afford to use but in the end the speed and relentless pressure brought Porter the victory.
Round 1
Both fighters made a cautious start and there were few highlights but Berto just did a little more than Porter.
Score 9-10 Berto
Round 2
Porter was doubling up on his jab and moving in behind it throwing hooks inside. He took Berto to the ropes and trapped him there for almost a full minute. He was the only one doing any work inside as he went to the body. Their heads clashed with Berto pawing at his right eye but Porter suffered a small cut over his left eye. With only seconds remaining in the round Porter shook Berto with a left uppercut and as Berto went back Porter landed a right to the temple which sent Berto down on one knee. He was up quickly and after the eight count the bell went.
Score 10-8 Porter                                                                                                     19-18
Round 3
Porter took the third. He was getting his punches off quicker and again had Berto pinned to the ropes as he worked inside. Not all of his punches were landing but Berto was just holding and not working. A clash of heads opened a cut over the left eye of Berto.
Score 10-9 Porter                                                                                                     29-27
Round 4
Berto did a bit better in this round taking the fight to Porter and landing some strong hooks. He also complained a couple of time about careless head work from Porter. Once again Porter was throwing and landing more punches. A clash of heads late in the round this time saw Berto cut over his left eye. The referee stopped the action to have the doctor inspect the injury but the fight was allowed to continue.
Score 10-9 Porter                                                                                                     39-36
Round 5
Porter's hand speed and quicker movement was again giving Berto problems. Porter landed a sharp left uppercut and was able to take Berto to the ropes and score with body punches. The referee had the doctor examine Berto's cut as the blood was trickling into Berto's eye. The doctor gave the OK for the fight to continue and a fired up Porter had Berto too busy defending to throw any punches.
Score 10-9 Porter                                                                                                     49-45
Round 6
Before the action started the doctors simultaneously examined the eye injuries suffered by both fighters and let the action continue. There were was more posing than punching but with the hand speed of Porter again giving him the edge as he was doubling up on his jab at the end of the round.
Score 10-9 Porter                                                                                                     59-54
Round 7
There was very little action and very few clean punches landed by either boxer. The best punch was a left to the body from Berto so I just gave him a small advantage
Score 9-10 Berto                                                                                                      68-64
Round 8
This round was brutally one-sided. Porter drove Berto to the ropes early in the round and kept him there until late in the round. Porter was scoring with left hooks to the body and overhand rights. The referee would break them and Berto would move two or three paces away from the ropes and then just back himself onto the ropes again. There was not much coming back from Berto who seemed to tire badly and a stoppage seemed near.
Score 10-9 Porter                                                                                                     78-73
Round 9
Berto had to survive yet another doctor's inspection before the action started. Porter attacked ferociously and then pushed Berto who tumbled back into the ropes. Berto half fell through the ropes and was struck on the head by one of the ropes. He stood up rubbing his head expecting the referee to call a break but Porter pounced on him and landed a couple of hooks with Berto sagging to sit on the middle rope. The referee applied a standing count. Berto complained that he had hurt his head but again Porter pounced quickly. A left hook had Berto's legs performing a little dance and as a right propelled Berto in to a corner the referee stopped the fight.
Former IBF welter champion Porter was No 3 and Berto No 4 in the WBC ratings and Keith Thurman was in the audience so it looks as though that might be a fight for the future. Berto, 33, was having his first fight for a year and just could not match the speed of Porter's attacks and threw too few punches to be competitive. He announced his retirement after the fight.
Charlo vs. Hatley
Charlo knocks Hatley out cold with as brutal a kayo punch as you will ever see.
Round 1
Both fighters made a cautious start. Neither was really committing themselves and few clean punches were landed and neither did enough to win the round
Score 10-10
Round 2
Charlo started the round well firing home some left hooks and getting through with his jab. A clash of heads saw Charlo cut over his left eye and Hatley looked to be taking the round until a straight right from Charlo sent Hatley staggering back across the ring and he fell into the ropes which held him up otherwise he might have hit the floor.
Score 10-9 Charlo                                                                                                   20-19
Round 3
The first punch of the round was a cracking left hook to the body from Charlo. Hatley was looking apprehensive and for good reason as Charlo stunned him with a straight right that sent Hatley staggering back and followed with a solid jab to the head and another right that put Hatley down. He got up quickly and did not look badly hurt. Hatley boxed and moved and Charlo was unable to land anything more of note.
Score 10-8 Charlo                                                                                                   30-27
Round 4
Hatley was under fire again in the fourth. Another jarring jab had him going backwards and after that another long right shook him. Charlo was throwing very few punches just looking to land big punches and not using his jab. Hatley landed a sharp left hook but was warned for a deliberate attempt at a butt and was able to dick under some wild punches from Charlo at the bell. The referee went to Hatley's corner and warned him to keep it clean after that attempted butt.
Score 10-9 Charlo                                                                                                   40-36
Round 5
A booming jab from Charlo again staggered Hatley who spent the next minute avoiding any exchanges but just dancing backwards and forwards along the ropes. He then reversed tactics and took the fight to Charlo. He landed a couple of good left hooks as the y stood and traded for the first time but the punch of the round was a neck-snapping uppercut from Charlo.
Score 10-9 Charlo                                                                                                   50-45
Round 6
Hatley tried to come forward in the sixth but a jab stopped him in his tracks. Charlo opened up throwing punches with both hands and Hatley tried to trade with him. Charlo laded a couple of punches and then a right to the temple staggered Hatley.  Charlo stepped around him to change angles and Hatley followed Charlo towards the ropes on unsteady legs but trying to throw punches. Charlo came over the top with a brutal right that sent Hatley down half out under the ropes out cold and the referee immediately called for medical help for Hatley.
It was about five minutes before they were able to get Hatley up and sit him on a stool and he was still dazed and confused. The final right was brutal and it seems strange that Charlo has only a 48% kayo rating. He was making the first defence of his WBC title and with his hand speed and power the 26-yerar-old Texan is a threat to anyone in the division including Saul Alvarez. Hatley, 31, had won his last nine fights including inside the distance wins over Saul Roman and Anthony Mundine so had earned a title fight but it is hard to understand how someone can still be rated after being inactive for 17 months.
Leicester, England: Middle: Avtandil Khurtsidze (33-2-2) W TKO 5 Tommy Langford (18-1). Super Light: Tyrone Nurse (34-2-2) DREW 12 Joe Hughes (15-2-1). Bantam: Zolani Tete (25-3) W PTS 12 Arthur Villanueva (30-2). Super Middle: Darryl Williams (15-0) W PTS 10 Jahmaine Smyle (14-5-2). Light Heavy: Anthony Yarde (10-0) W KO 1 Darren Snow (5-13-1). Super Light: Sam Maxwell (2-0) W TKO 5 George Wright (4-2). Heavy: Daniel Dubois (2-0) W TKO 2 Blaise Mendouo (3-2).
Khurtsidze vs. Langford
A crude but strong Khurtsidze floors and halts Langford to win the interim WBO title.
Round 1
Langford had huge height and reach over the small Khurtsidze which was not much of an advantage as Khurtsidze was coming in ducking low and getting under Langford's punches and working to the body. Khurtsidze's style is 100% crude, but effective, he holds and hits inside and is dangerous with wild punches when storming forward. Think a middleweight Tony Galento (if you don't know who Tony Galento is ask your dad/granddad). Even in this opening round Khurtsidze was already throwing his arms wide and letting Langford have free shots with Langford unable to hurt Khurtsidze or find space to make his better boxing count.
Score 10-9 Khurtsidze
Round 2
Langford has a much better round. He moves more and counters Khurtsidze's lunges and gets home some shots. Khurtsidze just keeps coming and is still a big threat with swinging punches he launches whilst square on or off the wrong foot
Score 10-9 Langford                                                                                   19-19
Round 3
More of the same from Langford in the third. He is catching Khurtsidze with right counters and firing home hooks with Khurtsidze sometimes just standing in range and taking the punches before lunging forward again. If anything Langford is almost doing too well as his confidence grows he is standing and punching too much and not keeping his defence tight ignoring the danger in Khurtsidze swinging punches. A clash of heads causes a cut over the left eye of Langford.
Score 10-9 Langford                                                                                   29-28
Round 4
Brilliant boxing from Langford. He constantly slots home jabs and scores with hooks and uppercuts  as Khurtsidze is unable to get inside and is left swishing air or being tied up inside as Langford is just too quick.
Score 10-9 Langford                                                                                   39-37
Round 5
Langford starts the fifth with some jabs but as he is backing up his hands are not up protecting his head and a sweeping left from Khurtsidze sends him into a corner and down on his knees. He struggles to rise and is unsteady on his feet and the referee stops the fight. It was a good call as Langford did not look ready to continue.
Brooklyn-based Georgian Khurtsidze is only 5'4" (163cm) which is ridiculously small for a middleweight but he is immensely strong, has a good chin and a big punch and is wildly aggressive. He lost a very close decision to Hassan N'Dam N'Jikam in 2010 for this same interim WBA title and had steamrollered his way to nine wins since then including a tenth round stoppage of unbeaten Antoine Douglas in his last fight in March last year. This win nets him a shot at the real WBO champion Billy Joe Saunders in July so Saunders is in for an interesting night. Langford, 27, showed some good skills but in the end could not keep Khurtsidze out and paid the price for letting his right hand stray from its defensive duties. He will come again.
Nurse vs. Hughes
Nurse holds on to his British title with a split draw against Hughes. Nurse was much the taller and had a big edge in reach. Those factors plus an edge in experience and a familiarity with going twelve rounds  made Nurse the favourite but Hughes pushed forward from the start. Nurse used his reach to box over the  early rounds and he was tying up Hughes when the challenger got inside but Hughes was making good use of his own jab to keep the fight close. Both fighters had good spells in a fight that was constantly swinging one way and then the other. Hughes scored well in the sixth and Nurse came back to take the seventh and a sharp uppercut from Hughes was the best punch of the eighth which he took. That was how the fight continued and with the decision in the balance they both fought hard to the bell and it was obviously going to be a very close decision, Scores 116-113 for Nurse, 116-113 for Hughes and 115-115. It had been a cracking British title fight and hopefully they will do it all again. Nurse,27, was making the third defence of his British title having scored good wins over Chris Jenkins, Willie Limond and Tommy Coyle in his last three fights. Hughes, 26, relinquished the English title before this fight and came close to moving up to British champion. He has lost only one of his last 13 fights and that was to unbeaten and world rated  Jack Catterall.
Tete vs. Villanueva
Once again Tete gives a boxing master class to win the vacant WBO title. The South Africa had an edge in reach and was much quicker both with his hands and his movement. Villanueva was forced to lunge in with his attacks and Tete was either standing and countering him with southpaw left or taking a long step back leaving Villanueva with no target and then countering as Villanueva tried to recover his balance. Tete scored with a beautiful left counter in the second and an even better one in the third. That one saw Villanueva dip at the knees and Tete pounced on him and unloaded heavy punches but Villanueva got out of trouble and scored with a couple of counters of his own late in the round. At times Tete was softening or shortening the jab to tempt Villanueva to dive in with an attack and had his left perfectly positioned to land a counter as Villanueva came forward. It was impossible to see a way for the Filipino to win this one or even to be competitive as he was being outboxed and outthought all the way. Villanueva had some success with his counters and short hooks when he moved inside but was only fighting in bursts whereas Tete was constantly jabbing to score points and break Villanueva's rhythm. It might be possible to find a round somewhere to give to Villanueva but that was an effort. Additionally he spent most of each round circling, looking for an attack angle and burning energy whist Tete was able to conserve energy by just stepping around the ring centre. In the eleventh a short left put Villanueva down. He tried to protest but it was a genuine if not heavy knockdown caused by a punch. Tete boxed his way comfortably through the last round to win a very wide unanimous decision. Scores 119-108 twice and 120-107 all for Tete. The brilliant South African had a lucky break when on Friday Marlon Tapales failed to make the weight for a title defence in Japan. The Japanese challenger would have become champion if he won the fight but Tapales scored a stoppage win. That still left the title vacant so this eliminator became a fight for the vacant title. Tete, a former undefeated IBF super fly champion would be more that a match for any fighter in this division. Villanueva, 28, lost a technical decision to McJoe Arroyo for the vacant IBF super fly title in 2015. He had scored three wins since then and was No 1 with the WBO, one position above Tete.
Williams vs. Smyle
Williams overcomes the handicap of cuts over both eyes to win the English title from champion Smyle on a split verdict. As with the Nurse vs. Hughes fight this one was constantly on a knife edge capable of swinging either way. It was a war from the start an outstandingly competitive contest. Williams was cut over his left eye in the third but despite giving away height and reach too the much bigger looking Smyle he dragged Smyle into a toe-to-toe scrap that was a contender for Fight of the Year. Smyle fought hard to hold on to his title and Williams shrugged off a cut over his right eye in the eighth as they battled all of the way to the final bell. Scores 98-93 and 97-93 for Williams and 96-95 for Smyle. Frank Warren immediately announced there would be a return match. The 27-year-old Londoner Williams had won 5 of his last 7 fights by KO/TKO and this was the first time he had gone past the eighth round in a fight. Local fighter Smyle was 6-0-1 in his last 7 with the draw being a technical one and he was making the second defence of his English title.
Yarde vs. Snow
Yarde gets another inside the distance win. The hard punching young prospect put Snow down twice the last with a blistering body punch. The 25-year-old from Essex has 9 wins by KO/TKO including six in the first round. Sixth loss by KO/TKO for Snow
Maxwell vs. Wright
Maxwell gets his second pro win with stoppage of Wright. The tall London-born Commonwealth bronze medallist was English and British champion and competed in the WSB. He has the distinction of a win over Albert Selimov who in turn was the only man to beat Vasyl Lomachenko as an amateur. Second loss by KO/TKO for Wright.
Dubois vs. Mendouo
Dubois only took 35 seconds to get his first win but this time he had to actually come out for the second round. Dubois shook Mendouo with a couple of rights to the head but he stood up and posed a few problems for Dubois to solve. At the end of the round he had Mendouo trapped in a corner and was unloading with bell saving Mendouo. Dubois ended it early in the second. He landed a couple of hard rights and then drove Mendouo into a corner and rocked him time and again with head punches. Mendouo started to slip down the ropes so the referee stepped in and applied a count. When the count was finished Mendouo indicated he wanted no more at the same time as the referee waived the fight over. The big 19-year old Dubois only had a few amateur fights so is not the finished article but he has immense potential. The much smaller British based Cameroon Mendouo gave it a try with some wild swings but was in over his head literally.
Liverpool: England: Middle: Martin Murray (35-4-1) W PTS 12 Gabriel Rosado (23-11,1ND). Super Middle: Rocky Fielding (24-1) W PTS 12 John Ryder (24-4). Light: Sean Dodd (13-2-1) W PTS 12 Lee Appleyard (10-3). Super Light: Tom Farrell (12-0) W PTS 10 Tommy Carus (8-3-2). Super Feather: Joe Cordina (1-0) W TKO 4 Jose Aguilar (16-33-4).
Murray vs. Rosado
Murray boxes his way to controversial majority decision over Rosado. This one was hard to score all the way. The both started well having good spells in the first round. Murray forced the fight more in the second with Rosado banging back to keep things tight. Again there were some furious exchanges and evidence of quite a bit of needle as they exchanged hard punches in the third and fourth. Murray started to open a gap over the middle rounds having a good fifth and sixth-apart from a very low right that earned Murray a strong rebuke from the referee-but he finished the sixth round strongly.  The pace dropped for a while which suited Murray as he seemed to edge the eighth and ninth to open the gap further. Rosado is a battler and he came on strong over the tenth and eleventh and they fought hard to the bell in the last Murray seemed to have done enough to just take the decision and all would probably been OK apart from one of the scores. One judge had it even at 114-114 and another had Murray the winner by 116-112 but the third score of 119-109 for Murray incensed Rosado and that led to some recriminations and pushing and shoving in the ring. Murray, 34, wins the vacant WBO Inter-Continental title. He is looking for a fifth shot at a world title. Whilst Gennady Golovkin broke him down and halted him his draw with Felix Sturm and losses to Sergio Martinez and Arthur Abraham were all questionable. His only rating before this fight was No 8 with the WBA. He should now get a WBO ratings but getting another title shot is a different matter altogether. Rosado has lost to Golovkin and Peter Quillin in title shots. He is 2-4 in his last 6 fights but all against high class opposition and this fight shows he still has plenty left and can give any rated fighter a tough night.
Fielding vs. Ryder
Fielding wins the vacant British title with split decision over southpaw Ryder. After a messy first round the fight warmed-up with both fighters landing good punches to the body. Fielding tried to keep the fight an open one but Ryder was determined to get inside. It was close over the first three rounds but over the middle rounds Fielding made space for himself and was able to box and build a useful lead. He needed it as Ryder came on strong in the ninth pressing hard with Fielding forced to stand and trade in close. Fielding was able to box outside early in the tenth but Ryder came on strong at the end of the round as he forced his way inside. Ryder continued to press over the last two rounds but Fielding's early lead saw him take the decision-but it was very close. Scores 116-113 and 115-114 for Fielding and 115-114 for Ryder. This was a much happier occasion than Fielding's previous fight for this title when he was halted inside a round by Callum Smith in 2015. He had scored two wins in 2016 but the one against Chris Rebrasse was also a split decision. There are plenty of good fighters and fights to be made in this division and the 29-year-old Liverpool fighter will be looking to be in the mix. Londoner Ryder was making his third attempt to win this title having lost a hotly disputed decision against Billy Joe Saunders and being stopped in seven rounds by Nick Blackwell in previous efforts. He lost on points to Jack Arnfield in September but had bounced back with a good win over Adam Etches. He deserves a return and a fourth shot at the title.
Dodd vs. Appleyard
Dodd wins the vacant Commonwealth title as he overcomes a shaky start to outpoint Appleyard. The first round was a double whammy for Dodd. A right from Appleyard sent Dodd tumbling into the ropes badly shaken and the punch also opened a cut over Dodd's left eye. It took Dodd a couple of rounds before he got into his stride after that poor start. Once he was rolling his awkward but  effective style saw him take control of the fight. His quick accurate jabbing saw him outboxing the more conventional Appleyard. He quickly recovered the lost ground from that first round and as he upped his work rate he  built a good lead. Appleyard stayed competitive but good defensive work from Dodd blunted many of his attacks and with his local fans cheering him on it was a clear and relatively comfortable win for Dodd. Scores 117-112, 117-113 and 116-112 all for Dodd. The 32-year-old local fighter has been a late developer and he signalled his arrival in two very close fights with unbeaten Scott Cardle for the British title being unlucky to lose the first and more than earn a draw in the second. Appleyard was 7-1 in his last 8 fights and with more experience can come again.
Farrell vs. Carus
Farrell beats Carus in fight of local friends. Friendship or not this was a hard fought close battle Farrell was the favourite but Carus was competitive all the way bringing blood from Farrell's nose. Farrell only really pulled away over the late rounds when his extra experience and greater strength came into play. Referee's score 97-95.  Farrell, the WBA International champion will be moving onward and upwards. Carus had the additional handicap of only fight in the previous 18 months.
Cordina vs. Aguilar
Yet another Olympian moves into the pros as Welsh prospect Cordina halts Nicaraguan Aguilar. It was a classy and impressive display from Cordina. He constantly scored with stiff jabs and fine combinations of hooks and uppercuts. In the third a series of three uppercuts shook Aguilar and he also had to survive some wicked left hooks to the body. Aguilar usually goes the distance and might have made to the bell but in the last round as Cordina unloaded more power punches the referee stopped the one-sided fight despite protests from Aguilar. As well as competing at the 2016 Olympics the 25-year-old Cordina won a gold medal at the European championships and a bronze at the Commonwealth Games and boxed for the British Lionhearts in the WSB so yet another outstanding prospect. Now 17 losses in a row for Aguilar but then is what he is supposed to do.
Melbourne, Australia: Middle: Sam Soliman (45-14,1ND) W TKO 3 Balazs Horvath (29-22). Super Middle: Jake Carr (12-1) W PTS 8 Steven Ma (7-10-1). Super Middle: Jayde Mitchell (13-1) W TKO 2 Roland Oroszian (8-4). Middle: Dwight Ritchie (15-1) W TKO 2 Peter Orlik (22-21-1).
Soliman vs. Horvath
Soliman gives it more try as he returns to action with a win. The former IBF middle champion had poor Hungarian Balazs down in each of the first two rounds and the fight was stopped in the third. First fight the 43-year-old "King" since being floored and halted in two rounds by Sergey Derevyanchenko in July last year. Now 20 losses by KO/TKO for Balasz.
Carr vs. Ma
Carr also gets back into action and the winning corner as he floors Ma in the first on the way to a unanimous decision. The 26-year-old local former Australian champion was halted in six rounds by Mike Gavronski in Tacoma in September so has come home to rebuild. Ma has lost 6 of his last 7 fight.
Mitchell vs. Oroszian
Mitchell much too good for yet another poor import. The interim OPBF champion and Australian No 4 put Oroszian down in the first and on a knockdown in the second the referee stopped the fight just as the towel came in from the Hungarian's corner. Eight wins in a row for Mitchell including a stoppage of Les Sherrington. Oroszian no match for the local fighter.
Ritchie vs. Orlik
Another one-sided fight sees "The Fighting Cowboy" Ritchie also get a needed win. He floors Orlik twice before the fight is stopped. The 25-year-old Ritchie, a former OPBF and Australian champion, suffered his first defeat and dropped his OPBF title to Japan's Koki Tyson in November. He has 4 wins which count as No Decisions as he was below the age for pro fighting in Australia at the time. Orlik is 2-5 in his last 7 fights.
Puuvilla, Finland: Heavy: Johann Duhaupas (35-4) W KO 3 David Gogishvili (17-5). Just a payday and a bit of ring work for Duhaupas as he gets farcically easy win. In the first round Duhaupas was really just probing with his jab against the fat and slow Gogishvili. Duhaupas eventually threw a right through the Georgian's guard. It did not look hard but Gogishvili went down. He beat the count and Duhaupas did not press too hard. In the second two rights from Duhaupas went through the Georgian's guard and he dropped to the floor. He beat the count and stayed around for the third round. A couple of clubbing head punches from Duhaupas saw Gogishvili drop to his knees and he stayed there for the full count. The 36-year-old French "Reptile" was having his first fight since a six round kayo loss to Alex Povetkin in December. He was stopped in eleven round by Deontay Wilder for the WBC title in 2015 but when he came to Finland in April last year he broke local hearts with a sixth round kayo of Robert Helenius. Gogishvili just fat and slow and on this showing a confirmed pacifist.
Villeurbanne, France: Super Welter: Michel Soro (30-1-1) W TKO 3 Javier Maciel (30-6). Cruiser: Arsen Goulamirian (20-0) W PTS 10 Alex Kubich (9-4). Super Welter: Dylan Charrat (12-0) W RTD 4 Bernard Follea (6-5-1).
Soro vs. Maciel
Soro pleases his home fans with stoppage of Argentinian Maciel. Soro used his left jab to put Maciel on the back foot from the start of the first round and kept him there. Maciel made a great start to the second round stopping Soro in his tracks with a jab and landing a right to the side of the head that seemed to wobble the Frenchman. Soro recovered quickly and soon was tracking Maciel around the ring pushing him back with the jab and now firing some combinations with a left hook to the body looking to have hurt Maciel. The Argentinian was on the front foot taking the fight to Soro at the start of the third but as Soro whacked home some combinations Maciel backed up to the ropes. Soro landed a hard right to the head and a left to the ribs which had Maciel sagging at the knees. Soro then landed a right to the back of Maciel's head which stopped the action for a second. Maciel managed to fight his way off the ropes but Soro drove him across the ring and with the Argentinian staggering around the referee stopped the fight. Now 20 wins by KO/TKO for the 29-year-old former undefeated European champion. He was making the second defence of his WBA International title and is now 12-0-1 in his last 13 fights. His only loss was a points defeat against Zaurbek Baysangurov for the WBO title in 2012 and the draw was with Antoine Douglas in 2014 when he looked unlucky not to get the verdict. He is No 3 with the WBA and 13 (11) with the IBF but is a real danger man.
Maciel, 33, lost in his title shot to Dmitry Pirog for the WBO title in 2011 but is now 3-4 in his last 7 fights.
Goulamirian vs. Kubich
Goulamirian gets wide unanimous decision over Russian Kubich. Goulamirian totally dominated the fight having Kubich in deep trouble in the seventh and in the last round but could not find a punch to end things. Kubich used plenty of tricks to stay vertical and was dangerous with some wild swings but never really competitive. Scores 100-88,100-90 and 99-90 all for the Armenian-born French champion who is rated No 3 by the WBA. Three losses in a row now for Kubich.
Charrat vs. Follea
Charrat climbs off the floor to halt Follea. In the second round Charrat was put down for the first time in his short career with a punch which seemed to land on the back of his head. He was more insulted than hurt and in the third an uppercut had Follea ready to go down but he was saved by the bell. It was Follea's turn to land on the canvas in the fourth and his corner pulled him out of the fight at the end of the round. The 23-year-old unbeaten fighter from Cannes is scheduled to fight in Tokyo on 10 June on the undercard to Ryota Murata vs. Hassan N'Dam N'Jikam for the vacant secondary WBA middle title. Now 3 losses in his last 4 fights for Follea.
Erfurt, Germany: Super Middle: Arthur Abraham (46-5) W PTS 12 Robin Krasniqi (46-5). Heavy: Tom Schwarz (19-0) W TKO 2 Adrian Redzovic (18-2). Light Heavy: Adam Deines (11-0-1) W TKO 3 Lukasz Golebiewski (8-1).
Abraham vs. Krasniqi
Abraham wins disappointing WBO eliminator. This was a typical Abraham fight. He plodded forward behind a high guard whilst Krasniqi flitted around scoring with light jabs and quick combinations. In the first Abraham did not really throw any punches of note until the last 30 seconds of the round and Krasniqi avoided any sustained trading using quick footwork to frustrate Abraham's attack. From the second Abraham stepped up his pace but he was still having problems nailing down the fleet-footed Krasniqi who was slotting fast, accurate jabs and straight rights with the occasional body punch in the mix. The action varied little over the first half of the fight although Abraham did seem to shake Krasniqi in the fifth. Abraham has things going for him in the way of great punch resistance and the application of remorseless pressure. These factors began to pay off over the second half of the fight. Krasniqi had gone from boxing on the retreat to just plain retreat. He was unable to hurt or halt Abraham's march. Abraham was getting through with heavy punches and Krasniqi was scooting around the ring perimeter to such an extent that Abraham began to drop his hands inviting Krasniqi to stop and fight. A tiring Krasniqi was caught and hurt by a couple of big rights in the tenth but battled back at the end of the round as Abraham just stood with his back to the ropes with his high guard allowing Krasniqi to throw a series of punches none of which trouble Abraham. Krasniqi was on the front foot more in the eleventh and banging home fast punches but it was Abraham who was landing the heavy punches Krasniqi started the last round brightly enough but by the end it was Abraham landing hard combinations and emerging a clear winner. Scores 118-110, 117-111 and 115-114 all for Abraham. There was no title on the line here but with Abraham No 2 and Krasniqi No 3 Abraham should now be in line for a shot at Gilberto Ramirez but with Ramirez having made a defence on the same night as this fight it may be that No 1 contender Jesse Hart will be next in line. Ramirez outclassed Abraham so easily that a return would be a fight only Abraham and his team would like to see. German-based Kosovon Krasniqi is a neat, quick boxer but has been well beaten by Nathan Cleverly and Juergen Brahmer in world title fights and has gone as far as he can go.
Schwarz vs. Redzovic
No problems for heavyweight hope Schwarz. He had big height and reach advantages over the slow and predictable Redzovic. In the first Schwarz used his long reach to score with probing jabs and tried a few right crosses without really connecting. He dominated the early action in the second getting through with some right crosses. Late in the round as Redzovic moved in two right to the head put him on the floor. Redzovic made it to his feet and with less than ten seconds to go it looked as if he might last to the bell but a huge right from Schwarz put him down again and he was counted out. The 6'5 ½" (197cm), 22-year-old  German makes it 12 wins by KO/TKO. He wins the vacant WBO Inter-Continental title and in this crazy sport that might get him a top 15 rating. He is still developing and has power in his right hand but if he continues to hold his left glove on his thigh and return it there after throwing a jab that could prove a dangerous fault. Bosnian Redzovic, 40, has a seriously over inflated record. His only other opponent of any consequence was Kosovon Arnold Gjergjaj who knocked out Arnold Redzovic in nine rounds.
Deines vs. Golebiewski
Southpaw hope Deines gets his third quick win in a row. A left put Pole Golebiewski down in the first round. Deines continued to hand out punishment in the second and floored Golebiewski again late in the third round and the fight was stopped. The 26-year-old German is being matched carefully at this stage. Golebiewski had won the GBA version of the German title in December but his opponent had a poor 3-4 record.
Szekesfehervar, Hungary: Cruiser: Imre Szello (17-0) W TKO 5 Tamas Toth (9-5-4). Cruiser: Jozsef Darmos (5-1-1) W TKO 7 Gyula Bozai (15-10-4). Welter: Balazs Torteli (12-1) W KO 1 Antal Racz (5-3).
Szello vs. Toth
Szello, probably Hungary's outstanding boxer retains the WBO Inter-Continental and wins the national title with stoppage of Toth. Szello landed some hard punches in the first and in the second he busted Toth's nose with a shot. The nose bled heavily and although Szello did not seem to put out his full effort by the fifth Toth's face was covered in blood and he was clearly beaten with British referee Mickey Vann stopping the fight. Szello, 33, gets his tenth win by KO/TKO. It is a pity he did not turn pro earlier as he was a top flight amateur winning gold medals at a number of International Tournaments and fighting for the Milano Thunder team at the WSB from 2011 to 2015. His opposition has not been of sufficient quality to get him into the EBU ratings so a long way from a shot at any big title. Toth was making the second defence of the national title and was 3-0-2 in his last 5 fights but Szello was much too good for him.
Darmos vs. Bozai
Darmos wins the interim Hungarian title –on the same show in which the champion Toth defends the full title-only in boxing! Darmos is finally finding his feet after a stuttering start as a pro. He had Gyula down twice on the way to a stoppage victory. The 32-year-old "Gladiator"  makes it 5 wins by KO/TKO. Darmos is another former top amateur who has left it late to turn pro. He was Hungarian champion eight times in a row and won bronze medals at three European championships. Bozai, 43, is a former interim champion.
Torteli vs. Racz
Torteli has no trouble holding onto his Hungarian title as he kayos teenager Racz inside a round. Now 5 wins by KO/TKO for Torteli who was making the first defence of his national title. Racz, 19, has had 5 of his fight end inside the first round. Unfortunately he has been the loser in three of those fights.
Osaka, Japan: Super Welter: Ratchasi (8-3) W TKO 12 Yutaka Oishi (14-6).
Thai Ratchasi (Niwat Kongkan) gets off the floor and comes from behind to get last round stoppage over OPBF champion Oishi. The local fighter put Ratchasi down in the second and proceeded to build a big lead going nine points in front on the cards after the eighth round.. The problem was that he was setting too fast a pace and the strong Thai was standing the pace better. In the last Oishi was totally exhausted and had nothing left and Ratchasi put him down. Oishi made it to his feet but was in no fit state to continue and  the referee stopped the fight. Oishi was taken out of the ring on a stretcher and thence to hospital but the Japanese Commission advised that he had not required an operation. Ratchasi wins the OPBF title and makes it 6 wins by KO/TKO. Oishi was making the first defence of his title and drops to 4 losses by KO/TKO.
Rosarito, Mexico: Light: Alessandro Riguccini (17-0) W TKO 3 Jesus Rios (36-10-1,2ND). Light: Antonio Lozada Jr (37-2) W TKO2 Jesus Soto (10-2).
Riguccini vs. Rios
Mexican-based Italian wins the vacant WBFederation and IBF International title with stoppage of Mexican Rios. After a couple of even rounds the harder punching of Riguccini brought him the win. A series of punches to head and body drove Rios to the ropes and with Riguccini unloading more punches and Rios not fighting back the fight was stopped. The 29-year-old from Florence has now won 7 of his last 8 fights by KO/TKO. Rios was 5-1,1ND decision in his previous 7 fights including a loss in Italy and a No Decision in England against Ben Jones with all ten of his losses coming by way of KO/TKO.
Lozada vs. Soto
Lozada makes it three wins since returning to action. Lozada floored Soto in the second and then forced the stoppage. The tall boxer from Tijuana lost only one of his first 33 fights but after losing a points decision to Ramiro Alcaraz in 2013 was then inactive from May 2014 until returning with a win in July last year. He has 31 wins by KO/TKO so it will be interesting to see whether he can rebuild. Soto drops to 9 losses by KO/TKO.
Metepec, Mexico: Super Fly: Felipe Orucuta (34-4) W TKO 5 Juan Jimenez (23-12).  Orucuta continues his quest for a third world title shot with a win. He had the fight under control and ended it in the fifth. A vicious body punch put Jimenez down in agony. Jimenez managed to make it to his feet but the follow-up attack from Orucuta had him taking heavy punishment and the referee stopped the fight. Orucuta, 31, lost a split decision and then a majority decision against Omar Narvaez for the WBO super fly title in Argentina. He suffered a third loss when he retired after six rounds against Jose Cayetano  in December 2015. He took nine months out and this is his third win inside the distance against reasonable level opposition since returning. Jimenez suffered back-to-back inside the distance losses to Arthur Villanueva last year so now gets his third inside the distance loss in his last four fights.
Legionowo, Poland: Heavy: Krzys Zimnoch (22-1-1) W KO 2 Michael Grant (48-7). Light Heavy: Viktor Polyakov (12-1-1) W PTS 8 Dariusz Sek (26-3-2). Middle: Kamil Szeremeta (16-0) W PTS 8 Sebastian Skrzypczynski (12-15-2). Super Light: Michal Syrowatka (18-1) W PTS 6 Krzys Szot (20-21-2).
Zimnoch vs. Grant
Zimnoch blows away veteran Grant inside two rounds. In the first after initially going to the body Zimnoch landed a heavy right to Grant's head. The visitor seemed to indicate the blow gave him trouble with his left eye but lasted to the bell. In the second a series of head shots saw a passive Grant drop to his knees. He got up but immediately the eight count was finished  Zimnoch landed a long right cross that dumped Grant on the canvas against the ropes. Grant was counted out with no attempt to rise. The 6'3" (190cm) 33-year-old Zimnoch is getting his career back on track after a shock kayo loss to Mike Mollo last year. He now has 15 wins by KO/TKO and had his revenge in February when he forced Mollo to retire after six rounds. Grant, now 44, lost to Lennox Lewis for the WBC/IBF/IBO titles way back in 2000 as is way over the hill.
Polyakov vs. Sek
Polyakov fails to read the script and spoils the evening for the local fans with a deserved split decision over Sek. They fought on even terms over the early rounds but the pressure from Polyakov and his accuracy in placing his punches saw him edge in front. A left from Polyakov shook Sek badly in the sixth and he staged a strong finish in the seventh landing some hard left hooks. Sek took the last round getting through with a series of punches but it was not enough. Scores 77-75 and 77-76 for Polyakov and 77-75 for Sek. The German-based 35-year-old Polyakov was inactive for five years before returning to the ring in February when he lost to former amateur star Spas Genov and then drew with Toni Kraft both of whom were unbeaten. Southpaw Sek,30, lost to Robert Woge and Robin Krasniqi but was 5-0-1 in his last six fights.
Szeremeta vs. Skrzypczynski
Szeremeta much too good for fellow Pole Skrzypczynski. Szeremeta had Skrzypczynski on the floor in the first from a left hook and outboxed him comfortably all the way. Skrzypczynski tried hard to get into the fight but a counter right cross stopped him in his tracks in the second and from there left hooks and straight rights from Szeremeta dominated the action. At times it seemed a second knockdown was imminent but Skrzypczynski managed to stay on his feet. Scores 80-70 from all,  three judges. Szeremeta, 27, is the mandatory challenger for the European title held by Emanuele Blandamura so will fight for the title in the second half of the year. He is No 15 with the WBO. Skrzypczynski has lost 7 of his last 8 fights.
Syrowatka vs. Szot
Syrowatka takes unanimous decision over veteran loser Sek. A strong right in the first saw Sek shaken and from there he fought mainly on the defensive. It was six rounds of work for Syrowatka and he took the decision on scores of 59-55 twice and 60-54. The EBU NO 8 has reversed his only loss in a run of 5 wins in a row. Szot, 38, gets plenty of work as a travelling loser and an extensive and as a quite successful ammeter and over 40 pro bouts he knows how to survive with only three losses by KO/TKO.
Sundsvall, Sweden: Heavy: Otto Wallin (18-0) W TKO 5 Gianluca Mandras (12-5). Super Middle: Oscar Ahlin (14-2) W TKO 3 Ermin Avdic (10-3).
Wallin vs. Mandras
Wallin gets stoppage over Italian. At 6'5 ½" (197cm) Wallin towered over the squat and slow Italian. Mandras kept rumbling forward and landed the occasional swing but the tall Swede was able to control the action with his jab and tie Mandras up inside. Late in the fourth Wallin put Mandras down with a short hook. Mandras was up before the eight and when the fight resumed he forced Wallin to the ropes but a right and left to the head had him staggering back and going down again. The bell went just after he made it to his feet. Mandras tried to roll forward again at the start of the fifth but another short hook put him down. He was up at nine and tried to move inside but a couple of counters saw him slump to the floor and the referee stopped the fight without counting. No real test for the 26-year-old Swede as he wins the vacant WBA Continental title and makes it 12 wins by KO/TKO. His record is littered with the usual collection of serial losers. He is No 13 with the EBU but we will have to wait until he faces better opposition to assess his potential. Italian champion Mandras 33 lost twice on disqualification in attempts to win the Italian title but finally made it at the third try. He is very limited
Ahlin vs. Avdic
Ahlin returns from inactivity to halt Bosnian Avdic. Ahlin took the first round and then floored Avdic in the second. Avdic was badly shaken by the knockdown but more significantly a rapid swelling closed his right eye. He came out for the third round but before the action could continue the referee asked the doctor to look at the injury and it was decided that Avdic could not continue. The 27-year-old Swedish "Golden Boy" flirted briefly with a move down to super middle but losses to Bernard Donfack and Patrick Mendy made him think again and after a year out he was 178 ¾ for this one his twelfth win by KO/TKO. Now three losses in a row for Avdic.
Kiev, Ukraine: Feather: Oleg Yefimovych (29-2-1) W KO 7 Urbano Giuliani (9-2). Super Bantam: Olek Yegorov (18-1-1) W TKO 3 Lucas Baez (30-16-4). Fly: Artem Dalakian (15-0) W KO 6 Luis Macias (9-5-2).
Yefimovych vs. Giuliani
Yefimovych hits too hard for inexperienced Belgian. Yefimovych was working everything off the jab. He had a slight reach advantage and he used a solid jab to keep Giuliani on the retreat and scored with some rights to the body. When Giuliani did get past the jab he was being caught with hooks and uppercuts and was not getting the opportunity to do much scoring. Giuliani was spending more and more time on the ropes and in corners and in the fifth a left hook to the body put him down just before the bell. The sixth was one-sided as Yefimovych rammed home seven left jabs through the Belgian's guard and then in his hurry to get thing over threw a wild right which missed completely and left an embarrassed Yefimovych on the floor. The Ukrainian continued to pound away at Giuliani to the bell with the referee warning the Belgian that he might soon stop the fight. Yefimovych took the decision out of the referee's hands as in the seventh a searing left hook to the body put Giuliani on his hands and knees and he was unable to make any effort to beat the count. "The Doctor" makes a fourth successful defence of his WBA Continental title and make it 16 wins by KO/TKO. The 36-year-old former European champion is 11-0-1 in his last 12 fights including some good level European opposition. He is No 6 with the EBU but seems to have no real ambition to work his way to a title shot either at European or world level. Belgian champion Giuliani showed some good skills and guts to last as long as he did against a far more experienced fighter.
Yegorov vs. Baez
Yegorov retains his WBC Continental title with cut eye stoppage win over Baez. Yegorov, a quick compact fighter, was using a fast accurate jab to keep Baez on the back foot and landing some wicked left hooks to the body. Baez showed a reasonable level of skill but by the end of the second round Yegorov was banging jabs though the visitors guard and was giving Baez a torrid time. Yegorov continued to press in the third but a clash of heads opened a cut over the left eye of Baez. The referee had the doctor examine the cut but it was too bad for Baez to continue and Yegorov was given a stoppage win. The Russian-born Ukrainian suffered his only loss when he was beaten on points for the vacant European title by world rated Gavin McDonnell in 2015. This is his fifth win in a row and he is No 6 with the EBU in a very tough division and could reasonable hope to get another shot at the title. Argentinian Baez might have expected this to be a No Decision but you get no favours on the road. He had won his last three fights.
Dalakian vs. Macias
Dalakian outclasses Mexican novice Macias. Dalakian is very quick both going forward and in defence,. He has fast hands and great movement-not in Lomachenko's class but very talented. He was in and out with some savage shots to head and body with Macias unable to block or counter and when Macias did come forward he was met with sweeping hooks and uppercuts. The Mexican southpaw kept padding forward and had occasional success but not a lot. As the fight progressed it became messy with too many clinches and Dalakian's work became untidy. Dalakian was loading up his punches in the sixth scoring with a succession of body punches and then driving Macias back with a volley of head punches with Macias dropping to the canvas face first and then being counted out as he tried to rise. The Azeri-born Dalakian was making the fourth defence of his WBA Continental title and has 11 wins by KO/TKO. A former World Military and Ukrainian champion Dalakian has a win over former world title challenger Silvio Olteanu but has yet to fight outside of the Ukraine. He is No 2 with the EBU so could fight for the European title later this year. Macias had just the basic technique and never really troubled Dalakian
Phoenix, AZ, USA: Super Middle: Artur Akavov (17-2) W PTS 8 Josue Ovando (14-14-1). Super Middle: James McGirt (26-3-1) W PTS 6 Roberto Yong (5-13-2). Super Bantam: Carlos Castro (18-0) W PTS 8 Juan Palacios (29-8-2).
Akavov vs. Ovando
Akavov comes back to the real world as he gets split decision over Ovando. In December Akavov lost a close decision to Billy Joe Saunders for the WBO title but here he struggled to get past Ovando. The Russian "Wolverine" found the tall Ovando an awkward opponent and it was aggression and higher work rate that finally saw him come out the winner. Scores 77-75 twice and 78-74 for Akavov. This is Akovov's first fight since losing to Saunders and he is dropped from No 10 to nowhere by the WBO for losing to the world champion. Mexican Ovando had lost his last 6 fights.
Castro vs. Palacios
Castro gets easy win over a way over the hill Palacios. Castro had lots of height and reach over Palacios and was able to handle the Nicaraguan's rushes with sharp counters. Palacios suffered a cut on his forehead in the second round but continued to plough forward into punishment and lost every round. Score 80-72 from all three judges for Castro. The 23-year-old from Phoenix has a couple of good wins but his problem is a lack of power. The 36-year-old Palacios is a former interim WBA champion down at minimum weight and does not carry the extra weight well. He drops to four losses in a row.
McGirt vs. Yong
McGirt climbs back between the ropes and gets a win. Local fighter Yong gave McGirt six good rounds of work and managed to win a couple to keep it interesting. Scores 58-56 for McGirt from all three judges. First fight for McGirt in 30 months. Yong is 0-9-1 in his last 10 fights.
April 23
Osaka, Japan: Bantam: Marlon Tapales (30-2) W TKO 11 Shohei Omori (18-2). Fly: Kazuto Ioka (22-1) W PTS 12 Noknoi (62-5).
Tapales vs. Omori.
After Tapales failed to make the weight coming in 2lbs over the limit the Japanese fighter was the only one who could win the now vacant WBO title. This fight was close right up until the end. Southpaw Omori had an edge in reach and had slightly the better of the first four rounds with two of the judges seeing him in front 39-37 and the other having it even at 38-38. Additionally Tapales suffered a cut over his right eye in the fourth. Despite this the Filipino stepped up the pace over the middle rounds and things were all even after eight rounds at 76-76 from all three judges and Omori suffering a cut over his left eye in the seventh. Tapales continued to batter at the body of Omori. The local fighter edged in front by taking the ninth but he was rapidly tiring and was put on the floor late in the tenth. He had nothing left and a furious attack from Tapales in the eleventh saw the fight stopped. The 25-year-old "Maranding Nightmare" should have been making the first defence of his WBO title but threw it away here. He has lost only one of his last 23 fights and this is his ninth victory in a row but that became meaningless when he failed to make the weight. He had stopped Omori in two rounds in December 2015. Former undefeated Japanese champion Omori had scored three inside the distance win against good standard opposition but just ran out of gas here.
Ioka vs. Noknoi
Ioka outboxes Thai challenger to retain his WBA title. Again this fight was close most of the way. The clever boxing Ioka had slight physical edges but his hand speed, good upper body movement and quick feet were more important in this one. These are two good technical boxers so there was no wild swinging and Noknoi had a good jab and was very effective with overhand rights. Ioka lost a point in the third for a low left hook that was only marginally low. Ioka was slightly ahead on two cards after four rounds and had increased that lead slightly by the end of the eighth. Ioka shook Noknoi with a right in the ninth. Ioka really took over in the tenth landing a left hook following that later with a long right and then a left uppercut with Noknoi tiring noticeably. Ioka kept up the pressure over the last two rounds and was a clear winner. Scores 117-110 twice and 116-111 all for Ioka. Fifth defence of his WBA title for Ioka and nine wins in a row since losing to Thai Amnat Ruenroeng for the IBF fly title in 2014. Noknoi started his career by going 1-5 in his first 6 fights and had then won 61 in a row but there was not a single rated fighter in those 61 victims. Despite that the 30-year-old Thai had good skills and great punch resistance.
Kempton Park, South Africa: Welter: Thulani Mbenge (10-0) W TKO 7 Shaun Ness (10-2-2). Cruiser: Kevin Lerena (18-1) W PTS 8 Sergio Ramirez (14-3). Super Feather: Lucky Monyebane (5-1) W TKO 9 Ashley Dlamini (16-6-2). Light Fly: DeeJay Kriel (11-1-1) W PTS 8 Xolisa Magusha (7-2-1).
Mbenge vs. Ness
Mbenge again shows his potential as he floor champion Ness three times on the way to winning the national title. Mbenge put Ness down with a right in the first. Ness was down again in the third but he was not about to give up his title and fought back hard. His southpaw style gave Mbenge some problems and Mbenge also had to contend with a cut under his right eye as Ness battled to hold on to his title. Body punches from Mbenge eventually took their toll and Ness was put down again in the seventh. Ness looked willing to continue but his trainer Colin Nathan threw in the towel. Ness might have been able to continue but there were five more rounds to go and as he showed when pulling Warren Joubert out against Josh Taylor Nathan gets these decisions right. Mbenge has won all 10 of his fights by KO/TKO. He had 121 fights as an amateur winning 93. He competed for South Africa at the World Championships and took home a bronze medal from the Commonwealth Games in Glasgow. He has to be one of the top prospects in the country. Ness was making the first defence of his national title and was 9-0-1 going into the fight and is probably a match for any other domestic welter except Mbenge.
Lerena vs. Ramirez
Lerena gets wide unanimous points victory over Mexican Ramirez. There was no question of Ramirez being a threat and that was not what he was there for. Although coming complete with an ample waistline he was there to press Lerena and give him as many rounds of work as possible and did his job even managing to win a round or two. Lerena was eventually satisfied to go the distance. Scores 79-73 twice and 78-74 all for Lerena. The 24-year-old South African southpaw has reversed his only pro loss and scored recent wins over Dane Micki Nielsen (22-0) and experienced Vikapita Meroro. He has a 12 August date to fight Maxim Maslov (19-1-1) for the vacant IBO title. Ramirez had won his last two fights and earned his pay.
Monyebane vs. Dlamini
Southpaw prospect Monyebane wins the local State title with stoppage of the more experienced Dlamini. Monyebane showed maturity in the way he paced the fight as he had never gone past four rounds whereas Dlamini had gone both ten and twelve rounds in the past. Monyebane pressed hard and landed often. Finally a tiring Dlamini was stunned by a left in the ninth and the fight was stopped. Monyebane, the South African No 7 moves to four wins in a row. At one time Dlamini was 17-2-1 but since then he has lost four fights in a row.
Kriel vs. Magusha
Kriel extends his unbeaten streak to 11 with unanimous decision over Magusha. The southpaw style helped Magusha keep the fight close but the busy style and good work on the body saw Kriel win the decision. Scores 77-75 twice and 78-74 all for Kriel. After losing his first pro fight the 21-year-old Kriel, the South African No 3, is now 10-0-1in his last 11. Magusha was 4-0-1 in his last 5 fights.
Fight of the week: Oscar Valdez vs. Miguel Marriaga with honourable mention to Jorge Heiland vs. Mateo Veron
Fighter of the week: Zolani Tete for his brilliant display against Arthur Villanueva with honourable mention to Jesse Magdaleno for destroying Dos Santos
Punch of the week: The brutal punch from Jermell Charlo that knocked Charles Hatley out cold and honourable mention to the punch from Jorge Heiland that finished Mateo Veron
Upset of the week: Nearest thing to an upset was Avtandil Khurtsidze stoppage of unbeaten Tommy Langford
One to watch: Shakur Stevenson but I could have picked any one of a dozen more who fought over the weekend.
Read more articles about: