Why Did It Go Wrong For Kell Brook And What He Could Do Next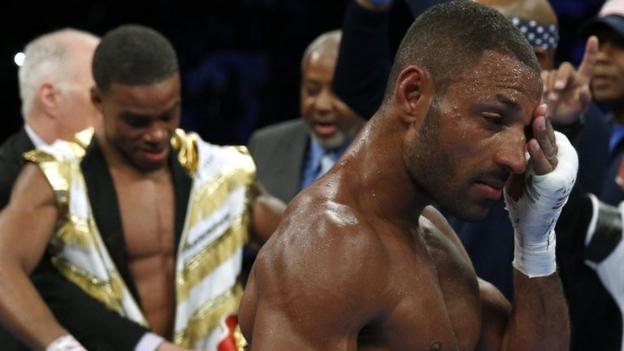 Sheffield star, Kell Brook lost his IBF crown in dramatic fashion when he was rescued by his corner and the referee in the 11th round at Bramall Lane, making Errol Spence Jr the new holder.
Brook had a good start, applying pressure and prevented Spence from getting off. But things took a rapid turn in the second half when Brook developed a cut and a swollen eye. His workrate dropped severely and the American came back with combinations, eventually dropping Brook in the 10th and finishing it within the next three minutes.
It has been stated by various media sources that Brook's left eye socket has been fractured. The boxer also said that his vision had been compromised, but it would not be out of the realm of possibility that coming back down to 147lb after going up to face Gennady Golovkin had a detrimental effect given how sudden Brook's stamina had diminished. Golovkin had previously broke Brook's right orbital bone, so there is a major concern now whether those injuries will threaten his career in the long term.
Despite the uneasiness in regards to fighting at the welterweight division, Brook said that he would not really have a problem remaining at that weight class. Of course, if the weight really was the main issue here then it would probably be wise to move back up to 160lb or even 154lb.
There are a host of unbeaten names in the light-middleweight class including the Charlo brothers, Jermell and Jermall. Liam Smith would make for a domestic dust up although Kell would possibly view that fight as something of a backward step. Eddie Hearn and Frank Warren would also have to negotiate, a process that is bound to contain obstacles.
Billy Joe Saunders campaigns at the middleweight class and holds a world title, but again is managed by rival promoter, Warren. Golovkin is busy right now training for his much anticipated fight with Saul Alvarez, scheduled to take place on September 16th. Although British fans would stick with the notion that Brook was having the upper hand in a couple of those five rounds in London, the odds on Brook having better success a second time around are slim.
Daniel Jacobs and David Lemieux would be fights that would appeal to the more devoted boxing fan, however, should they happen and take place in Sheffield then it is easy to predict that they would be a financial success.
Although moving up in weight may prolong Kell Brook's career, the one fight that may be worth staying at welterweight for would be none other than Amir Khan! This fight has never left the negotiation phase since around 2011 but there has been a lot of talk from Matchroom in the mean time. And the public have seemingly got wind of it!
Demand has risen year by year for this match up but it is likely that the Bolton former champion will want the showdown at 147lb. A potential obstacle that could present itself is that Amir stated after last night's result that he would love a crack at Errol, although it is likely that the organisations will want him to earn that opportunity.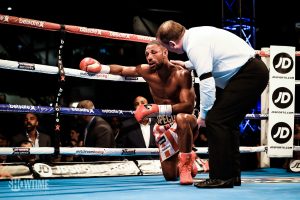 Right now, Kell Brook has a lot of contemplating to do in the wake of his crushing loss on Saturday. He should take his time and not rush this process, although fans will understandably want to know as soon as possible what direction 'Special K' will head toward.
A lot of patience will probably be the key here.
On a separate note, this editorial could not end without mentioning the insensitive nature of the attending crowd when MC Michael Buffer requested that the audience remain silent for a few moments to honour those that perished in the terrorist attack that occurred in Manchester on May 22nd. Buffer had to ask more than twice for the crowd to contain their excitement for the main event, something that many did not comply with.
Quite frankly, it was an embarrassment and those responsible should hang their heads in shame considering the nature of the incident. Let us hope that we never bear witness to such degrading behaviour again!