Chris Eubank Jr. vs. Arthur Abraham card broadcast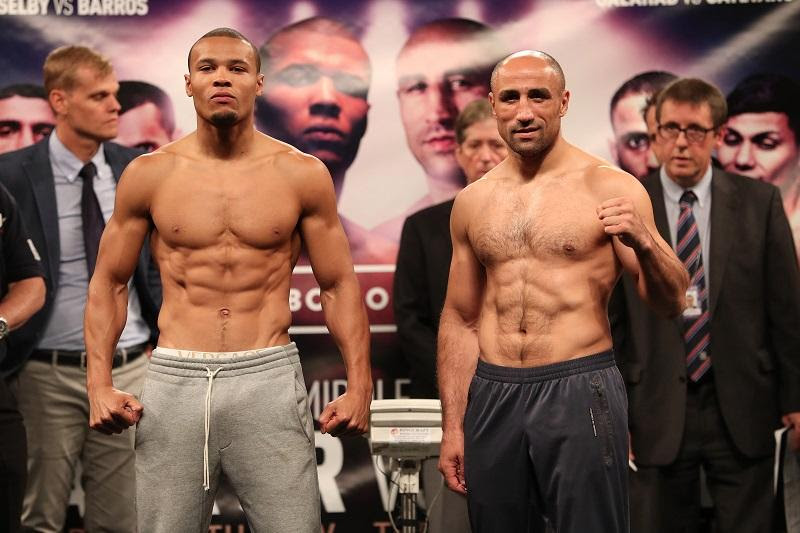 The official weigh in was held today in London for tomorrow's Chris Eubank Jr. vs. "King" Arthur Abraham" card, airing live on Pay-Per-View in the United States, as well as available in Canada, exclusively for Super Channel subscribers.
Below find the official weights for the eight principal fighters:
MAIN EVENT – IBO SUPER MIDDLEWEIGHT CHAMPIONSHIP (12 rounds)
CHRIS EUBANK JR. (24-1, 19 KOs), Champion, Brighton, Sussex, UK 167 ½ lbs.
vs.
"King" ARTHUR ABRAHAM (46-5, 30 KOs), Challenger, Berlin, Germany 1684 lbs.
CO-FEATURE – IBF FEATHERWEIGHT CHAMPIONSHIP (12 rounds)
'Lightning" LEO SELBY (24-1, 9 KOs), Champion, Barry, Wales, UK 126 lbs.
vs.
JONATHAN VICTOR "Yoni" BARROS (41-4-1, 22 KOs), Ciudad Mendoza, Argentina lbs.
IBF INTER-CONTINENTAL FEATHERWEIGHT CHAMPIONSHIP (12 ROUNDS)
KID GALAHAD (22-0, 13 KOs), Champion, Sheffield, Yorkshire, UK 125 lbs.
vs.
JOSE "El Tigre" CAYETANO (21-5, 10 KOs), Challenger, Tijuana, Mexico 126 lbs.
WBA CONTINENTAL SUPER LIGHTWEIGHT CHAMPIONSHIP (12 rounds)
ROBBIE DAVIES, JR. (15-0, 11 KOs), Champion, Liverpool, Merseyside, UK 139 lbs.
vs.
MICHAL SYROWATKA (18-1, 6 KOs), Challenger, 18-1 (6 KOs) 139 ½ lbs.
(Additional fights or highlights may be shown, time permitting).
LIVE AIRING: Integrated Sports Media will distribute "Eubank Jr. vs. Abraham" live in the United States on cable and satellite and online PPV, starting at 2:30 p.m. ET / 11:30 a.m. PT ,via iN Demand, Vubiquity, DISH and FITE TV for a suggested retail price of only $29.95.
Outside of North America, "Eubank Jr. vs. Abraham" is being distributed to broadcasters worldwide by leading boxing television rights distribution firm, Protoco Sports Marketing Ltd.
In Canada, the event will be available on television to fight fans that subscribe to premium pay television network Super Channel. Contact the local cable provider to subscribe to Super Channel and all that it offers, including premium series, movies and much more, for as low as $9.95 per month.
INFORMATION:
www.integratedsportsnet.com, www.protocolsports.com, www.superchannel.ca, www.fite.tv
Twitter: @IntegratedPPV, @SuperChannel, @fitetv
ABOUT INTEGRATED SPORTS MEDIA: North America's leading distributor of International Pay-Per-View and Closed-Circuit sports events has presented World Championship and world-class boxing matches featuring Ricky Hatton, Christian Mijares, Evander Holyfield, Roy Jones, Jr., Ivan Calderon, Rocky Martinez, Nicolai Valuev, Amir Kahn, Marco Antonio Barrera, Arthur Abraham, David Haye, John Ruiz, and Ruslan Chagaev. In addition, Integrated Sports Media distributed numerous International soccer matches showcasing teams like Club America of Mexico and the National Teams of Argentina, Honduras, El Salvador and the USA, as well as World Championship and world-class mixed martial arts shows featuring Fedor Emelianenko, Tim Sylvia, Bobby Lashley, Bob Sapp, Jeff Monson, and Roy Nelson. For more information on upcoming Integrated Sports events visit www.integratedsportsnet.com.
ABOUT PROTOCOL SPORTS MARKETING LTD.: Protocol Sports Marketing is the world's leading distributor of live-via-satellite and tape delayed boxing events. Since marketing its first live broadcast in 2009, the company has developed a strong, transparent and integrity-driven bond with rights holders, promoters and other Boxing stakeholders. Fuelling Protocol's success has been its singular passion to re-establish Boxing to past heights, and its efforts have successfully increased both the number of international broadcasters who license Boxing and the amount of Boxing telecasts that they license. The hundreds of live and taped telecasts that Protocol Sports has historically distributed to broadcasters contain a vast majority of the fan-friendly fighters of the past decade, and the company prides itself on identifying and presenting emerging Boxing stars, early in their careers, to TV channels around the world, being first to introduce many international broadcasters to present-day Boxing stars including Gennady Golovkin, Andre Ward, Carl Frampton, Anthony Joshua, Tyson Fury, Adonis Stevenson and many more For more information on events distributed by Protocol Sports Marketing, visit www.protocolsports.com.
ABOUT SUPER CHANNEL: Super Channelis a national premium pay television network, consisting of four HD channels, four SD channels, and Super Channel On Demand.
Super Channel's mission is to entertain and engage Canadian audiences by providing a unique and exclusive entertainment experience. With a core foundation of integrity and accountability, we dedicate ourselves to implementing innovative programming strategies and unparalleled team work that provides viewers with exceptional value and variety.
Super Channel is owned by Allarco Entertainment 2008 Inc., an Edmonton-based media company.
Super Channel is currently available on Bell TV, Shaw Direct, Rogers Anyplace TV, Shaw Cable, Cogeco Cable, Access Communications, Bell Aliant TV, Source Cable, SaskTel, MTS, Novus, EastLink, TELUS, Videotron, Westman Communications and other regional providers.
www.superchannel.ca
ABOUT FITE TV: FITE TV (www.fite.tv) is a programming network that brings live and on-demand ring sports programs to MMA, Muay Thai, wrestling and boxing fans around the world. With only access to a smartphone and a connected TV, with the FITE app, viewers can watch live events, on-demand programming, interviews and fighting sports related movies and documentaries on the big TV screen.
FITE TV has worked with the leading combat sports promoters in the world including Golden Boy Promotions, Sauerland Boxing, Ring of Honor Wrestling, Impact Wrestling, Professional Fighters League, Rizin, Max Muay Thai and others.
FITE TC is a full-fledged TV programming network, FITE televises live pay-per-views and TV tapings on a weekly schedule.
FITE was launched on February 9th, 2016 as a product of Flipps Media Inc, a company that brings digital entertainment content (movies, news and video) on television with its patented tap-to-stream functionality. Flipps Media Inc. is funded by EarlyBird Venture Capital, Tim Draper and LAUNCHub.