Top 10 Heavyweights in the world right now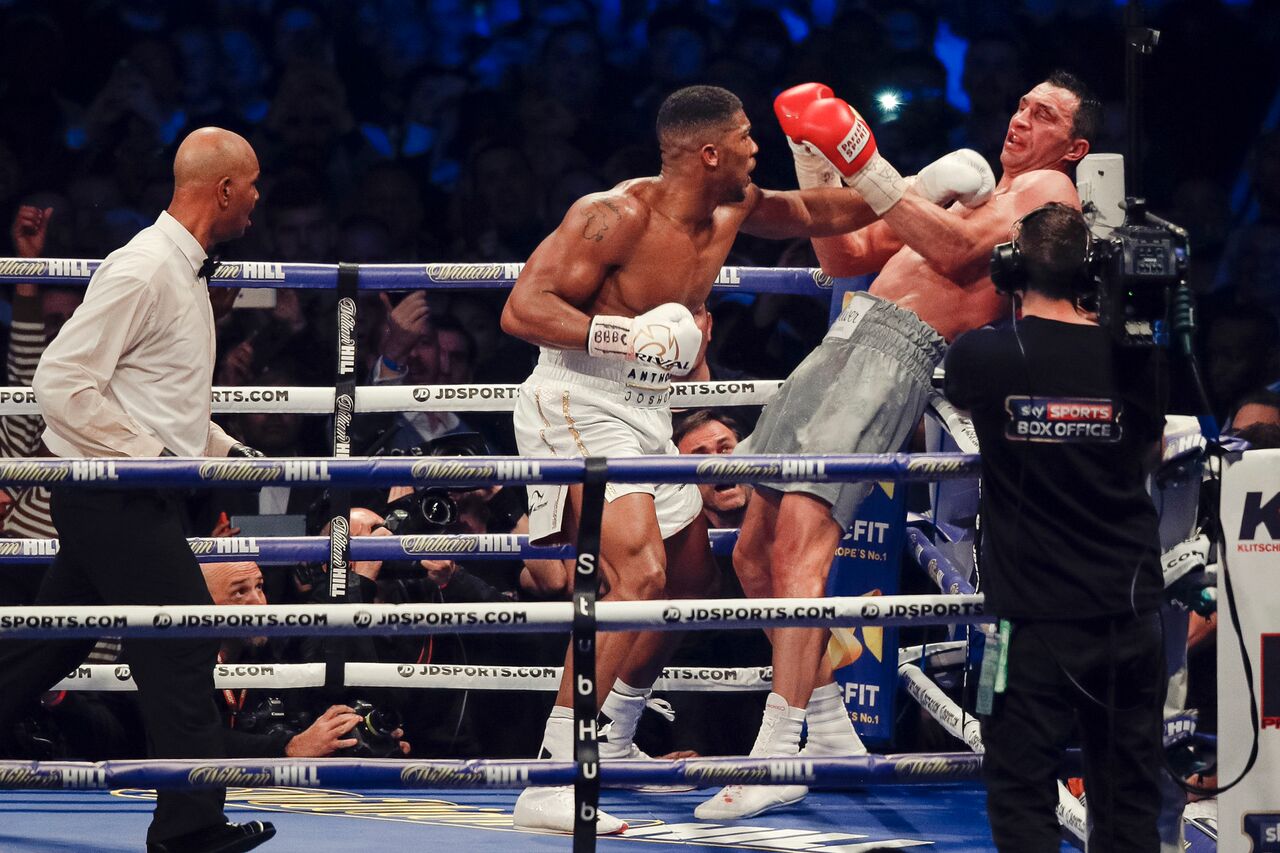 The heavyweight division is stronger than it may seem right now, with some strong world champions, solid contenders and exciting up-comers. This top 10 is dedicated to ranking the best current boxing heavyweights in one list while proving the division isn't as bad as it is sometimes made out to be and comparing this list to other rankings from other sites. Inactive fighters will be included to a certain extent.
10.  Dillian Whyte 29, – 20-1 (15 KO'S)
In my opinion, Whyte is ready to become a world champion. With his only ever professional defeat to world champion, Anthony Joshua. Offers were made to Deontay Wilder about a fight but Wilder rejected angering Whyte. He said this about the situation -"Guys like Deontay Wilder are an embarrassment to heavyweight boxing. All the great champions have losses on their record because they fought other great fighters and that's the problem with Deontay Wilder, his last 10 fights have been with nobody." Boxrec placed him all the way down in 18th place, even with his hard work since the Joshua defeat. Talksport also had him in 10th position.
9. Lucas Browne 38, 25-0 (22 KO'S
Lucas became the first Australian heavyweight to become a world champion in 2016 with his WBA title victory over Ruslan Chagaev, but was stripped of his title when he failed a drugs test 2 months later. He has fought once since then, winning by TKO against Matthew Greer. Boxrec had him in 7th place,
8. Joseph Parker 25, – 23-0 (18 KO'S)
With his better years still ahead of him, Parker has already achieved a lot as he holds the WBO world title. The 25-year-old became New Zealand's first world heavyweight champion when he beat Andy Ruiz Jr. His title defence coming up against Hughie Fury will be a nice little test for him and it will be interesting to see how he approaches the fight. Parker has made it clear he has Anthony Joshua, Dillian Whyte, Tony Bellew and Deontay Wilder locked in his sights, which was criticized by his upcoming challenger as looking past the title defence, saying – "I would take me completely seriously because I am coming for that belt,"
7. Tyson Fury, 28 – 25-0 (18 KO'S)
The Tyson Fury of a few years ago, arguably could have beat anyone in his division on his day but with inactivity, weight gain and the announcement that he is retiring, it is doubtful we will see that same Fury again. Tyson brought us some incredible memories in his career such as his decision victory of Wladimir Klitschko to become the world champion. and his he doesn't fight again, his accomplishments are undeniably incredible. It is fair to say the boxing world will miss Tyson Fury and his controversial behaviour even with his just as controversial heavyweight cousin, making his name in the boxing world but if he was to return, he would reclaim his titles, if he could overcome his current fitness problem with.
6. Luis Ortiz – 27-0 (23 KO'S)
Dubbed by some, as the most avoided man, in all of boxing. Ortiz from Cuba is a former world champion when he won the title in 2015, having won it originally won the year previous but was later stripped of 'king kong' when he failed a drug test. It's looking likely he will be having a world title fight with Deontay Wilder for the WBC heavyweight world title, with November this year the date in mind. If the fight goes ahead, it would be interesting to who the WBC heavyweight world champ is afterwards, with most having split opinions on the two. Boxrec also placed Ortiz at 6th in the world, while Peter Fury placed him in 4th place when talking about the subject.
5. Kubrat Pulev 36, 25-1 (13 KO'S)
Pulev has had an incredible stack of belts throughout his career and has only been beaten once and that was to none other than Wladimir Klitschko. Kubrat Pulev is set to face Anthony Joshua, should Klitschko retire as he is the mandatory challenger. Boxrec also had him as 5th place while Peter Fury had him in 8th and talk sport 9th.
4. Alexander Povetkin 37, 32-1 (23 KO'S)
The Russian was the WBA Heavyweight champion of the world from 2011 to 2013 before he got his first and only defeat while defending his title against Wladimir Klitschko. He has been in really good form since his fight with Klitschko and has been cleared to challenge for world titles once again despite his history with drugs, due to this, he had his mandatory title fight with Wilder cancelled. Boxrec placed the Russian in 3rd place while Peter Fury had him at 6th.
3. Deontay Wilder 31, – 38-0 (37 KO'S)
The heavy hitting American still hasn't convinced everyone, despite his incredible record and KO ratio. Not only the fans of the sport, but pro boxers all around him are saying he hasn't faced anyone near the level he claims to be and that he hides from big fights and that may or may not be true, but the fact remains Wilder has still achieved what most boxers can only dream of and that has got to count for something. If Wilder was to face the big guns around him and come out the other side in good shape, he will have already proven himself to be one of the best in the world but until that day comes, Wilder is yet to show us what he is really capable of.
2. Wladimir Klitschko 41, – 64-5 (53 KO'S)
Klitschko is still one of the best in the heavyweight division even at his age. He is also the most experienced boxers in the division right now. His respect he shows towards his opponents is something, not only every boxer, but every sports person in the entire planet should try to replicate. He has given the world countless nights of unforgettable boxing and memories and will always be an iconic figure of boxing, remembered for years and years to come.
Honorable mentions:
Hughie Fury 22, – 20-0 ( KO'S)
Hughie is undoubtedly one to watch and with his world title fight with Joe Parker later this year, could be making history. Hughie, like his former world champion cousin Tyson, is quite the figure in the media and doesn't shy away from controversy in the media. Aside from that, he is an exciting boxer to watch with
David Haye 36, – 28-3 (26 KO'S)
David Haye has officially announced his return since he torn his Achilles during the Tony Belles fight. He has been cautiously training his fitness for a few months and has considered a few fights for his return including a title fight with Hughie Fury for if he beats Joe Parker. Another fight that could be on the cards is UFC title contender Jimi Manuwa with UFC confident the fight will happen. David Haye has made it clear he has come back to win titles before finally retiring. Haye is still on a lot of people's top 10's but for the time being, he narrowly missed this one.
Charles Martin 31, – 25-1-1 (23 KO'S)
Ever since he lost his title to Joshua, Martin has been hard at work on his way back up and could find himself fighting for a world title before long. In his most recent fight, he recorded a first round knockout against Mike Marrone and he said he's motivated to go for a rematch with AJ and win the title.
1, Anthony Joshua, 27 – 19-0 (19 KO'S)
Anthony Joshua tops this list through his incredible intense knock out power, insane speed and a champion mindset. AJ has had a remarkable journey from troubled teen to world champion. Still unbeaten and ready to fight any boxer in the world, it's hard to see anyone but Klitschko beating him and he is still waiting for confirmation on whether the rematch will be triggered by the 41-year-old. The 27 old came out and claimed he wanted to hold his titles for the next 10 years and there is nothing holding him back. His pure dedication and passion for training are matched by no one on the planet and his mindset puts him above any boxer in his weight class, with Joshua's potential skyrocketing higher and higher by the day. We will all have to wait and see what the future has in store for not just AJ but the whole heavyweight division as a whole.
Summary:
The heavyweight division may not be what it used to be, but it's certainly not dead yet. There's a glimmering light at the moment with unbeaten champions, fighting and calling out other unbeaten fighters and a whole bus load of hungry, talented and youthful prospects steam rolling to the top. It's only a matter of time before the current champs and contenders to cross paths with the prospects.
Read more articles about:
Alexander Povetkin
,
Anthony Joshua
,
Charles Martin
,
David Haye
,
Deontay Wilder
,
Dillian Whyte
,
Hughie Fury
,
Joseph Parker
,
Kubrat Pulev
,
Lucas Browne
,
Luis Ortiz
,
Wladimir Klitschko