Ringnews24's Top 10 Pound-for-pound list – Do you agree?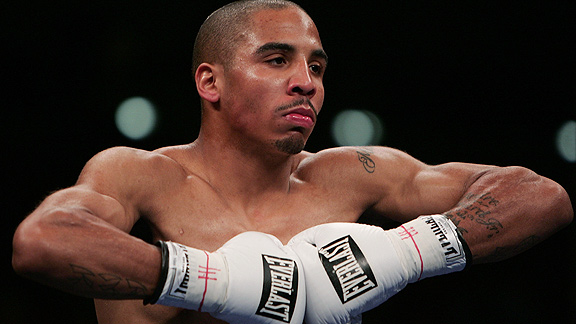 1. Andre Ward
Few would argue that Ward is top of the tree at present. The Oakland native is unbeaten in 32 contests and even an 18-month hiatus from the ring, due to promotional difficulties with the late Joe Goossen, failed to dampen his intense resolve. Returning in June, 2015, Ward defeated Paul Smith Jnr, Sullivan Barrera and Alexander Brand (the last two in 2016). Hardly a murderer's row of opponents (Barrera clearly the standout of the three) it was his two fights with Sergey Kovalev that have propelled 'S.O.G.' in status, building on his body of work put together before the absence. That work included wins over Carl Froch, Mikkel Kessler and Arthur Abraham (all in the Super Six tournament), a stoppage of weight-drained Chad Dawson and solid victories over the likes of Sakio Bika and Edwin Rodriguez. The first Kovalev win, in November, 2016, was razor thin. Andre was dropped in the the second round but rallied back to claim a win that was deemed controversial in some supporters' eyes. The rematch again courted controversy as Kovalev was stopped in round eight, in his view, on illegal blows. Putting that aside, the record books will say two wins in succession for Ward and that currently cements his number one place.
2. Gennady Golovkin
Golovkin has proven himself to be one of the most feared punchers in the sport but the Kazakhstan boxer can also apply a bit of sweet science to his game as well, when needed. Golovkin broke down Canadian power puncher David Lemieux behind a ramrod jab and dissected him. He can blitz you with one punch too, as many, including Marco Antonio Rubio and Daniel Geale, have found out. He has a solid chin, as displayed in the narrower-than-expected win over Danny Jacobs earlier this year. Golovkin can stake a claim for the top position on this list if he dismisses 'Canelo' Alvarez in impressive fashion on September 16. It's his defining, legacy fight and would take him one step closer to complete middleweight domination. If Golovkin gets past his Mexican rival then a mouth-watering clash with Jermall Charlo or WBO unification bout with Billy Joe Saunders could be on the table. That's all dependent on him beating Canelo, which is a huge "if".
3. Vasyl Lomachenko
Already installed as some boxing fans' pound-for-pound number
one fighter, to say that Lomachenko is doing things the quick way is an understatement. The dazzling Ukrainian has only had 10 fights but already boasts two world titles in two different weight classes and he is busy smashing the myth that fighters always need to be moved slowly and engage in over 20 fights before they start looking at titles. Of course not everyone can match Lomachenko's rapid trajectory to world glory but if you're good enough then why hang around? He was competing (and losing narrowly, it's fair to say) with Orlando Salido in only his second pro fight and defeating the excellent American Gary Russell Jnr in only his third. A crushing knockout of Rocky Martinez and outclassing of Jamaica's Nicholas Walters -the latter so severe that Walters got up off his stool and quit- have helped propel the 29-year-old up the ranks. After leaving the amateur ranks with an unfathomable 395-1 record it's frightening to think just what he could achieve in the sport before retirement.
4. Roman Gonzalez
For so many years the king of the lighter weights reigned supreme, collecting silverware as he moved up from minimumweight through to super-flyweight. The hard-punching Nicaragua was the hardcore boxing fan's favourite and one of the best kept secrets of the sport before HBO welcomed him onto their platform to help prop up Gennady Golovkin undercards. Gonzalez quickly ascended to pound-for-pound number one status as he became noticed and appreciated. Unfortunately, he balloons up between fights and the ill effects were noticeable in his 2016 win over Carlos Cuadras, an excellent fighter in his own right. Gonzalez finally lost his unbeaten streak, after 46 straight wins (with 38 knockouts) when Thailand's Wisaksil Wangek (aka Rungvisai) popped his cherry early this year. Gonzalez has had a lot of tough fights over the years and has consistently faced the best competition time-after-time. Father Time may just be catching up on him.
5. Saul Alvarez
The second biggest fight of 'Canelo' Alvarez's career takes place on September 16 when he clashes with Gennady Golovkin in Las Vegas. Alvarez stepped up to the highest level in September, 2013 but was far too green for Floyd Mayweather and taught a boxing lesson, despite what the ridiculous majority decision score totals suggested. 'Canelo' has bounced back with some solid wins but often with asterisks against them. Liam Smith was overmatched, Miguel Cotto was never really a middleweight, Erislandy Lara potentially beat him, James Kirkland was tailor made, Julio Cesar Chavez Jnr was dead at the weight and never that good anyway etc. That being said, the Mexican is a quality counter puncher with thudding power and excellent hand speed and accuracy. He deserves a top five pound-for-pound slot and will move up even higher if he slays
the Kazakhstani beast next month.
6. Terence Crawford
Despite his excellent ring craft, skills and ability to neutralise opponents, Crawford doesn't have a whole pile of signature wins on his record at the moment. That will change if he beats Julius Indongo on August 19 and takes possession of all four major belts (the lightly-regarded IBO has been removed after Indongo refused to pay a sanctioning fee) in the super-lightweight division. Crawford's biggest wins to date were his 2014 domination of Ricky Burns in Scotland and his 2016 win over spidery Ukrainian Viktor Postol. The latter was particularly impressive because WBC world title holder Postol had stopped feared Argentine power puncher Lucas Matthysse in his previous contest. If Crawford gets past Indongo in Nebraska then a potential move up in weights is on the cards. Mikey Garcia would be a good opponent at some point down the line and 'Bud' may even end up at welterweight or beyond.
7. Keith Thurman
A surprising addition for some but the Florida man is notching up the wins and cannot be ignored, at the bottom half of the list at least. Long recognised as a heavy puncher whose "KOs for life" moniker rang true, Thurman has since reinvented himself into a slick boxer who can neutralise his opponents' strengths and exploit their weaknesses. He spent a long time chasing a big-money bout with Floyd Mayweather Jnr but recent wins over Shawn Porter and Danny Garcia have shown there is plenty of substance to back up the swagger. The only knock on him currently is the fact that he is so frequently inactive and cannot build up momentum fighting only once a year, when he is so clearly in his prime.
8. Sergey Kovalev
The feared beast didn't look so scary when sat on his haunches, against the ropes, being counted out by Tony Weeks in Las Vegas. Pound-for-pound king Andre Ward had put him there -somewhat controversially in the eyes of some- after borderline punches and low blows landed frequently. That was the rematch of an extremely close encounter where Ward snatched a tight unanimous decision win over Kovalev. The Russian, who strikes fear into the heart of light-heavyweight rivals, looked human, beatable and even slightly meek in defeat, the second time round. A possible move up to cruiserweight is on the cards but will he ever be the same frightening proposition again?
9. Manny Pacquiao
Manny showed in his most recent outing, against Jeff Horn in Australia, that he has lost a step, understandably given that he is now 38 and with 68 fights under his belt, through a variety of weight classes. Rough-and-tumble Aussie Horn was supposed to be the perfect foil for the first stop on a pension-filling world tour but the younger man had other ideas. Before this outing, Pacquiao has looked good in defeating Tim Bradley, for the third time, and Jessie Vargas, but it won't be long before he slides out of the pound-for-pound mix unless he can lay waste to some of his high-profile welterweight rivals. Expect to see Pacquiao in a rematch with
Horn later in the year.
10. Guillermo Rigondeaux
Sliding gently off the list, Cuba's Rigondeaux has been hamstrung by his own brilliance, mixed with stubbornness to conform. Rigo's safety-first approach effectively forced him off US television and out of Bob Arum's Top Rank stable. His silky southpaw skills and innate athleticism cannot be denied, however, as Rigondeaux boasts superlative ability. Controversy has followed him around recently after he knocked out unbeaten Moises Flores on the Ward-Kovalev undercard, with punches that were clearly thrown after the bell. Prior to that he stopped Jazza Dickens in Wales with a broken jaw. The big fights have continued to elude the Cuban, unfortunately, who needs to inject some life into his career after neutralising big-punching Filipino Nonito Donaire in 2013.