A look at Welsh boxers & pound 4 pound list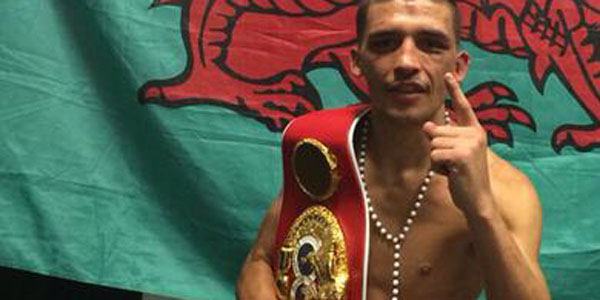 Over the years, Welsh boxing has seen greats such as Joe Calzaghe, Jimmy Wilde and Freddie Walsh at the top of that list. Welsh boxing are currently boasting a stack of talented boxers right now, with the nation boasting world champions and contenders forging their careers in the world of boxing right now.
10. Jay Harris – 11-0-0 – Flyweight
Harris made his debut just a month before his 23rd birthday against Brett Fideo. He won the fight on points at the Newport Center. He went on to win his next two fights by points with wins over Gary Reeve and Ricky Leach. By his 10th fight, he was fighting for the Commonwealth title against Thomas Essomba earlier this year. Both the champion and the challenger had spells during the fight and both boxers will definitely have gained experience from the fights that will prove to be useful going forward with the challenger becoming the champion. When talking about his opponent, the new champ said – "It was proper tough, he caught me with some really good shots. I knew he was going to come for me, but I did enough to win, even though it was a really tough fight." Harris then faced Ghanan, Michael Barnor in Swansea where Harris had a ton of support. Harris started the fight utilizing his jab and began to dominate and control the fight to eventually win the 6-round fight. The future is looking bright for Harris.
9. Robbie Turley – 18-6-0 – Super Bantamweight
Just 5 years ago, Robbie had his license was withdrawn as a result of a brain scan but after a lengthy appeal, he was cleared to enter the ring again after it was found there was no risk of a return and two years later he fought again. Turley returned to boxing after a long two years with a victory over Michael Ramabeletsa. "I'm excited. I'm ready to go now and get back where I'm meant to be." said the Welshman. He recently fought for the vacant Commonwealth Super Bantamweight. The man standing in the way of the title for Turley was the former title holder, Englishman, Bobby 'Dazzler' Jenkinson. Bobby lost his title to highly rated Gamal Yafai in 2016 by knockout. Bobby comes out on top in the first round but was down in the second round, setting the tone for the rest of the fight and awarding the title to Turley.
8. Chris Jenkins – 17-2-1 – Light Welterweight
The Swansea born light-welterweight picked up the vacant WBC International Super Lightweight Title with his victory by unanimous decision over Christopher Sebire in 2014. Recently, Jenkins has seen a dip in form over the last few years losing twice and drawing once in his last 3 fights before firing back with a win over Chris Adaway, after winning his first 16 bouts. He drew against Tyrone Nurse in 2015 for the British title, losing the rematch 4 months later by UD for the same title. The Englishman had this to say about his opponent – "Fair play to Chris. He caught me with a cracking shot. It was a good close fight and I don't think it was as wide as that. I thought it was unlucky first time but this was a great fight and I enjoyed it." He then faced Irishman Philip Sutcliffe in Belfast, in which Sutcliffe scored an early knockdown on Jenkins in the very first. However, Jenkins fired back, turning the fight into a war, making it a hard fight to judge with the knock down probably being the deciding factor in awarding Philip Sutcliffe the victory. He ended the dip in form with a solid victory over Chris Adaway in a fight that saw Jenkins win on points. Jenkins got his rhythm early and worked his opponent with the jab. Adaway slowly seemed to work his way back into the fight, but it was too little too late and ultimately lost the fight. Jenkins will be fighting again in a few months with his opponent currently not announced in a fight that's sure to be a step closer to a title fight.
7. Dale Evans 13-4-2 – Welterweight
The 25-year-old, nicknamed 'Big Boy' recently fought for the British welterweight title with his bout with Bradley Skeete. Evans paid tribute to Mike Towell by placing 'Iron Mike' on his shorts as well as Towell's home nation flag of Scotland and entering the ring to Flower of Scotland. Evans revealed before the fight that he dreamed of winning the belt in honour and taking it to Towell's family. The fight started with both boxers being cautious before Skeete started to throw a few jabs. The Welshman started to fight back, testing the champion, a bit. Despite having bright spells at times, the Welshman couldn't do enough and didn't get to bring back the title.
6. Craig Kennedy 16-1-0 – Cruiserweight
In the 6th spot, is Craig 'The Kid' Kennedy who has picked up the vacant IBF International Cruiserweight Title last year with his victory over the giant 6″6 Belgium boxer Joel Tambwe Djeko with what became an incredible fight. Both boxers on the night proved to be dangerous with Joel drawing blood on the Welshman in the first round and was dropped the round after but the Welshman got back up and fought back with a few jabs. The ref wrongly called a knockdown when Kennedy got pushed over and as the fight gone on, Kennedy started to come out on top with his opponent slowing down and Kennedy keeping up the pace to be determined as the winner of the fight and title. He recently fought for the British Cruiserweight title but was knocked out by Matty Askin in the 6th round after a heavy-handed right punch, which became his first and only defeat to date after winning his first 16 bouts. No fights are currently scheduled for Craig as things currently stand but it's a sure thing the 32-year-old will bounce back.
5. Craig Evans – 17-1-2 – Lightweight
Craig is the current WBO European Lightweight Title holder after picking up the title with a win over Thomas Stalker, on his 3rd attempt with two draws between them with the third time being the charm for the Welshman. The first matchup back was on the 10th of October 2015, with the first rematch two months later. The third fixture between the two started off looking like it would end the same way with both fighters exchanging punches equally before Evans crept his way in front by getting some solid punches in. The fight started to even its self out, with both fighters firing shots away at each other but ultimately Evans became busier and sealed the victory by majority decision to become the new champion of the belt he has successfully defended with the one and only challenger so far, Stephen Ormond getting pushed aside.
4. Andrew Selby – 9-0-0 – Flyweight
Andrew had a lot of success at amateur level before going pro. 'Super star' had won two European Amateur Championship golds, once in 2011 and again 2013 as well as silver and a bronze at the World Amateur Championship in the same years. Shelby started his professional career as a 26-year-old with a win over Hajj Juma by TKO in the 4th round. The most decorated Welsh amateur boxer was living up to the hype and on his 5th fight; he was fighting for the British Flyweight title. The man in his way was Louis Norman, Selby won the fight via unanimous decision. On just his second fight later, he was fighting for another title in the IBF Inter-Continental Flyweight Title.
3. Liam Williams – 16-1-1 – Middleweight
Still just 25 years old, Williams has already compiled quite the boxing CV having picked up British, Commonwealth and European titles. His first title was picked up back in 2014, on his 13th professional bout with the Commonwealth light-middleweight title. His opponent was Londoner, Michael Lomax. The Welshman got the win with a first round stoppage of Lomax to win the title at the age of 22. After the fight, Williams tweeted out "I must say it feels pretty good being Commonwealth champ." Next up for Williams was the vacant British title, while defending his Commonwealth title in his fight with Scottish boxer, Kris Carslaw. Williams started strong, keeping Carslaw at distance utilising his jabs. Williams was able to soak up any pressure his opponent was able to throw at him while he dug away himself. He started to target the body and put Carslaw on the canvas in the very first round. A sharp speedy left hand from the Welshman dropped the Scot to win by knockout. He won the vacant WBO European Super Welterweight Title late last year with his TKO versus the Hungarian, Gabor Gorbics to set himself up for a big fight with Liam Smith in Manchester for the WBO World Super Welterweight Title. The fight ended with a controversial loss for Williams after Smith headbutted him, leading to his corner throwing in the towel in the 10th round, with a rematch confirmed.
2. Nathan Cleverly – 30-3-0 – Light Heavyweight
It's been confirmed that the Welshman will be defending his world title on the undercard of Mayweather-McGregor, Cleverly had this to say – "This is a fight I have wanted ever since Badou Jack moved to light heavyweight and I'm delighted to fight in Vegas on an event like this, I've trained long and hard for this fight and I'm ready to be let off the leash. This is the biggest fight of my career so far and I'm going to do a number on Badou Jack on Aug. 26." Nathan won his title back in 2016 with his win over Jürgen Brähmer having previously won British, Commonwealth light heavyweight titles as well as the EBU light heavyweight title, the WBO World light heavyweight title and the WBA Inter-Continental cruiserweight title. Cleverly has notable beaten the likes of Tony Bellew, Juergen Braehmer and a whole list of other credible fighters, proving his worth to be up there the best light-heavyweights in the world right now.
Honorable Mentions:
Morgan Jones – 12-0-0 – Super Middleweight
Yet to be proven as of now, Jones has the tools to step up. Out of his 12 wins so far in his career, 5 of them have come by way of knockout having made his debut just 3 years ago. Jones has a long way to come but certainly, possess the ability to make it and prove himself.
Danni Griffiths – 7-1-0 – Cruiserweight
Danni made his debut 4 years ago and has since put together some impressive victories. His only defeat so far coming on his debut to fellow debutant Courtney Richards. Griffiths, given the right opportunity, would definitely be able to make the step up soon enough.
1. Lee Selby – 25-1—0 – Featherweight
Lee Selby, the 'Barry Boy Assassin' tops the pack for Welsh boxers P4P. Older brother to Andrew Shelby, Lee currently holds the IBF featherweight title having recently retained after seeing of challenger, Jonathan Victor Barros, a title he has defended a total of 3 times ever since picking it up in 2015 from Fernando Montiel. The man who has been nicknamed as the 'Welsh Mayweather' has already made a big name for himself with British, Commonwealth, European and world titles and being the 40th best P4P best boxer in the world right now on BoxRec but undoubtedly still has his best years to come in boxing as he is bound to be attracting even bigger names that will give Selby the chance to test and push himself further.
Read more articles about: