Terence Crawford vs Julius Indongo – Ringnews24 Writers' & Fans' Predictions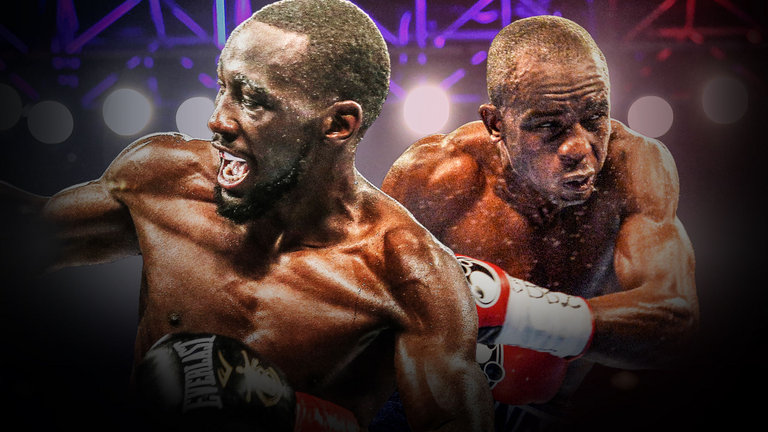 Fight Preview
Terence Crawford and Julius Indongo will clash on August 19 in Lincoln, Nebraska in a huge five-title unification match-up. Crawford's WBC and WBO belts will be on the line along with Indongo's WBA World, IBF and IBO in an opportunity to say without question who is the undisputed king at super-lightweight.
Sky Sports have picked up the fight for UK coverage and the broadcasting powerhouse have a horse in the race with in-house promoter Eddie Hearn claiming promotional ties with the African. ESPN are televising in the States. HBO boxing had been picking up Crawford fights but Bob Arum changed tack and left the premium paid provider kicking its heels with a foot out of the door of high-class boxing.
Writers' Predictions
Barbara Pinnella
Wow, there are so many titles on the line for this fight between undefeated super lightweights. Terence Crawford, at 29, is the younger man with a record of 31 victories, 22 of those coming by way of knockout. He has fought some very strong men on his climb to the top, among them the then-undefeated Viktor Postol to grab his WBC belt. His name is well-known and his face recognized in the boxing world.
Crawford definitely has the home field advantage, as he gets to fight in his state of Nebraska. He is a strong and crafty fighter to be sure, albeit considered by some to be somewhat disrespectful in the ring. He best not take his much less famous opponent for granted, or those belts might slip away.
The Namibian-born Julius Indongo looked very good in his wins over Ricky Burns and Eduard Troyanovsky, knocking out the latter and taking belts from each of them. Indongo is also a southpaw, which shouldn't impose much of a problem for Terence, but then again there is always that clash of heads issue.
To finish off his training camp, Julius trained at Wild Card Gym. Even though they were at another gym their training routine remained the same, and the comfort of the routine should serve Indongo well. He comes into this fight with a record of 22 victories with 11 of those by knockout.
Obviously, the most unique thing about this fight is that one of these men will hold all of the major titles offered up at 140 pounds. Crawford holds the afore-mentioned WBC title, as well as the WBO title, while Indongo lays claim to the WBA and IBF belts.
The motivation of those four belts in question, as well as wanting to put the first loss on the others' record will drive these two to (hopefully) provide a lot of action and really set their place in stone in that 140 division. I am really on the fence here, but I think I must very slightly lean toward Crawford. Terence Crawford by TKO later rounds. Crawford
Slaven Ajanovic
Terence Crawford is too crafty for Indongo. Indongo has the big reach and a tricky style but I believe Bud will solve his puzzle and win by UD. Crawford
Nick Jackson
Terence Crawford will have to give it his all to avoid losing his unbeaten record against highly confident and fellow unbeaten fighter, Julius Indongo. I believe Crawford will get the knockout victory in the later rounds – Crawford round 10. Crawford
Tracey Langley
I must admit I don't know a lot about Julius Indongo however, in his last fight to Ricky Burns I thought he won that very convincingly.
Terence Crawford has fought some quality fighters and in his last fight with Diaz, he dominated the fight right from the start. They say styles make fights and both of these guys have the attributes to produce a great fight. Crawford wins by UD. Crawford
Lee Skavydis
I got Crawford winning this in pretty dominant fashion. He has the edge in hand and foot speed and has better punch selection. Indongo is pretty good landing straights which he needs to throw to disrupt Crawford's rhythm. But in the end, I can only see one winner and that is Terence Crawford, possibly by late stoppage. Crawford
James Tonks
Indongo is undefeated and coming off two impressive victories in a row. He KO'd the undefeated Troyanovsky (25-0) in impressive style and made easy work of an experienced Ricky Burns. He's coming into this fight full of confidence and he has an awkward style that may see him win the majority of the early rounds in the first half of the fight. The question is can Crawford work out his style and adapt? I think he can and we may not see the best of Crawford on the night until around the midway point of the fight. Crawford will dominate from around round 4-6 and start upping his performance – once he adapts to Indongo's awkward style and I believe he will win a UD. Crawford
Rob Day
Terence 'Bud' Crawford has grown into one of the best boxers in the sport. He's been imperious at super welterweight. He has shown high skill levels when dominating his opposition. In Namibian Julius Indongo, we have a tall, powerful, awkward fighter, who is also undefeated.
Crawford has the edges in most departments. It will be his sharp shooting and accuracy that will cause Indongo to unravel.
A late stoppage win could well be on the cards. Definitely only one winner, Terence Crawford. Crawford
Bobby Mac
Terence Crawford vs Julius Indongo – Crawford an incremental favourite, but I like the moves Indongo has shown that Crawford has never seen before. The fight goes the distance and that favours Crawford. Crawford
Ted Sares
Crawford by late stoppage. Too many tools in his work kit. He will find his groove in the third and then issue a beatdown. Crawford
Alan J Kindred
This is not the easiest fight to predict because Indongo has burst onto the boxing scene with such a rapid rise. On film, he seems to have very good size for a 140 pounder, and has a very well rounded quality about him, able to fight outside and in. Crawford has been impressive each and every time out and even seems to get better when his opposition is. I expect master class boxing and movement from Crawford in this fight, similar to how he dealt with Postol. Crawford UD. Crawford
Jeremiah Preisser
For me, the tornado-esque swirl of hype surrounding the forthcoming Crawford-Indongo is unwarranted. Strip away the alphabet trinkets and it's a Champion entering a set-to with a good, far from great, contender. Indongo's upsets over Troyanovsky and Burns are noteworthy, yet little from those contests tells me the Namibian is in a position to be more competitive than Postol was. He doesn't have the schooling or, more importantly, the skill to fence with a burgeoning switch-hitting master like Nebraska's Terence Crawford. "Bud" is just too good. Simple statement; simple result, Crawford in 7. Crawford
Fans Predictions
Gerald, KO Boxing Forum
Indongo has success early with front foot, sharp pressure as Crawford tries to work him out. Although Indongo has enough pop on his shots and boxes to a level that should keep Crawford honest for the most part, Crawford's a special fighter with that blend of craft, precision and spite that will tell over the course of the fight and will lead to him taking over the longer this goes, with Indongo in some serious trouble down the stretch. In a contest that ends up looking somewhat similar to the Gamboa fight, albeit, with Indongo more competitive for longer, Crawford figures things out and forces a stoppage in the championship rounds. Crawford KO 11. Crawford
Ethan Jay Hanly, Facebook
Crawford by decision, however, Indongo is a fast starter and a very awkward fighter, so I can see Indongo picking up early rounds, but when Crawford figures him out, his class will show and I expect him to take over and win by a decent margin, however, I do think the fight will be closer than most people expect. Crawford
Pittbox, KO Boxing Forum
If Crawford beat Postol hands down, then he'd likely do the same with Indongo. This fight has a chance as Namibian craves a pay check, because it's hard to make big fights in his home country. Crawford
Terry Clarke, Facebook
It's hard to exaggerate the fact beyond Crawford UD, simply to say he is just the better all-round boxer doesn't really do him justice. Crawford
Robrosser, KO Boxing Forum
Crawford would have to work hard but for me he's a clear winner. I think Indongo's balance issues would be exploited by Crawford. Crawford
Matt Smith, Facebook
Indongo will time a perfect punch in the 1st round with his long reach and shoulder flexibility sending Bud to the floor. Indongo
Davemurphy, KO Boxing Forum
I think Crawford's got the experience edge, plus Indongo can be a bit wild at times. It's a close call, but I'm thinking Crawford by decision. Crawford
Dale Munro, Facebook
Crawford by decision after he works Indongo's awkward style out.I think he'll lose the first few rounds. Crawford
Syrianpitbull, KO Boxing Forum
I am so excited for this fight and disappointed at the same time because the circus fight has overshadowed this very meaningful fight. I do have a bias towards Crawford and I think he will edge it on points because of the vast levels he has to his game, but I certainly believe this will be his toughest opponent. Crawford
David Spackman‏, Twitter
Indongo still an unknown quantity and looked good in his last fight but Crawford is a top p4p fighter. Crawford wide margin points win. Crawford
Adam Murphy‏, Twitter
Crawford to win via 10th round stoppage. Crawford
Jason Whitaker, Facebook
I expect Crawford to work out Indongo over 12, but don't think it will be easy, Indongo being seriously overlooked, got me money on Bud but wouldn't be a total shock to see Indongo win. Crawford
BowerKnowsFighting, Twitter
‏
Crawford stoppage rounds 6-9. The way Indongo fights he will make mistakes only a fighter like Crawford can exploit. Fight IQ wins this one. Crawford
Callum Haye, Facebook
Crawford UD, too slick and skilful. Maybe even a late stoppage. Crawford
Marc James Knowles, Facebook
Slow first two by Bud… but by the 5th he should have come under control and start breaking him down for a stoppage around the 9th or 10th Crawford. Crawford
Predictions Summary:
Ringnews24 Writers: Crawford 11 Indongo 0
Facebook, Twitter and Ringnews24 Forum: Crawford 14 Indongo 1
Total: Crawford 25 Indongo 1