MyProtein release boxing bundle to help maximise recovery and performance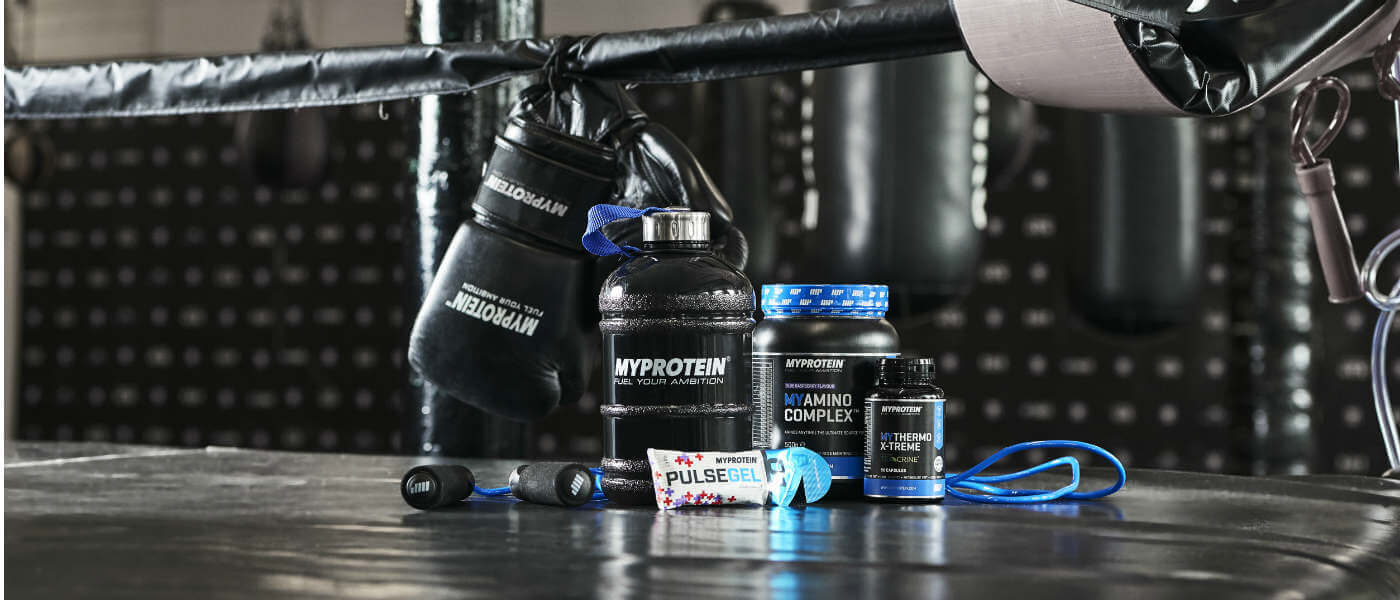 Overview
The Myprotein Combat Bundle includes a combination of six products to help you achieve your required training goals to enhance performance across all types of combat sports. It provides a range of products that will support recovery after an intense fight or training session, this being imperative for optimal performance. The selected products will also help to optimise gains in lean muscle mass as well as helping to reduce body fat levels.
This unique bundle contains 1kg of Impact Whey Deluxe to increase daily protein intake and help with the recovery and repair of the muscles. It also contains 250g of the world renowned creatine monohydrate, Creapure®, which will increase lean mass, strength and power, all these particularly important for short bursts of intense exercise which are required in all combat sports. It also has 250g of flavoured BCAA's that will help reduce muscle breakdown and increase protein synthesis, Alpha Men tablets which will provide a host of vitamins and minerals needed to promote recovery after intense training sessions, Omega Balance which will provide the essential fatty acids for our health and well-being, and finally, 1kg of Maltodextrin, a fast releasing sugar to help replenish muscle glycogen stores after a work-out. These all taken together as part of a balanced diet will work collectively to help you reach your specific training goals.
Creapure®
250 grams
The purest form of creatine monohydrate available on the market
Take 5g post work-out to optimise uptake
Maltodextrin
1kg
A high GI carbohydrate to help replenish muscle energy stores rapidly
Take approximately 50g post work-out to replenish muscle glycogen stores
Alpha Men Super Multi Vitamin
120 tablets
A powerful multi-vitamin to help protect the immune system
Consume 2 tablets in the morning and a further 2 tablets in the evening
Impact Whey Deluxe
1kg, Vanilla
Contains a blend of whey concentrate, isolate and hydrolysed whey to offer a superb amino acid profile
Take a 30g serving 2-3 times a day – post work-out to increase protein synthesis
Omega Balance
90 tablets
High purity fish oil to increase omega 3 intake
We recommend 1 soft gel 1-3 times a day depending on dietary intake of oily fish
BCAA
250 grams, Berry Blast
Metabolised directly in the muscle to prevent muscle breakdown and optimise the growth and repair of the muscles
Take 5g pre and post work-out and possibly a further 10g split throughout the day
FLAVOURS, PRODUCTS AND SIZES ARE AS SHOWN AND MAY BE SUBSTITUTED WITHOUT NOTICE DEPENDENT ON STOCK LEVELS.
Bundle RRP based on total price of individual product RRPs.
Key Benefits
Designed to provide a range of supplements for maximising recovery and performance
Specifically formulated to help improve training intensities for a range of combat sports
Outstanding value for money
www.myprotein.com/boxingbundle
Read more articles about: