Floyd Mayweather vs Conor McGregor – Ringnews24 Writers' Predictions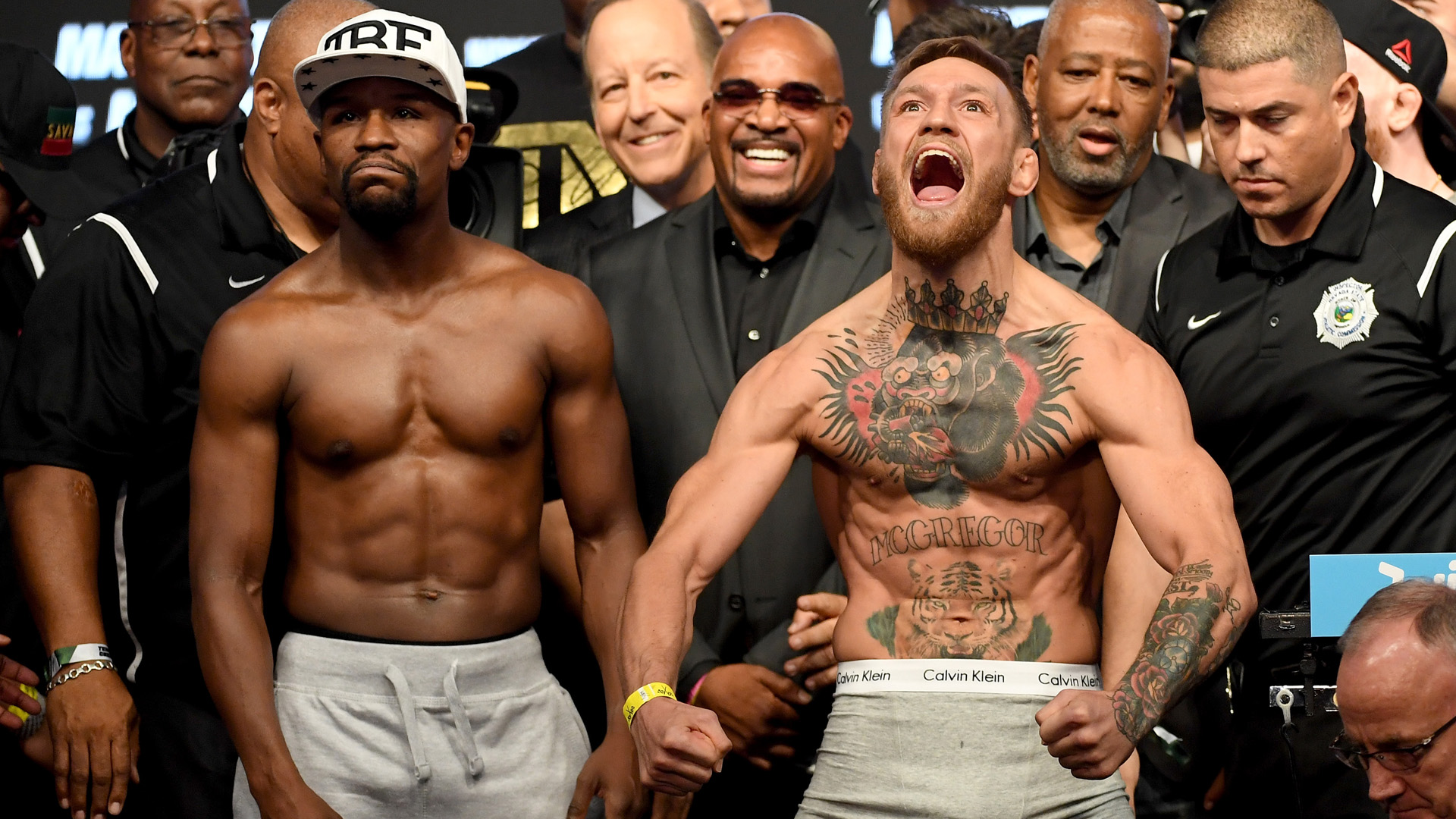 Barbara Pinnella
The only variable in my eyes in the Floyd Mayweather / Conor McGregor event is just how long Floyd will toy with Conor. Since he has stated that he wants to make the fight more exciting than the one with Manny Pacquiao, (and blamed Manny for the dull fight, by the way), my guess is that he will make McGregor look like a fool and take the fight into the later rounds.
Also, Floyd's last knockout came against Victor Ortiz back in 2011. Remember that blatant head butt? Could Conor make Mayweather mad enough to get another knockout? I don't think so. I think Floyd will be more cautious of McGregor, since he is a lot stronger than Ortiz.
McGregor is of course spouting off about how he will knock Mayweather out in the early rounds, and I have no doubt that he will try to do so. But just how often does Floyd really get hit? Conor's knockout power can't help him if he can't lay his hands on his opponent. I don't think the outcome of this fight will come as any surprise – Mayweather by UD. Mayweather
Steve Wellings
Strange fight this. I've seen so many predictions of varying degrees and a lot of money piling in on McGregor. I think it's inconceivable that McGregor wins and my only issues are predicting the manner of victory for Mayweather. I'm going for a ninth round stoppage for Floyd. A mercy stoppage more than anything, as a bruised and battered McGregor, gets withdrawn by his corner. Mayweather
Jeremiah Preisser
Mayweather versus McGregor–the fight that's been saturating everyone's headlines for months now. It's arguably the world's best mixed martial artist trying his hand–or hands–in a sport that he's only faintly familiar with. Does he have a chance here? Of course not. It's a bridge too far.
Mayweather, regardless of his age, has proven a physical m especially for one who has been living the high-life for over a decade. He trains like he's an upstart trying to break rank and has managed his hand problems in recent years. You add that in, "Money's" phenomenal talent, McGregor's porous defense and lack of nuance and that should prove his undoing. Mayweather earns a wide decision here. Mayweather
Slaven Ajanovic
Mayweather-McGregor is a fight that can go either way really, depends on what sort of tactics Mayweather uses, but I have a feeling Conor will just look bad and miss a lot, trying to chase Floyd down and score a KO Mayweather to win by UD most likely. Mayweather
Nick Jackson
I think Floyd Mayweather will work to tire Conor out, playing with him before being a bit more aggressive and that's where he ends the fight. After all, Floyd has promised to be more aggressive in the fight than we are used to seeing from him. For me, Floyd wins by knockout in the 6th round. Mayweather
Tracey Langley
So this is an event where we have a professional boxer v an MMA Fighter
I'm not a follower of UFC or MMA but know briefly what it's about. We know Floyd is the defence genius of the famous shoulder roll and is known for ducking and diving to miss those punches. Will the age of 40 play a part for Floyd? I don't think so given that he's always in shape. He puts it all on the line, all 49 wins, the legacy, hard work and dedication to fight Conor who I think will give him a fight. We all know that anything can happen in this sport but I'm going with my man Floyd on a KO between 3-6 rounds. If it goes beyond 6 rounds then hats off to Conor for sticking in there. Mayweather
James Tonks
It's unthinkable that Floyd Mayweather who is a defensive genius would be defeated by Conor McGregor.
Cotto, Alvarez, Pacquiao. Maidana, Ortiz, Hatton, Castillo, Marquez, Gatti, Mosley, Judah, Corrales and many more boxers have tried and failed. Yet, a UFC fighter who has never boxed professionally, in his first fight as a boxer, is to win?
A farce of a 'pantomime fight' with only one winner Floyd Mayweather. Mayweather
Lee Skavydis
Floyd Mayweather vs Conor McGregor
I personally do not want to give this "fight" much coverage, so I am just going to say that Mayweather should easily take a victory, possibly on points. Mayweather
Rob Day
I've done my best to ignore this circus act. The pricing is daylight robbery on a grand scale. That this is Floyd's 50th fight seems a pathetic joke. I like the undercard but the main event is horrific. Mayweather wins against a non-boxer. Mayweather
Bobby Mac
Floyd Mayweather vs Conor McGregor – Biggest hoax in boxing history. Can Bayliss keep Conor off Floyd when he bum rushes him? If Floyd runs his noggin under Conor's armpit as boxers do, he might be choked out in a couple of seconds, enough to be handicapped for the rest of the fight. Normally the decision guarantees a Floyd win, but he's been sucking so much off boxing that this may be the time he loses a decision since Conor will immediately return in another huge bout, speaking of, all this talk of money, so I think it falls short of projections. UFC fans will be the drivers, and not enough to be as dumb as this hoax. Mayweather
Alan J Kindred
Mayweather TKO 9; It is just unfathomable to me that McGregor has any real chance in this fight, outside of a one punch KO miracle early in the fight. Even a past his prime Mayweather should be able to deal with anything McGregor can bring to the table. He will have some awkwardness, youth, and power, but after Mayweather studies him for the first few sounds, I imagine we will see a lot of trademark jabs to the body designed to gas McGregor out. As McGregor slows down, Mayweather will take more and more liberties until he is basically teeing off on a gassed McGregor. There have been bigger upsets in boxing, but not many, if McGregor were to pull it off, I just can't see it happening. Mayweather
Dennis Dodge
So many different variables and most that have nothing to do with the skill of Floyd, will he want to drag it out and give fans a bit of a show, will his punches make a dent in the Con man? And of course, can McGregor do the unthinkable, come out all guns blazing and land a (lucky 😉 KO punch on the best boxer of this generation.
Alas, I think we'll see a 3rd round TKO by Mayweather as the volume of shots will overwhelm the MMA fighter until Floyd plants his feet properly and takes him out with a nice little combination. Both me will leave with their pockets full and the world wondering if we'll see Floyd in an MMA ring next (he'll get smooshed). Mayweather
Predictions Summary:
Ringnews24 Writers: Mayweather 12 McGregor 0