Is Terry Flanagan ready for the likes of Jorge Linares and Robert Easter Jr?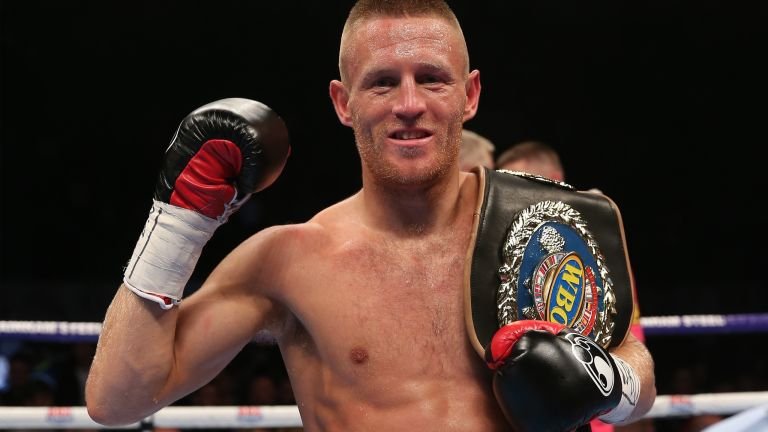 The Englishman who has been fighting professionally since 2009 and since then has compiled up an impressive record of 33 wins, no defeats and no draws. He is the current holder of the WBO World Lightweight Title having won the title in 2015, successfully defending it 5 times but is he ready to take it to the next level and compete with the best?
Flanagan is already undoubtedly a world class boxer, that isn't up for debate but what is up for debate is whether or not he's ready to take on the likes of Linares and Easter.
So, what has he done so far? 'Turbo' is currently on an incredible win streak of 33 which includes picking up titles at English, British, European and World level. He first picked up the English Title back in 2012 in his 14th fight against Dougie Curran, defending the title once before picking up the British Title two years later by defeating Martin Gethin. The following year he picked up both the WBO European Title following the disqualification from his opponent, Stephen Ormond after use of the head and the WBO World Lightweight Title following his win over Jose Zepeda in his very next fight and has defended his title 5 so far. His recent victory of Petrov, who is considered to be the best lightweight outside of the current champions, has been considered the fight that has put 'turbo' on the edge of a big-money bout with the likes of Lomachenko, Linares and Easter? Being ranked the 3rd best lightweight in the world by both the Transnational Boxing Ratings Board and BoxRec it's easy to see why he is linked with Easter and Linares.
Future? Personally, I think Flanagan is one big win away from being considered one of the best in the country and there are many names that fit into that role. Plenty of names have been thrown around before by not only the fans but other pro boxers and Flanagan himself. In his weight division, the two names being heavily linked are Linares and Easter.
So, what about Jorge Linares? Talks have been lightly floating around for a while now of a potential massive clash of two giants. It is a fight both boxers are keen on, with the two of them stating so on a few occasions. The two have even spoken with each other publicly over on twitter with Flanagan tweeting '@JorgeLinares I've not got an opponent you've not let's have a unification fight #wbo #wba #bestvsbest' and Linares responded simply with 'I'm Ready… When you want I want' but as of now, nothing concrete has come out of it yet. I believe that this would be a very entertaining fight and a very competitive one, but I predict that 'turbo' would be able to edge the fight on points.
Robert Easter Jr? Considered the best lightweight in the world, Easter would be an ultimate test for Flanagan. Depending on who you ask, Flanagan is ready to take the division's top spot or is a few big fights away and I would have to say somewhere in between. It's not a fight I personally can see happening for a while but I fully trust that ' turbo' will have enough in him to hold his weight at that level.
Vasyl Lomachenko? Terry's manager has claimed his man could out power Lomachenko telling ESPN – "We're certainly keen to negotiate for the fight. Lomachenko is a super-featherweight who was a featherweight so he'd be coming up here trying to be a three-weight world champion. With his ability, you've got to say he'd be capable of doing that. From our point of view, we have won our five defences easily and it's either a unification fight or Lomachenko next. Lomachenko is very good but Terry is a big lightweight with good foot movement."
Mikey Garcia? Unlike most mentioned, Garcia is actually highly keen on a fight with the Englishman, saying he is on his radar and that he would go to England for the fight. Garcia said "Terry is slick, he carries power. He uses his ring craft more. He's also undefeated and a great Champion. You can't say anything less." and "I want that WBO World Title! Terry's a southpaw, experienced and definitely worthy at World level but in all honesty, I'll beat all of them. Petrov is a tough guy, he did what he had to do. I respect him. It would be a good fight." Terry has expressed his desire for the fight himself and with two keen fighters looking to clash, I can see this fight happening next for the Englishman.
Conclusion:
For me, the Englishman is maybe just the one fight away competing at an even higher stage, if not already good enough now. I predict even bigger things are in store for Flanagan with plenty of big nights ahead. I believe if given the chance to prove himself, he would be able to prove himself worthy of fighting the big fights in boxing.