Five Reasons Why PPVs are Hurting Boxing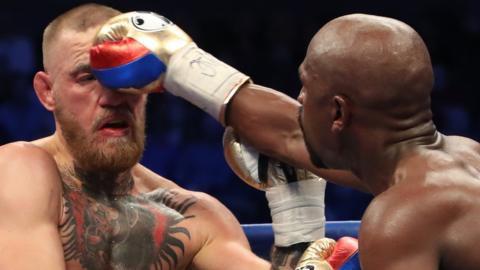 For many years now there have been complaints regarding those boxing Pay-Per-Views, and a variety of reasons of dissatisfaction has been thrown around. Prizefighting was the real deal at one time, which saw the best facing the best – and for free on mainstream television or cable! Things are different now. The order might change, but here are five reasons that boxing might be taking a hit (pardon the pun) due to those PPVs.
1 – The Price. Ordering a PPV event is not an inexpensive venture. Putting the price of the Floyd Mayweather / Conor McGregor show aside, most of today's events run between $60 and $80, and $10 more if ordered in high definition. Yes, many people have a group over and several friends chip in, but if it is one or two boxing fans that want to get to see a certain card, that can add up, particularly if they are purchased many times a year. And don't forget, there is the added cost of paying for both HBO and SHOWTIME each month, something you must have in the first place to even get those PPVs. The one good thing along these lines is that there seems to be a bit of a decline of PPVs of late, but still, many are not worth buying. Which brings me to:
2 – The Card. If the undercard is not strong and the main event offers no surprises for the viewer, the inclination to buy the event drops considerably. One of the opponents in the main event might have virtually no chance of losing the fight, and just how much fun it to watch an expected beat-down for free, let alone drop money on it.
Or, the main event might look to be a strong one but turns out to be quite disappointing, such as the fight between Manny Pacquiao and Mayweather. The hype and excitement of the fight is shot down quickly, and some casual fans might decide that there is a better way to spend their money. Occasionally, some people buy an event to see a fighter lose. Have to mention Mayweather again here, as people frequently told me they watched to make sure they didn't miss it if he got beat. Well, that didn't work!
3 – Pay-Per-View Worthy Fighters. So often it feels like Groundhog Day, since there seems to be a recycling of the same faces showing up on the PPV shows. With many promotions still not really wanting to work together, we get the same thing, with generally the same results at the end of the night. Again, why buy? Add to that some re-match fights, and one is sometimes spending their hard-earned money on snooze fest number two. With a few exceptions of course, if it wasn't a barn-burner the first time, chances are it will not be the second time around either. (Although my question would be, why go back for seconds?)
4 – Referring and Judging. This category can make or break the whole night, for the fighters and fans alike. In a back-and-forth battle where you can see the fight going either way, that's one thing. But if you have a referee that is always interfering with the action or, worse, ignoring a lot of things, the fight can be decided by the ref and not the men taking the punishment. In the second meeting between Andre Ward and Sergey Kovalev this past June, the bout was close on the scorecards until round eight, where Ward stopped Sergey at 2:29 of that round. But this was not without controversy, as many thought that Andre delivered two or three low blows to Sergey after hurting him, and that the fight should not have been stopped by referee Tony Weeks.
Accordingly, judges (obviously) have the greatest impact on the decision, which is a big reason why a fighter wants to win by knockout – to eliminate having to go to those scary scorecards. Don't get me wrong, of course they often get it right. But look again at Ward and Kovalev, their first fight this time, and a fight that many thought Kovalev won. The fight was very close on the cards – 114-113 all around – but left many people disappointed.
5 – Other Combat Sports. The boxing demographic has changed, and there are not a lot of younger fans being attracted to the sport. UFC and MMA hold much more appeal to younger viewers. Those fights are much more exciting and have more action, as well as being brutal in a different way. The Sweet Science is taking a back seat to those cage matches, as seen by all of the MMA fanatics that bought into the McGregor match-up with Floyd. They spent their money on that one, but will probably not anti up for GGG and Canelo.
There are other reasons as well, but these seem to be at the top of the list, in any order.
Read more articles about: