Callum Smith vs. Erik Skoglund kicks-off super middleweight action in World Boxing Super Series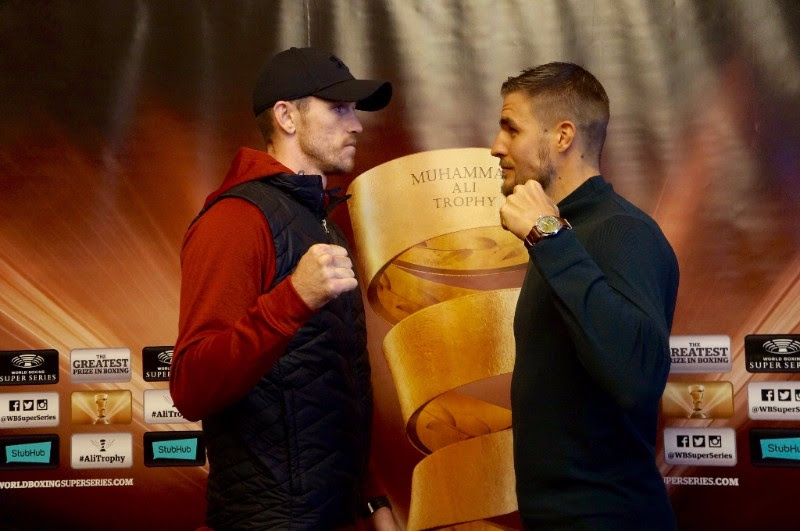 The focus shifts from cruiserweights to super middleweights this Saturday (Sept. 16) in World Boxing Super Series (WBSS) quarterfinals action as undefeated, elite 168-pound fighters Callum "Mundo" Smith and Erik Skoglund throw-down at Echo Arena in Liverpool, United Kingdom.
Canadian boxing fans will be able to watch all the tournament action live, including Smith vs. Skoglund, on Super Channel, which acquired the rights in Canada to broadcast the World Boxing Super Series from MP & Silva, a leading international media company that provides media rights, digital, technology and sponsorship services.
The "O" must go in Saturday's initial super middleweight fight in WBSS tournament as undefeated boxers Smith and Skoglund battle in the 12-round main event, airing live on Super Channel at 6 p.m. ET / 3 p.m. PT, for the vacant World Boxing Council (WBC) Diamond Championship.
The "Smith vs. Skoglund" card start time on Super Channel is TBA (check for updated details on www.superchannel.ca).
Smith (22-0, 17 KOs), fighting at home in Liverpool, is rated No. 8 by The Ring magazine. He is a former WBC Silver and European super middleweight champion who is a rising star.
"A ring is a ring no matter where it is, but course, I'm happy to be fighting in Liverpool," Smith admitted. "This is my home and this is where all my best performances as a professional have been. I like fighting in Liverpool, and with the crowd behind me, I will have an added advantage.
"There are no easy fights in this tournament. It's the best fighting the best, but I believe I made the right decision (choosing Skoglund) in Monte Carlo (at the WBSS Draft Gala). That's not to say Skoglund is not a good fighter. I think he is a very good fighter. His record speaks for itself, but I think stylistically, he was the right choice for me.
"It'll be a tough test. On paper, Skoglund is probably the best fighter I've ever faced, and I will need to be at my best to beat him. But every time I've been up against it in my career, and every time there's been that fear factor, it's brought out the best in me and I'm hoping for the same Saturday."
Skoglund (26-0, 12 KOs) was ranked by all four major sanctioning bodies as a light heavyweight before moving down in weight to compete in the WBSS as a super middleweight. The 26-year-old Swede has been the IBO, WBA International and European champion.
"This is a huge opportunity for me to prove myself at the highest level," Skoglund said. "Callum Smith is a top-level fighter and one of the tournament favorites. This is what the World Boxing Super Series is all about – the best fighting the best! That's why I entered and that is why I'm really looking forward to this fight.
"For me, it's no problem fighting in Liverpool. Of course, I am always thankful for the opportunity to fight in front of my fans in Sweden, but I'm happy not having that pressure on my shoulders for this fight and I will enjoy being the underdog for once."
The inaugural season of the World Boxing Super Series features two weight classes (cruiserweight & super middleweight), 16 fighters, and a total of 14 main events. An expert panel invited the world's best boxers to compete, namely the top 15-ranked fighters of the four major federations: WBA, WBC, IBF and WBO. In each weight class, eight boxers will battle it out in a bracket-style elimination tournament, with four quarterfinals (September & October 2017), two semifinals (January & February 2018) and one championship final (May 2018).
World Boxing Super Series is a new revolutionary bracket-style elimination tournament featuring the world`s best boxers and a total of $50 million in prize money. The knockout format of the competition will see the best boxers ultimately compete for the Muhammad Ali Trophy, the greatest prize in boxing. The tournament is organized by newly-founded Comosa AG, a Swiss-registered company with principal owners Highlight Event & Entertainment, Modern Times Group and Team Sauerland. Comosa AG is working in partnership with boxers, promoters and managers around the world, and in alignment with the four major world boxing federations, to create a new global platform for the sport.
"Smith vs. Skoglund" card and several preliminary bouts, promoted by Matchroom Boxing, will air exclusively in Canada on Super Channel.
All fights and fighters are subject to change.
UPCOMING WBSS EVENTS & RESULTS ON SUPER CHANNEL
Sept. 9 – Cruiserweight Quarter-Final in Berlin, Germany
WBO Cruiserweight World Championship
Oleksandr Usyk (13-0, 11 KOs), Kiev, Ukraine
WTKO10
Marco Huck (40-5-1, 27 KOs), Berlin, Germany
(Usyk retained WBO cruiserweight title)
Sept. 16 – Super Middleweight Quarter-Final in Liverpool, UK
WBC Super Middleweight Diamond Championship
Callum Smith (22-0, 17 KOs), Liverpool, Merseyside, UK
vs.
Erik Skoglund (26-0, 12 KOs), Nykoping, Sweden
Sept. 23 – Cruiserweight Quarter-Final in San Antonio, Texas, USA
WBA Cruiserweight World Championship
Yunier Dorticos (21-0, 20 KOs), Champion, Miami, Florida, USA by way of Cuba
vs.
Dmitry Kudryashov (21-1, 21 KOs), Challenger, Volgodonsk, Russia
Sept. 30 – Cruiserweight Quarter-Final in Riga, Latvia
WBC Cruiserweight World Championship
Mairis Briedis (22-0, 18 KOs), Champion, Riga, Latvia
vs.
Mike Perez (22-2-1, 14 KOs), Challenger, Cork, Ireland by way of Cuba
All WSBB fights will also be available on Super Channel On Demand.
Super Channel has recently aired major boxing events live like Brook vs. Spence Jr., Pacquiao-Horn, Eubank, Jr. vs. Abraham, Lomachenko vs.Marriaga and Crawford vs. Indongo.
To watch all the World Boxing Super Series action live, as well as more exciting boxing to come, fight fans in Canada can contact their local cable provider to subscribe to Super Channel and all that it offers, including premium series, movies and much more, for as low as $9.95 per month.
About Super Channel
Super Channelis a national premium pay television network, consisting of four HD channels, four SD channels, and Super Channel On Demand.
Super Channel's mission is to entertain and engage Canadian audiences by providing a unique and exclusive entertainment experience. With a core foundation of integrity and accountability, we dedicate ourselves to implementing innovative programming strategies and unparalleled team work that provides viewers with exceptional value and variety.
Super Channel is owned by Allarco Entertainment 2008 Inc., an Edmonton-based media company.
Super Channel is currently available on Bell TV, Shaw Direct, Rogers Anyplace TV, Shaw Cable, Cogeco Cable, Access Communications, Bell Alliant TV, Source Cable, SaskTel, MTS, Novus, EastLink, TELUS, Videotron, Westman Communications and other regional providers.
Connect with Super Channel:
www.superchannel.ca
Twitter: @SCSportsTV
Instagram: @SuperChannelTV
Facebook: /SuperChannel