Video: Gennady Golovkin vs Canelo Alvarez final press conference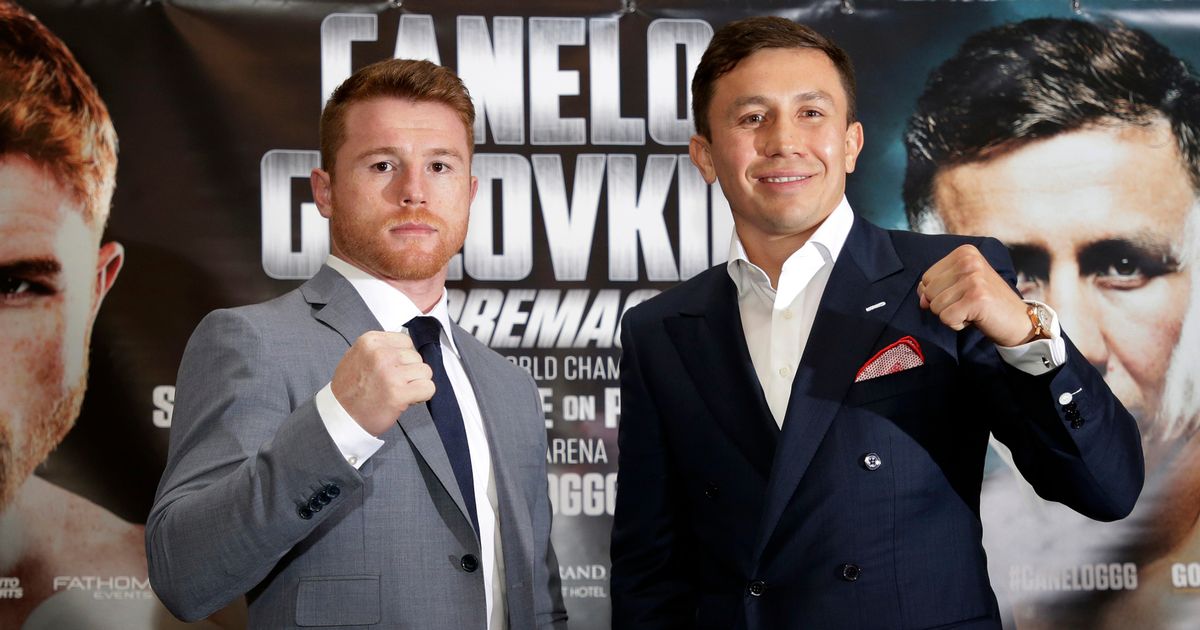 Lineal and Ring Magazine Middleweight Champion Canelo Alvarez (49-1-1, 34 KOs) and WBC/WBA/IBF/IBO Middleweight Champion Gennady "GGG" Golovkin (37-0, 33 KOs) hosted the final press conference ahead of their showdown on Saturday, Sept. 16 presented live on HBO Pay-Per-View® at T-Mobile Arena in Las Vegas beginning at 8:00 p.m. ET/5:00 p.m. PT. The live stream of the press conference can be viewed here.
Below is what the fighters and their teams had to say at today's final press conference:
CANELO ALVAREZ, Lineal and Ring Magazine Middleweight Champion:
"I don't like to talk too much. I just want to say that I'm prepared. I know it will be a tough fight. I just want you all to enjoy it like I'm going to enjoy it. I'm really, really excited to get in and fight. The excitement is there. The adrenaline is there. I have nothing to say to him. They know what kind of fighter I am. I'm prepared. I'm ready. All I want to tell him is look, let's give the fans a great fight."
To view videos of the final press conference, grand arrivals, interviews and media workouts CLICK HERE
GENNADY "GGG" GOLOVKIN, WBC/WBA/IBF/IBO Middleweight Champion:
"I am really happy to see everybody in Vegas. I want to thank Golden Boy and GGG Promotions for the great work, our sponsors and HBO. I don't want to talk too much. I am ready. I respect Canelo's team. This is a big day not only for us, but for boxing and this era. This will be a huge historic fight at T-Mobile Arena. I feel comfortable. I see that Canelo is ready. He is ready for serious business, a serious fight. This fight will be the biggest gift to the people."
EDDY REYNOSO, Head Trainer of Canelo Alvarez:
"Everything that was said or had to be said has been said. We've had a great preparation, more than 14 years to prepare for this type of fight. We've had a great camp, no injuries, everything went well, and more importantly we are ready to win come Saturday night."
JOSE "CHEPO" REYNOSO, Manager and Trainer of Canelo Alvarez:
"This is the end of 10 hard weeks of training. Work that was done with a lot of discipline and a lot of responsibility. In Canelo's camp, we declare ourselves ready and confident that this Saturday we will win. Canelo is going to come out with his hand raised. I want to close with a dedication to my friend Abel Sanchez. He says Triple G has a Mexican style. But I tell Abel that not only does Canelo have a Mexican style and a Mexican heart, but he IS Mexican!"
ABEL SANCHEZ, Trainer to Gennady Golovkin:
"All the talking and the boasting on both sides is done. We've had a great training camp and sparring. Golovkin is at 100 percent. We are looking forward to a great fight, a dramatic, explosive fight. These guys have the styles that will make for a fight that we will all remember."
OSCAR DE LA HOYA, CEO & Chairman of Golden Boy Promotions:
"This is a fight to see who the best pound-for-pound fighter on the planet is. I am grateful to everyone in the boxing world who contributed to making this event. This event needs no hype whatsoever. This is a fight that's a can't-miss event. That's the bottom line. It's going to be a great fight because of what is at stake: pride and fighting for your country and boxing fans. This is a fight for the sport of boxing, and it couldn't have come at a better time. The stakes couldn't be higher."
"We have to thank the fighters for agreeing for competing at the very peak of their careers. Saturday night at the T-Mobile arena it will be electrifying, a packed house. This event will take place life at HBO Pay-Per-View for the first time ever at 8:00pm ET in consideration of our east coast fans and our worldwide fanbase. You can also watch the fight at RingTV.com on your phone or table or from wherever you are."
BERNARD HOPKINS, Golden Boy Promotions Business Partner:
"The middleweight division goes all the way back. I thought about this fight when I got here yesterday. The fight that really stands out to me in comparison to Canelo-Golovkin, with the danger in the first couple of rounds, is Marvin Hagler and John Mugabi. One thing, however, is that history doesn't always repeat itself. Thank you to Canelo Alvarez and Gennady Golovkin for respecting the division that made me."
TOM LOEFFLER, Promoter of Gennady "GGG" Golovkin:
"We arrived on Monday evening, and as soon as we arrived at the hotel you could feel the excitement in the air. An event like this can only be a superfight between somebody like Canelo Alvarez and Gennady Golovkin. They are two true world champions. The two best middleweights in the world. Two of the best pound-for-pound fighters in the world, and two of the most marketable fighters of the world."
TONY WALKER, Vice President at HBO Sports:
"Congratulations to Tom and Oscar for putting this together. This is truly a momentous event this Saturday. This is the best fight that can be made in boxing. This is potentially fight we think about in years to come. The first fight will be at 5:00 p.m. PT/ 8:00 p.m. ET.
The main event is scheduled for 8:00pm PT/11:00 ET. The price is $69.95."
BOB BENNETT, Executive Director of Nevada Athletic State Commission:
"As always, the Nevada State Athletic Commission is humbled, honored and privileged to be able to regulate this sensational fight. We take a great deal of effort in the selection of our officials for our fight. We have Kenny Bayless who will referee the fight. The judges will be Dave Moretti, Adalaide Byrd and Don Trella."
RICHARD STURM, President of Entertainment and Sports for MGM Resorts International:
"As we welcome back Canelo Alvarez following his May victory over Julio Cesar Chavez, Jr., we would also like to welcome Triple G to Las Vegas for his Nevada debut. We are thrilled that these two great champs decided to fight. The event is sold out, but our closed-circuit broadcast will be presented in all MGM Resort properties."
Also, fighters from the Canelo vs. Golovkin undercard hosted a media workout at MGM Resort Hotel and Casino before their upcoming fights this Saturday, Sept. 16 at T-Mobile Arena.
In the co-main event of the Canelo vs. Golovkin undercard, Joseph "JoJo" Diaz, Jr. (24-0, 13 KOs) and Rafael "Big Bang" Rivera (25-0-2, 16 KOs) will face off in a 12-round WBC Featherweight title eliminator. Randy "El Matador" Caballero (24-0, 14 KOs) and Diego De La Hoya (19-0, 9 KOs) will face off in a 10-round super bantamweight battle for the Caballero's NABF Super Bantamweight title and the vacant NABO Super Bantamweight title. Ryan "Blue Chip" Martin (19-0, 11 KOs) and Francisco Rojo (20-2, 13 KOs) will battle it out for Ryan's WBC Continental Americas and the vacant WBA Intercontinental lightweight titles in the opening bout of the HBO Pay-Per-View®telecast.
Heres what the undercard fighters had to say at today's workout:
JOSEPH "JOJO" DIAZ, JR., Featherweight Contender:
"It's my time, it's my opportunity, being on such a big card like Canelo-GGG. Tune in, everyone. It's a lot of pressure. This is what I've been dreaming of since I was a kid. This fight is going to be a WBC Featherweight title eliminator, but it's where I want to be to take care of business this Saturday night."
RANDY "EL MATADOR" CABALLERO, NABF Super Bantamweight Champion:
"The last time I was in Vegas, it was the worst experience of my life. To lose the title the way I did was disappointing. But I told everyone that this time I'm that in Vegas it will be a different ball game. He's [De La Hoya] undefeated for a reason, but I don't think he's ever stepped in the ring with someone like me. We're both undefeated, so don't miss it. This fight right here might steal the show."
DIEGO DE LA HOYA, WBC Youth World Super Bantamweight Champion:
"It's an evenly matched fight, but my advantage is that I've been more active and he hasn't been fighting very much. I have worked with sparring partners who replicate his style. They are not him, but they are close to him. It will be an explosive fight. We'll see what randy [Caballero] has to offer and we prepared for the best of him."
RYAN "BLUE CHIP" MARTIN, WBC Continental Americas Champion:
"We're going to give him a boxing lesson come Saturday night. I've trained hard, I'm so happy to have my manager, Tom Loeffler, in my corner. Big things are coming, and this is just the first step in the plan. It's so great to be here in Vegas. It's such an exciting fight."
Canelo vs. Golovkin is a 12-round fight for the middleweight championship of the world presented by Golden Boy Promotions and GGG Promotions and sponsored by Tecate, BORN BOLD; Hennessy, Never Stop, Never Settle; O'Reilly Auto Parts. Better Parts, Better Prices…everyday!; Fred Loya Insurance; Interjet; Thor: Ragnarok; Fathom Events; Tsesnabank; and Capital Holdings. Diaz, Jr. vs. Rivera is 12-round WBC Featherweight Title Eliminator bout presented by Golden Boy Promotions. Caballero vs. De La Hoya is a 10-round fight for the NABF and vacant NABO Super Bantamweight Championship presented by Golden Boy Promotions. Martin vs. Rojo is a 10-round lightweight fight for the WBC Continental Americas and vacant WBA Intercontinental Championships presented by Golden Boy Promotions and GGG Promotions in association with Cancun Boxing. The event will take place Saturday, Sept. 16 at T-Mobile Arena and will be produced and distributed live by HBO Pay-Per-View® beginning at a special time of 8:00 p.m. ET/5:00 p.m. PT.
Tickets for the closed circuit telecast of Canelo vs. Golovkin at Bellagio Resort & Casino, MGM Grand Hotel & Casino, Mandalay Bay Resort and Casino, The Mirage Hotel & Casino, Monte Carlo Resort and Casino, New York-New York Hotel & Casino, Luxor Hotel and Casino and Circus Circus Las Vegas are priced at $75, not including applicable fees. All seats are general admission and are currently on sale. Tickets may be purchased at any MGM Resorts International Box Office, by phone with a major credit card at 1-800-745-3000 or online at www.ticketmaster.com.
For more information, visit www.goldenboypromotions.com and www.hbo.com/boxing; follow on Twitter @GoldenBoyBoxing, @canelo, @gggboxing, @OscarDeLaHoya, @hboboxing, @TomLoeffler1, @JosephDiazJr, @RandyELMatador and @DiegoDeLaHoya; become a fan on Facebook at www.Facebook.com/GoldenBoyBoxing, https://www.Facebook.com/gggboxing/ and www.Facebook.com/HBOboxing; follow on Instagram @GoldenBoyBoxing, @canelo, @gggboxing, @HBOboxing, @OscarDeLaHoya, @josephdiazjr, @randyelmatador, and @diegodelahoya94; and follow the conversation using #CaneloGGG.