Weights are in for tonight's free boxing stream on Facebook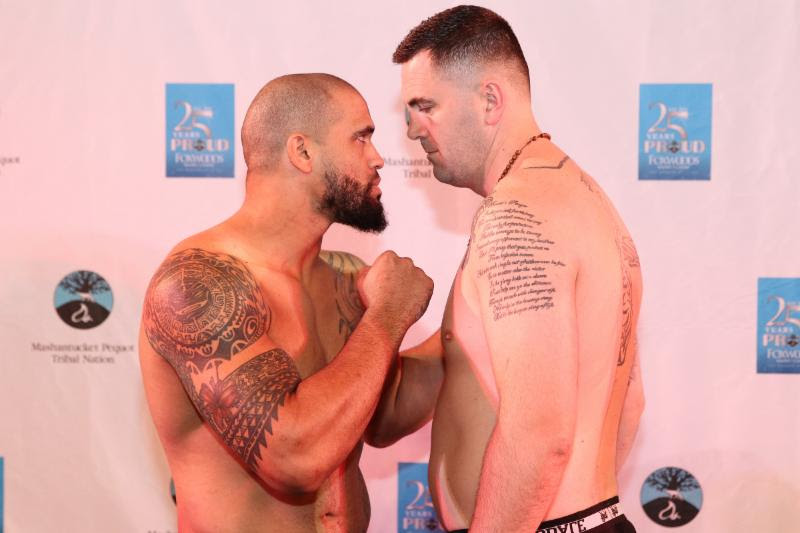 RED CORNER BLUE CORNER
10 ROUNDS – NEW ENGLAND HEAVYWEIGHT CHAMPIONSHIP
Alexis Santos vs. Niall Kennedy
Lawrence, MA Gorey, Ireland
18-1, 15 KO's 8-0, 5 KO's
221 lbs. 224 lbs.
8 ROUNDS – JUNIOR LIGHTWEIGHTS
Shelly Vincent vs. Angel Gladney
Providence, RI Columbia, SC
19-1, 1 KO 9-12-1, 6 KO's
128 lbs. 129 lbs.
6 ROUNDS – WELTERWEIGHTS
Mykquan Williams vs. Evincii Dixon
East Hartford, CT Lancaster, PA
7-0, 4 KO's 7-19-2, 2 KO's
142 lbs. 144 lbs.
8 ROUNDS – SUPER MIDDLEWEIGHTS
Ievgen Khytrov vs. Derrick Findley
Brooklyn, NY Gary, IN
14-1, 12 KO's 27-21-1, 18 KO's
164 lbs. 166 lbs.
4 ROUNDS – JUNIOR WELTERWEIGHTS
Adrian Sosa vs. Francisco Medel
Lawrence, MA Douglas, AZ
4-0, 3 KO's 11-9, 7 KO's
139 lbs. 140 lbs.
4 ROUNDS – WELTERWEIGHTS
Nicholas DeQuattro vs. Timothy Wheeler
Johnston, RI New York, NY
Pro Debut Pro Debut
140 lbs. 143 lbs.
6 ROUNDS – JUNIOR WELTERWEIGHTS
Raymond Moylette vs. Donte Bryant
Islandeady, Ireland Kalamazoo, MI
5-0, 2 KO's 1-2-1, 1 KO
139 lbs. 138 lbs.
6 ROUNDS – MIDDLEWEIGHTS
Hurshidbek Normatov vs. Fabian Lyimo
Brooklyn, NY Silver Spring, MD
3-0, 1 KO 5-7-2, 1 KO
155 lbs. 152 lbs
All Bouts Subject to Change
Boxing fans can watch the entire card streamed live on FightNight Live on Facebook at this link starting at 7:30 PM ET:
FIGHTNIGHT LIVE: DiBella Entertainment Broadway Boxing (Sept. …

🚨🚨🚨 EVENT ALERT! 🚨🚨🚨 Saturday! BROADWAY BOXING by DiBella Entertainment Friday night, LIVE from Foxwoods Resort Casino, a stacked card called by #CoreyErdman, #JohnScully, Heather "The Heat" Hardy and #DavidDiamante in the ring!#FIGHTNIGHTLIVE on #Facebook brings you all the action of #FIGHTNIGHT to any device for FREE! Premium #Boxing #MMA #MuayThai #TVProduction, all you need is Facebook! #LinacreMediaEvents #LinacreMediaOnTV 🎤👊💥💪🔥🎥📺🇺🇸🗽NY Fights BrooklynFights Lou DiBella Northeastern Fine Jewelry Barbour One 9, Inc.

Posted by FIGHTNIGHT LIVE on Wednesday, 13 September 2017
Tickets for tomorrow's Broadway Boxing event, which is promoted by DiBella Entertainment in association with Murphys Boxing and presented by Nissan of Queens, Azad Watches, OPTYX, and Christos Steak House, are priced at $125, $75 and $45. Tickets can be purchased online at Foxwoods.com, Ticketmaster.com, by calling 800-200-2882, or visiting the Foxwoods box office. Doors open at 7:00pm, with the first fight scheduled for 7:30pm.
Read more articles about: