Linares Keeps His Belts – Defeats Campbell in Entertaining Bout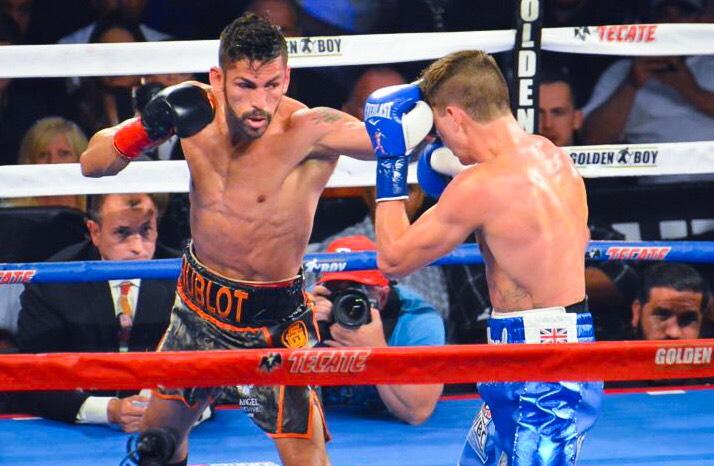 By Barbara Pinnella
Photos by Cynthia Saldana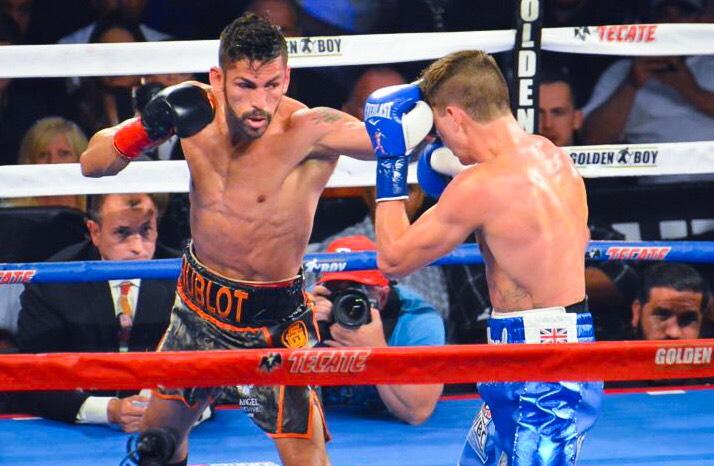 We spent Saturday night at the Fabulous Forum in Inglewood, CA. for a Golden Boy Promotions fight card, headlined by Jorge Linares (43-3, 27 KOs), who faced off against Great Britain's Luke Campbell (17-2, 14 KOs). This fight was for the WBA, WBC Diamond & Ring lightweight titles that were held by Linares. It was scheduled for 12 rounds.
The first round was odd. We saw very few punches thrown at all, let alone any that landed. Would have to say that was more than a feeling out round, it was a wait and see what happens round. All of that changed in the second. Both men came out swinging, but it was Linares who struck the first real blow, as a quick little one-two combination put Campbell on the canvas. He was unhurt and got back into the fight, but chalk one up for Jorge.
Luke tried to come battling back in the third and was able to land some, but it was Linares who was controlling the pace of the fight. Campbell continued to pot-shot at Jorge in the fourth, but he tended to throw one punch at a time, and that probably won't get the job done here. Time will tell.
Luke got in a good overhand right in the beginning of the fifth round, but then Linares went back to controlling for the time being. Campbell landed some more good shots – he was coming to life now. This was a very good round for each man, but the nod might have to go to Campbell.
The action continued in the sixth. Neither man dominated, but each was certainly able to put some points on their respective sides. There was no backing up from either one of them anymore. Seventh round and both are still scoring. Right hand straight down the middle finds its home for Linares. Overhand right that lands for Campbell. Luke started to show a great counterpunch as well.
The eighth was more of the same. We were witnessing a really good fight. In the ninth both were still swinging for the fences, but the punches Linares was throwing were landing more often. But right at the bell Campbell landed a really good overhand right that snapped Jorge's head back. We saw the same attack from both fighters in the tenth, and we moved into the championship rounds.
Linares was the busier fighter in the eleventh. Hard to believe that Luke was taking a round off, but it appeared to be that way. He threw very few punches, and when he did it was just one shot. He did a bit more in the twelfth, but was it enough to put the fight in his win column? We went to the scorecards. One judge saw it 115-113 for Campbell, but the other two had the scores 114-113, and 115-112 for Linares. Jorge kept his belts, but both men certainly entertained us with their performances.
"I fought very well," Linares said after the fight. "I'm happy with the fight. At the fifth round, we had some trouble but we came out on top. Trust me, I have a great connection with my team and with my trainer, so we worked hard and kept at it. I knew I had to let the dogs out. We want Mikey Garcia next.
"A lot of people saw the fight a lot closer than it was because in the last couple of rounds, he was a lot more aggressive and came forward a lot more," Jorge continued. "When I first started off, I felt very fast, the only thing he had over me was that he was a very technical fighter, he was very tall and had long arms- I had to adjust to his style throughout the fight.
"When I got him with the punch and he went down, I didn't feel the power coming out of me. Overall, I'm satisfied with my performance."
Regarding his performance, Campbell said, "No one can ever doubt my hard work. Yea I got off to a rocky start; he caught me in the eye. A nice shot that put me on the mat. But I had to fight, I had to get focused. I didn't think he was landing any shots whatsoever in the second half."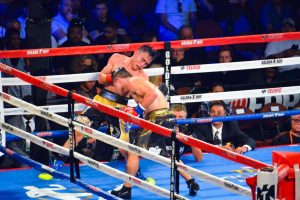 We saw a lightweight bout between Romero Duno (15-1, 13 KOs) and Juan Sanchez (29-14, 14 KOs) in a fight that was scheduled for eight rounds. The first round was a bit uneventful. Duno landed the more effective punches in the second round. He showed speed and quickness.
The third round advantage still went to Duno. He gets in, strikes, and gets right back out again. Sanchez got in a few punches of his own. Sanchez was having a good round in the fourth. Right before the bell Romero landed a beautiful shot. Still, it might not have been enough to steal the round from Juan.
The fifth was the best one as far as an even, back and forth round was concerned. Both men landed some good shots, there was action the entire time, and neither one waited on the other. We saw an even better round in the sixth, as each man took it to the other. The punches were solid, and it was hard to tell who was on top at this point in the fight.
Duno might have had the best seventh round, as he was able to land more power shots on his opponent. But Sanchez is one tough customer who wasn't going to bow down to anyone. We moved to the eighth and final. Power shots punctuated the last round, more landing for Juan than for Romero. But the winner was definitely in question as we went to the scorecards. All three judges saw the fight the same, 78-74, giving Duno the unanimous decision.
"I'm satisfied with my performance. Sanchez was a tough competitor, he fights clean and I respect him. I've learned a lot from this fight and am going to take the lessons I've learned onto the next," Duno stated after his fight.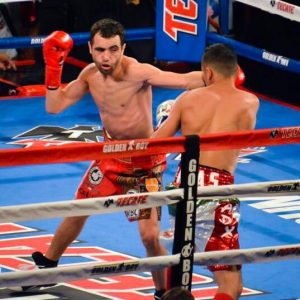 The vacant WBC Continental Americas super bantamweight title was on the line when Azat Hovhannisyan (13-2, 10 KOs) faced off against Sergio Frias (19-8-2, 10 KOs) in a bout that was scheduled for 10 rounds. There was quite a bit of action for the first round of a fight this long. Both men might have been trying to end it early and each one got in some punches.
If the first provided action, it was outdone by the second round. Most of the punishment came by way of Hovhannisyan, who would land Frias up against the ropes and then just tee off on him. While not quite as much as the prior round, both fighters were trying to score in the third. The fourth started out slow by comparison, which is not all that strange, considering the pace they fought the last six minutes. But they started back up again roughly halfway through the round. They did not connect at such a high percentage, but they continued to throw.
The fifth was a good round for Frias. Even though Azat was letting his hands go a lot, he was also missing. Sergio was the more accurate puncher in this round. The sixth was more of the same, with some punches landing for each man, but many missing. In the seventh both fighters were finding their targets more than they had been recently. Frias seemed to be better at landing his punches in that round than Hovhannisyan.
Azat landed one of the best punches of the night on Frias in the eighth, and while it was an extremely solid shot, Sergio just came right back. Azat is very mobile, jumping and bending all around and it began to bring out some signs of frustration in Frias. The ninth round was more of the same, except Azat suffered a cut above his left eye. Not sure if it was from a punch or head butt.
The tenth was more of the same. Sorry to be so redundant, but it was. While bloody, the cut did nothing to stop Azat from finding his man, and Frias tried hard to score at least a knock down, but it didn't happen. We went to the score cards. Two of the judges saw it 100-90 while the third one had it 98-92, all for Hovhannisyan.
Azat had something interesting to say after the fight. "We're very happy to get this big belt. This has been years in the making and I fought in the ring with basically one hand as I fractured my right hand. The swelling reappeared during the fight. Frias was a tough opponent, but we put in the work to get the win."
Super featherweights took to the ring as Abraham Lopez (23-1-1, 16 KOs) faced off against Isao Carranza (15-10-1. 9 KOs) in a fight that was scheduled for eight rounds. Lopez showed some great body work in the first round, but at the same time ate some punches that were not necessary. Still, the ones Abe landed were crisp and accurate. Lopez continued to have the upper hand in the second round, but that is not to discount Carranza. He kept coming and did not give in to the strong leather Abe landed on him when it looked as if he might get knocked down.
The third was a back and forth round. Each fighter had a moment or two, but still neither can put the cap on it. Lopez came out on fire for the fourth, but Isao was still able to withstand the punches. Each time it appeared that Abraham would get a knockout or at least a knockdown, the tough Carranza would come back. But Isao took a really hard shot right at the bell. So hard in fact, that the fight was stopped by Carranza's corner. When Isao walked to the back he was limping as well, so not sure what went wrong there. Still, Abe got the TKO victory.
After the fight Abraham said, "The fight went well, I wish I would've finished him earlier, but he was a true warrior. It was a good fight. This fight was something I wanted to do, something I was waiting for. What's next? Whatever the company has in mind. I'll be working on everything, win or lose you always learn something. It doesn't stop. We're not perfect, I know I made mistakes, but we're going to keep working."
In the opener, Rafael Gramajo (9-1-1, 2 KOs) met up with Pedro Melo (17-16-2, 8 KOs) in a super bantamweight fight that was scheduled for six rounds. Gramajo took a little time to warm up, but by the middle of the opening round he was pressing the action. Melo had few answers early. Rafael connected with some strong left hands in the second. Pedro was able to have a small rally in the closing seconds of the round.
Melo used his jab quite effectively in the third, and was able to keep Gramajo off of him a good part of the time. Rafael has the power, but he was not able to just tee off on Pedro as he had in the earlier rounds. Gramajo came back with a vengeance in the fourth with power shots to the head and body of his opponent. Melo tried to keep away but was not able to do so often enough.
We saw an action-packed fifth round. Both men were finding their target. Pedro was able to put Gramajo on the ropes and keep him there on more than one occasion, and then Rafael would turn the tables. This was a fun round to watch. The sixth and final was a continuation of the fifth. Once both of these fighters came to life they have us an entertaining bout. We went to the scorecards. One judge saw it 59-55, while the other two had 58-56, giving the unanimous decision to Gramajo.
After the fight Gramajo said, "I felt good. I feel we started off well. I'm proud of myself. I had not fought in a year, and we fought the fight that we wanted to. In boxing, there is always a punch that could catch you and hurt you, but thank God it didn't hurt. I kept boxing and it was a good fight."
There was a disappointment when one of the fights, the one that was supposed to be the co-main event in fact, was cancelled. Antonio "Relentless" Orozco could not make weight and his fight against Roberto Ortiz could not take place. There was obviously not enough time to find a replacement for Ortiz. Such a shame for the fighter who came in ready to rumble, only to have to go home, all the hard work scrapped.
But the fights we saw were for the most part good ones, and the main event certainly delivered. So in all, an enjoyable night of boxing.