Unbeaten Super-Flyweight Prospect Damien Sugar Vasquez Returns to the Ring October, 14 in Mexico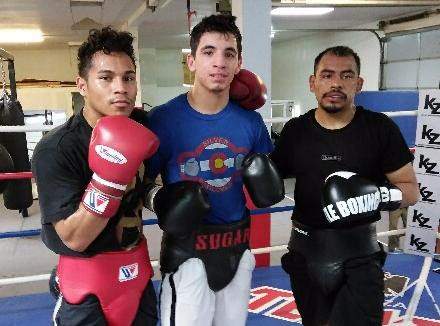 Unbeaten super-flyweight prospect, Damien "Sugar" Vazquez (11-0, 6 KOs), makes his return to the ring on October 14, 2017, at the Palenque de la Feria in Aguascalientes, Mexico. This fight, scheduled for 8-rounds, will mark the third time this year that Vazquez will have stepped in the ring, as he looks to extend on is winning streak. An opponent will be announced shortly.
"It's a good feeling knowing that I'll be back in the ring after I just fought a few weeks ago." said Vazquez. "My last fight happened on August 31st and I feel great. Camp has started and I'm going to be ready for anyone my management team puts in front of me. I'm going to Mexico once again to mark my territory. I love fighting out there because the crowds are very rowdy. Make no mistakes about it, I'm taking the super-flyweight division by storm."
Co-trained by former world champion, Clarence "Bones" Adams, Damien Vazquez is the younger brother of former two-time super-bantamweight world champion, Israel Vazquez, who also serves as his co-trainer. Bones and Israel train Vazquez at the Prince Ranch Boxing gym in Las Vegas. Prince Ranch Boxing's Greg Hannley, co-manages Damien with his father, Oscar Vazquez. Damien has his own promotional company titled Sugar Promotions.
"I'm very proud of my son and what he's accomplished thus far in his career." said Oscar Vazquez. "He became the youngest fighter to win the NABF title at 17-years old, after turning pro at age 16. We flew in Jonathan Lecona, a natural super-bantamweight out of Mexico, to help Damien get used to fighting bigger guys. He's looking real sharp, and he's going to be explosive in this fight."
"Here at the Prince Ranch boxing facility we pride ourselves on making our fighters better, by giving them the necessary tools to become world champions." said Greg Hannely, "Bones Adams and Israel Vazquez, two former world champions, are excellent trainers and our facility is home to some spectacular boxers. The boxing world will be seeing the rise of this gym, and all our fighters. Damien is a special talent and I see him fighting for a meaningful title soon."
"My brother is getting better with each fight," said brother and co-trainer Israel Vazquez. "I see his improvement in the gym on a daily basis. Our goal is to go to Mexico in a couple of weeks and make a statement. Damian is ready to take his career to the next level."
"Damien is a really good fighter." said co-trainer Clarence "Bones" Adams, "He's coming along just fine. He certainly has heart like his brother Israel, and his skills are elite in my opinion. I know this kid can do some special things in this sport if he continues on path he's on right now."