WBA Super World Super Middleweight champion George Groves (26-3, 19 KOs) and Jamie Cox (24-0,13 KOs) went head-to-head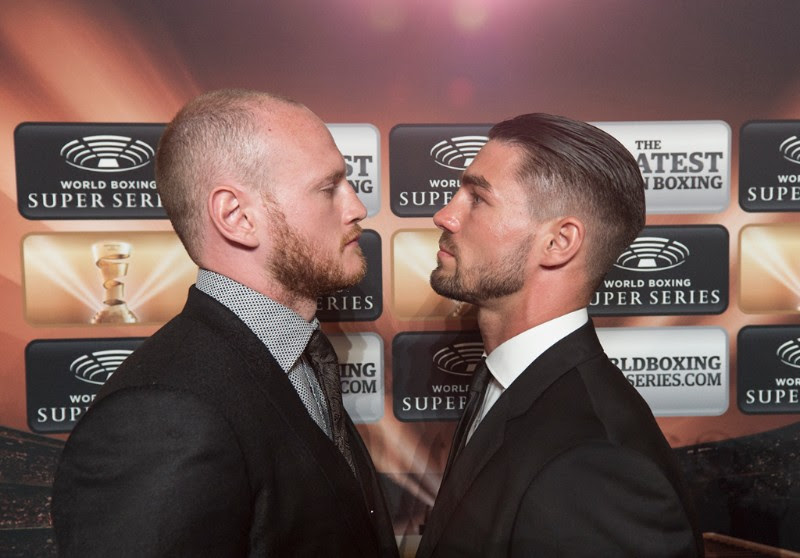 WBA Super World Super Middleweight champion George Groves (26-3, 19 KOs) and Jamie Cox (24-0,13 KOs) went head-to-head at the last pre fight press conference before their Ali Trophy quarter-final on Saturday at The SSE Arena Wembley in London.
"I feel I'm in the form of my career," said Groves.
"This tournament has come along for me at the perfect time. I've had a fantastic camp. Everything that we wanted to happen did happen. It's gone perfectly. I know what Jamie Cox can bring. I know that we maybe haven't seen the best of Jamie yet because he's fought nowhere near the level that I have.
He hasn't fought any big names, he hasn't been in world title fights and he'll have to take a giant leap on Saturday night. Both he and his trainer will wonder whether he can take that leap. When he's boxed at a lower level he's dropped to that level and maybe he's that sort of fighter. Maybe he can rise to the occasion but maybe not."
"He's been gifted with a world title shot. He hasn't fought anyone decent to get this. I've picked him, it's fantastic for him. We're hoping that the best of Jamie Cox will show up. I look forward to going out and performing and performing well. And to show everyone in the division that I'm still the man to beat."
Said Jamie Cox:
"I'm going to win. It's as simple as that. No question about it. I've come into this to win the tournament. George is the first stop. I'm ready. I don't know why he chose me. Everyone in the tournament is good, but I'm going to make my mark."
Said Comosa's Chief Boxing Officer, Kalle Sauerland:
"I am here with two absolute athletes. George Groves, the man to beat in the tournament. He's the WBA super champion, the best super middleweight when one looks at all the names. That's why he's the number one seed.
A lot of people are talking about a Eubank Jr. vs. Groves semi-final but Jamie Cox comes in with a nothing to lose situation. He's an undefeated challenger and you have a storyline that you couldn't put into a Hollywood thriller.
We're lucky to be sitting here every week ringside at this great fights and this is no different."
Promotor Eddie Hearn:
"It is a big opportunity but it's not one Jamie Cox doesn't deserve. Jamie Cox has been wanting to become a world champion for a long time. There's been talk of a Chris Eubank Jr. vs. George Groves fight and we're here to disrupt the plans."
"Jamie Cox has been talked about for a long, long time as a great fighter, a great puncher. The world around the business is that Jamie is the real deal. It's only when you step up to this level that you find out if it's true. And if it is true I believe he can win the world title on Saturday night.
The tournament is a massive opportunity and we thank Kalle Sauerland and the World Boxing Super Series for it. Now we have the opportunity there's only one thing to do and that's go and become world champion."
George Groves' trainer, Shane McGuigan:
"George Groves has always strived to be the best that he can be. He's got a very confident attitude but he's still putting in all the graft. The camp has gone fantastic, it's been 12 great weeks.
Jamie Cox has been a pro for a long time and there are still question marks over his quality. He hasn't proven himself at the top level and maybe there's a reason he hasn't stepped up to that level in the past."
Jamie Cox's trainer, John Costello:
"Size had no relevance that evening and it will certainly have no relevance on Saturday night. Jamie's ability and what he brings will be very relevant because we're taking that WBC Super Championship home with us. I've said it before, but I like to repeat: George Groves made a big mistake when he picked Jamie Cox."
Tickets for the Ali Trophy quarter-final clash on Saturday in London are on sale ranging from rom £35 to £130 at stubhub.co.uk.
WORLD BOXING SUPER SERIES FIXTURES
09/09/17 – Cruiserweight Quarter-Final:
Oleksandr Usyk vs. Marco Huck (WBO World)
Max-Schmeling-Halle, Berlin, Germany
16/09/17 – Super Middleweight Quarter-Final:
Callum Smith vs. Erik Skoglund (WBC Diamond)
Echo Arena, Liverpool, United Kingdom
23/09/17 – Cruiserweight Quarter-Final:
Yunier Dorticos vs. Dmitry Kudryashov (WBA World)
Alamodome, San Antonio, Texas, USA
30/09/17 – Cruiserweight Quarter-Final:
Mairis Briedis vs. Mike Perez (WBC World)
Riga Arena, Riga, Latvia
07/10/17 – Super Middleweight Quarter-Final:
Chris Eubank Jr vs. Avni Yildirim (IBO World)
Hanns-Martin-Schleyer Halle, Stuttgart, Germany
14/10/17 – Super Middleweight Quarter-Final:
George Groves vs. Jamie Cox (WBA Super)
The SSE Arena, Wembley, London, United Kingdom
21/10/17 – Cruiserweight Quarter-Final:
Murat Gassiev vs. Krzysztof Wlodarczyk (IBF World)
Prudential Center, Newark, New Jersey, USA
27/10/17 – Super middleweight-Quarter-Final
Juergen Braehmer vs. Rob Brant
Kongresshalle, Schwerin, Germany
WORLD BOXING SUPER SERIES AT A GLANCE
Number of participants: 16
Number of belts: 7
Number of world champions: 6
Number of former world champions: 3
Number of undefeated fighters: 9
Combined Record of participants: 423 wins, 17 losses, 294 KOs
ABOUT THE WORLD BOXING SUPER SERIES
Organised by Comosa AG, the World Boxing Super Series will kick off in September 2017, featuring the Cruiserweight and Super Middleweight divisions. In each weight class, eight elite boxers will battle it out in a bracket-style elimination tournament, with four quarter-finals (fall 2017), two semi-finals (early 2018) and one final (May 2018). This makes for seven top fights per weight class, and a total of 14 fights in Season One to be staged in premier venues around the globe. The winners of the World Boxing Super Series will rightfully receive The Greatest Prize in Boxing, the Muhammad Ali Trophy. Please visit our website WorldBoxingSuperSeries.com for more information or follow @WBSuperSeries on Twitter, Facebook, or Instagram.