What Really Caused The Decline Of Manny Pacquiao?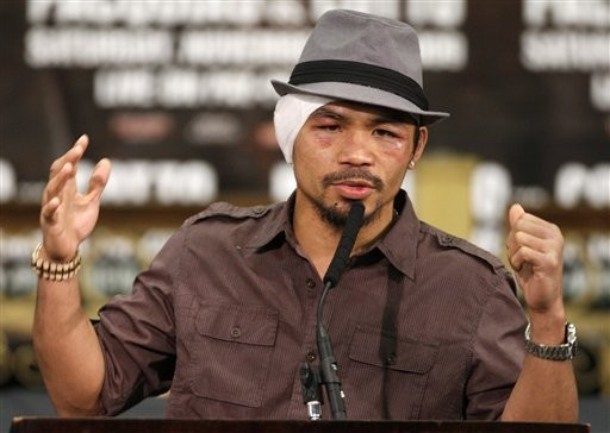 In 2010, the AT&T stadium in Texas became the location that effectively ended Mexican Antonio Margarito's boxing career when he decided to step into the ring against Filipino Manny Pacquiao. Although Margarito was the bigger man, the speed and manic like energy of Pacquiao was all that was needed to secure what looked like an easy points victory over 12 rounds.
The various blows that Margarito took provoked Manny a couple of times to take some  moments to stop what he was doing and look at referee Laurence Cole to suggest that he step in and stop the horrific 36 minute beating. It was hard to give Antonio one single round, maybe apart from the 6th. There was little surprise when Pacquiao's name was announced as the winner, and even though the fight is said to be one of Manny's easiest, there are clear signs that it was this fight that actually also took something permanently away from Manny Pacquiao that night!
Accusations pointing to the reason why the eight-weight champion has slowed down in recent years is apparently because he stopped taking performance enhancing drugs due to all the hoopla surrounding Pacquiao and his camp not to fight Floyd Mayweather in March, 2010 because of the random drug testing demands set by the now 50-0 fighter. In fact, this is the reason you will have probably read the most. But, clearly little thought has been put into this!
For a moment, let us visualize the scenario that either me or you were taking illegal substances to help you cheat your way to the top. One person makes a big song and dance with little to go on but everybody takes notice of this person and sides with him and simply agrees. Yet, there is virtually no evidence to prove it. Would you or I stop cheating?
Floyd Mayweather's father backtracked on his comments about Pacquiao using unlawful substances after Manny decided to take him to court, which heavily indicates that there was no proof to back up his claims. As well as being a great fighter, it seems that Floyd Mayweather Jr is also a great talker because he convinced and made so many people question the legacy and whole career of Manny Pacquiao, yet, there is nothing conclusive to back up why they think the way they do. It is as if the refusal to fight Floyd back in March, 2010 and the recent slow down (which isn't really all that recent) is all you need to suggest that Pacquiao was guilty.
So, allow me to guide you to another reason why Manny hasn't looked at his best in years.
In that fight with Margarito, it may look to many people that the whole fight was plain sailing in favour of the man that was once known as the 'Mexican Assassin.' But play the whole fight again and it should be noticeable that there were times when Pacquiao had to absorb body punches that made him wince in pain, especially during the 6th round. Aficionado's of the former welterweight king will know that Manny was stopped by body punches early in his career before he substantially improved under the tutelage of Freddie Roach.
It has also been documented that Manny's camp had even been working on making his stomach area harder in order to prevent it from becoming a weakness.If we go a little further back before the Margarito bout to the contest with Miguel Cotto, it can be seen that Pacquiao had developed what is referred to as "cauliflower ear." This is when the ear of a fighter has taken damage caused by physical trauma, preventing blood from flowing normally as it should. Once fully recovered, the ear can often resemble the appearance of a cauliflower. At the post fight press conference, Manny was wearing a bandage that was neatly wrapped over the right side of his head. Both of his eyes were swollen.
Clearly, Pacquiao wasn't having it as easy after stepping up from lightweight like people think.
It was stated by Michael Koncz, Manny's advisor, that the boxer would no longer be fighting any higher than 147lb due to the risks of permanent damage that the health of Pacquiao would possibly take. An insane amount of calories is needed in order for the boxer to keep competing at 147lb, which if you look between the lines, shows you that he has been fighting at a weight level that his body has trouble reaching and staying put at. Details in regards to how Manny declined little by little after the Margarito bout isn't really relevant but it is obvious that something was missing in his fight with Shane Mosley, who became his next victim. Knocking down Shane is no easy feat to accomplish, yet Pacquiao still had enough left in the tank to do so in the third round. Mosley had only hit the canvas for the third time in his whole career up to that point! Perhaps expectations were always a little high?
Those stoppages of Miguel Cotto, Oscar De La Hoya and Ricky Hatton probably flattered a little too much. Two of those boxers had seen better days. Actually, make that three! Even though Cotto went on to achieve more great things, 2009 was a time when his career was a little up and down at that point. De La Hoya was completely spent after draining himself to make the 147lb weight class after ten years away from it and Hatton found one good performance in him since his loss to Mayweather before facing Manny.
As you can see, the gradual fall from the top always contained a comprehensible and logical justification that does not involve in comparing photos side by side or coming up with ludicrous conspiracy theories that make very little sense. And they often don't.