Santa Cruz and Mares Deliver BIG – What's Next?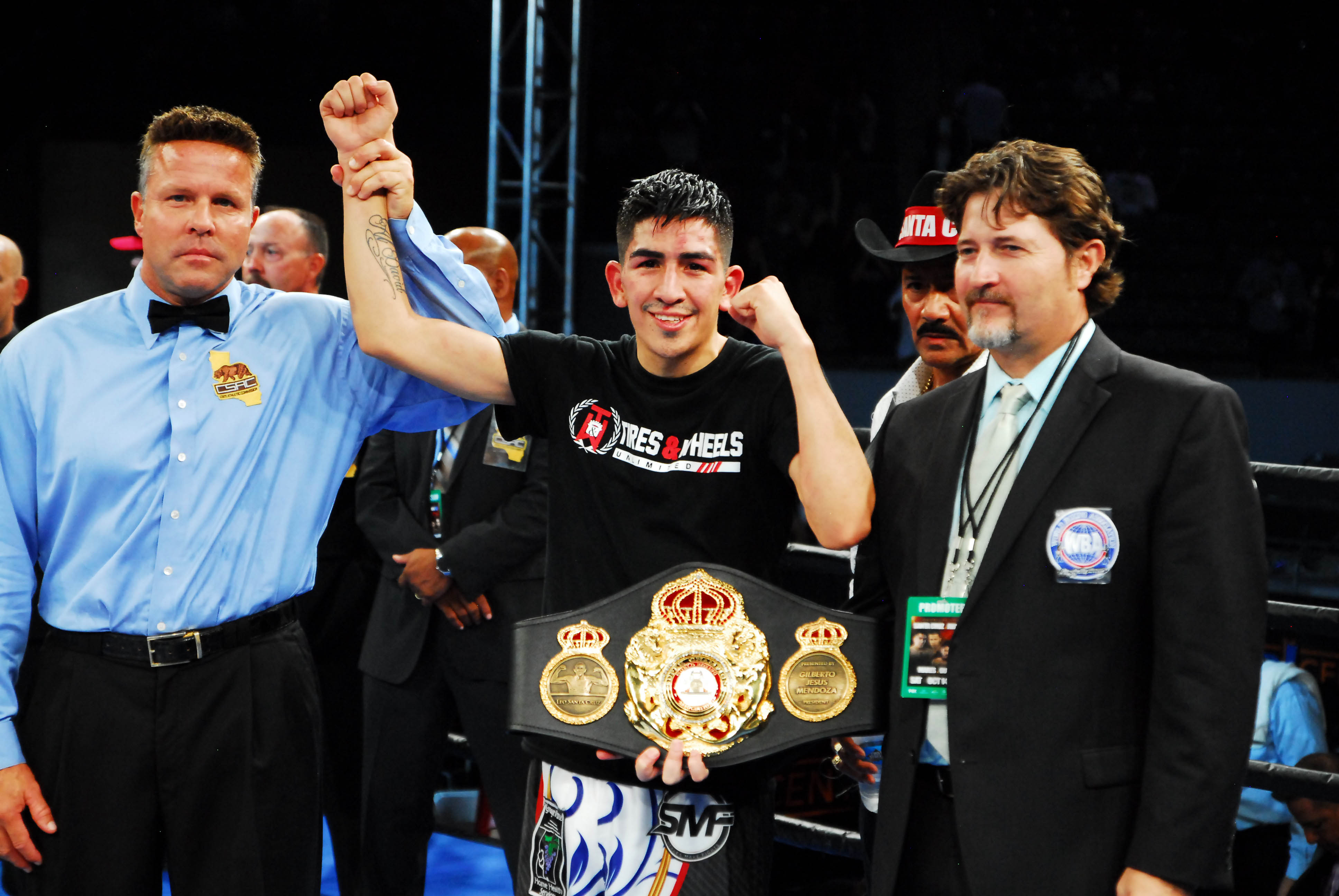 By Barbara Pinnella
Photos by Al Applerose
Premier Boxing Champions brought us this fight card that took place at the StubHub in Carson, CA. If there had been a roof over this venue, I think the two main fights would have blown it off. The main event was a WBA Super World featherweight title fight, which saw Leo "El Terremoto" Santa Cruz (34-1-1, 19 KOs) step into the ring with Chris "Hitman" Avalos (27-6, 20 KOs). This fight was for a scheduled 12 rounds.
There was some good body work done by Avalos in the opening round, but it was Santa Cruz who gave the judges something to look at in the last 30 seconds when he landed some really good shots on Chris. Leo looked to be trying to close the show early in the second, but Avalos would not let that happen. Still, Santa Cruz probably scored a lot of points with his aggression and ability to hit his target.
Both men came out blazing in the third, and they upped the ante from there in the fourth. Santa Cruz threw everything but the kitchen sink at Avalos, but he could not get him out of there. And during the battle, after eating power shots galore, Chris still managed to get in some licks of his own. Great fight here.
The fifth provided us with more of the same action, and with both men remaining on their feet and throwing, we proceeded into the sixth. Leo was still landing power shots and Chris was still able to eat them. The seventh round could have actually gone either way, as neither man really dominated, but both showed strong moments in the round.
In the eighth, Santa Cruz went back to throwing bombs, all of which Avalos continued to eat. Just when I was thinking that he had a chin of granite, referee Thomas Taylor jumped in and waved the fight off to keep Chris from enduring further punishment at 1:34 of round eight.
The crowd jeered loudly at the stoppage, but there is no denying Avalos' heart. To add a bit to the action, right after the stoppage someone who appeared to come from the corner of Avalos, jumped up on the ring apron. He was not a happy camper about the fight ending that way, but he was quickly 'escorted' from that area. You hate to see a fight stopped like that, but the very tough Avalos was taking a lot of really hard shots.
"He was very tough and I was fighting the wrong fight," Leo said after the fight. "I wanted to please the fans and give them a brawl. Once my dad told me how I could stop him easily, I boxed him more and got the stoppage.
"I thought I had him in the fourth round. I gassed out a little bit but I got my air back later. I thought the ref was going to jump in during that round but he let him continue.
"I want Abner Mares. I said if we both win, we're going to fight. I'm ready to fight him in Los Angeles in the beginning of next year."
Avalos was quite unhappy, as one might expect.
"I'm very upset with the stoppage. We were fighting the whole time. There was no reason to stop this fight. I wasn't hurt like the referee thought. I want to fight for the title again."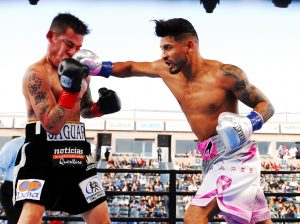 Abner Mares (31-2-1. 15 KOs) took on Andres Gutierrez (35-2-1, 25 KOs) in a WBA World featherweight title fight that was scheduled to go 12 rounds.   Gutierrez started out trying to be the more aggressive of the two, but Mares jumped right back at him and wouldn't let that happen.
In the second round, the hand speed of Abner was making it difficult for Gutierrez to get anything going. Mares started landing combinations in the first round and was continuing to use those here. A cut over the eye of Andres caused blood to begin to run down his left cheek in this round, apparently from a punch and not a head butt.
In the third it was more of the same. Mares was just too fast and accurate with his punches, and would not allow Gutierrez to show any kind of flurry. In the fourth, as had been the case for the prior rounds, the men fought primarily in the middle of the ring, toe to toe. There was hardly a second that one of them stayed on the ropes. A hard right and then left hand by Abner right at the bell of that round landed solidly.
Nothing changed in the seventh. Mares began a bit of taunting in the eighth, telling Gutierrez to come on, and shrugging his shoulders at him. Abner continued his control throughout the ninth round. Andres was still able to land punches, but Mares was just too fast for Gutierrez to get anything established.
Abner was continuing his punishment of Gutierrez in the tenth when once again referee Reiss had the ring doctor look at the cut over that left eye of Andres, as it was really pouring blood. This time there was no denying the seriousness of the cut, which had split open a lot more, and the fight was stopped.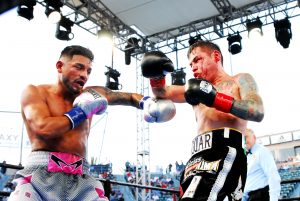 Even though the bout seemed very one-sided for Mares, due to California rules on the cut that was suffered by Andres due to a punch, it became worse due to accidental fouls. For that reason we had to go to the scorecards. The scores were 100-90 from Pat Russell, and 99-91 from Zachary Young and Tim Cheatham, all for Mares.
After the fight Abner said, "I told everyone that I was here to make a statement. I had a tough opponent and he showed how good he is. It took a lot of punches and a lot of big punches. It was just a matter of time before I stopped him.
"I thought they could have stopped it earlier. He's a young guy who was too brave for his own good. I was happy with the decision. I deserved the stoppage but I'm happy I got the win.
"I'm a totally different fighter now since I started working with Robert Garcia. We're going to keep showing that when we fight Leo Santa Cruz."
It was probably no surprise that his opponent had a different take on the fight.
"I didn't feel like the fight should have been stopped. I was hurting him as much as he was hurting me. My cuts did not bother me. I want to fight him again or have another shot at the title. I was prepared to fight to the final bell."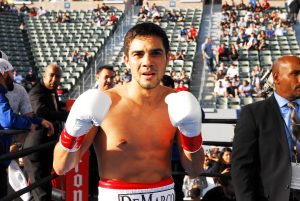 The first fight that was slated for television was a scheduled 10-rounder that saw Eddie Ramirez (17-1, 11 KOs) taking on Antonio DeMarco (33-6-1, 24 KOs) in a bout in the junior welterweight division.
But the best laid plans sometimes never make it to fruition, and this fight never made it past the first round. Add to that, the fact that the man who looked to be in the drivers' seat when they entered the ring is the one who did not get his hand raised.
Ramirez was taking control in the first round with some great body shots – right up until DeMarco nailed him with a great right hook. That began the downhill slide for Eddie. After several shots found their way home for Antonio in that opening round, referee Gerard White felt he had seen enough. He jumped in and waved the fight off at 1:56 of the opening round. DeMarco handed Ramirez his first loss of his career.
"I think it was a good decision from the referee," DeMarco said after the fight. "He was taking a lot of solid punches. I'm very thankful to Ramirez for taking the fight. I think big things are coming for me.
"I'm going to talk to my team and see what is next. I think this performance will erase a lot of doubts about me. I'm an experienced fighter and I stayed patient. I had great preparation and waited for the right moment. I feel great right now."
Ramirez said, "That stoppage was way too early. I was not hurt. I was fighting back and I felt like I was recovering. I want an immediate rematch if possible."
Undercard Fights
In a fight that was scheduled for four rounds, we saw Jose Balderas (2-0) face off against fellow bantamweight Victor Torres (2-6-1, 1 KO). Torres came out really strong in the first, and went to work on Balderas. He controlled that round, but when the two rushed out for the second, it was Jose who really turned up the heat.
The second half of this active little fight was back and forth the entire time. Both men were really attacking each other and that made for good watching. We went to the scorecards.
In a super featherweight bout that was scheduled for eight rounds, Roberto Marroquin (27-4-1, 20 KOs) took on Ruben Tamayo (26-11-4, 18 KOs). Through the first two rounds, Marroquin was demonstrating his strong right hand.
Ruben peppered Roberto with a couple of quick little combinations at the beginning of the third, but he got caught on the receiving end when a crafty little combination by Marroquin dropped Tamayo near the end of that round. Ruben hit the deck again in the fourth.
Thing did not get any better for Tamayo in the fifth, when he was dropped for the third, and what became the final time. A left hook was the culprit that time, and the fight was waved off by referee Eddie Hernandez at 1:49 of the fifth round.
Misael Rodriguez (4-0, 2 KOs) faced off against Cesar Hernandez (3-3, 1 KO). This fight was scheduled for six rounds in the middleweight division. There was some good back and forth action between the two fighters throughout most of the fight, but as the rounds passed by it was Rodriguez who took control.
In the fourth, Cesar's nose started to bleed, and that seemed to add more fuel to the fire of Misael. The final two rounds were all Rodriguez, as he just peppered with all he had. We went to the scorecards, and all of the judges saw the fight the same, 60-54, a shutout for Rodriguez. Misael is no stranger to winning. In 2016 he captured a bronze medal in the Olympics for Mexico.
Welterweights took to the ring as Eimantas Stanionis (4-0, 3 KOs) took on Todd Manuel (14-14-1, 3 KOs) in a fight scheduled for eight rounds. This was not a particularly pretty fight. Manuel was an awkward fighter and that was a bit hard for Stanionis. Still, Eimantas stayed cool under pressure and it worked in his favor.
The fight did go the distance, and Stanionis did enough to impress the judges. They gave him the unanimous decision with scores of 80-72 twice and 79-73. He has won his other three fights by knockouts, so this proved to him that he can also go all the way to the final bell.
In a fight scheduled for four rounds in the featherweight division, Luis Coria (4-1, 3 KOs) went up against Percy Peterson (3-14-3, 1 KO). Coria came into this fight undefeated, but Peterson had other ideas. A right hand put Luis on the canvas in the first round, but he was up quickly.
Throughout the remaining three rounds Peterson was trying to hold onto that point lead that he had with the knockdown while Coria kept coming. Percy was cut over the left eye and Luis used that as his target, but Peterson never quit. We went to the scorecards, and all of the judges had the fight the same, 38-37. Obviously, that first round knockdown decided the fight.
In a bantamweight fight that was scheduled to go six rounds, Antonio Santa Cruz (6-3, 3 KOs) stood across from opponent Jesus Algandar (2-2, 2 KOs). Algandar came to fight and was often aggressive, but at times that would leave him wide open.
Santa Cruz (and for those of you wondering yes, he is the younger cousin to Leo Santa Cruz, was eventually able to take advantage of that in the third round. He was able to tag Jesus with a solid overhand right, putting him on the canvas. Algandar was unable to recover from that shot, and the referee reached the count of ten. The fight ended at 1:37 of that third round.
Jerry Perez (4-0, 2 KOs) took on Juan Sandoval (7-21-1, 4 KOs) in a fight scheduled for four rounds in the super featherweight division. While Perez did dominate in this fight, Sandoval did not let Jerry stop him and did try to keep fighting back.
Throughout the four rounds Perez continued to show that he was by far the most skilled athlete of the two, but Juan did enough to not get completely shut out. The fight went to the scorecards, and all three judges saw it the same, 39-37, all for Perez.
The fights started very early today, and for any boxing aficionado who wanted to arrive so soon there were a lot of bouts to see – 11 to be exact. To open up the afternoon we saw super bantamweights, as Jose Vargas (3-0. 2 KOs) faced off against Jose Perez (1-1, 1 KO). This fight was scheduled for four rounds, but that certainly wasn't needed here. Perez was dropped twice in the first round and once in the second. The referee waved off the fight at 2:00 of that second round.
The main events certainly did not disappoint. They were very good fights and hopefully we will see Santa Cruz and Mares face off again in the near future. The very early start meant that, despite 11 fights (some of which ended quite quickly) we got to get home early as well. That's not bad, either.