WBSS: Juergen Braehmer vs. Robert Brant super middleweight quarterfinals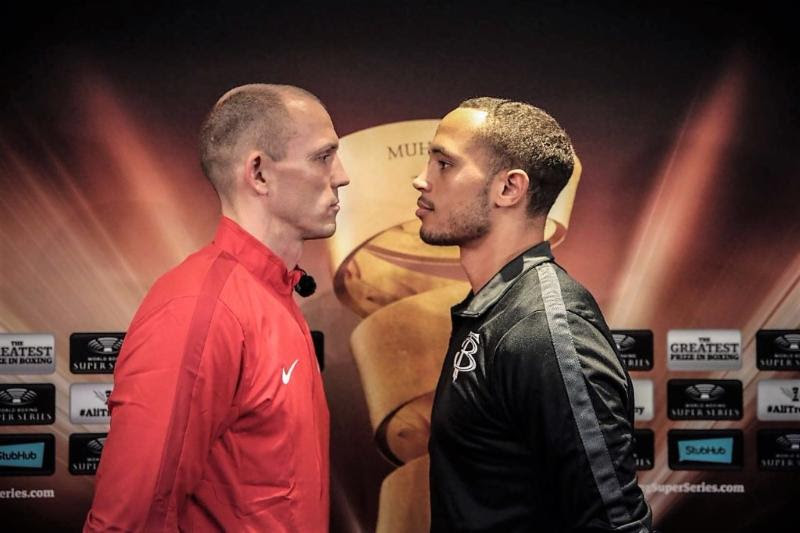 The final quarterfinals round match-up of the entertaining World Boxing Super Series (WBSS) tournament is on tap this Friday when former two-time world light heavyweight champion Juergen Braehmer faces undefeated challenger Rob "Bravo" Brant, airing exclusively in Canada on Super Channel, live from Kongresshalle in Schwerin, Germany.
The "Braehmer vs. Brant" card, starting at 2 p.m. ET / 11 a.m. PT,completes live quarterfinals coverage of the WBSS tournament for Canadian boxing fans, exclusively on Canada's boxing destination network, Super Channel, which acquired the rights in Canada to broadcast the World Boxing Super Series from MP & Silva, a leading international media company that provides media rights, digital, technology and sponsorship services.
The 39-year-old Braehmer (48-3, 35 KOs) is a former World Boxing Association (WBA) and World Boxing Organization (WBO) world light heavyweight champion who has dropped down in weight to compete in the WBSS super middleweight tournament.
The hard-hitting German is 9-1 in world title fights and the skilled southpaw has defeated two world champions, Hector Javier Velazco and Enzo Maccarinelli. Braehmer will also have the advantage of fighting Brant at home.
"I am very excited that this bout is going to take place in my hometown of Schwerin," Braehmer said. "In short, I cannot wait to start my journey to win the Ali Trophy. I feel good, top motivated. "I am not underestimating Brant, but I am in this tournament to win it. At the age of 39, this is my last chance to achieve something big, and I'm going to take advantage of the opportunity."
Brant (22-0, 15 KOs), fighting out of Saint Paul, Minnesota, was the only American boxer selected to compete in the WBSS. Unlike Braehmer, however, Brant has moved up one weight class to participate in the WBSS tournament. He is the reigning North American Boxing Association (NABA) middleweight champion.
"Braehmer is well accomplished and a proven boxer worldwide with star power in his own country," the 27-year-old underdog Brant noted. "I have no problem going into his backyard for a fight, he is a seeded fighter in this tournament.
"I feel this is a pure crossroads fight containing a proven well-known fighter toward the end of his career against a hot prospect looking to make his name in the sport. I feel confident in winning this fight as does everybody in my training circle. After researching Schwerin, I am excited to compete in such a beautiful and historic city.
"Juergen has done it all, seen it all, but he hasn't fought me. I am very confident that I will win on Friday. I have to be sharp mentally, but I feel in better shape than ever in every way. I know it's a cliché to say that, but on Friday the crowd and the world will see what I am talking about."
The Braehmer-Brant winner will advance to the WBSS semifinals early next year for a world title shot against unbeaten Brit Callum "Mundo" Smith (23-0, 17 KOs), who last month won a 12-round unanimous decision over previously undefeated Erik Skoglund (26-1, 12 KOs), of Sweden, in their WBSS quarterfinals match.
Five exciting matches on the "Braehmer vs. Brant" card, promoted by Sauerland Event, will air in Canada exclusively on Super Channel. The Braehmer vs. Brant 12-round main event is scheduled to start at 5 p.m. ET / 2 p.m. PT.
The 10-round co-feature is a WBSS Substitute Fight between former Interim WBA upper middleweight champion Vincent Feigenbutz (27-2, 23 KOs), of Germany, and his Argentinian opponent, Gaston Alejandro Vega (27-11-2, 11 KOs).
Other undercard bouts scheduled to air on Super Channel include Danish middleweight Abdul Khattab (15-2, 4 KOs) vs. German rival Ronny Mittag (30-2-1, 15 KOs) in an eight-round bout, 2016 Olympic bronze medalist Filip Hrgovic (1-0, 1 KO), of Croatia, vs. Czech Republic heavyweight Pavel "Pablo" Sour 6-0, 5 KOs) in a six-round match, and Danish heavyweight Kem Ljungquist in his pro debut vs. Revaz Karelishvili (8-2, 7 KOs), of Georgia, in a six-round clash.
All fights and fighters are subject to change.