Liam Smith vs. Liam Williams 2 card to air in Canada exclusively on SUPER CHANNEL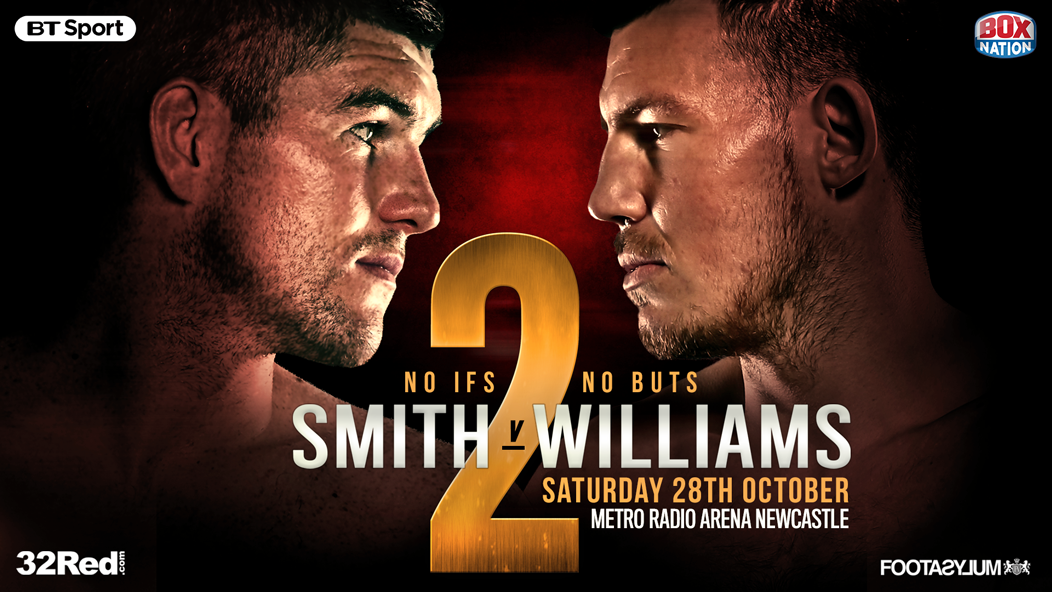 Today's bitter rematch between former world super welterweight champion Liam "Beefy" Smith (25-1, 14 KOs) and Liam Williams (16-1-1, 11 KOs) will air exclusively in Canada, starting at 2:45 p.m. ET / 11:45 a.m. PT, live from Metro Radio Arena in New Castle, United Kingdom.
The replay of Smith vs. Williams I from this past April will also air on Super Channel today starting at 1:30 p.m. ET / 10:30 a.m. PT).
The Smith vs. Williams 2 card, presented by Frank Warren's Queensbury Promotions, is headlined by the "Battle of the Liams," Smith and Williams, squaring off in a 12-round World Boxing Organization (WBO) super welterweight title eliminator.
Last April, Smith (25-1-1, 14 KOs) won a controversial fight in which Williams retired after nine rounds due to a double laceration of his right eyebrow, despite him leading on all three judges' scorecards by identical scores of 86-85. Williams insists Smith flagrantly headbutted him, while Smith feels he was denied a knockout victory.
Four exciting matches on the "Smith vs. Williams 2" card, promoted by Frank Warren's Queensbury Promotions, will air in Canada exclusively on Super Channel. The Smith vs. Williams 12-round main event is scheduled to air live at approximately 5:40 p.m. ET / 2:40 p.m. PT:
TODAY'S SMITH VS. WILLIAMS 2 CARD LINE-UP ON SUPER CHANNEL
MAIN EVENT – WBO SUPER WELTERWEIGHT TITLE ELIMINATOR — 12 ROUNDS
Liam "Beefy" Smith (25-1-1, 14 KOs), Liverpool, UK 69,8 kg (154 lbs.)
vs.
Liam Williams (16-1-1, 11 KOs), Wales, UK 69,6 kg (153.5 lbs.)
CO-FEATURE –SUPER LIGHTWEIGHTS — 10 ROUNDS
Josh Leather (12-0, 6 KOs), Yorkshire, UK 62,8 kg (138.5 lbs.)
vs.
Glenn Foot (21-2, 6 KOs), Sunderland, UK 63,1 kg (139.25 lbs.)
BBBOFC BRITISH SUPER BANTAMWEIGHT CHAMPIONSHIP – 12 ROUNDS
Thomas Patrick Ward (20-0, 2 KOs), Champion, County Durham, UK 54,9 kg (121.25 lbs)
vs.
Sean Davis (13-1, 0 KOs), Challenger, Birmingham, UK 54,8 kg (121 lbs.)
VACANT WBC SILVER INTERNATIONAL HEAVYWEIGHT CHAMPIONSHIP – 10 ROUNDS
Nathan Gorman (10-0, 8 KOs), Cheshire, UK 114,3 kg (252 lbs.)
vs.
Mohamed Soltby (11-0, 9 KOs), Hamburg, Germany 99,7 kg (220 lbs.)
(All fights and fighters are subject to change)