Will David Lemieux's Hometown Advantage Give him the Edge Over Billy Joe Saunders?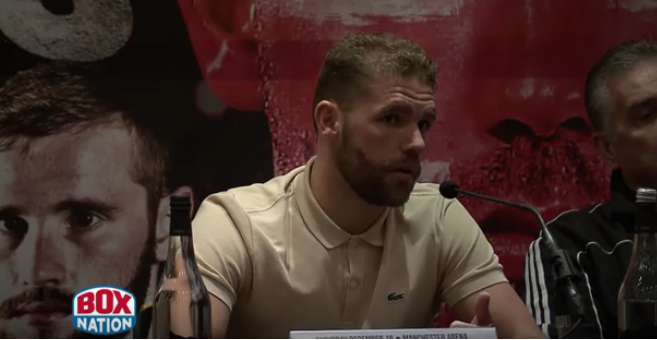 As is often the case in boxing, there are always some big fights taking place in the month of December that can often fly under the public's eye yet still deliver in terms of year-end excitement.
Such is the case again on Dec. 16 when WBO middleweight champion Billy Joe Saunders (25-0, 12 KO's) faces off with power-punching former IBF middleweight champion David Lemieux (38-3, 33 KO's) on HBO inside of the Place Bell in Laval, Canada.
Saunders vs. Lemieux is the type of fight that the sport is made of, as we have two champions in their primes (both men are 28), who appear to have definite disdain and even bad blood towards one another. Given Lemieux's pressing, often-violent style, and the brash nature of Saunders, who is never afraid of a challenge it seems, there will likely be plenty of drama on the 16th.
Lemieux has recovered nicely from his most-recent setback, an October 2015 8th round TKO loss to reigning lineal middleweight champion Gennady Golovkin inside of Madison Square Garden in New York. In that bout, Lemieux had no answers for the calculating and debilitating style of Golovkin, as the Kazakhstan start produced one of his more polished performance as a pro.
Much credit should be given to Lemieux for how he has bounced back from that defeated, however. Following the Golovkin defeat, Lemieux has gone 4-0 with 2 knockouts. His most recent match saw him defeat Marco Reyes via unanimous decision on the May 6 Canelo Alvarez vs. Gennady Golovkin pay per view undercard. One match prior, Lemieux electrified with a crushing 3rd round knockout over Curtis Stevens.
Saunders is inarguably one of the brashest champions in the sport. Originally from Hertfordshire, United Kingdom, he yet to taste defeat throughout his nine years in the sport.
Saunders may not be a huge puncher, but he can box. All one must do is look at his split-decision victory over Chris Eubank Jr. in 2014 to see the kind of class he is in. If you recall, Eubank has since gone on to become a terror in the sport and is the pick for many to with the World Boxing Super Series in the super middleweight division.
Saunders' most recent outing some him win a decision over tough American Willie Monroe Jr. on Sep. 16. Monroe had been full of confidence heading in, yet Saunders again rose to the occasion inside of the Copper Box Arena, making his second successful title defense.
Saunders captured the WBO belt that he now holds by defeating Irishman and former champion Andy Lee in December of 2015 via majority-decision.
What's interesting about the Saunders vs. Lemieux matchup is that we have one of the sport's champions in Saunders who is electing to travel to his opponent's backyard for this defense. Lemieux fought his first 34 fights in Canada, and has a huge following at home.
Breaking down the fight, you can favour either man really, for several different reasons. Each guy has plenty of experience, and while Lemieux may be a bit cruder in terms of skills, his power certainly makes up for it.
The fact that we will be seeing Saunders, who is always used to fighting in his native UK, stepping into his opponent's territory will be very interesting. The crowd certainly will be hostile, yet will it be enough to give Lemieux the edge on Dec. 16?
Who knows for sure, but it will be fun finding out.