Sergey Kovalev Returns with a Bang, but What Does the Future Hold?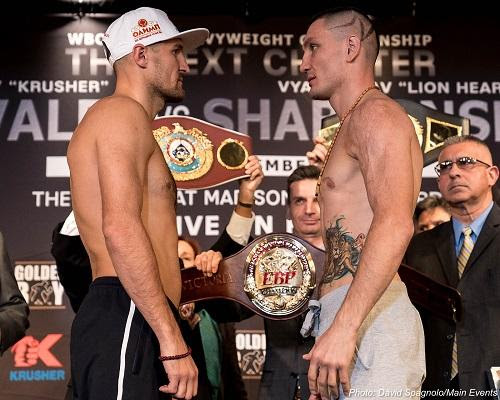 On Saturday night, Nov. 25, Sergey Kovalev made a successful return to the championship ranks by defeating Vyacheslav Shabranskyy via a 2nd round knockout inside of the Madison Square Garden Theater on HBO. With the victory, Kovalev (31-2-1, 27 KO's) reclaims the WBO light heavyweight championship that he originally held.
On paper, Kovalev vs. Shabranskyy may have come across as a mismatch, but there was still much on the line for the star from Russia. Once regarded as one of the top three fighters in the world, Kovalev saw his star status dimmed following a pair of losses at the hands of former two-division world champion Andre Ward.
In November of 2016, Kovalev and Ward met inside of the T-Mobile Arena in Las Vegas, Nev. Kovalev started fast, dropping Ward in the second round, and appeared to be piling up the points as the fight reached its midway point.
Over the second half of the fight, however, and Ward became to make his comeback. Using sheer grit and great boxing acumen, Ward began turning the tide of the fight, even landing often to the body to slow Kovalev down. Following 12 rounds of action, scores reading 114-113 were read across the board in favor of Ward to the dismay of Kovalev.
As is the case with any big boxing match following a close and debatable decision, many people began crying 'controversy' after the fight, as they ardently debated the Ward vs. Kovalev scorecards. The chatter on social media and boxing forums was especially noticeable, and the only reasonable solution appeared to be a rematch between the two men to decide things.
That is exactly what happened, as Ward and Kovalev did end up facing off for a second time, this time inside of the Mandalay Bay this past June. Unlike the first match, Kovalev appeared a bit off, and wasn't able to dictate the early pace of the fight.
In the eighth round, Ward rocked Kovalev with a big right hand and then went to work as he tried to chop his rival down. Despite a few shots that appeared to go low, Ward was able to finish off Kovalev along the ropes, as referee Tony Weeks jumped in to wave off the bout.
With those two defeats, Kovalev lost much more than just his championship status. He also lost some appeal to boxing fans, many of whom felt he was looking for a way out in the rematch. Others pointed to Kovalev's personal conflicts in camp, most noticeably his fallout with trainer John David Jackson, as part of his problem.
But, time heals all wounds, and Kovalev is now officially back in the championship mix. And with Ward having announced his retirement earlier this year, this leaves the 34-year old prizefighter with some definite options.
Two matchups that instantly stand out would be either a showdown with WBA champion Dmitry Bivol or top-flight contender Sullivan Barrera. And both fights are interesting in their own right. Bivol (12-0, 10 KO's) fought this past November 4, stopping Trent Broadhurst in Monte Carlo, while Barrera (21-1, 14 KO') made an appearance on the Kovalev-Shabranskyy undercard, as he rose from a knockdown to go on to win a unanimous decision over Dominican Republic's Jose Valera.
Bivol, 26, is a fight that would be better off down the road, as one shouldn't be surprised if we see Kovalev vs. Barrera sometime next year. Kovalev is tentatively slated for a March 3 return inside of Madison Squarer Garden in New York.