Anthony Yigit vs Joe Hughes; Weights and Running Order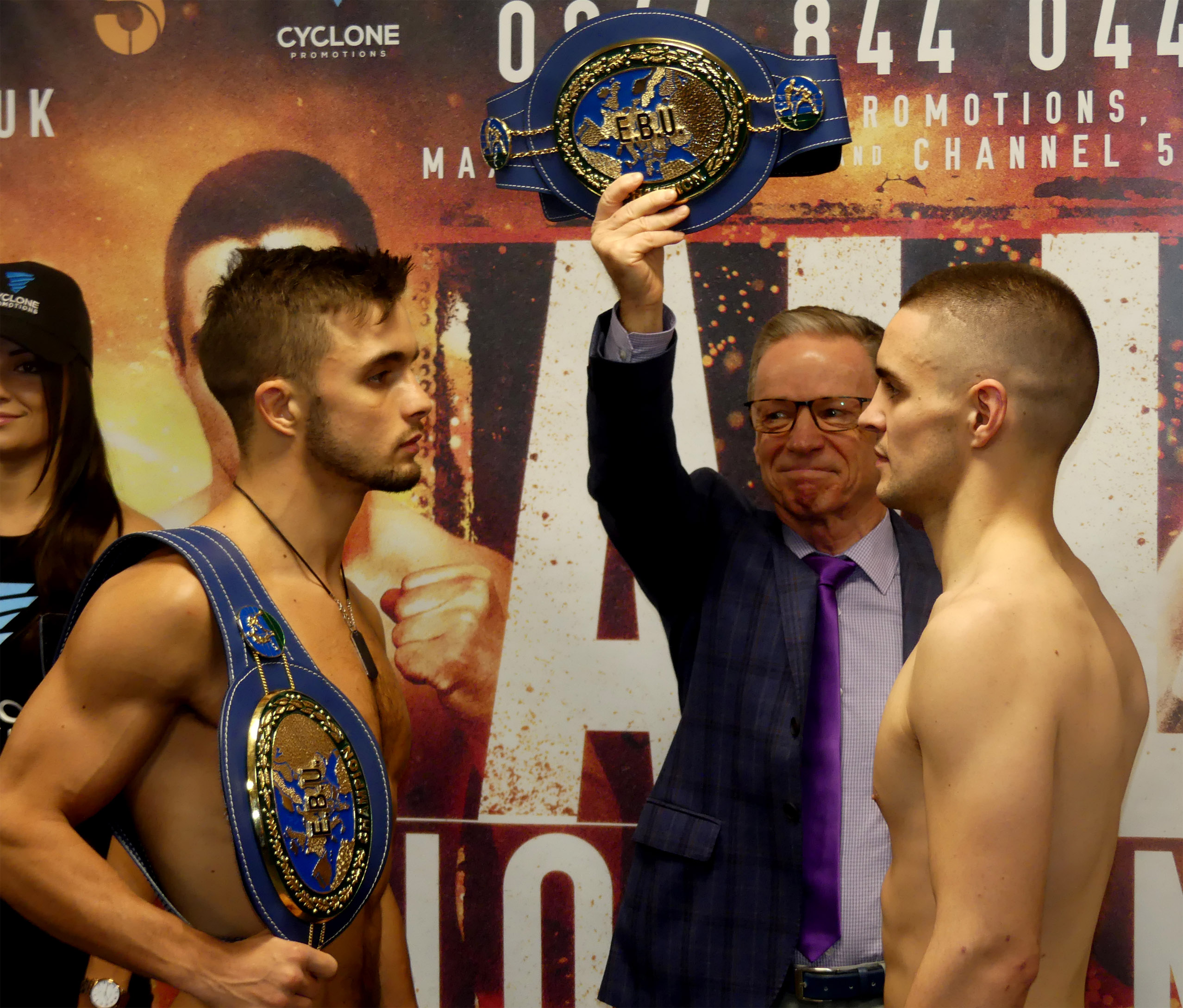 Sweden's Anthony Yigit (20-0-1) will defend his EBU Super Lightweight title against challenger Joe Hughes (15-2-1) as part of a huge night of action in Leicester tomorrow night, after both men made the 140lb limit comfortably this afternoon. The bout is one of fight title fights on tomorrow's bumper bill, which will be shown live on 5Spike from 6.30pm and Channel 5 from 10pm, sponsored by Maxi Nutrition, Ladbrokes and Voltarol.
Hughes weighed in at 9st 13lbs 2oz, before European champion Yigit also tipped the scales at 9st 13lbs 2oz. Both men were in good spirits as they faced off for the final time, with the scene now set for a big night of boxing tomorrow night.
Explosive Lightweight contender Chantelle Cameron (4-0-0) faces proven operator Viviane Obenauf (12-3-0) for the vacant IBO World Lightweight strap on the bill. The title-chasing pair both made weight, with Cameron weighing 9st 7lbs 2oz and Obenauf coming in at 9st 8lbs 2oz.
Things got hostile between Midlands pair Lennox Clarke (15-0-1) and Jahmaine Smyle (14-6-2), who square off for the IBO Continental Super Middleweight title as part of the undercard. Both men exchanged jibes during a heated face-off, after Clarke weighed in at 11st 13lbs 2oz and Smyle weighed in at 11st 13lbs 3oz.
Also on the is the newly-crowned Commonwealth Cruiserweight champion Luke Watkins (12-0-0), who makes his maiden defence against Merseyside's Mike Stafford (16-3-0). 'The Duke' weighed in at 14st 2lbs 3oz, whilst Stafford came in at 14st 3oz.
You can follow the rest of the build-up and all of tomorrow night's action on our twitter handle – @CyclonePromo; and/or our Facebook page – www.facebook.com/CyclonePromotions
About Channel 5
Channel 5 launched as Britain's fifth public service channel in March 1997 and has been owned by Viacom International Media Networks since September 2014. Channel 5, 5STAR, 5USA and 5Spike reach 4 in 5 of the UK viewing public each month with a broad mix of popular content for all the family across entertainment, documentaries, sport, drama from the UK and US, films, reality, comedy, children's and news. My5 is a new service allowing viewers to watch content online for free from Channel 5, 5STAR, 5USA, and 5Spike.
WEIGHTS
Anthony Yigit vs. Joe Hughes (EBU Super Lightweight title, 12×3 mins)
Yigit: 9st 13lbs 2oz
Hughes: 9st 13lbs 2oz
Chantelle Cameron vs. Viviane Obenauf (Vacant IBO World Lightweight title, 10×2 mins)
Cameron: 9st 7lbs 2oz
Obenauf: 9st 8lbs 2oz
Lennox Clarke vs. Jahmaine Smyle (Vacant IBO Continental Super Middleweight title, 10×3 mins)
Clarke: 11st 13lbs 2oz
Smyle: 11st 13lbs 3oz
Luke Watkins vs. Mike Stafford (Commonwealth Cruiserweight title, 12x3mins)
Watkins: 14st 2lbs 3oz
Stafford:14st 3oz
Craig Morris vs. Ryan Martin (Vacant IBO Continental Welterweight title, 10×3 mins)
Morris: 10st 6lbz 2oz
Martin: 10st 5lbs 2oz
Chris Billam-Smith vs. Laszlo Ivanyi (4×3 mins)
Billam-Smith: 14st 6lbs
Ivanyi: 13st 13lbs
Lee McGregor vs. Kamil Jaworek (4×3 mins)
McGregor: 8st 8lbs 2oz
Jaworek: 8st 9lbs 2oz
Kyle Williams vs. Szilveszter Kanalas (4×3 mins)
Williams: 8st 5lbs 2oz
Kanalas: 8st 2oz
Josh Quailey vs. Remigiusz Smolinski (4×3 mins)
Quailey: 16st 10lbs
Smolinski: 16st 9lbs