All or Nothing Press Conference Quotes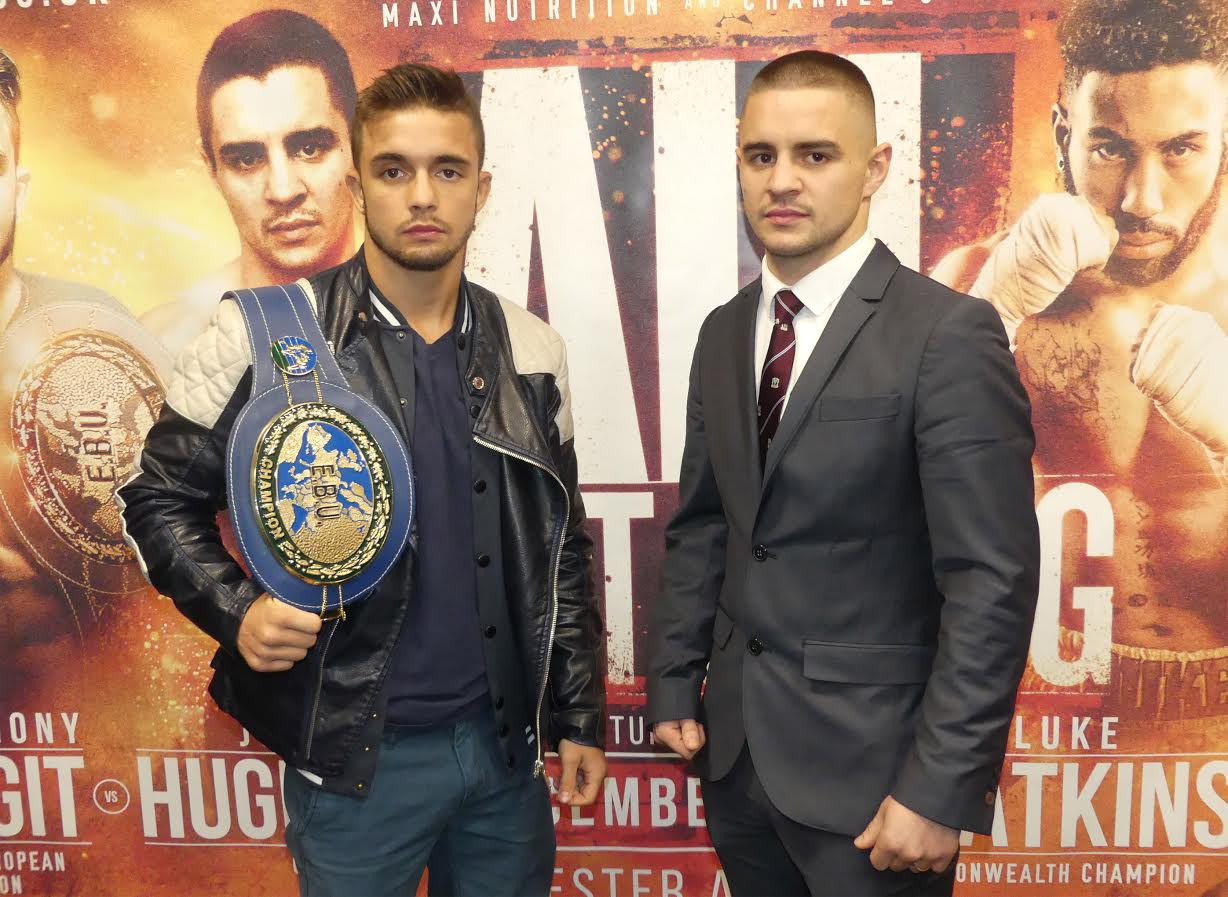 Leicester Arena played host this afternoon, as fighters had their final say ahead of Saturday night's packed 'All Or Nothing' bill at, live on Channel 5, and sponsored by Maxi-Nutrition, Ladbrokes and Voltarol. The show – which features no less than five title fights – promises action from start to finish, and all parties present seemed in good spirits as they addressed the media.
EBU European Super Lightweight champion Anthony Yigit (20-0-1) defends his title against Malmesbury's Joe Hughes (15-2-1) at the top of Saturday's bill, in what could well end up being a Fight of the Night contender. Both men were in confident mood ahead of their European showdown, with the challenger visibly fired up for the challenge ahead of him on Saturday evening.
ANTHONY YIGIT: "I am happy that fight night is almost here, and my preparation has gone very well. I've been out in Spain training for a few weeks, and I'm just buzzing for this weekend. I do not expect this fight to be easy. I'm looking forward to it though, and hopefully I can take the belt back to Sweden."
JOE HUGHES "I've got a unique style, and I believe Anthony Yigit won't have faced anyone like me before. I'm sure he believes he'll be able to outthink me, but I think our styles will gel well and we'll put on an exciting fight. I think some people are overlooking me ahead of this, but I'm used to being the underdog. I'm here to show that underdogs can win, and to claim that belt."
Elsewhere on the bill, the talented Chantelle Cameron (4-0-0) fights for the IBO World Lightweight in just her fifth fight against Viviane Obenauf (12-3-0). Cameron is one of the brightest prospects in Women's boxing, and challenges for the IBO Strap just three weeks after claiming the IBO Inter-Continental title in Edinburgh with a destructive performance.
Following his classy showing against Robin Dupre to capture the Commonwealth Cruiserweight title in October, Luke 'The Duke' Watkins (12-0-0) makes his first defence on the card. He faces Merseyside's experienced Mike Stafford (16-3-0) who himself has ambitions to be crowned the new Commonwealth King.
There's also a Midlands derby on the bill, as local lad Jahmaine Smyle (14-6-2) takes on Lennox Clarke (15-0-1), in what could end up being a feisty encounter if today's press conference was anything to go by. Tempers were just about kept in check between the pair, who will have the chance to claim the IBO Continental Super Middleweight title on Saturday night.
In what looks a real 50-50 on paper, Ryan Martin (8-1-0) takes on Craig Morris (8-1-0) for the IBO Continental title. Having recently recovered from their first respective pro defeats, both men will be looking to produce a career-best performance to claim the IBO strap to finish the year on a high.
Cyclone talents Chris Billam-Smith (3-0-0) and Lee McGregor (1-0-0) also continue their development on the card, as they look to produce flawless performances to round off their first year in the paid ranks.
There should be a stellar night of competitive matchups and exciting fights on December 2nd at the Leicester Arena, and you can follow all of the build-up on our twitter handle – @CyclonePromo; and/or our Facebook page – www.facebook.com/CyclonePromotions
LIMITED TICKETS FOR 'ALL OR NOTHING' AT LEICESTER ARENA ON SATURDAY DECEMBER 2ND ARE STILL AVAILABLE – PRICED £30 AND VIP INNER RINGSIDE AT £100 + BOOKING FEES, AND AVAILABLE ON THE DOOR ON FIGHT NIGHT.
About Channel 5
Channel 5 launched as Britain's fifth public service channel in March 1997 and has been owned by Viacom International Media Networks since September 2014. Channel 5, 5STAR, 5USA and Spike reach 4 in 5 of the UK viewing public each month with a broad mix of popular content for all the family across entertainment, documentaries, sport, drama from the UK and US, films, reality, comedy, children's and news. My5 is a new service allowing viewers to watch content online for free from Channel 5, 5STAR, 5USA, and 5Spike.
QUOTES
CHANTELLE CAMERON: "I'm absolutely delighted to be fighting for my first world title so soon. The opportunity came about quite suddenly, but I'm 100% ready for this fight. I know that Viviane Obenauf is a tough fighter so I won't be taking this challenge lightly by any means. Hopefully we make it a night to remember in Leicester, and fingers crossed this is the first of many world titles for me."
VIVIANE OBENAUF: ""I am glad to have this opportunity to win a world title. Chantelle is a great fighter, but I have been in with some of the best and I won't have any fear. I believe I beat Ewa Brodnicka over in Poland, and I plan on being even better than I was that night. This is my time to show the boxing world how good I can be."
LUKE WATKINS: "I'm glad Mike Stafford is on a winning run, because he'll have confidence coming into this fight, and that could make it a great fight for the fans. This feels like a home show for me, though. I'm the champion, he's the challenger and I want to produce a big performance on Saturday night."
JAHMAINE SMYLE: "There's no way I'm letting anyone come to my hometown and beat me. I don't overlook any opponent, but I also don't see this fight as a 50-50. Maybe 18 months ago it would've been, but I've improved so much and believe I'll be too good for Lennox Clarke."
BARRY MCGUIGAN: "This is a brilliant card, and it's great that it'll be available to watch on free-to-air television. We're happy to bring big time boxing back to the Midlands, and we plan on many more shows in the future!"
LIMITED TICKETS FOR 'ALL OR NOTHING' AT LEICESTER ARENA ON SATURDAY DECEMBER 2ND ARE STILL AVAILABLE – PRICED £30 AND VIP INNER RINGSIDE AT £100 + BOOKING FEES, AND AVAILABLE ON THE DOOR ON FIGHT NIGHT.