6 Fighters Terence Crawford could face in 2018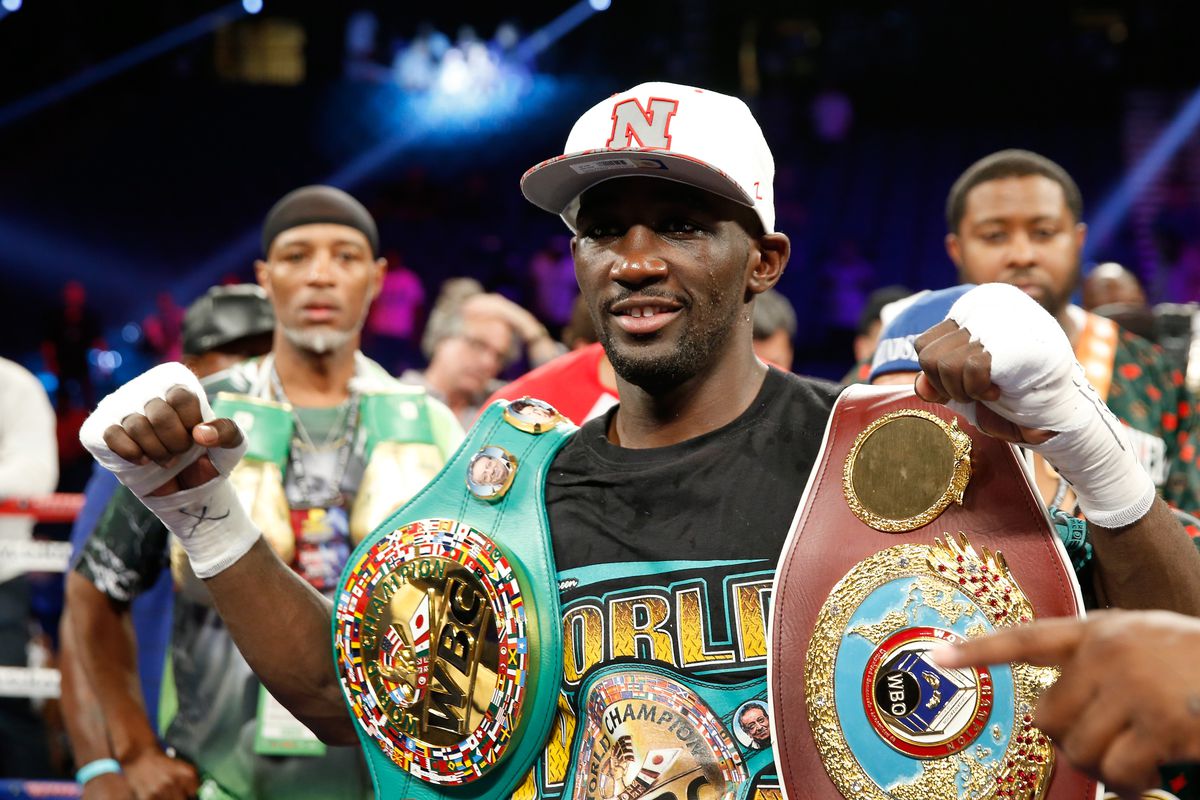 Pound-for-pound claimant Terence Crawford has moved up in weight and the Nebraskan is ready to take over the welterweight division.
Crawford has been busy of late, unifying the super-lightweight (or light-welterweight if you prefer) division. After moving up from lightweight, Crawford picked up the vacant WBO super-lightweight crown in 2015 to start his title collection at the new weight class. Routine wins over Dierry Jean and Henry Lundy were followed by a unification with Viktor Postol in which Crawford dominated the Ukrainian to relieve him of his WBC strap. Defences over John Molina and Felix Diaz primed Crawford perfectly for a chance to become undisputed king of the division. Step forward Namibian Julius Indongo who had picked up the IBF and WBA belts from Eduard Troyanovsky and Ricky Burns respectively. Crawford found gangly Indongo's body early and wasted no time in dispatching his rival to claim all four pieces of silverware and cement his dominance on the 140lbs standings.
Struggling to slim down to the weight, Crawford decided that the time was right to move north once again and the 30-year-old has pushed up to welterweight.
"Crawford literally dominated and cleaned out a division," Top Rank president Carl moretti told ESPN. "There are no more challenges left for him at 140 pounds and, physically, his body is ready to move to 147 pounds and do the same thing he did at 135 and 140 — dominate a division."
Crawford's promoter Bob Arum has done a good job of matching his man well and likes to follow a pathway of picking up a belt, making a couple of low-key defences in or around Nebraska, and then moving on to the next big fight. This strategy has worked well so far and it says to me that if Crawford fights three times next year, at least two will be against opponents a rung below the beasts of the division.
Should be beat Gary Corcoran on December 13, as expected, it would appear that Australia's Jeff Horn would the perfect fodder for Crawford to ease in to his new weight class. Horn is a rough, tough operator who has a good workrate and impressive physical strength, but he will need more than that against a high-quality switch hitter like Crawford. You could envisage Horn holding his own for the first portion of the bout, but once he starts tiring Crawford will begin to find the gaps for his hard, scything shots and most likely stop Horn late on.
Manny Pacquiao has for a long time been mooted to fight Crawford, but as long as promoter Bob Arum can still squeeze some capital out of the Filipino it is unlikely he will "feed" him to the next potential superstar, even though they both box under the Top Rank banner. Pacquiao is not the fighter he once was, as ring wars and political distractions have caught up with him, and I would make Crawford a favourite if the pair were to meet in the near future.
Despite putting in some underwhelming ring performances and engaging in some egregious behaviour outside of the squared circle, Adrien Broner still manages to squirm his way in to big-money opportunities. 'AB' is more inclined to hang around with his usual retinue of goons at the moment and bad influences aplenty have littered his life and career. Broner has talent but isn't a natural 147-pounder and his lack of activity during a fight will make it difficult for him to sustain attacks on Crawford. While I would expect tough Broner to last the distance, he would not be able to win enough rounds to defeat 'Bud' Crawford.
Other possible future Crawford candidates include: Mikey Garcia.
The talented Mexican-American moved up to fight Adrien Broner and has intimated that he would move up again for the right price. It is, however, extremely unlikely that Garcia will ever work with former promoter Bob Arum again after the pair engaged in a bitter
contractual dispute that saw Mikey exit the sport for years and leave millions of dollars on the table.
Two more likely opponents are Jessie Vargas or even big-punching Argentine Lucas Matthysse. Vargas is a solid name at welterweight and does not punch exceptionally hard, so neatly fits the bill for a fight with Crawford in the near future.