What's next for Sadam Ali? Kell Brook possible?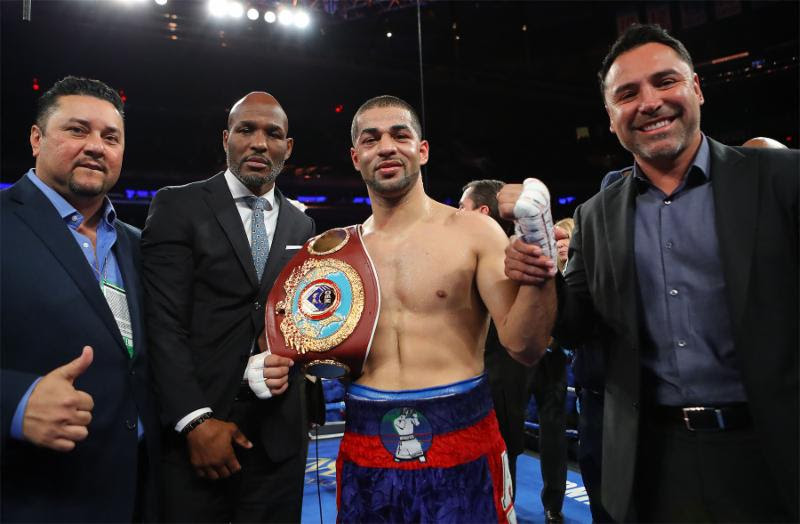 On Saturday night, Dec. 1, inside of Madison Square Garden in New York, Sadam "World Kid" Ali did what many expected he couldn't by upsetting former four-division world champion Miguel Cotto. In front of a rabid 12,391 fans, and with over a million watching on HBO, Ali saw two 115-113 scorecards and one 116-112 tally in his favor, as he claimed the WBO junior middleweight championship.
Ali (26-1, 14 KO's) was a big underdog heading into the match, since Cotto (41-6, 33 KO's) had years of championship experience under his belt.
Ali is no stranger to boxing fans at all, having been a 2008 U.S. Olympian from Brooklyn, as well as having had success on a higher scale in the pro ranks. But his March 2016 TKO loss to Jessie Vargas set him back and he wasn't expected to do damage vs. Cotto.
Reflecting on his huge moment, Ali soaked everything in.
"I worked hard for it," Ali said. "I took advantage of this fight, and I made sure to make it count. They could have taken an easier fight if they wanted too.
"I had him hurt here or there in the first couple of rounds," Ali added of their excellent match. "I knew I had to do something, or he would have dug in. By the 11th round, I thought the fight was close."
Cotto, who represented the fighting pride of Caguas, Puerto Rico during his career, confirmed his retirement after the fight.
"I am feeling good with the performance," said Cotto. "Something happened to my left bicep in the seventh round. I don't want to make excuses, Sadam won the fight. It is my last fight. I am good, and I want to be happy in my home with my family."
And just like that, one legend has left the sport while another young star has reaffirmed his position in the championship ranks.
But where does Ali go from here? His future is interesting, and possibly lucrative.
"Whatever Golden Boy Promotions has next, I'll take it," said an ambitious Ali. "Good things happen to good people. I have been training since I was eight years old, and I am glad I got this win at MSG, in my hometown."
There are many fights to make in the junior middleweight division, but it should be noted that Ali has fought most of his career in the welterweight class.
If here were to stay and defend his title, a clash vs. former IBF welterweight champion Kell Brook stands out, as the most intriguing.
Brook (36-2, 25 KO's) is still one of the bigger names in UK boxing despite coming off back-to-back losses to Errol Spence Jr. this past May and lineal middleweight champion Gennady Golovkin in September of last year.
Brook's promoter Eddie Hearn took to social media after the bout and spoke on the possibility of such a duel.
"Congrats on a great win @realworldkidali – @SpecialKBrook back early March then he is coming for the 154 [pound crown]."
Hearn also tagged Golden Boy Promotions and HBO Boxing with his tweet.
But who wins an Ali vs. Brook matchup? There are some lingering questions with Brook, whether he is fully healed physically and mentally from his two defeats.
Also, for Ali, will he be able to live up to this performance and stay consistent? Also, is he going to consider a move back down to 147 pounds?
Any way you cut it, style-wise this is a great fight to make.