Will we see Tyson Fury vs. Tony Bellew in 2018?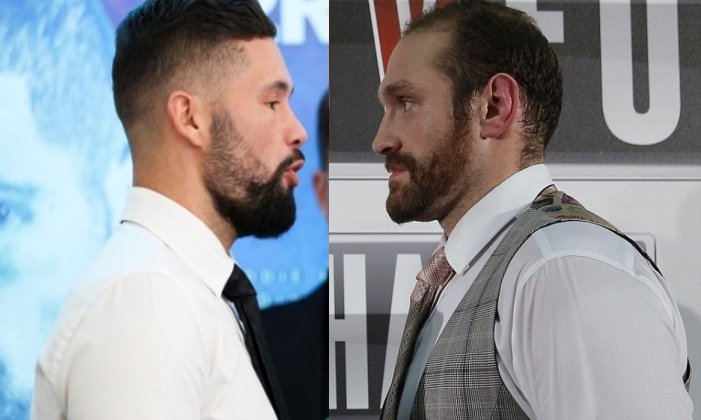 It's hard to believe that 2018 is almost upon us. A lot has happened this year in the sport.
For one, we had the chance to witness a historic event and the biggest pay per view of all-time when former pound for pound king Floyd Mayweather defeated UFC superstar Conor McGregor on Aug. 26 inside of the T-Mobile Arena in Las Vegas, Nev.
What's even more notable is just how many big names have walked away from the sport in 2017, including Mayweather, Tim Bradley, Juan Manuel Marquez, Robert Guerrero, Wladimir Klitschko, and many others.
Klitschko definitely can't put his head down, however, as he fought valiantly in his last ring performance, where he was stopped by IBF/WBA heavyweight champion Anthony Joshua in the 11th round of their classic bout this past April 29. The fight itself was historic for its ebbs and flows, as well the fact that it against shook up the landscape of the heavyweight division.
It will definitely be entertaining keeping up with the heavyweight ranks in 2018, but what kind of fights are we going to see exactly?
First off, you have to take a look at the champions in the heavyweight ranks. At the moment, there is no bigger interest in the sport than a possible clash between Joshua and WBC champion Deontay Wilder.
Wilder is coming off of an electric first round knockout over former champion Bermane Stiverne last month and was most recently spotted in Miami, where he had a face off with Luis Ortiz following the Cuban puncher's 2nd round knockout victory over Daniel Martz.
As for Joshua, there is currently talk floating around the internet of a possible duel with WBO champion Joseph Parker for the first quarter of 2018. And while it looks like the division's champions may be tied up, there is an interesting fight that might just be made between two of the division's most colorful contenders in Tyson Fury and Tony Bellew.
Fury (25-0, 18 KO's) is one of the divisions most colorful characters, yet he has been out of the ring since defeating Klitschko for the WBA/WBO/IBF belts in November of 2015. A myriad of personal issues have appeared to plague Fury, who also packed on some weight following his last bout.
Still, there is some interest brewing for a possible match-up between Fury and former champion Tony Bellew.
Promoter Eddie Hearn of Matchroom Boxing, who promoters Bellew, believes there is a big chance Fury vs. Bellew could happen. Bellew was slated for a rematch next month with former champion David Haye, but it looks like that will be pushed back until March or May, and even then it's not a guarantee the fight will happen. And even if it does, what's stopping Bellew, if successful, from taking on Fury afterwards?
In a recent interview with Sky Sports, Hearn spoke on what he hopes can be a productive start to the first half of the year for his fighter.
"My plan for Tony Bellew is to beat David Haye then fight Tyson Fury," Hearn explained. "By the time he beats Haye, the Fury maybe be in the clear [to fight]."
Fury is currently dealing with a doing suspension, and should he get cleared to fight, he is one of the biggest names in the division.
Who wins a Fury vs. Bellew fight? It's an interesting match, to say the least. Here's banking that all the ore-fight hype would be more entertaining than some actual fights.
And the fight itself would likely deliver too. A few years ago it would have been hard to fathom this match-up, given that Bellew was campaigning as low as the light heavyweight ranks. But Bellew has shown himself to be a solid player at heavyweight, as evidenced by his stoppage victory over Haye in their first fight.
Should be fun watching things play out.