5 Fighters Deontay Wilder could face in 2018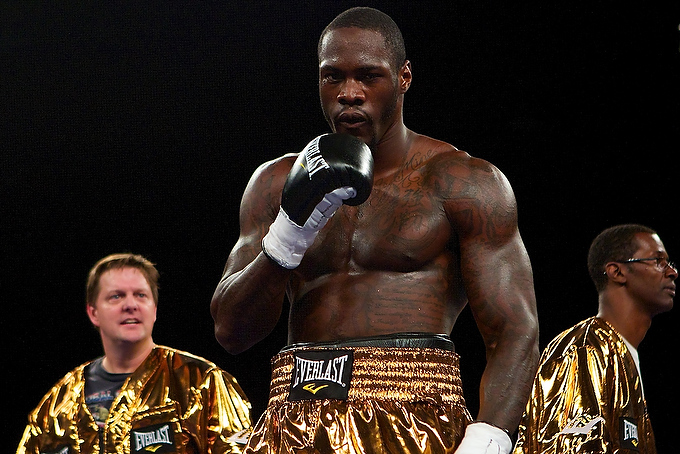 Anthony Joshua
A money-spinning unification between Wilder and Joshua would certainly get the juices flowing in 2018. A fight between Tyson Fury and either man would be the ultimate blockbuster, but seeing as Fury is currently out of action (despite being cleared again to box) the AJ vs. Bronze Bomber showdown is the top heavyweight matchup to be made.
We keep hearing that Anthony Joshua is primed to make his American debut and now that Eddie Hearn has formed Matchroom Boxing USA it would appear to be on the cards. Realistically speaking, despite Wilder's WBC title and his perceived popularity in some parts of the States, a fight in either Wembley ir Cardiff would make the most money, no matter what Wilder thinks.
Joseph Parker
WBO champion Joseph Parker has been linked with Anthony Joshua recently, but the New Zealander's rather unorthodox manager Dave Higgins has been unable to nail the bout down. Could Joseph instead find himself drafted in to face Alabama's heavyweight champion instead? Parker's raw aggression might cause Wilder problems and there's a chance this one could get seriously ugly with both men fumbling around the ring, missing and swinging in a vain attempt to relieve the other man of his senses.
Dillian Whyte
Whyte and Wilder have constantly found their names linked together, but Wilder has dismissed the bout and he is justified in doing so. Such is the Sky Sports hype machine, many casual boxing fans have been calling for Whyte to get his shot and have accused Wilder of ducking the London heavyweight.
"Kings don't chase peasants. They trying to give me the peasant without the king on the contract. I want Joshua," responded Wilder. "Joshua, come and see me, baby. No more ducking, no more hiding."
Apart from winning a WBC Silver title (against Robert Helenius no less) what exactly has Whyte done to justify a shot at Wilder? Not a lot in all fairness. That said, Wilder has hardly been knocking over fighters of a much higher calibre than Whyte.
Dominic Breazeale
This classic "beef" match could be made soon if Wilder doesn't fight either Joshua or Parker. After Wilder defeated Gerald Washington a dispute broke out between Breazeale and Wilder and his team in a hotel lobby with the former US Olympian claiming that both he and his coach had been caught by sucker punches, in front of Dominic's wife and children.
Breazeale later tweeted: "This cowardly attack has no place in boxing and believe me will not go unpunished." Dominic had been boxing on the Wilder-Washington undercard against Izuagbe Ugonoh in a fight that helped Breazeale muscle his way into a mandatory position. That spot was confirmed after he beat Eric Molina on the Wilder-Stiverne II undercard, so the California resident will expect his shot fairly soon.
Luis Ortiz
Despite testing positive for a Performance Enhancing Substance
for the second time in his career, this is boxing after all and the ageing Cuban has managed to clear his name enough with the WBC to push himself back into contention for a crack at Wilder. After beating Daniel Martz in Florida recently, Ortiz got verbal with Wilder at ringside.
"He's a coward, I saw the fear in his eyes, but I think now this fight is going to happen," said Ortiz.
Wilder responded by saying that he would "bless" Ortiz with another opportunity and later bizarrely labelled him Bubbles the Chimp, before adding: "I'm going to make a Cuban Sandwich out of your ass and have Karma to bite it."