Tyson Fury is back! Is he the man to defeat Anthony Joshua?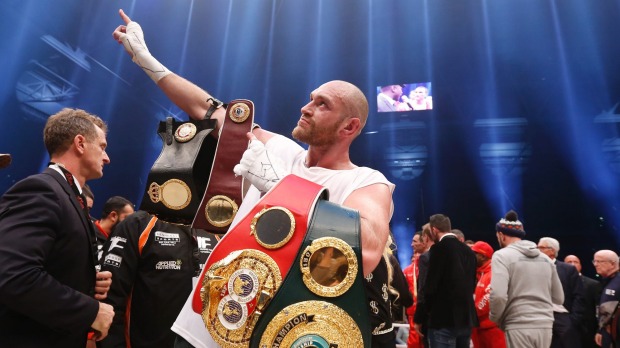 Tyson Fury is the marmite of the boxing world, some love the man and some hate him but if one thing has been clear it's that the sport is a hell of a lot more interesting with Fury on the scene. It has felt like a long 2 years in the absence of the 'Gypsy King' but a long due comeback is well on the way to being a reality with his recent clearance to enter the ring once again by the UKad but is yet to regain his licence. Tyson last fought in November of 2015 when he defied the odds, heavily dominating the long-time ruler of the division in Wladimir Klitschko while picking up the WBA Super, WBO and IBF titles. His return has been flirted with many times before by Tyson himself, but nothing ever seemed to come to action leaving many fans doubting he'd ever make a comeback at all but were greatly reassured when seeing his constant presence in the gym as shown on his social media where he has clearly shifted a lot of weight.
Not only has he made his weight loss clear to his followers but he has made his plans clear too, locking the current title holders in his sights as future targets but is this realistic after such a long stint out of the game and such a heavyweight gain? Sure, if he can shift the weight which he has been successful in doing so as of late and a few tune-up fights can shake off the ring rust so let's say he drops the weight and bangs out a decent warm-up fight or two, can he be a serious threat to Anthony Joshua? First, I'd like to ponder the outcome of a matchup between the Tyson Fury who beat Vladimir Klitschko and the Anthony Joshua who beat Klitschko. Both were incredibly different tales, but I think this matchup would play out exactly like the Fury-Klitschko fight with Tyson being too awkward for AJ, eventually coming out on top over the full distance but it is certainly up for debate when you consider Joshua's power and heart that he showed against the Ukrainian, so the real question is how does Fury match up with AJ in 2018?
I believe that if these two do meet in the future, it would possibly be the biggest British fight in all of history and I really hope they do, it would be insanely beneficial to not just the British boxing scene but the entire sport in general. Joshua is one the most hyped boxers in the world right now and Tyson is big in boxing himself so the build-up to this fight would be massive with a ton of media coverage across the world and packed full of mind games from both parties and I fully predict that Fury would be able to wriggle into AJ's head, potentially bringing the worst we have ever seen out of him adding a ton of flavour to what is already a meaty affair. I don't think in any way Fury would go there to KO AJ like he claims but he will be a massive threat to Joshua no matter what. He very well could be the man to defeat Anthony Joshua. There is no way to say who wins at this point, but I would go as far to say Tyson Fury in his current state could still cause problems for AJ so think what a fit Fury could do. But let's not forget the trouble AJ causes the Gypsy King. Joshua possesses great power, he has the skill to string incredible combos together, he has the heart of a lion and despite being questioned relentlessly on such he does has a strong chin. When/if these two heavyweight giants clash, we can expect a massive, memorable fight.
So where could this potential bout take place? There is a bunch of fitting venues for this all British mega fight, none bigger than Wembley but with the recent revelation that the stadium could have complications due to it currently housing Tottenham Hotspurs it's possible it won't be an option but with a ton of more suitable locations across Britain, could or should it be taken overseas? Some places have been floating around in the past such as Nigeria which Fury has been publicly onboard with that idea in the past while the Nou Camp Barcelona is another possibility. Personally, I love the idea of the fight being taken to Nigeria, making for a tasty occasion.
Only time will tell who comes out on top if they ever cross paths. It would be a great shame if bout were to not to ever take place and it would be one of the modern-day boxings what ifs for decades to come. Someone's 0 would have to go, whether it would be Fury's or Joshua's is definitely up for debate with a million cases being made for the both of them so could Fury be the man to defeat AJ, 100%.