Did Anthony Joshua Just Fire a Diss at Deontay Wilder?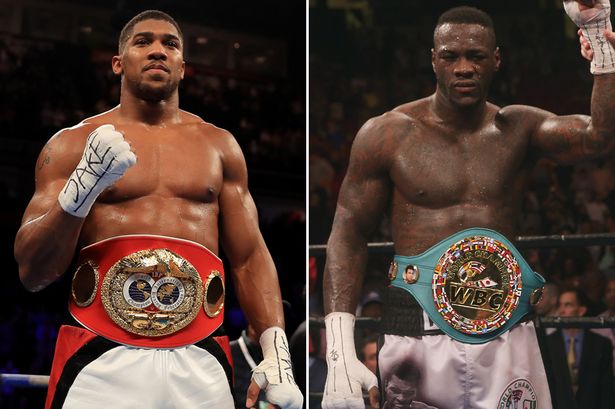 The saga in the heavyweight division continues.
At the moment, there are several notable key players who have made for some interesting banter in recent weeks. Whether it was seeing Deontay Wilder come face to face with Luis Ortiz inside of the ring, or catching word of the possible return of former champion Tyson Fury, or the endless list of intriguing matchups to make, the buzz is again high with the big men of boxing.
And there is no bigger star at the moment in the heavyweight ranks than IBF/WBA champion Anthony Joshua. And, true enough, it was a breakout year for Joshua, 28, as he scored a resounding 11th round TKO over living legend Wladimir Klitschko in April.
The buzz on Joshua has been through the roof ever since that victory, as evidenced by over 5 million followers on his Instagram, and he is constantly in the headlines, whether at events or from people speculating about future opponents.
The more things move forward, the more likely it appears that we are going to be seeing Joshua (20-0, 20 KO's) face off WBO champion Joseph Parker (24-0, 18 KO's) next.
According to a report from ESPN.com, it looks like Joshua may have fired a slight diss towards WBC champion Deontay Wilder in the wake of the negotiations taking place with Parker.
"I don't like to give false promises, but I do agree [with promoter Eddie Hearn]. Parker is remotely realistic in negotiations," Joshua said recently, in a video posted to social media.
Parker and his side had lowered their demands for a Joshua fight, understanding that he UK champion is the A-side, and backed away from talk of a "60-40" split. Wilder, however, seems to be in a different boat, and feels that his matchup with Joshua should be viewed as a 50-50 split.
Wilder's demands appeared to hinder his chances of seeing a Joshua fight happen, at least for the moment. As for Joshua vs. Parker, promoter Eddie Hearn of Matchroom Boxing is hoping to stage something in March or April of next year.
As for Wilder? That's a fight that Hearn definitely want to make, as any unification in the sport of boxing is a huge deal.
"We're easy to work with," Hearn said. "We have negotiated a fight with the hardest people to negotiate with in world boxing, Wladimir Klitschko. Good business. Everyone was happy. Everyone left with a great taste in their mouth."
Hearn simply feels that he must stick up for his star fighter concerning any negotiations with Wilder.
"It is not difficult. We are not trying to be arrogant. We are not trying to big-headed. It is my job to make the right moves for you [Joshua]. That's all," said Hearn.
Hearn also mentioned that he is looking at three venues in the UK for Joshua vs. Parker to happen, those being the Principality Stadium in Cardiff joined by Manchester United's Old Trafford and Twickenham as possible settings for the forthcoming showdown.