Sergey Kovalev and Sullivan Barrera Possibly to Return on March 3, But Not Against Each Other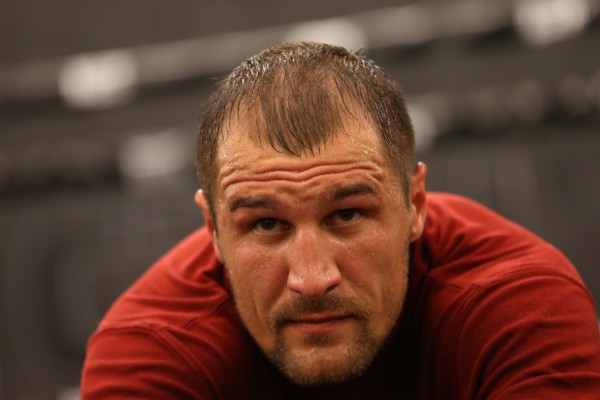 According to a report via ESPN.com, it looks as though WBO light heavyweight champion Sergey Kovalev is set for a quick return on March 3, where he will likely return to the Theater at Madison Square Garden against Igor Mikhalkin.
Kovalev defeated Ukraine's Vyacheslav Shabranskyy via 2nd-round TKO on Nov. 25 to reclaim the WBO light heavyweight title he once held. On the undercard of that match, Cuban contender Sullivan Barrera won a decision over Felix Valera. Both matches were televised by HBO.
Barrera will possibly be returning on March 3, but not against Kovalev, obviously. It turns out that, while Barrera did have the option of facing Kovalev on the 3rd, he elected to move forward with a clash with WBA champion Dmitry Bivol instead.
Both fights will once against take place on HBO, if they come off, and they could lead to a bigger fight down the road.
The Bivol vs. Barrera matchup is an excellent scrap, pitting the 27-year old champion (Bivol) to the test against one of the most experienced and rugged fighters at 175 pounds. Barrera has fought some solid opposition at 175 pounds, including scoring victories over the likes of Joe Smith Jr., Paul Parker, Shabrankskyy, and Karo Murat.
The only loss thus far on Barrera's ledger has been his March 2016 unanimous decision to Andre Ward. Ward, who retired this year as the sport's pound-for-pound best fighter, has gone on to give his praise towards Barrera, who he feels would give anyone a run at 175 pounds.
As for Bivol, he is one of the sport's fastest rising champions. He is like a sniper in the ring, very calm and calculated, with great precision and definite finishing ability. Bivol has registered knockouts in 10 of his 12 victories, scoring four stoppage victories this year alone.
If Kovalev can get past Mikhalkin on the 3rd, then him against the winner of Bivol vs. Barrera could be fireworks.
What do we know about Mikhalkin? Well, the 32-year old from Russia carries with him a 21-1 record with 9 knockouts. His only defeat was to Aleksy Kuziemski in May of 2010, several years ago, as he has since reeled off 10 straight victories.
Kovalev (31-2-1, 27 KO's) is understandably going to go in as a huge favorite against Mikhalkin, and perhaps the more intriguing scenario is to envision him against either Barrera or Bivol in his next bout should he be victorious.
And that's where things get interesting, because nobody knows how much Kovalev has left at the age of 34 and still reclaiming his luster following his back-to-back defeats to Andre Ward.
Bivol would present an interesting test due to his youth, agility, power, and precision.
So too would Barrera be a formidable foe due to how much of a workhorse he is inside of the ropes, as well as his toughness and grit. One thing is for sure, is with Ward's retirement, the light heavyweiight division is once again wide open.
March 3 could go a long way towards establishing some clarity in the division.