Tyson Fury says him vs. Anthony Joshua would be the biggest fight in British boxing history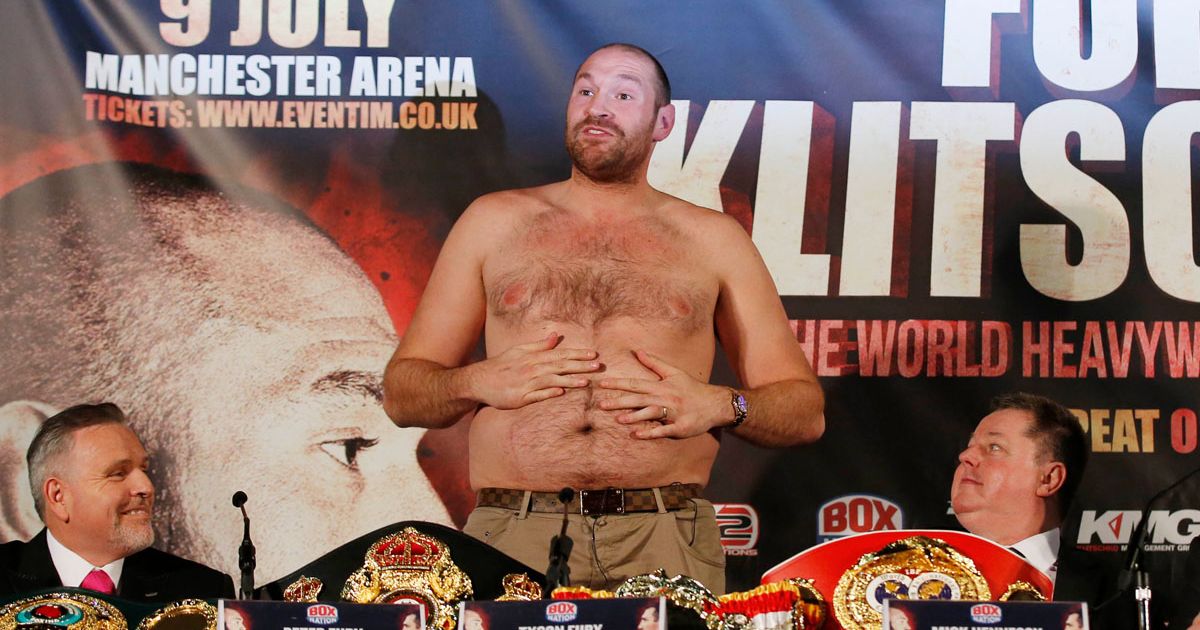 This past weekend, in Quebec, Canada, on HBO, WBO middleweight champion Billy Joe Saunders easily outpointed former champion and hometown favorite David Lemieux over 12 rounds.
It was a classic performance that not only stamped Saunders' worth as a prizefighter, but also his status as one of the top fighters coming out of the United Kingdom. In town to support his fellow countryman was Saunder's friend and former heavyweight champion Tyson Fury.
No matter where he goes, Fury always draws a mob of attention, due to his stature in person and in the sport.
Fury hasn't boxed as a professional for over two years, but his name rings bells as a possible opponent for current WBA/IBF champion Anthony Joshua.
"It would be the biggest fight in British boxing history," Fury recently said, as noted in an article via The Sun.
Fury, 29, still has his concerns as to whether he will ever face Joshua, 28.
"For me that's the big question," said Fury. "I think there are a lot of doubts about whether that will ever happen. If we can't come to an agreement then the fight is not going to happen."
There is often confusion and bantering at the negotiating table when it comes to the heavyweights, and Fury harkens back to a past potential fight that never got made.
"We saw this once before with Lennox Lewis and Riddick Bowe," said Fury. "Let's hope it doesn't go down that road and let's hope they sign the contract and get the fight on.
"I just see them trying to dictate everything and I will not be dictated to by anybody," Fury added. "They either meet my demands or they will get nothing. It's as simple as that."
Joshua's promoter Eddie Hearn is regarded as one of the top promoters in the sport, yet Fury doesn't see an interest in signing with Matchroom anytime soon.
"I don't know about that," he said."I don't know if it's a good idea to join the enemy. That's how I see them at the moment, they are the enemy, they are my enemy."
Joshua has been on a roll since Fury has been sidelined. He's notched notable wins over the likes of Dillian Whyte, Charles Martin and Wladimir Klitschko, winning the IBF, WBA and IBO heavyweight titles along the way.
But "The Gypsy King" isn't too impressed.
"He's still the same man he was when I first boxed two years ago," said Fury. "He's still the same, just a bit heavier and with a few more muscles on him. That's it really. The man can't box, he's not a boxer, he's a brawler. When he gets in there with someone who can box and move, he will get beaten, it's as simple as that."
It may sound as if Fury, always vocal, is hating a bit, but he insists he's not.
"When I say these things, I don't say it because I don't like somebody, I say it because I know the truth," Fury said. "The truth of the matter is, he will get his head punched in by anyone who can box and move a bit."
Brash words from Fury, but he seems to really believe he has Joshua's style figured out.
"He can never change that because you can never make a carthorse into a racehorse," said Fury. "He's not built for movement and speed, he's built for power. You can't make a power man a speed man and without speed and movement in heavyweight boxing you're a limited fighter."
Let's hope we see Fury back in the ring soon.