Daniel Dubois focused on improving and working his way to a world title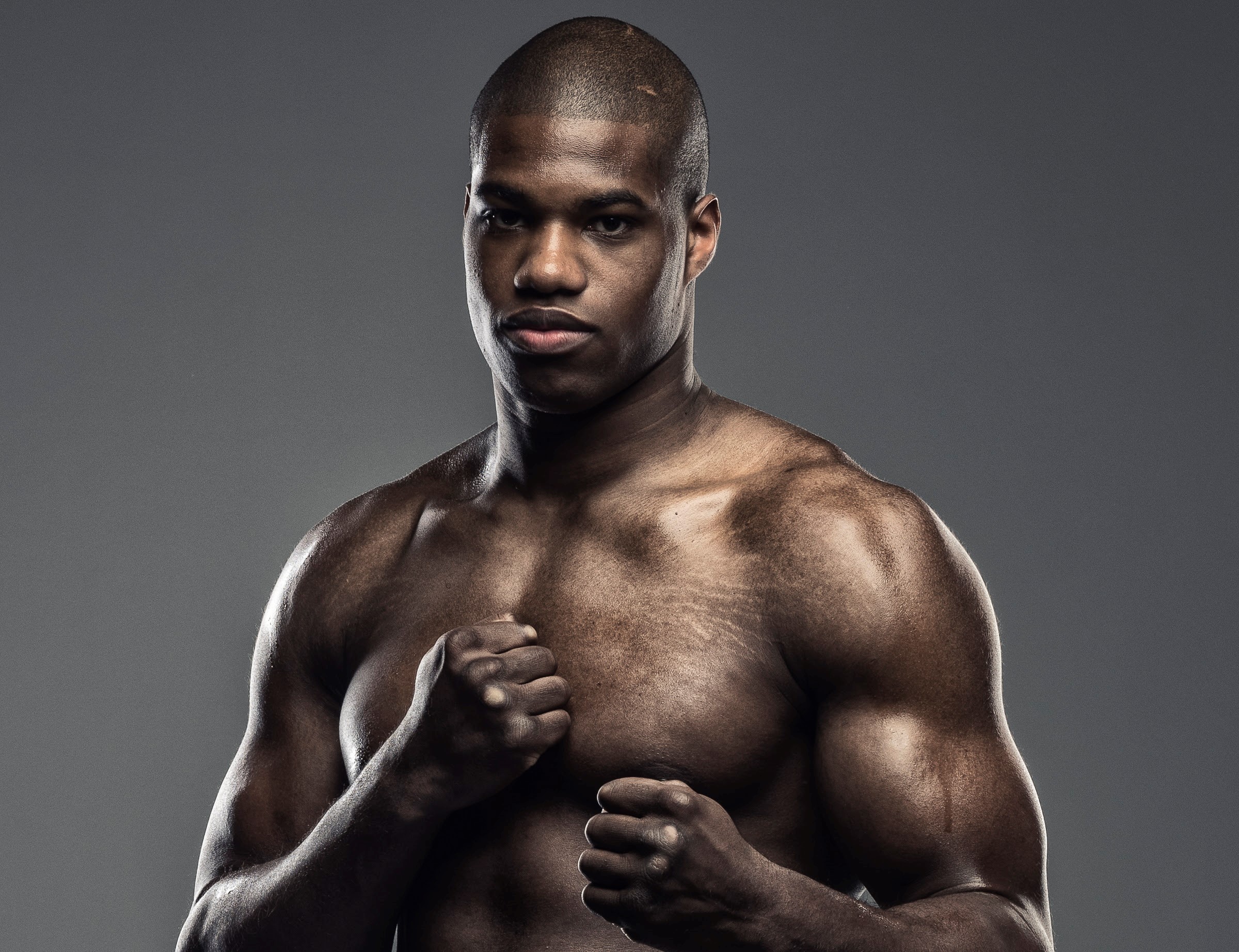 Daniel Dubois may have jumped the gun too early by declaring he was selling tickets at the Copper Box arena, with his opponent announced as Gary Cornish via his Facebook account.
Cornish took to Facebook to dismiss the claims that the fight was signed:
"Just to let everyone know nothing has been confirmed yet. Had a lot of messages talking about this. Got the phone call yesterday – I've got a fight 26th January first, and that's all I'm focused on."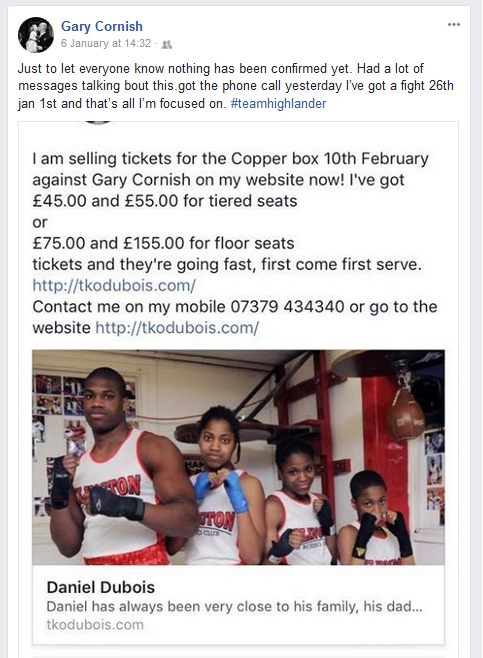 Dubois was involved in six fights in 2017 and he hopes to be busy this year. He told Ringnews24.com: "The same amount, if possible". Dubois turned professional nine months ago and continues to improve: "It's just been constant graft, I have improved. It's just been all round. I've been constantly in the gym and constantly working – I think I am getting better at everything I do."
Since posting he was selling tickets for the Cornish fight, it has since been removed and now he is selling tickets against an unnamed fighter:
"I don't know about that [Cornish Fight]. I'm not sure if Cornish is my next opponent. When asked if the fight was close to being signed, he replied, "I don't know yet."
Dubois hasn't been passed two rounds in his six fights. If the fight happens, Dubois may look to end it early or Cornish may surprise a few and take Dubois passed two rounds: "If I do end up fighting him we'll see, we'll see – I don't know."
One thing is for sure that will happen if the two meet is that boxing fans will compare his performance to Anthony Joshua, who fought Cornish after 14 fights. Perhaps Frank Warren is fast tracking Dubois, but with that comes added pressure:
"It could be that I'm being fast tracked. But I just take it all in my stride and learn as I go. Just improve. I'm not really bothered about none of that [pressure]. I don't notice it, I don't take much of it on board. I just go out there to perform and do my very best I can do. As long as I'm winning everything is good."
Cornish has more experience in the professional ranks but Dubois doesn't see that as a disadvantage, should the fight happen:
"No, not at all. I'm very confident – I've been in boxing a long time."
One thing Dubois has is time on his side to learn his craft. However, if he continues to impress and knock fighters out then fans will demand the Joshua fight. We asked Dubois how far he thinks he is away from the Joshua fight:
"Right now I don't know about that yet. I'm just learning and building with every fight and we'll see what happens."
'Dynamite' doesn't have a dream opponent he would like to fight: "No one in particular. I will take on all challengers – they are all a test."
Dubois has talent and has caught the eye of the British public, but what separates him from his competition?
"My dedication, my will to win, continuances and my consistency. Being in the gym all the time and working."
Dubois hasn't set himself any short term or long term goals with a timescale:
"Not really, I haven't set a timescale. I just want to win every fight as it comes and be the best fighter I can possibly be and become world champion."
Dubois hopes to achieve good things in 2018:
"World titles, move up the ranks and definitely step up the level and get high up the ranks."
Finally, Dubois had a message for his boxing fans:
"Keep supporting and keep following me. I'm going to go out there and deliver and do what I can do. Do what I do in the gym and do it well."