Eric Armit's Snips and Snipes 11 January 2018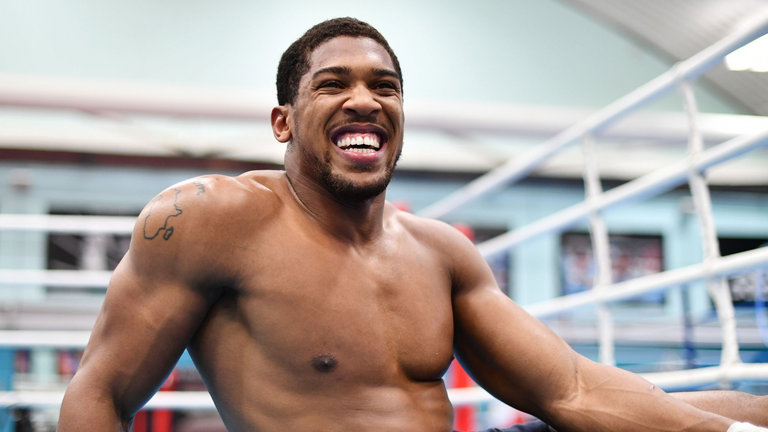 I am not much of a one for looking back particularly when 2018 already holds so much to look forward to. By the end of the year for the first time since the WBO entered the scene in 1989 and Francesco Damiani won their initial heavyweight title we have the prospect of fighter holding all four versions of the title. The Anthony Joshua vs. Joseph Parker fight which now seems set for 31 March in Cardiff will unify the IBF, WBA and WBO titles. It then must be the next logical step that the winner of 3 March fight between Deontay Wilder and Luis Ortiz for the WBC portion will want to go against the winner of Joshua vs. Parker. With all due respect to Parker and Ortiz (but a bit less of that respect to drugs cheat Ortiz) the fight the public will hope for is Joshua vs. Wilder. There is no way that either of these two fighters could walk away from that fight not just because of the money but also out of pride and even at this stage of their careers the legacy.
For me that Joshua vs. Wilder match would be the fight of 2018 but if that is not enough we will also have Gennady Golovkin vs. Saul Alvarez II, the all-British super middleweight fight between George Groves and Chris Eubank Jr and a super flyweight extravaganza in Inglewood on 24 February.
To get us in the mood we will also have on 20 January in New York Errol Spence vs. Lamont Peterson for the IBF welter title and Robert Easter defending his IBF light title against Javier Fortuna. On 27 January there is a double bill featuring Jorge Linares defending his WBA lightweight title against Filipino Mercito Gesta and Lukas Matthysse vs. Teerachai (Tewa Kiram) for the vacant secondary WBA welter title and on the same night in Riga we have Olek Usyk vs. Mairis Breidis in the first of the WSSB cruiserweight semi-finals which will also unify the WBC and WBO titles. The second semi-final in Adler, Russia on 17 February between Murat Gassiev and Yunier Dorticos will unify the WBA and IBF titles clearing the way for a fight unifying all four versions of the cruiserweight title later in the year. On 3 February in Corpus Christi Gilberto Ramirez defends his WBO super middle title against Habib Ahmed and Jerwin Ancajas defends his IBF super fly title against Israel Gonzalez. One week later in London Zolani Tete puts his IBF bantam title up against Omar Narvaez in and on the same night in San Antonio Mikey Garcia challenges Sergey Lipinets for the IBF super light title and Rances Barthelemy and Kiryl Relikh punch it out for the vacant WBA super light title, There is Danny Garcia facing Brandon Rios on 17 February and Victor Ortiz clashing with Devon Alexander on the same night. If that sounds good don't forget that only covers the next 6-8 weeks with Sergey Kovalev vs. Igor Mikhalkin on March 3 in New York. Carl Frampton vs. Nonito Donaire in April, Amir Imam and Jose Carlos Ramirez ready to fight for the WBC super light title on 17 March (if Terrence Crawford relinquishes the title) and Felix Verdejo returning to action on the same show and with the certainty that Vasyl Lomachenko, Terrence Crawford, Tony Bellew vs. David Haye are all sure to provide other big nights. It looks a great year ahead so let's look forward not back. To paraphrase Roy Scheider in Jaws-you're going to need a bigger diary!
Having said that for me the WSSB which started last year is the best thing to happen to top level boxing in years.
Apart from the world scene there are some good European title fights coming also. A busy night on 27 January will see Alessandro Goddi 33-2-1face unbeaten Pole Kamil Szeremeta 16-0 for the vacant middleweight title, Yves Ngabu puts his cruiser title on the line against Geoffrey Battelo in Belgium and in an all-Spanish affair Mark Vidal defends the featherweight title against Sergio Blanco. When they fought for the vacant title last July after eleven rounds Blanco was in front on two cards only for Vidal to snatch the win by a knockdown in the last round. Purse offers are due on 15 January for Karo Murat defending his super middleweight title against Serhiy Demchenko and on 29 January for a clash of unbeaten flyweights between Vincent Legrand 26-0 and WBC No 2 Andrew Selby. The unbeaten Welsh fighter is in line for a shot at the WBC title so taking on the freakish 5'8 ½" (174cm) French southpaw is a risk. On the same day purse offers are due for the vacant welterweight title between Ahmed El Mousaoui and hot Spanish hope 24-0 Kerman Lejarraga. Ukrainian heavyweight Alex Dimitrenko gets one last chance to revive his career as he challenges unbeaten European heavy champion Agit Kabayel. No date or venue yet and in what will be a huge fight for Swedish fans Sauerland Event have yet to name the date or place for Otto Wallin vs. Adrian Granat for bragging rights in Scandinavia and for the vacant European Union title. The purse was reported to be approx. $100,000 to be split 50/50.
Despite losing his IBF light fly title Milan Melindo has said he will not be retiring. It was good to see that Ryoichi Taguchi who unified the WBA and IBF light flyweight titles by beating Melindo intends to honour the IBF stipulation that Hekkie Budler must get the next show at their title.
The little men might be as well keeping an eye on what's coming up behind them. Australian Jason Moloney, the WBA No 9 bantam, is coming up fast. The undefeated Moloney is taking on Namibian Immanuel Naidjala in Melbourne on 24 February with the vacant Commonwealth bantamweight title and Moloney's WBA Oceania title on the line. Moloney is 15-0 and Naidjala lost on points to Tomoki Kameda for the WBA title a while back so a good match Twin brother Andrew, also 15-0, will be defending his Oceania title on the same show. He is No 6 super fly with the WBA
Despite turning down an offer to fight Khalid Yafai on the super fly extravaganza Roman Gonzalez is not contemplating retirement. His plan is to ease back with a fight in Nicaragua in April and see how that goes before making any further plans. He will shortly be moving to Costa Rica to start his training.
The WBA have been correctly slated for ranking British boxer Joe Fournier at No 11 in their light heavyweight ratings. He won their vacant International title scoring a second round knockdown on his way to a sixth round stoppage of Dominican Wilmer Mejia on December 17. This despite the fact that Fournier is clearly shown on BoxRec to have tested positive for a banned substance at a fight in Belgium in June 2016 and being given a two year suspension which was reduced to 18 months. That means his suspension does not end until June 2018. Despite the posting on BoxRec Fournier fought four times in the Dominican Republic between June and December 2016 when he was under suspension. In addition two sources advised me that they had informed the WBA last month that Fournier was under suspension. The WBA actions are disgraceful but there is another question-who is licensing Fournier? The British Board would respect the Belgian positive test result and not permit Fournier to fight in Britain but someone has chosen to licence a boxer despite knowing he is suspended and the WBA do not licence boxers so they are not the only culprits here.
Lou DiBella has announced his signing of former super lightweight champion Julius Indongo but that has brought an immediate response from Namibian promoter Nestor Tobias who claims that his contract with Indongo includes an extension if Indongo won a world title-which he did last year. Could be a legal battle looming.
If students find out that they have a substitute teacher coming in for the day it can either be a matter of indifference or an opportunity to have a bit of fun and rag the newbie. I don't think these students felt indifference and I am sure there was no ragging as their substitute teacher just happened to be a certain Wladimir Klitschko. Ok sit up straight kids and listen because Wlad was there to give them some inspirational advice on overcoming fear and adopting a positive approach to life's challenges. It appears that the day was a big success but I couldn't help wondering whether Wlad's challengers over the years would have benefited from some advice on overcoming fear and adopting a positive approach to tackling the big Ukrainian.
News of another former champion saw a statue being erected in Fazana, Croatia to Mate Parlov. Parlov was there for the unveiling. Parlov was an outstanding amateur. He lost to Chris Finnegan in the quarter-finals of the 1968 Olympics but won the gold in 1972 and gold at the World Amateur Championships in 1974. As a pro he was European and WBC light heavyweight champion and beat Miguel Angelo Cuello, John Conteh and Tony Mundine. He lost his title to Marvin Johnson but then moved up to cruiser and drew and then lost to Marvin Camel in fights for the vacant WBC title before retiring. The greatest boxer ever produced by Croatia.
Axel Schulz is a former Wlad challenger who is still in demand. Schulz has been taken on by a major German TV company to do expert analysis for them and will kick off his new job during the coverage of the interesting fight between Vincent Feigenbutz and Ryno Liebenberg in Ludwigsburg on 17 February. It is an important fight for both men. Feigenbutz is rebuilding after losing on an eleventh round stoppage against Giovanni de Carolis for the secondary WBA super middle title in 2016. He has compiled six wins since then and is rated in the top 15 by all four bodies so can't afford a slip up. Liebenberg went through a 1-5 spell with all five losses to world rated opponents. He stopped the rot with a win in October but this one could be too tough for him.
Two of the biggest stars in Chinese boxing, Zou Shiming and Rex Tso have both come through rocky periods. Since losing his WBO flyweight title to Sho Kimura in July the medical news has all been bad for Zou. He had suffered a variety of orbital fractures and his vision was affected by cataracts, vitreous opacity and other symptoms and surgery is needed. Despite that news Zou Shiming is adamant that he will recover and fight on.
In Tso's case he has been in some very hard fights. He took a lot of punishment before beating Kohei Kono on a technical decision in October when the fight was stopped due to a large hematoma on the left side of Tso's head. The only thing he has said about plans to return is that right now he has none so it is not known when or if he will fight again.
Isaac Dogboe's win over Cesar Juarez has made a huge impact in Ghana and it is being used as a springboard to get the Government and sponsors to back boxing there. Dogboe has gone against the trend in as far as he first made a big splash when he competed at the 2012 Olympics in London and then won the English amateur title. He then scored his first six wins in fights in England, Switzerland and the USA before returning to Ghana to continue his career and won his title there. Generally boxers from Ghana have had to go elsewhere to get a title shot but there has been enough backing in Ghana for Dogboe to win the interim title. If he wants to fight the real WBA super bantam champion Jesse Magdaleno he is going to have to go to the USA but on a visit to the offices of the President assurances were given that the government was ready to support and solicit funds to aid Ghanaian potential champions in 2018. In the meantime it is situation normal for some Ghanaians. As I noted previously Habib Ahmed travels to Corpus Christi to challenge WBO super middle champion Gilberto Ramirez on 3 February whilst Raphael Mensah is reportedly to be in line to challenge WBA super feather champion Alberto Machado and Richard Commey will hope to build towards a second world title shot when he tackles 22-0 Angel Luna in San Antonio on 10 February.
Read more articles about: